Overview
Ongoing digitalization within organizations affects each and every aspect of both our regular lives and the way companies operate their business. One of the most important assets of any company is its data, and the question of data protection is potentially more important than almost anything else for the organization in question.
As one of the biggest SaaS solutions on the market, Microsoft 365 (formerly called Office 365) offers a variety of cloud-based services to companies, from mailboxes to video conferences, file sharing and more. However, the aforementioned problem of enterprise-grade data backup and recovery still exists inside of this platform, despite its technical strengths.
As multifunctional as it is, Microsoft 365 is still not a dedicated backup and recovery solution. And this difference typically makes it impossible for M365 itself to completely safeguard your data from some of the more enterprise-related challenges, such as:
Requirements for your retention policy
Internal security threats
External security threats
Compliance-related issues
API lock-in
Accidental data deletion
Generally speaking, the problem of poorly defined data protection strategies is remarkably common in this context. The main issue here is that a lot of people tend to misunderstand the exact responsibilities of Microsoft as a software provider, or even confuse the Service Level Agreement for a data backup strategy, leading to a high potential for critical data loss as a result.
Microsoft 365 and its responsibilities
This is an important point to address since a lot of companies not just expect Microsoft to protect the entirety of their data in the M365 service, but also think it is Microsoft's responsibility to do so in the first place. In reality, the division between the responsibilities of Microsoft and the end user's responsibilities is quite clear and concise.
Generally speaking, the main responsibility of Microsoft in the context of your cloud data is to provide a constant uptime with high availability. Practice shows that this is the point that Microsoft takes very seriously, storing your data within multiple different geographically related data centers near you. That way, they achieve a high level of availability, making sure that your data is still available even if one of the data centers is affected by some sort of a disaster, whether man-made or natural.
Additionally, Microsoft takes up the role of a data processor when it comes to your data – which includes regulatory controls, industry compliance certifications, data privacy, and so on. Their security responsibilities are purely physical – including app-level security, logical security, and many controls for regular employees and administrators.
With that in mind, it's also important to mention that Microsoft 365's built-in data replication capabilities are fairly basic and heavily limited by its nature – Recycle Bin is one of them, and geo-redundancy is also on the list. While it is possible to work with just this set of tools for some of your data-related concerns, it is rather more suitable for smaller businesses, at most – when you don't have the funds to afford an extensive data protection solution that would be easier to manage and work with.
That being said, this is as far as M365 backup responsibilities go – the rest is on the client's shoulders, including accessing and controlling business data, ensuring data retention, backup capabilities, protecting data from both internal and external threats, mitigating risks, and so on.
Main reasons to have a dedicated backup system for M365 data
Surprisingly enough, not having a third-party backup system for your M365 data gives rise to a lot of issues of different caliber, from security concerns to deployment conflicts. The biggest potential reasons to have an M365 backup system are listed below:
Internal and external security threats. While the problem of external security issues still exists to this day in the form of various ransomware, malware, and so on – the problem of internal threats is also important to keep in mind. Internal threats are the ones that start from the inside, be it from a disgruntled employee (or an ex-employee), some sort of accidental leak or deletion, or simple permission mismanagement.
Legal and/or compliance-related problems. Legal action is something that everyone strives to avoid, but when it does happen, can bring significant problems and expense for the company in question. Even a need as simple as the retrieval of specific files that were previously deleted is much easier to resolve when you have enterprise-grade third-party backups with versioning support ready and at hand.
Retention. While Microsoft does offer its 90-day data storage policy, that is typically still not enough to properly cover all of an organization's data retention-related needs – such as compliance requirements, data exporting, and other, more demanding or sophisticated tasks. Granted, this is a problem that varies heavily, depending on the field of work and responsibilities of the organization, but it is still significant enough to be a problem for a lot of companies.
Hybrid deployment. Surprisingly enough, M365 adoption is also one of the topics on this list. The adoption of a cloud system requires some sort of a transitional time period, which is needed for the company to transfer its data from offline storage to a cloud one. Some companies even leave a part of their data on-side for added flexibility, and the only way to operate such a system properly is to have a dedicated backup solution that treats all of the data equally.
This brings us to the matter of choosing the correct backup solution for your company.
Features to look for in your third-party backup system
Luckily enough, the backup solution market is vast and varied, meaning that you should be able to find a solution that works best for your specific case. However, there is a list of features that any M365 backup solution should have to be at its best, and we highly recommend that decision-makers at least know about these factors before choosing their solution.
Extensive security. The overall security of your company would be readily and significantly increased by having a backup solution that is designed to be especially robust against ransomware, malware and internal misuse.
Scalability. Another important feature is to have the elasticity to scale both up and down to meet the business's and the market's demands.
M365 backup integration. The backup solution should have broad integration capabilities into not just M365, but all other IT environments within the organization. This should include integration into pending or possible new technologies in the organization's IT infrastructure, for example new kinds of virtual machines, or containers.
Additional features. Even though backup solutions, in general, can offer a wide variety of different features, there are some that tend to be especially important – some examples would be incremental backup, granular recovery, automation, and policy-based retention.
Flexibility. Aside from the previously mentioned scalability requirements, the backup solution should give an organization the freedom to be able to choose whichever cloud or clouds it prefers. The same goes for various on-premise storage-types and locations. No organization should allow itself to become restricted in its future choices.
Microsoft 365 backup pricing
Backup solution pricing can be a surprisingly sensitive topic for a lot of different M365 backup solutions. Enterprise-level backup as a service is already a significant part of many companies' budgets, and there are still many solutions that attempt to profit from that.
The first issue with figuring out Office 365 backup pricing is the different pricing models for this market. Since Microsoft 365 is a rather complex set of software tools, there are typically multiple licensing models that have additional price additions depending on what specific software needs to be backed up.
Secondly, it is fairly common for backup solutions to offer pricing that scales by the number of M365 users for the backup solution in question, which may be rather deceptive – starting off as a relatively cheap solution and then scaling upwards to a high overall price purely because of the number of M365 users in the system. Luckily enough, this kind of pricing model is not the only one that exists on the market.
Solutions like Bacula Enterprise are extremely valuable in this context since they attempt to solve both of these problems – offering a versatile backup solution for many different backup targets, while also having a clear and simple Office 365 backup pricing model – a fixed price for one of several levels of subscription that already includes the majority of potential applications that need to be covered in an M365 backup. This kind of approach to pricing may not be the most beneficial from day 1, but it quickly proves itself to be far more stable in the long run, when the aforementioned backup solution pricing issues start to arise. It is also clearly preferable for medium and large enterprises where there may be a relatively high number of M365 users. In cases like these, Bacula's flat pricing model becomes of even higher value. It should also be noted that Bacula comes with a completely different significant benefit: very high levels of software security.
Best Microsoft 365 backup solutions
As we've mentioned before, the market for backup solutions is vast and varied, and a lot of those solutions offer Microsoft Office 365 backup and recovery capabilities. However, it is possible to figure out a list of the 10 best Microsoft 365 backup solutions. We will present them in a random order, without ranking, since each of these 10 has its own advantages that change depending on the need in question.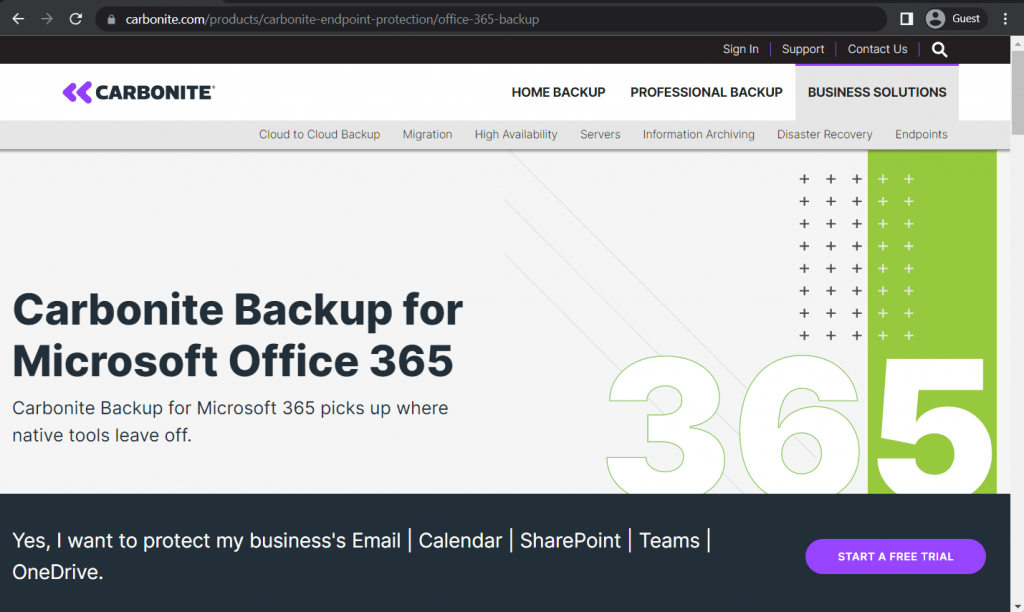 Carbonite Backup is a data solution that provides comprehensive Office 365 cloud backup capabilities for all of the M365 apps. Carbonite's solution is capable of site administration, performing both comprehensive and granular recoveries (including email communications), and much more. The entirety of backed-up data is encrypted automatically and is stored on secondary Azure cloud storage, providing one of the best services on the market.
Carbonite Backup for Microsoft 365 Features and Benefits:
The program protects the entire Microsoft 365 Suite, including OneDrive, SharePoint, Calendar, Teams, Microsoft Exchange, and Email.
You can run automatic Microsoft 365 backups up to four times a day or every six hours.
You can recover individual items (like conversations, files, and mailboxes) in granular backups or perform entire site-level rollbacks.
The system is easy to use, and there are no storage limits (only device limits).
Carbonite backups for Microsoft 365 use advanced encryption to keep the data in transit secure.
The technical support is efficient and available 24/7.
There is no set-up fee.
Carbonite Backup for Microsoft 365 Disadvantages:
There is no mobile app or file sharing, or folder synching.
The dashboard can sometimes feel a little outdated.
There isn't as much documentation for Carbonite as with other M365 backup solutions.
There is no free trial or freemium version.
The base version doesn't back up external drives.
There are some differences between the Windows and macOS clients (for example, windows limits the private key encryption option).
Our Opinion on Carbonite's Backup for Microsoft 365
Carbonite is a lightweight and reliable program that doesn't require a lot of resources to run Microsoft Office 365 backups. Most users appreciate its granular restoration feature, the real-time restoration speed, and the comprehensive protection of the entire Office 365 suite.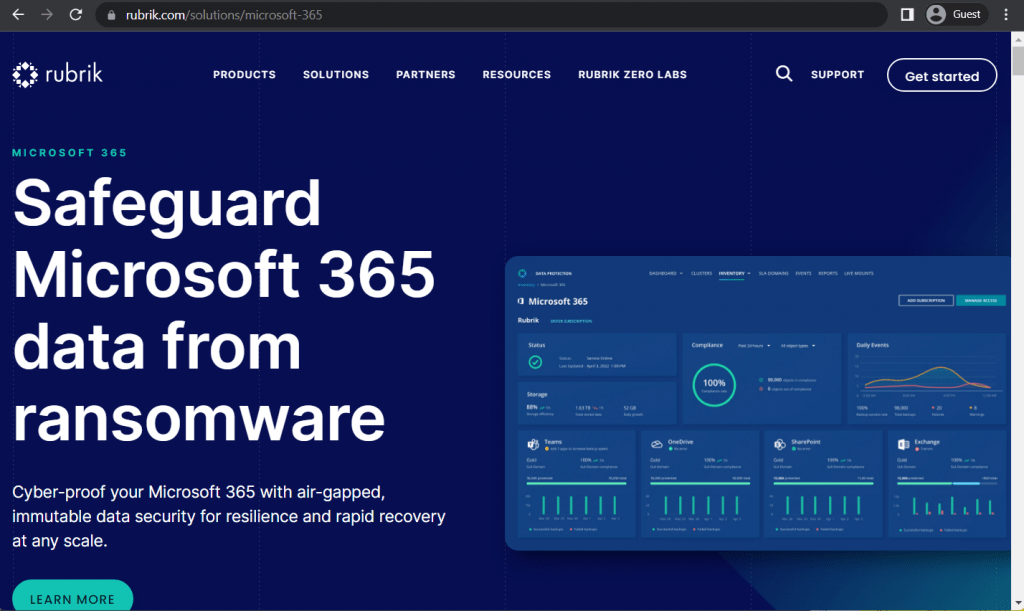 Rubrik Polaris is a SaaS-based backup platform that offers instant data recovery for O365 applications for hybrid cloud enterprises, combined with granular restoration capabilities and extensive search tools. Extensive centralized data management for administrators is also included in the package, as well as one more feature – Polaris Radar. Radar is a machine learning system that looks for suspicious activity inside of the entire client's system, capable of detecting and preventing various threats before they can actually damage the data.
Rubrik Office 365 Backup and Recovery Features and Benefits:
The program automatically discovers new users so you can assign policies to them.
Rubrik allows you to easily browse through point-in-time snapshots for file and bulk recoveries.
It has an effective and highly granular search (you can restore entire folders or individual items).
You can backup Microsoft 365 data on-premises or in the cloud.
Rubrik validates all backups against ransomware during and after performing them.
Can integrate with native SQL backups and Oracle processes.
You can automatically protect and assign SLA policies at the user, site, or subscription level and easily designate user permissions for self-service.
The support engineers are very knowledgeable and provide sound guidance.
Rubrik Office 365 Backup and Recovery Disadvantages:
Although it can support varied IT infrastructures, Rubrik is not a specialized solution for M365 backups.
File filtering could be more intuitive.
The interface is not as simple as the competitors', so users might require some training.
Firmware updates have been reported to take a long time.
You have to select all tables in a database manually to make a backup.
Here is no free trial, and pricing information is only available by requesting a quote.
Our Opinion on Rubrik's Backup for Microsoft 365
Rubrik is a good data center backup solution for mid-size to large enterprises looking to protect their Microsoft 365 data. The program allows businesses to back up the entire database infrastructure and is vendor-agnostic – so it's more of a comprehensive and scalable solution, not mainly focused on M365 backups.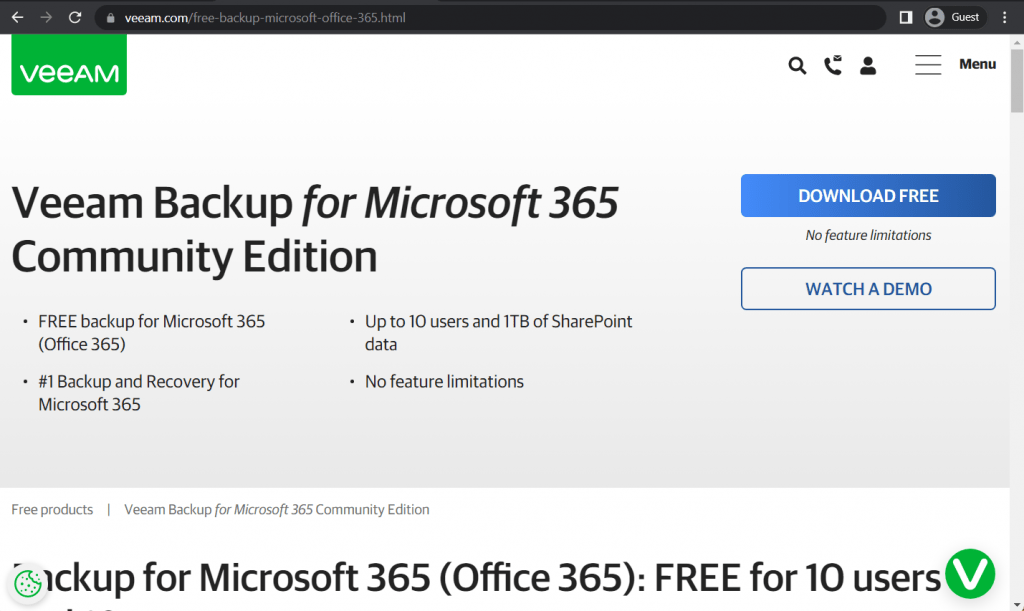 Veeam Backup for Microsoft Office 365 is a solution that puts flexibility as its main advantage. Both the backup and the restoration processes can adapt to many different situations, offering up to 25 different ways to restore your data – from full recovery to granular file-level restoration. The same could be said for the variety of data storage locations that are supported – no matter if you decide to use the on-premise storage or one of the many supported cloud ones. All of that is packed in a user-friendly interface that is easy to operate but might seem slightly complicated to set up initially.
Veeam Office 365 Features and Benefits:
Each backup includes the complete Microsoft 365 profile of a user (Outlook, Teams, SharePoint, OneDrive, Microsoft Exchange Online, etc.)
Once configured, the M365 backups can run automatically.
The user interface is easy to deploy and manage and doesn't require a steep learning curve. The dashboard is similar to Veeam's Backup and Replication application.
This Microsoft 365 backup solution works with on-premise, cloud, and hybrid departments.
You can restore specific emails (for example, if someone has accidentally deleted a message) and export them as a PST file.
There is plenty of documentation for Veeam Backup.
The technical support is responsive and helpful.
Veeam Office 365 Disadvantages:
Features for VBO365 are not as advanced as for Veeam B&R.
It's hard to predict how much storage will be needed on the cloud.
You require a Veeam license in addition to the cost of the Microsoft 365 solution.
There is no way to remove old data from a backup (for instance, when someone leaves the company).
The explorers for viewing the backup data are not integrated with the main Veeam Backup for Office 365 interface and run as a separate application (which can slow down recovery slightly).
You need to keep the program updated, or the application can become unstable.
Creating repositories is not a straightforward process.
The search options are a little limited.
Our Opinion on Veeam's Backup for Microsoft Office 365
Most users agree that Veeam is a good cost-effective choice for handling Microsoft Office 365 backups. The application is a simple but robust solution for managing your M365 backup needs. The documentation is good, although the installation can be time-consuming and difficult if you are new to the environment.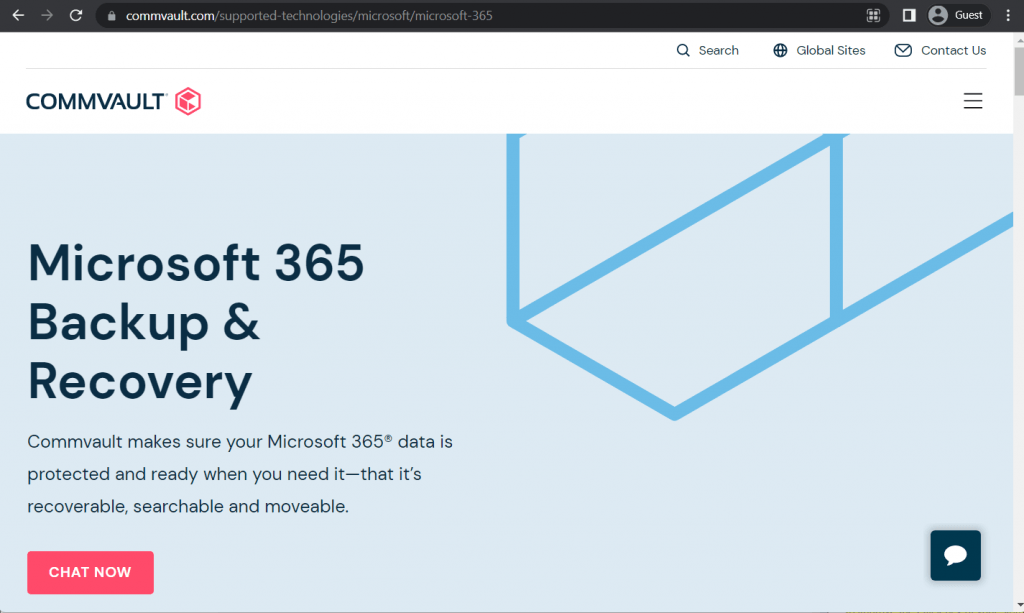 Intelligent and scalable solutions are the main focus of Commvault as a whole, and their Backup & Recovery Solution is no exception. Commvault is capable of automating the entirety of file retention processes, making them policy-driven and intelligent. The encryption to the data is applied by default, and deduplication is there to improve the efficiency of your storage via deleting duplicate files. While the first setup might be somewhat complicated, the result of it all in the form of a powerful multifunctional backup system is more than worth the trouble.
Commvault Office 365 Features and Benefits:
Commvault is a comprehensive solution for various backup and recovery needs, including M365 backups. It supports several client types and data classes.
The platform protects Microsoft Exchange Online, Teams, SharePoint Online, and OneDrive applications.
Commvault's Office 365 backup solution can be delivered as a simple SaaS solution or on-premise software with or without secondary cloud storage options.
You can quickly recover emails and files at a granular level.
It supports enterprise-wide search across calendars, chats, files, folders, etc.
The product is very scalable and works well for medium businesses and large enterprises with M365 backup needs.
The support team is
Commvault Office 365 Disadvantages:
Commvault can be complicated to set up, understand and operate for new users.
There is an additional SaaS-based option (Metallic Office 365 Backup & Recovery) not included in Commvault for Office 365, and there can be other extra costs depending on your backup needs.
Users have reported problems backing up virtual machines.
Reporting can be overwhelming but gets better when you fine-tune email notifications to customize the reports.
Our Opinion on Commvault Office 365 Backup Solution
Commvault can make the administration of large environments easier as it works well with different data classes and client types. One of the most common critiques of Commvault is that it can be complex to set up and manage. However, the platform offers good support for four essential Microsoft 365 applications and is cheaper than other alternatives.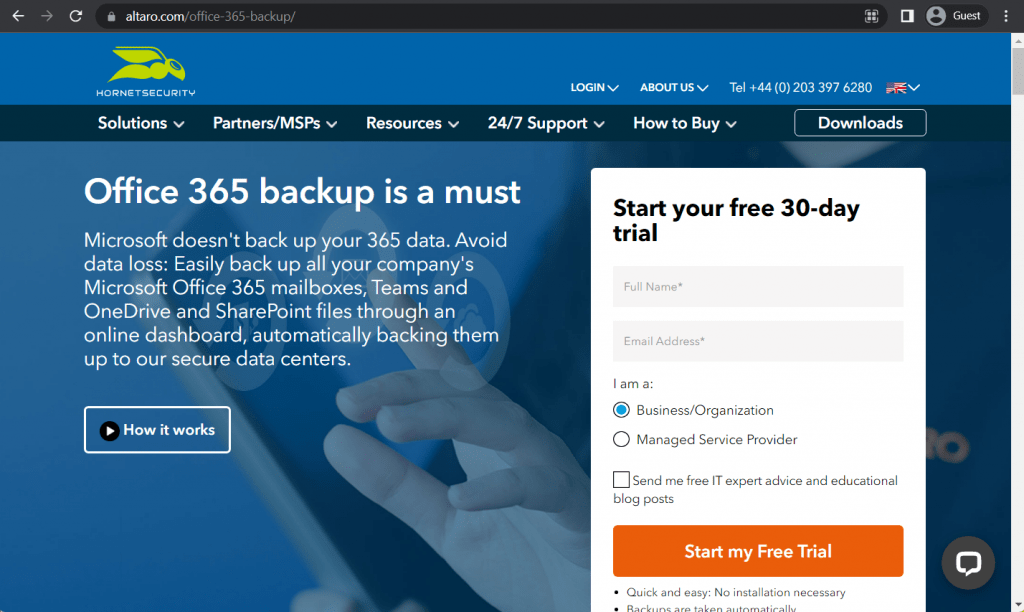 Altaro Office 365 Backup tools are represented by a solution that mostly works with OneDrive and SharePoint, storing and backing up both regular files and mailboxes. Both granular and full restoration can be efficiently launched from a centralized management console, and secure Azure infrastructure is used as secure second storage for your important files. Granular recovery can also be used not only for your files but for the mailbox contents, as well. This includes the ability to restore the content to either the original mailbox or a new one. The company's customer support is also nothing to scoff at, working 24/7 to be able to solve all of the customers' issues with as little response time as possible.
Altaro Office 365 Backup Features and Benefits:
The platform works with Microsoft Office 365 mailboxes, Teams, OneDrive, and SharePoint.
Altaro can run automated backup Office 365 processes and data and save them in one of their secure data centers.
You can access full or granular restore options.
You can choose the region where the Office 365 backups are stored (for example, the USA, Germany, or the UK).
The subscription includes unlimited storage.
The solution is very scalable, and there are no "hidden costs".
The 24/7 support is rated very good.
Altaro Office 365 Backup Disadvantages:
It can be a little difficult to understand the licensing policy and exporting granular reports for different users can be challenging.
M365 backups cannot be sent to private S3 compatible storage (only Azure, Amazon S3, and Wasabi are supported).
When a user leaves the company, their information cannot be restored.
Onboarding can take some time.
Some users have reported slow backups even when there were no changes to the data or inbox.
Our Opinion on Altaro Microsoft Office 365 Backup
Altaro Office 365 Backup can help you quickly back and restore your M365 data. One of its main advantages is the ability to store your backups in a region of choice and the fact that you are given unlimited storage for your data. However, many customers have mentioned that once a user is deleted, their data is lost. The company also provides a good and comprehensive disaster recovery program for your Microsoft 365 backups.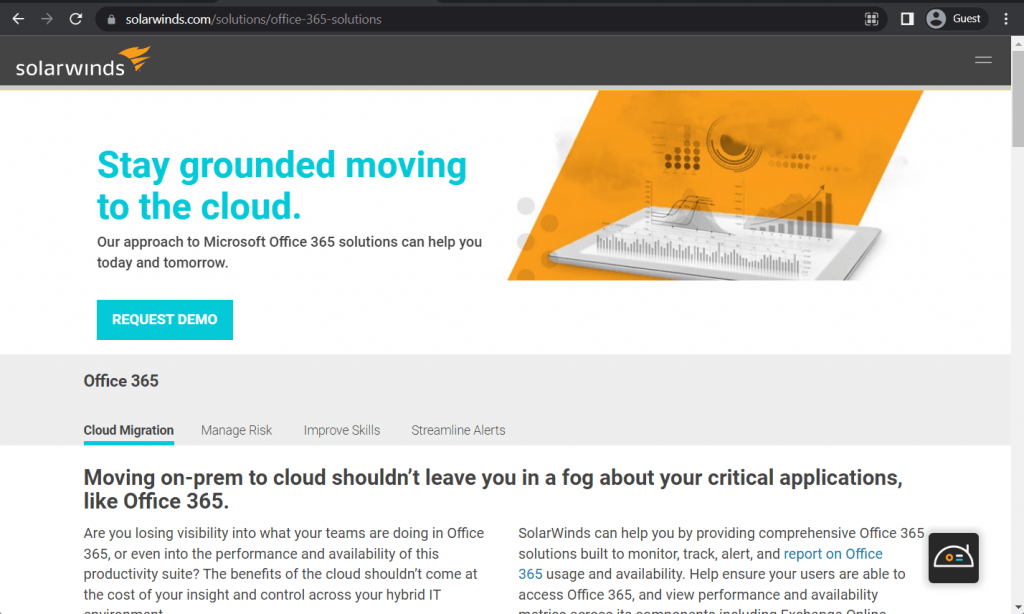 SolarWinds is a cloud-based solution for both virtual and physical servers, offering backup and recovery features and compatible with cloud, on-premise, and even hybrid organization structures, including Microsoft 365 (formerly Office 365 data backup). SolarWinds has their own global private cloud storage that is used to keep your backups safe, and it also means that the platform itself requires no hardware to install in the first place. The option to create your own backups is also available through this platform, along with a unified dashboard, backup scheduling, backup types, automation options, and more.
SolarWinds Office 365 Backup Features and Benefits:
The product offers backup and recovery services for Microsoft Exchange, SharePoint, and OneDrive.
You can manage all remote data restoration services from a central cloud console.
SolarWinds is compatible with on-premise, cloud, and hybrid environments.
You can run up to 4 sessions a day (OneDrive and SharePoint) or 6 sessions a day (Exchange).
All backed-up data is encrypted, and the key is stored securely in the cloud.
You can restore to 3 target locations (auto-generated for all except SharePoint, original, or new location).
All storage and data processing are kept regional.
The solution is easy to deploy and offers good automation options.
SolarWinds Office 365 Backup Disadvantages:
SolarWinds cannot backup or restore Outlook notes or calendar events that the recipient hasn't accepted.
There is no support for hybrid Microsoft 365 installations or Public folders.
There are some limits on scheduling features.
Not as cost-effective compared to the competition.
Some users have reported challenges when using multiple servers.
The number of functions can feel slightly overwhelming for new users.
Our Opinion on SolarWinds Backup for Office 365
SolarWinds' product is a little more limited than the other ones we have covered in terms of supported applications (they only run backup and recovery for Microsoft Exchange, SharePoint, and OneDrive). The program is, however, well-suited for IT departments that want full control of their data across different sites. All storage is offered in a private SolarWinds cloud and can be managed from a centralized dashboard, but local backups are not allowed.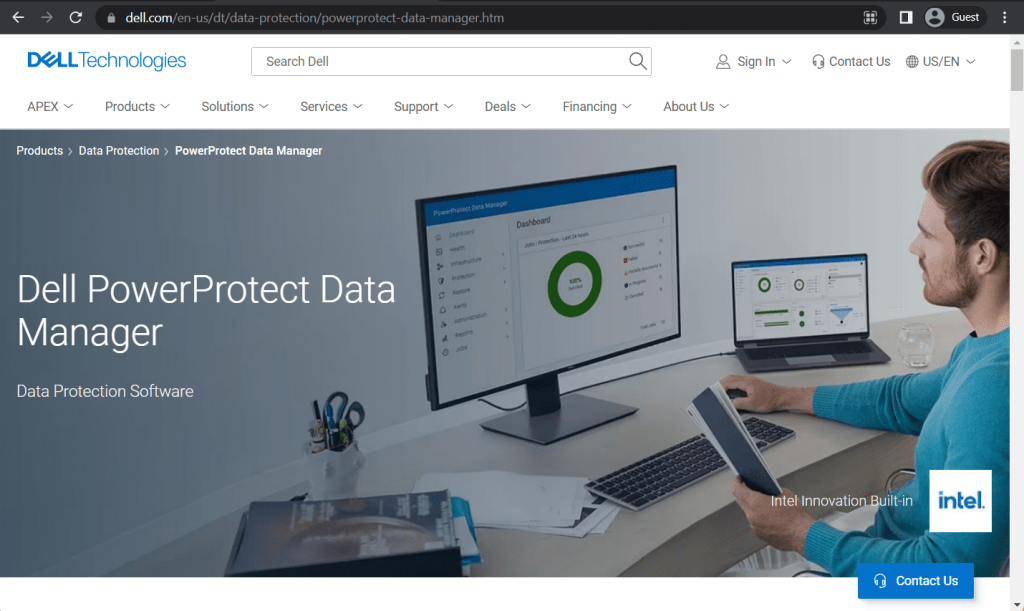 PowerProtect Data Manager is one of the Office 365 backup options from Dell Technologies that focuses on backup and recovery operations with multiple features, such as data deduplication, data protection, automated discovery, and many other features to protect your company's working environment, be it physical, virtual, or hybrid. While it is more suitable for larger enterprises and might have some trouble managing hybrid deployments, it is still a great contender on the list of backup and recovery solutions for Microsoft Office 365.
Dell EMC Features and Benefits:
Dell EMC is an all-in-one data protection software and data storage solution.
It can deliver backups, replication, recovery, search, and data analytics.
It's easy to deploy and manage.
You can store and restore Microsoft 365 backups to and from the cloud.
It works well with software and hardware for any size organization.
You can integrate PowerProtect with existing environments.
Compression and deduplicates work very well.
Dell's support is highly trained.
Dell EMC Disadvantages:
Reports could be improved (for example, to add more kinds of reports on failures and dashboards that can be submitted to managers or auditors).
You might need to use additional software to cover backup environments.
They don't support entire tape libraries.
Several users have reported slow read speeds for Microsoft 365 backups. While the backups themselves run fast, recoveries can take a long time.
You will need to purchase an additional license to enable backups to offload to the cloud natively.
Our Opinion on Dell EMC for Microsoft Office 365
Dell EMC offers great performance, efficiency, and scalability with at-rest encryption. The company claims to be able to generate up to 38% faster backups and 30% more logical capacity. Their Microsoft Office 365 backup solutions are easy to use and the platform is very effective in terms of use of capacity. However, reporting could be improved, and the solution costs are higher than for other M365 backup products.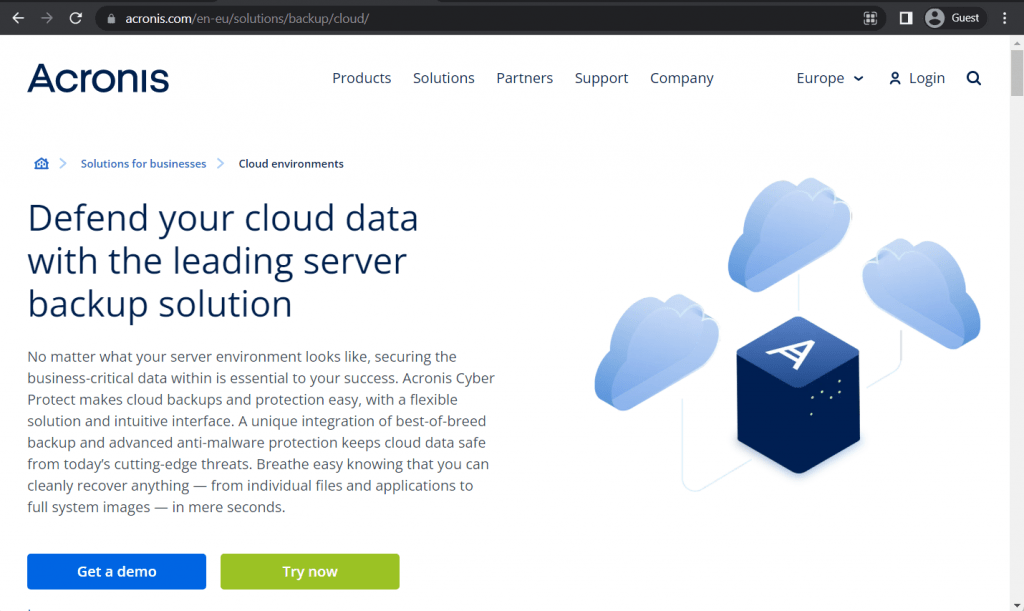 Acronis Cyber Backup is a backup and recovery solution with many different features and dedicated Office 365 cloud backup support. Aside from your regular backup and recovery features, Acronis offers ransomware protection via AI-based authenticity verification for backed-up files before they're restored. There's also a Cyber Backup management console that is web-based and can be accessed from basically anywhere. The solution itself is industry-targeted, focusing on healthcare, automotive, government, and energy industries, and is generally widely popular in these markets.
Acronis Backup for Office 365 Features and Benefits:
Acronis covers files and folders (including email attachments) and access permissions.
The solution offers good, advanced anti-malware protection.
Users can start virtual machines in the cloud so clients can get to work immediately.
The interface is intuitive and flexible.
You can manage all the aspects of backup protection using a single console.
Acronis Backup for Office 365 Disadvantages:
If an error occurs, it's not always clear what the problem was.
There is an agent to backup Microsoft SQL to Office 365, but not the other way around.
Acronis does not support downloading files in a PST format.
There is very little documentation on how to use this M365 backup solution.
There is no two-factor authentication.
Our Opinion on Acronis Backup for Office 365
Acronis is a flexible, stable, and security-minded Microsoft 365 backup solution. Backup recovery speed is very good, which allows for better business continuity, and the program is cost-effective. The platform also allows you to backup workstations, virtual environments, and endpoints, making a comprehensive choice for businesses. However, you cannot download files as PST, and there is very little documentation about how to use the platform.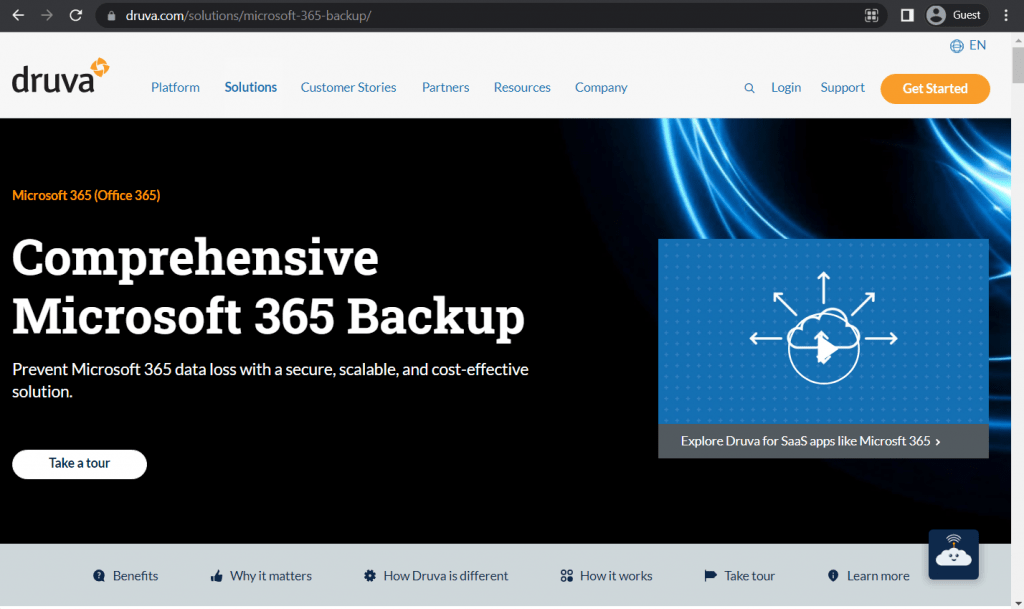 Druva Phoenix is a cloud-native backup solution that secures a company's data from various risks, from ransomware to insider threats. It can also scale to a company's size, has an automatic restoration feature, and can notify users of various predicted data risks. Data compliance can be easily monitored with this solution, since the retention policy is the same for all of them, and the dashboard of the solution is multifunctional and user-friendly. No hardware installation is required, and the deployment time can be as short as 10 to 20 minutes after the purchase.
Druva Microsoft 365 Backup Features and Benefits:
Druva delivers backup and protection for Exchange Online, Microsoft OneDrive, Microsoft Teams, and SharePoint.
The program also supports data centers, endpoints, cloud-native workloads, and SaaS application backups.
It has good governance policies and adequate ransomware protection (pre-emptive monitoring, notification of risks, etc.).
You can see all data activities and users chronologically.
The program has good granular access controls.
You can grow your Microsoft 365 backups without intervention.
All backups are unified into a single data pool for easier search and legal holds.
Druva Microsoft 365 Backup Disadvantages:
The console can be difficult to navigate at first.
Support representatives have been reported to be slow to reply.
There can be many updates after initiating the solution.
The documentation is sometimes out of date.
Some automated reports and alerts are not clear as to why a Microsoft 365 backup might fail.
Data can be slow to recover, particularly for M365 backups.
Our Opinion on Druva Microsoft 365 Backup
Druva Microsoft 365 Backup is a secure and scalable cloud-native solution that is also cost-effective. Druva is easy to deploy, can help you expand your business, and supports compliance and eDiscovery. This single solution also works with data centers, endpoints, cloud-native workloads, and SaaS application backups. The application has been known to work slowly, however, and the console is a little challenging to navigate.
Spanning is a notable Microsoft 365 backup solution that claims to eliminate time loss caused by dealing with built-in M365 backup capabilities. It offers a backup solution that can do quite a lot on its own and puts a lot of emphasis on a "set and forget" approach.
Spanning Features and Benefits:
Can cover a variety of standard and non-standard M365 applications, including Exchange, OneDrive, SharePoint, Teams, and Skype;
Offers metadata search for existing backups, and even SharePoint/OneDrive directory structures;
Has an API for license management and Kaseya RMM integration;
Provides customer-managed encryption keys;
Easy-to-use licensing model with one license for all M365 users at once;
Offers automated daily backups with several different backup types, and more.
Disadvantages of Spanning:
Cannot recover page libraries in the correct way;
No options to customize backup frequency;
No online previews for calendar events/contacts/emails;
Cannot restore from OneDrive to SharePoint;
On-demand backup jobs have inconsistent delays from 15 minutes to 24 hours after initiating them.
Our Opinion on Spanning
Spanning as a backup solution for M365 installments can be useful for smaller companies that do not have the requirement for extensive configuration of their backup operations. It is a fast and cheap solution that also has a lot of limitations when it comes to backup customization and recovery options, which might be unacceptable for a lot of larger enterprises.
Afi Backup is one of the few solutions that were built for M365 backup operations from the get-go, even though it is still limited by the Microsoft API in its capabilities. It offers the majority of features that are considered an industry standard, while also having its own unique features. It might be relatively new by the market's standards, but its speed and growth are proof of how high it can get in the future.
Afi Backup Features and Benefits:
AI-powered anti-ransomware system;
Cloud-based full-text search;
Azure AD integration;
Point-in-time recovery and unlimited versioning;
100% fidelity in M365 backups, including file metadata from SharePoint and OneDrive and also full support for MS Teams;
Custom admin roles;
Extensive audit log, etc.
Disadvantages of Afi Backup:
Initial setup process might be somewhat confusing;
Some users report that the overall logging feature of the solution could use some more work;
Archived email search is not always helpful.
Our Opinion on Afi Backup
Afi Backup is a relatively unknown solution for M365 backup purposes, and so it is hard to perform comprehensive research about small solutions like this one. Other than that, it appears to be a good solution with a lot of positives to it, the biggest one being its backup speed.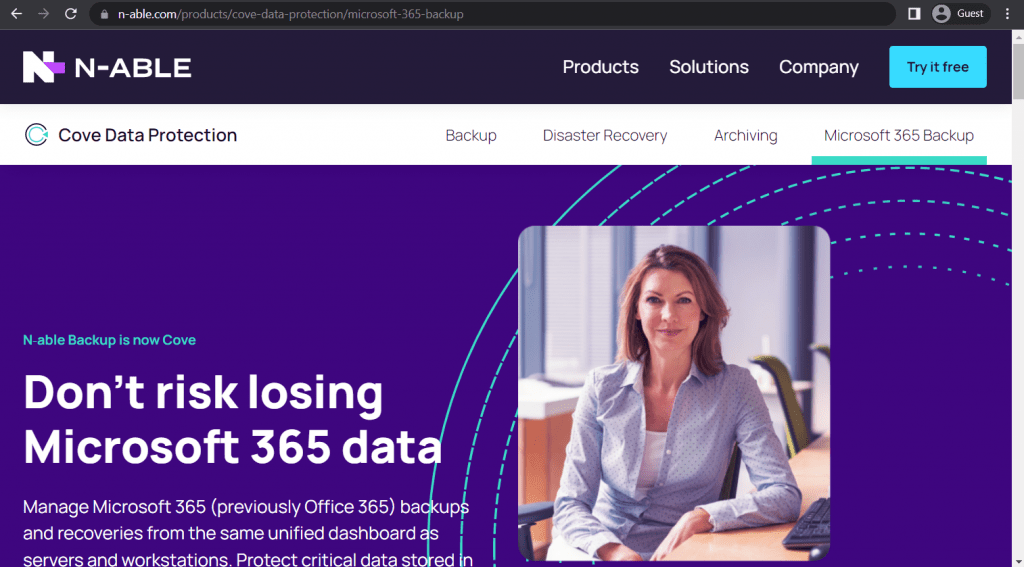 N-able is a software provider that specializes in the field of cybersecurity, offering various security-related solutions for many different fields – including Microsoft 365. N-able Cove Data Protection is their take at providing a cloud-based complex backup and recovery solution for a multitude of target locations and systems. It has a centralized dashboard, its own private cloud storage capabilities, and many other features.
N-able Cove Data Protection Features and Benefits:
Backup capabilities for Exchange, SharePoint, OneDrive, and more;
Extensive data retention;
Centralized backup management from a unified interface;
Multiple recovery options – bare metal, virtual-to-physical and vice-versa;
Scheduling and automation capabilities, as well as many other features.
Disadvantages of N-able Cove Data Protection:
The lack of full machine restores for Azure VM backups;
The complexity of bare metal restore operations;
Issues with notifications and reporting features;
No centralized place to get access to all the logs;
The UI as a whole could use some work in terms of accessibility.
Our Opinion on N-able Cove Data Protection
It is a rather versatile cloud backup solution that offers a lot in terms of the feature set, including its backup and restore capabilities, as well as many other options available. It is relatively fast and covers a lot of ground in terms of how many applications it can work with. However, there are limitations to what it can do, some of them are relatively minor, while others can be significant, depending on the user's needs.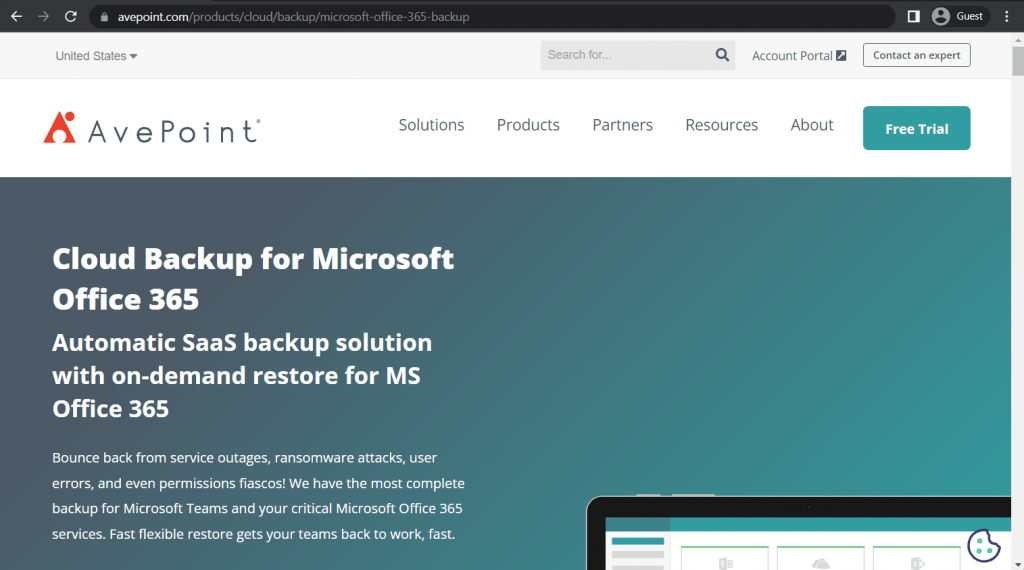 AvePoint has a rather standard set of features when it comes to Microsoft 365 backup capabilities – it can work with SharePoint, Exchange, O365 Groups, Teams, Planner, Project Online, and public folders. It is GDPR-compliant in a multitude of ways, such as auditing, accountability, DSAR processing, the right to be forgotten, and so on.
AvePoint Features and Benefits:
Support for a multitude of Microsoft 365 apps;
Granular restoration, object-based restoration, offline restore, security rollback, etc.;
Compliant with many regulations, including GDPR;
Data analysis, records management, and more.
Disadvantages of AvePoint:
Very few granular permissions in terms of running reports;
The UI is not always the most comfortable to work with;
Restored data is sometimes inconsistent with the original copy;
The customer support is not always as helpful as it could be;
Its pricing is at least on the same level as the competitors, if not higher;
The backup/restore speed is not the fastest in the world.
Our Opinion on AvePoint
AvePoint is a relatively normal M365 backup solution that has quite a lot of features. This range of features is the main reason why it would be at its most comfortable with medium and large businesses – however its breadth of capabilities may be  beyond everything that a small business may need, and the price itself could be too much for smaller organizations.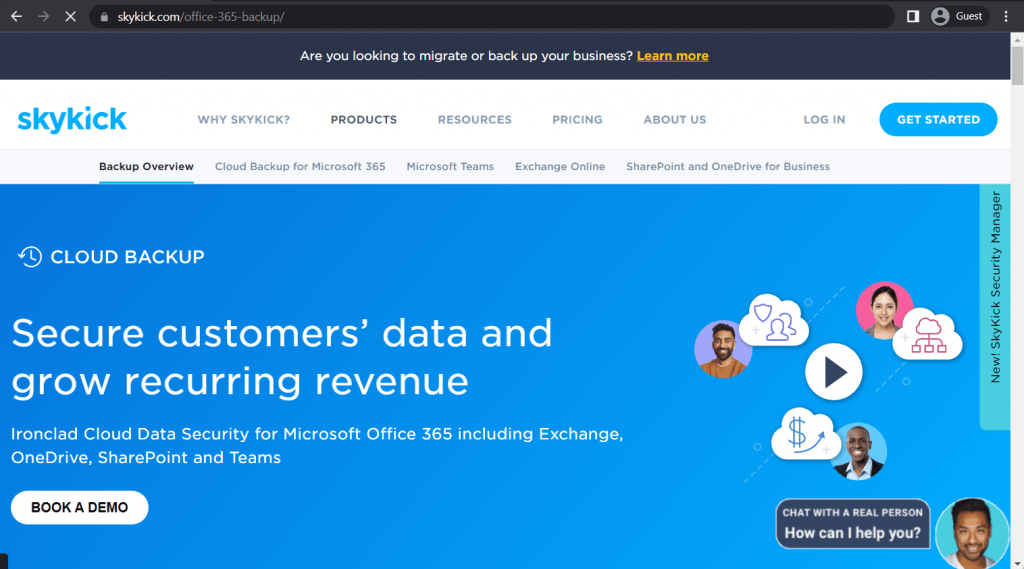 SkyKick is what someone would call the "bare bones" of an M365 backup solution. The backup solution itself only covers Exchange, OneDrive, Teams, and SharePoint apps, but it gets the job done if a basic backup is all that you need. It also has data encryption, granular file restore, and full restore.
SkyKick Features and Benefits:
Support for the most popular M365 apps;
Data encryption;
Several variations of backup and restore operations;
Backup to Azure environment.
Disadvantages of SkyKick:
Works via legacy M365 authentication system;
Zero offline export capability;
The entirety of restore operations are performed via one thread, drastically increasing the time for every backup to be restored.
Our Opinion on SkyKick
SkyKick is a great Microsoft 365 backup solution that would only work for a specific category of customers – smaller companies. Its functionality is not enough to cover the needs of a medium-sized business, and it lacks enough versatility in its features to cover for the limited capabilities in the first place. However, it would be a great starting solution for small businesses that only require the bare bones of an M365 backup with a very limited budget.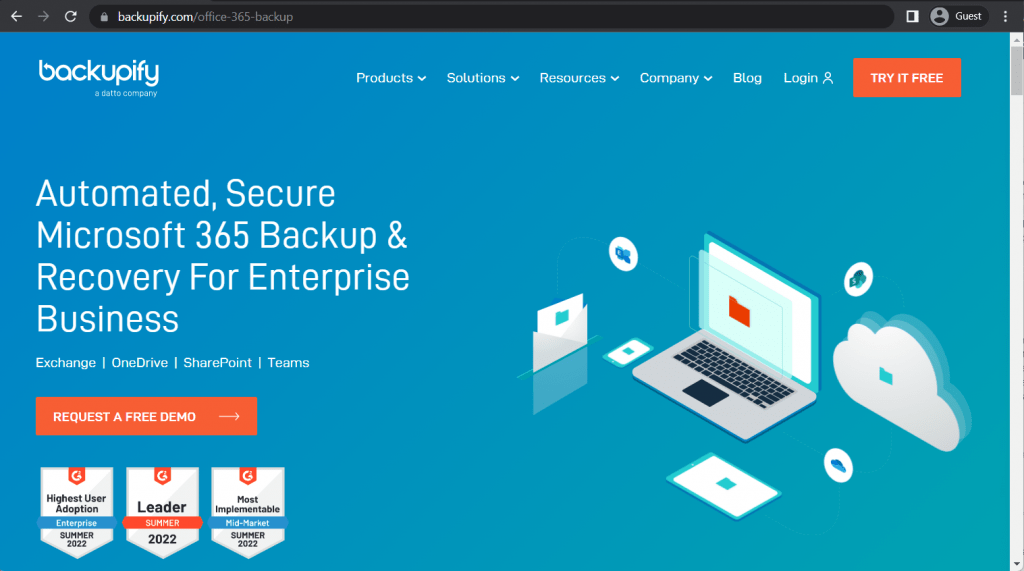 Backupify works in a similar fashion, offering a rather limited set of features that would be great for small or medium-sized businesses. It is one of the few solutions on the market that started as a consumer-specific model and then got onto the enterprise market, instead of the other way around. It can work with SharePoint, Teams, OneDrive, and Exchange, and it also has quite a lot in terms of automation capabilities.
Backupify Features and Benefits:
Vast automation capabilities – a backup is performed automatically three times per day, and there are also automatic data archival from departed employees, automatic registration for new users, etc.
It is fast and easy to set up and use;
It works with several M365 applications – Teams, SharePoint, Exchange, and OneDrive;
It offers data encryption mid-transit and at rest;
It is HIPAA-compliant and offers a high level of data security as a whole.
Disadvantages of Backupify:
There is no alert if a backup fails;
Navigating the service's interface can be somewhat challenging;
No backup support for Exchange Archive mailboxes;
Reporting features could use some work.
Our Opinion on Backupify
Backupify is a rather decent M365 backup solution that has a bit more features to offer than the bare bones of the feature sets on the market. It has automation features, works with multiple M365 apps, has several backup and restore options, and is generally a useful solution. Some of its features may need some work to implement though, which is why it is only recommended to smaller companies that do their research on the subject beforehand.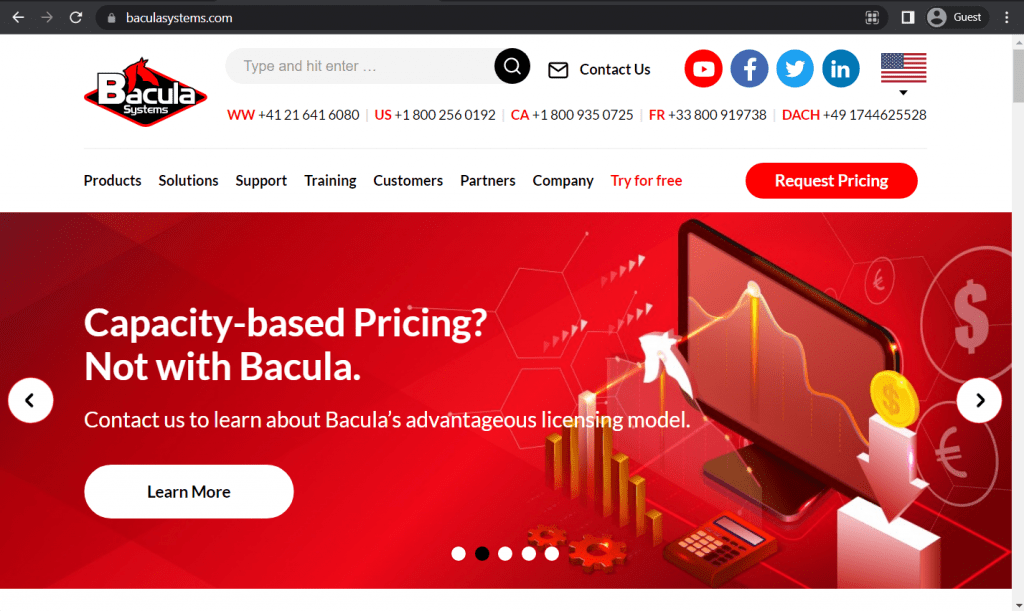 Bacula Enterprise offers vast backup and recovery-related capabilities for a large number of Microsoft 365 services, such as OneDrive, Calendars, Contacts, SharePoint Online, Emails, Mailbox settings, OneNote, and Teams. Bacula's complete feature list is long and extensive, covering practically all of the possible use cases with Microsoft 365. However, its main qualities of special note are its typically lower cost, high stability, extra flexibility, and remarkably high security architecture and features. Some of the features included in this robust package are:
Full, Differential and Incremental backup;
Mailbox backup and restore
Granular file restore
OneDrive document library backup and restoration
Scalability from small to very large enterprises
Broad tape and other storage compatibility options
Large range of Hypervisor-type and container compatibility
Advanced deduplication technologies
Especially robust design against ransomware
Disruptive licensing model for large organizations using M365
Advanced and deeper security levels over other solutions
High scalability
High level of customizability
Parallel use of web GUI and CLI
Modular architecture – you do not pay for what you do not use
Backup to Cloud, tape and a large range of other storage destinations
Conclusion
Be sure to plan adequately for tomorrow's needs and use best practices to protect against ransomware. The importance of a backup strategy when it comes to Microsoft Office 365 and, accordingly, the various backup solutions available are significant for nearly all relevant enterprises. However, a good number of solutions are available to choose from and it should not be too hard to find an M365 backup solution (formerly O365 backup solutions) that correctly meets the needs of your company.