Introduction
Generally speaking, there is an argument to say that backup and recovery has been somewhat neglected by some IT departments over time. In some instances, it is not uncommon for an organization to give the topic the priority it deserves and start thinking about backing up their data correctly only after some sort of data loss incident has occurred. Unfortunately, this logic has often proven to be a catastrophic mistake for some companies and enterprises, – who previously had viewed backup solution implementation as being an expensive endeavor without any immediate benefit.
One of the challenges lies in the scope of the data that can be affected by some sort of data breach without a backup system in place. The amount of data and its value that one person can lose within an organization is limited in most cases – it would still be a loss for the person or department in question, but such a situation would unlikely be anything devastating to the company in most instances. Organizations, on the other hand, are risking their ability to be able to conduct business – or even stay solvent – if there is no overall backup solution or strategy in place.
Each and every single data breach could potentially cost the organization a significant part of its revenue stream for a prolonged time period – which is a far bigger price to pay than the implementation of an adequate backup solution. As such, having a sound backup strategy in place is essential for any company, no matter how big or small it is.
The nature of the threat to a company's data can also differ quite a lot. Aside from the common possibility of fire, flooding or other natural types of damage, there is also the possibility of malicious attack; an intentional (or accidental) data leak that can be either external or internal in nature.
External threats continue to be ever-present for any businesses, with ransomware and malware being the most common types of issues that can occur. Internal threats on the other hand, are something that has gained more occurrence in recent years. It is typically where an act of intentional data theft is conducted from inside an organization, and which is often harder to detect with more traditional security measures.
Any of the above events typically result in data being stolen, withheld or corrupted, which can prove fatal to a business if there is no backup system in place. There are many different factors that contribute to choosing a specific backup solution, with some of the most basic ones being backup automatization and data encryption. Other preferable features in a server backup software are hybrid deployment support and virtual machine support, as well as file-level backup and restore operations, different backup strategies, and so on. A lot of these parameters would depend heavily on a number of factors, including the company's preferences, field of work, the size of the company in question, etc.
To make the burden of choosing a solution a little easier for different kinds of companies, we have compiled a list of 15 different server backup software, including large enterprise-level platforms and smaller solutions for smaller companies. These examples are some of the best that the server backup solution market has to offer.
15 Best Server Backup Solutions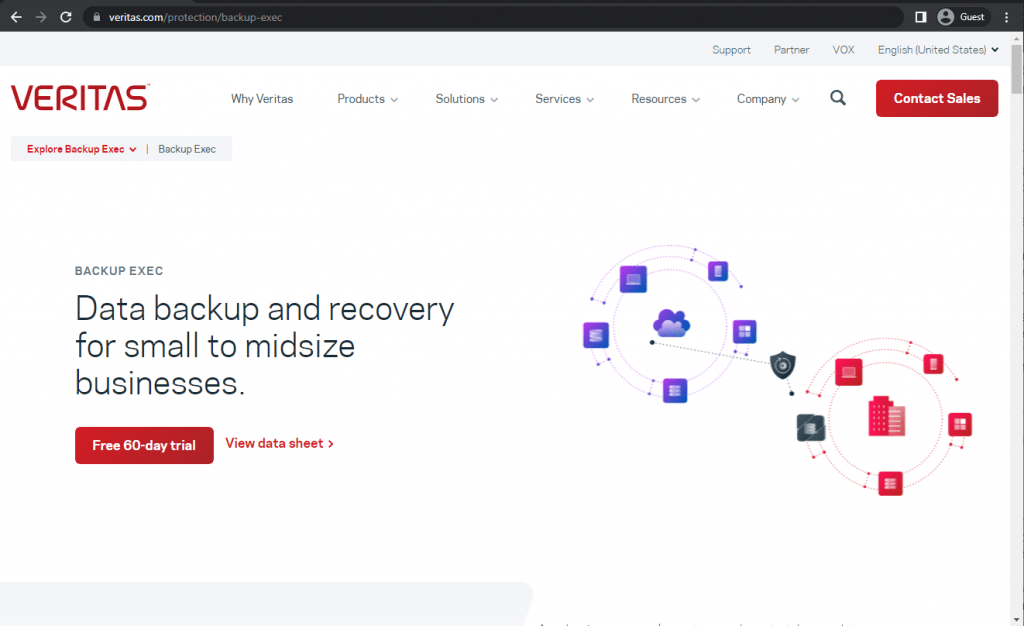 Our first example on the list is one of the companies that have been around for a whole – Veritas Backup Exec. The solution itself was created way back in 1980 and went through several different business owners before transforming into its own company in 2016. Veritas Backup Exec is one of the several different products that Veritas can provide, offering a storage area network controller on Windows Server that can perform an abundance of backup-related operations to different parts of your system.
It can work with virtual machines, including both VMware vSphere and Microsoft Hyper-V. It can also store backups on several different public cloud providers, such as GCP, Azure or AWS S3. It has a rather long two-month free trial period and is capable of locally mirroring cloud storage environments. However, since the solution itself has been on the market for a while now, some parts of the interface may seem somewhat outdated, negatively impacting the overall user experience.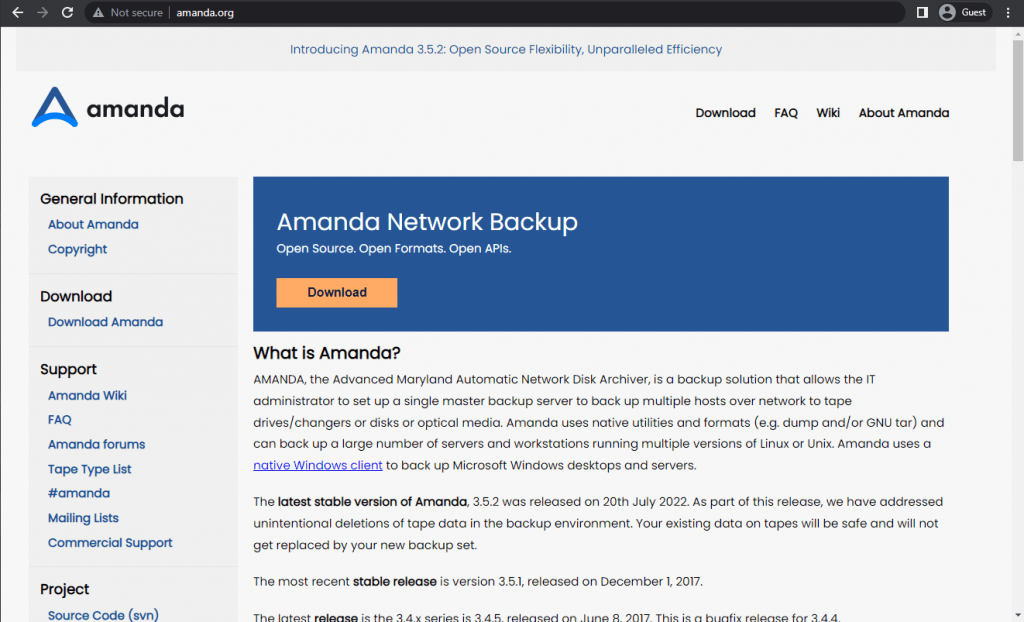 The previous example does not mean that each and every one solution on this list is going to be expensive and capable of a multitude of different operations other than backup and recovery. For example, Amanda here is a server backup software that is both free and open source. It can be deployed on Linux and can interact with both servers and endpoints on Windows, Linux, Unix and MacOS.
The name itself is not just any name – it is an acronym that stands for Advanced Maryland Automatic Network Disk Archiver. It can work with both local and tape disks and is capable of integrating with the majority of existing NAS (network-attached storage) devices. Unfortunately, Amanda suffers from the same problem that the previous contestant does – a user interface that is not as intuitive and easy as it could have been. The interface in question is also rather limited in its features – there is no visualization for backup progress, for example. Amanda also suffers from a limited development roadmap.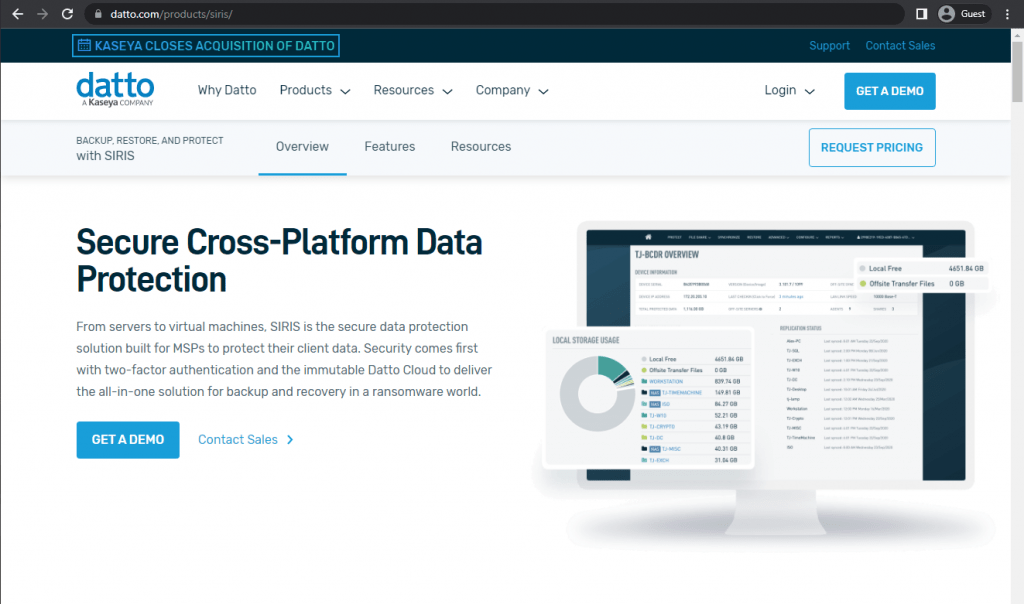 While it is true that Datto Virtual SIRIS is a NAS controller, first and foremost – it is also capable of storing client's data to either attached storage or the offsite cloud storage. Datto mainly operates with image-based backups, offering both incremental and bulk backups. It works with Windows and Linux servers, as well as with workstations from MacOS, Linux and also Windows.
Datto also has its own cloud storage solution that comes with the backup solution – offering 256-bit AES encryption for data both at rest and mid-transfer as a guarantee of an unprecedented security. It is a great solution for specific tasks, but it can also be somewhat more expensive than the competition, while offering a rather rigid user interface that is not easy to get used to.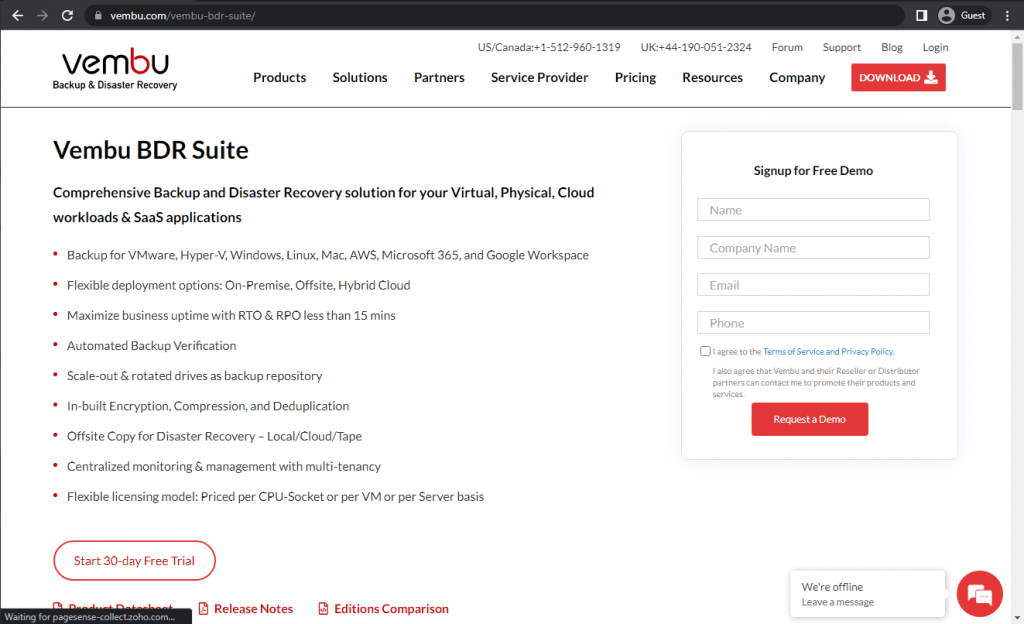 Another example of a rather popular backup solution here is Vembu BDR Suite – one of several software suites, with this one being focused on Backup and Disaster Recovery (which is where "BDR" comes from). It can work with virtual, cloud and physical systems, and it is flexible enough to provide both server-wide backups and file-level recovery.
Vembu BDR has a fair list of features, including application-centered backups, data encryption, backup verification, data compression, and more. It can be deployed either as a standalone on-premise software and as a software-as-a-service with the name Vembu Cloud BDR Suite. It supports both Linux and Windows servers and there is also a month-long free trial available to try out this server backup solution's features.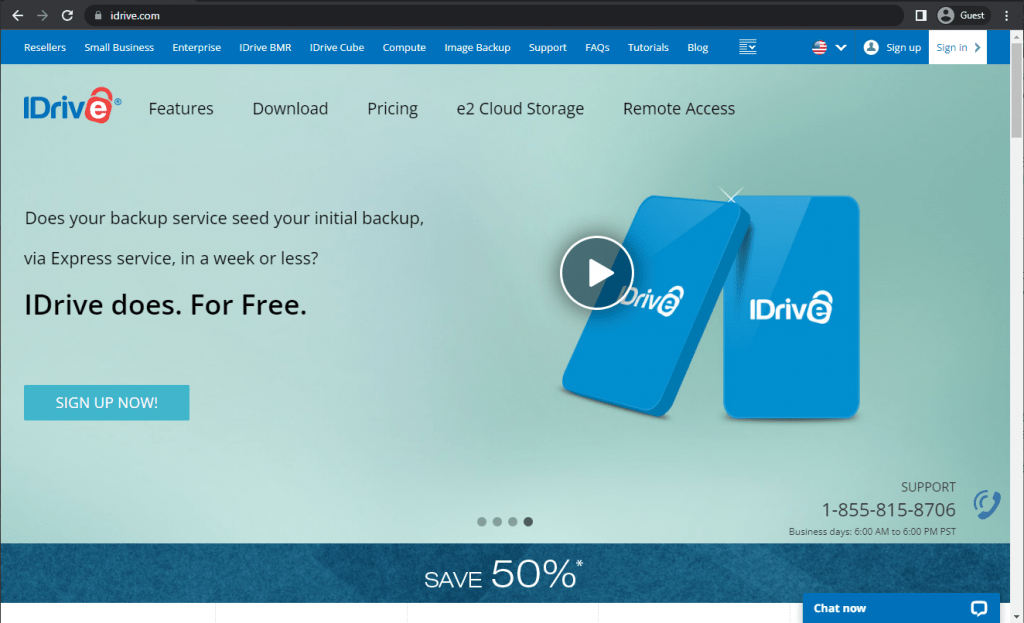 As a rather simple yet effective server backup solution, IDrive strives to achieve this exact middle ground between effectiveness and simplicity. It is capable with a variety of devices (including two of the most popular smartphone operating systems), can offer data encryption, a continuous backup option, and more.
Data archival is also possible, and there are plenty of different pricing offers so that a lot of different users can find the one that suits their use case the most. Unfortunately, this solution also tends to be rather expensive when you need to quickly scale your backup capabilities with a growing business, and the fact that there is no pricing point with unlimited data capacity may make it rather inconvenient for some growing companies or for large enterprises.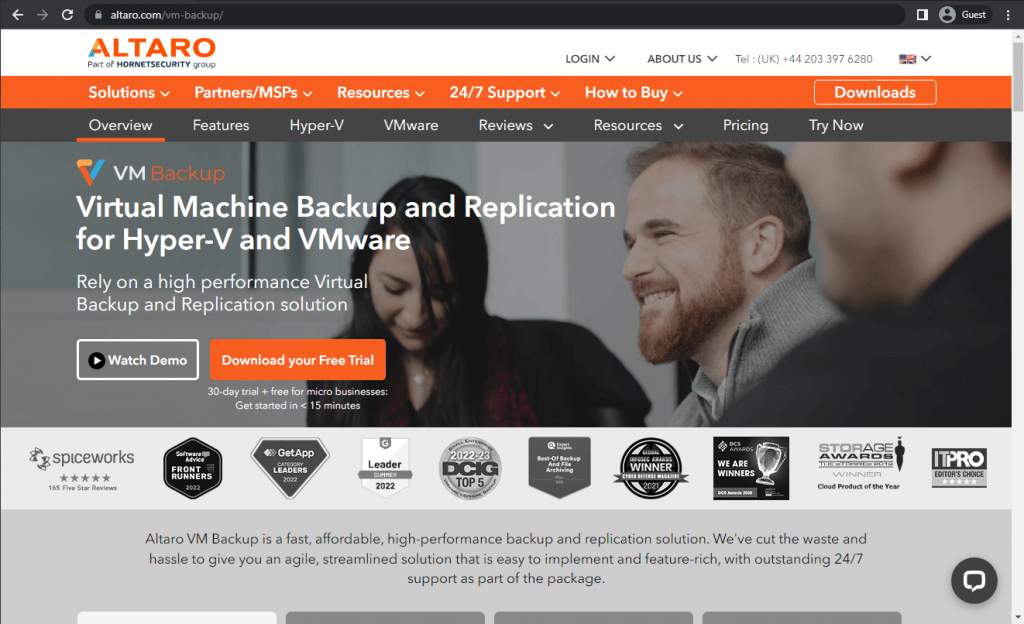 Going for a slightly different tool for specific operations, we have Altaro VM Backup – a solution that focuses primarily on working with virtual servers, mainly Hyper-V and VMware. It can be used to replicate virtual servers on different sites, it has a separate version of itself specifically for MSPs (Managed Service Providers), and its backup capabilities are quite vast and varied. The software in question can detect data duplicates within the system, so that every unique data piece is only copied once for a backup. It also offers CDP as a feature – Continuous Data Protection, which is a technology that allows users to check for data changes in the system on a regular basis and copy new information after every check.
Altaro VM can also back up multiple VMs at once, offers versioning as a feature via data archival, and provides encryption to the entirety of its data, both mid-transfer and at rest. It has an easy-to-use interface and boasts great customer support. Unfortunately, it also lacks some of the much needed features when it comes to VM backup and recovery, such as the ability to restore specific databases instead of restoring a VM in its entirety.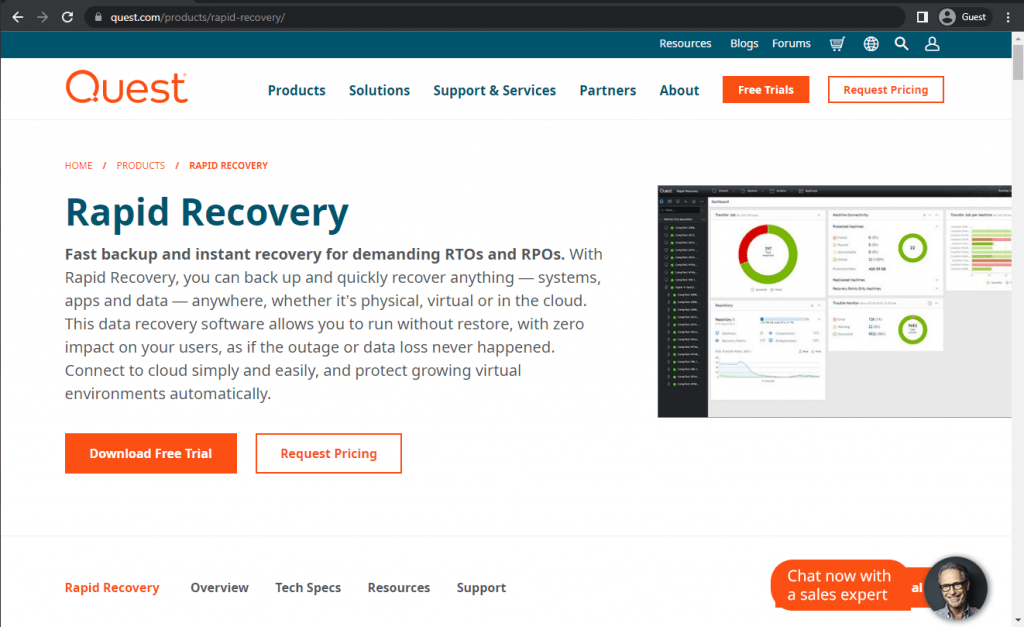 Veritas is not the only company on this list that only recently became its own product. Quest Rapid Recovery is developed by Quest Software, which was known for a while as Dell Software – until 2016, when the Quest division was sold off. Now Quest Software is its own company, and Rapid Recovery is one of the flagships of the company – offering a server backup solution with a variety of features. The system itself is installed on Windows Server devices, and its agents are compatible with Debian, Ubuntu, SuSE, CentOS, RHEL and, of course, Windows.
Rapid Recovery supports both VMware ESXi and Microsoft Hyper-V virtualizations, can back up information from different cloud servers – be it Google, Rackspace, Azure, S3, Glacier, or any implementation of OpenStack. Backups themselves can be stored locally, in a remote location or in cloud storage of sorts. Additionally, the interface of Rapid Recovery is web-based, meaning that you can gain access to it from pretty much any device that has a web browser.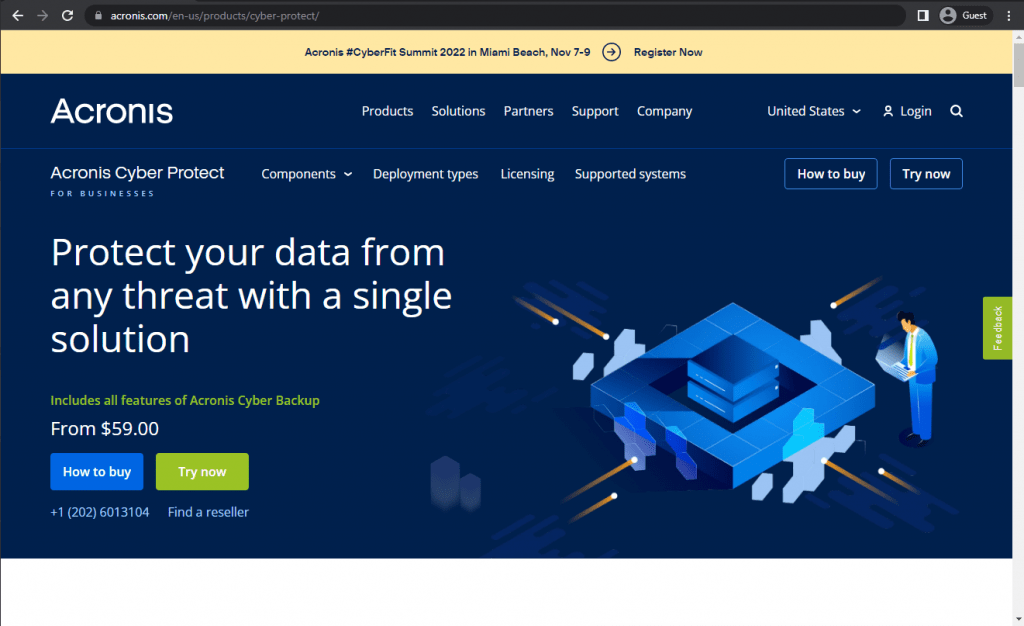 Acronis is another well-known name in the backup industry as a whole, and it has earned its reputation fair and square. Acronis Cyber Protect is a comprehensive security system that covers all kinds of devices, from servers to desktops and even mobile phones. Its centralized nature makes the overall backup management that much easier, and opens a number of new opportunities for extensive data protection – including devices of employees that work remotely.
Acronis can work with both physical and virtual systems, offers multiple different backup types (including both full and file-level backups), can perform multiple backups at once and integrate with Windows/Linux Servers and/or Hyper-V/VMware. It is a comprehensive solution in some ways, although some technologies, such as many hypervisor types, are limited. From both the backup and data security standpoint (including virus scans for files that are about to be backed up or restored, and more), Acronis offers a reasonable choice of functionality. It lacks however, a considerable amount of high end enterprise features.
While not as well-known as some other names on the list, Barracuda MSP is still relatively famous when it comes to different kinds of tools for smaller companies in the MSP field. Intronis Backup is one such tool, offering several different backup types for different use cases – app-level backups, image-level backups, VM backups for either VMware or Hyper-V, and so on. Intronis Backup also has bare metal recovery, disaster recovery and data replication.
Since Intronis Backup is primarily focused on MSPs as its target audience, it often works well alongside a different backup solution for other data types. In addition, Barracuda MSP as a whole supports integrations with a number of PSA and RMM systems that other suppliers in the field can provide, meaning that there should not be too many disconnects between different software when it comes to activity tracking and other features.Hower, this may not be the best solution for organizations looking for uniform scaling across an IT estate where a single platform solution may be more viable.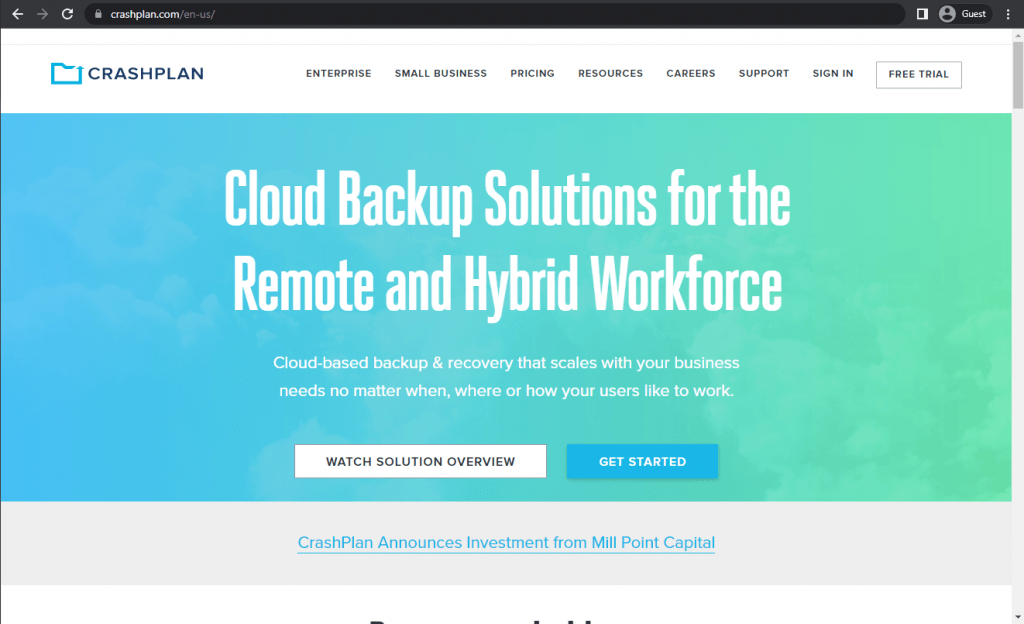 An abundance of different features and services is useful but it can get overwhelming and confusing very quickly. If most server backup software is too complicated for you – then CrashPlan may be worth considering. It is one of the most user-friendly backup solutions on the market, offering a limited list of features that does exactly what is needed.
This kind of approach is the main goal of CrashPlan – to offer a backup solution that creates backups,recovery,  and nothing else. CrashPlan supports Windows, Linux and Macintosh devices, has no storage limitations, and is very easy to set up initially. It can only work with physical servers, so there is no VM support included. Some users may be disappointed with the lack of features, but CrashPlan targets an  audience that needs the bare minimum of a server backup solution – and it typically does that rather well.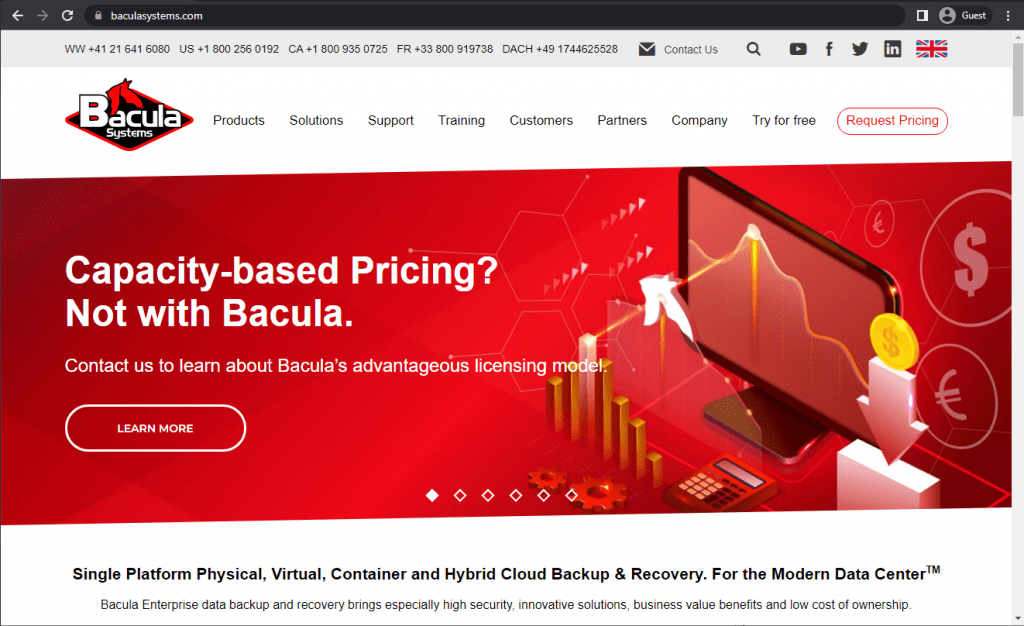 Bacula Enterprise may not be as well known as some of the participants of this list, but this solution's strong functionality and capabilities more than makes up for it. It is a server backup software with an unusually broad range of features – supporting all kinds of different storage types, several different backup options, a centralized web-based management console, vast virtualization and hypervisor support, app-aware backups, database backups, and more. This wide range of functionality brings with it the opportunity to protect even very complex IT estates from a single platform. Its linux-based architecture offers especially high protection against ransomware and other threats. Bacula is used for physical, virtual, container and cloud environments and is highly scalable. It also spans a wide range of storage technologies, including tape, and offers users a choice over 34 operating systems to run off. Complementing Bacula's technical scalability, it also has no capacity-based pricing, making it very attractive to high volume or high growth organizations.
A lot of Bacula Enterprise's capabilities come from its modular software structure – it allows Bacula Enterprise to support an unparallelled number of different technologies and solutions, including SAP HANA, Hadoop, MariaDB, MSSQL, MySQL, PostgreSQL, NDMP, Hyper-V, VMware, Red Hat, Nutanix, Proxmox, Xen, Kubernetes, OpenShift, Docker, and so on. At its core, Bacula Enterprise is an improved, deeper and certified version of Bacula – a free open source backup software project that has its own share of advantages and use cases. This free open source version has had millions of downloads, is used all over the world and may be helpful for IT users that have no budget available.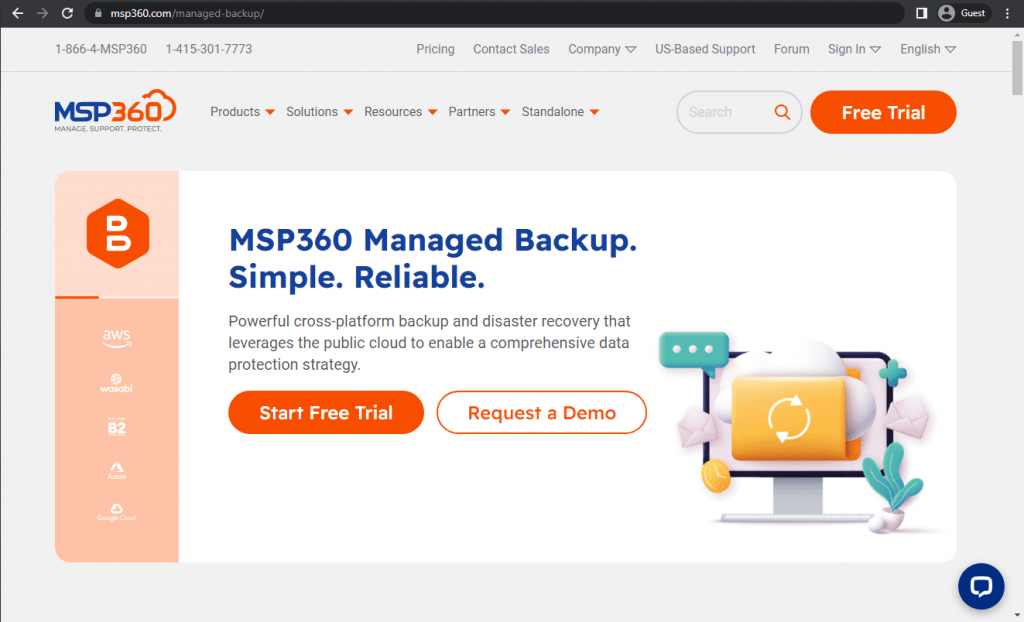 MSP360 (formerly Cloudberry) is a company that offers multiple different products in the field of data management. One of its products is MSP360 Managed Backup – an online backup service that works with all three of the major desktop operating systems, while also offering compatibility with Hyper-V, VMware, G Suite, Office 365, Microsoft SQL Server and Microsoft Exchange. In its core, MSP360 Managed Backup does not have its own storage capabilities, making it up to the user to choose their preferred cloud storage location. The software itself can be integrated with the majority of the biggest cloud storage providers – AWS S3, Azure, Backblaze, Glacier, GCP, and more.
MSP360 Managed Backup has centralized management as its main feature, offering a comprehensive solution with an easy way to monitor, report and manage different storage and backup types. Despite its limited compatibilities, there are image-level backups, file-level backups, data compression, data encryption, as well as many other useful features. However, the number of different pricing points may confuse some people, and the interface as a whole may be somewhat difficult to work with when it comes to a large number of directories.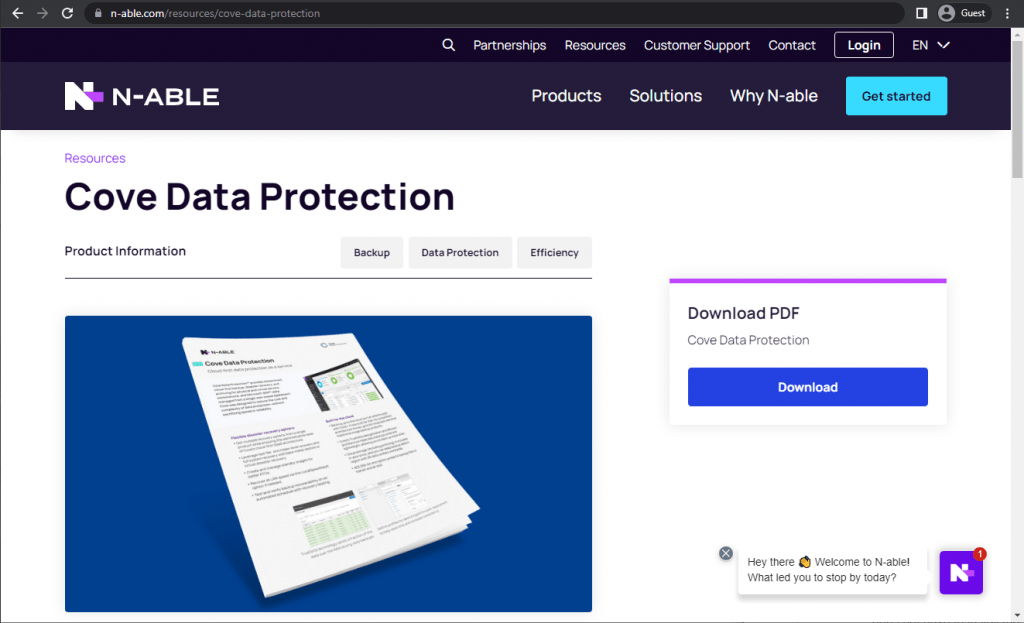 One more server backup software that focuses on MSPs more than anything else is N-able Cove Data Protection. N-able's solution includes its own remote storage space and operates with the Software-as-a-Service model – meaning that the client does not have to install the software on each of their servers. N-able offers a centralized dashboard with the ability to manage multiple storage locations, it supports both physical and virtual server types and is also compatible with MySQL, SharePoint and Microsoft Exchange.
Other features of N-able Cove Data Protection include data compression, AES-256 data encryption, data archival capabilities, as well as bare metal recovery and versioning. It has a simple interface and moderate scaling capabilities, but it may also be somewhat overwhelming for someone not familiar with all of the intricacies of the data management field.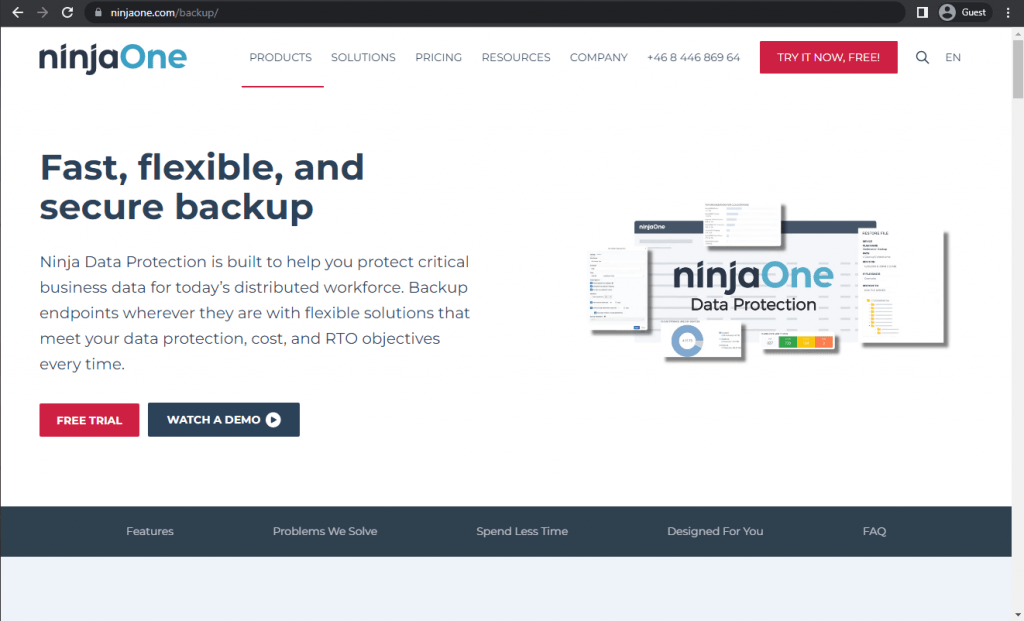 NinjaOne Backup is a solution that can be useful for IT departments as a whole in terms of data protection, but their prime clientele is still in the field of Managed Service Providers. It is designed to be able to manage multiple different endpoints – although each endpoint has to have an agent running on it to be manageable with NinjaOne Backup. This particular server backup solution is also multi-tenanted, just like all of the other NinjaOne products. What this means is that it is possible for a client to create multiple sub accounts for their own clients, keeping every client's interests and features separate from the others.
NinjaOne offers several different backup strategies – including image-level, file-level and app-specific backups. The choice between full, incremental and differential backups is also up to the client. The solution offers encryption to all of its data and has a choice between local backup storage and third-party cloud platforms – making it a rather useful server backup software for some specific use cases.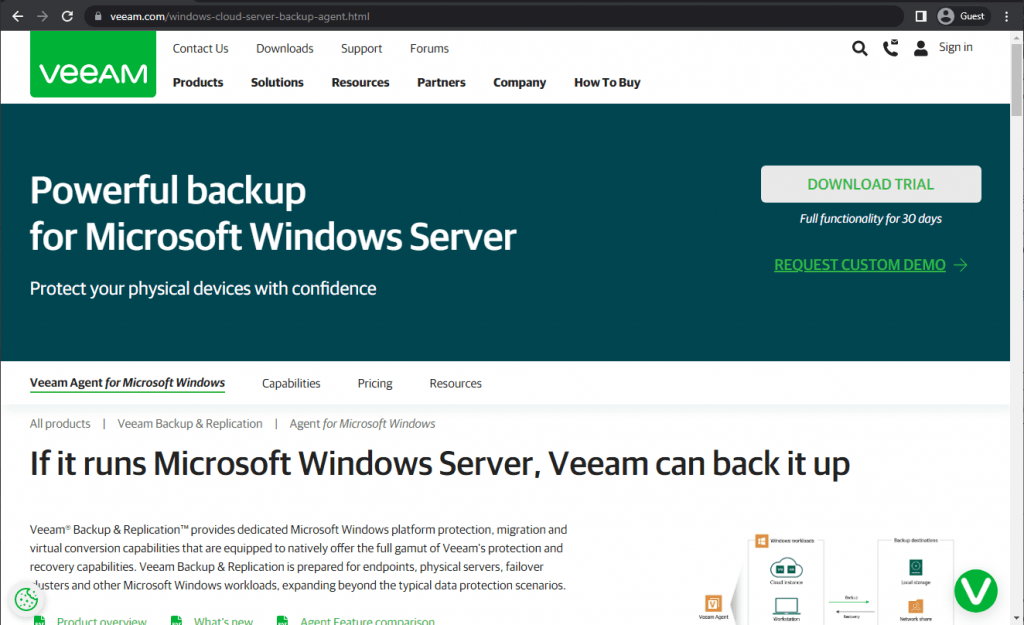 Since the backup solution market as a whole is rather competitive, it is no surprise that there are a lot of well-known companies and solutions competing with each other. Another well-known name on this list is Veeam – a server backup software with a high degree of customization, making sure that it can meet the specific demands of each and every one of their clients. It theoretically works with both physical and virtual servers and has its own cloud backup storage included in the package.
Despite some security issues such as limited tape compatibility, Veeam's backup solution also has a fairly easy-to-use interface and a lot of emphasis on automatization for different actions and operations. Its pricing, on the other hand, is a double-edged sword of sorts, since the pricing offers more customization for different use cases, yet Veeam is often still more expensive than most of its competitors. Some may deem the solution to be of value, others would continue looking for a better solution for themselves.
Conclusion
The server backup software marketplace is incredibly competitive and has a lot of different solutions available to cover the many needs and priorities of almost any company or enterprise. However, a competitive market often makes it far harder to determine what kind of solution may be the best choice for your company. It is our hope that this list of top 15 server backup solutions was able to help you with that decision.