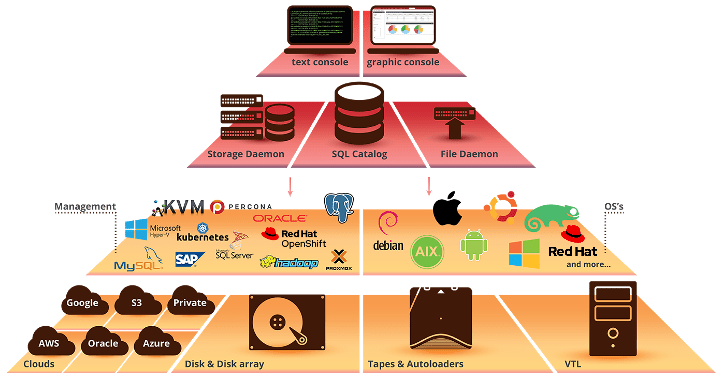 The different components and interoperability of a backup system can determine if it is the right solution for you
The free guide to choose the best data backup software for your business
Although it can be rare, situations or incidents usually arise at some point of time in an organization which can lead to information loss. This can directly jeopardize an organization's functions, and whether the data losses are small (archives, such as spreadsheets, documents, presentations, etc.) or very large (such as terabytes of data of entire databases, program repositories, computer images, multimedia files, etc.), the effects on a corporation can be disastrous.
For these reasons it is vital that companies have mechanisms or systems that allow them to protect themselves from these events. One of the more obvious and fundamental strategies is to correctly back up the data and information using applications that store them in secure sites for later retrieval, if necessary.
In addition to the generic protection of information, what should be the characteristics of the best backup software? If we assume that a typical company organizes and processes an ongoing and increasing volume of information, this should be taken into account when defining action plans and management strategies. Some characteristics of the best backup software are that it should:
Be reliable and guarantee the execution of backup and recovery operations in an integral and consistent manner, without loss or omission of data and information.
Allow your administration to be simple, but complete. To do this, it must have utilities or tools as part of the application that are easy to use, offer functionality to users with appropriate expertise, for data management as well as configuration, administration and monitoring.
It must have the capability to adapt to heterogeneous environments, since in many organizations it is common to use technology and hardware of different types, characteristics and manufacturers, including operating systems, applications, and databases.
The backup and recovery software should provide organizations with the ability to grow and adapt according to the information needs of its functional processes of operation, as well as those derived from the users' requirements. Important note: growth should not be impeded by a solution which becomes too expensive as it scales up.
Facilitate the incorporation and implementation of specific tasks inherent to the processes necessary to perform effective data backup. These can include: stopping and starting services, creating and deleting files, sharing information, validating the execution of a program, generating alerts, among others.
Send execution notifications of backup operation processes. This can be obtained through emails, monitoring systems, web browsers, etc.
Allow the configuration of different levels of backup that conform to an organization's policies and windows of operation in an efficient way, in terms of time, integrity and consistency of information. Although this is an inherent condition of any backup system, the better ones tend to facilitate the configuration and management of the required backup levels and related operations.
Backup and recovery software should provide the options and elements to execute several concurrent instances of backup and recovery, although this will depend directly on the resources and hardware available for this activity. These elements should have the ability to be automated and scheduled so that the process is carried out efficiently and with minimum execution time, without affecting the consistency or integrity of the protected data.
Allow the user to manage the storage resources where the backed up information is copied. This may include disks, tape drives, auto-changers, cloud storage devices, NAS or SAN devices or online storage applications.
Offer tools to manage the historical data of backup, necessary for diverse purposes, such as:

Information retrieval.
Legal regulations, either of the company or of authorized institutions.
Compliance with quality standards, such as ISO, or methodologies such as ITIL.

Allow interrelation with utilities that can consult the information of the backups, and in this way generate summaries and reports that can be used in companies for diverse activities such as capacity planning, data management, functional indicators, and more. Correct estimation of resources – besides guaranteeing the protection of the information – makes it possible for the technology to grow and adapt to new functional and operative requirements.
Provide mechanisms and processes that optimize the execution of the backups, in terms of avoiding the duplication of the information in the data stored in the backup devices. This is done using hardware and software resources, or a combination of both.
The best backup software should allow integration with mobile devices, phones or tablets, including not only notifications but also administration and monitoring utilities. With this, the processes are streamlined, ensuring that the management is carried out in a productive way with quantifiable results.
The use of technology resources in the cloud has increased significantly, both in hardware services, applications, operating systems, databases and storage, with benefits and advantages that provide organizations with potential management of IT infrastructure. Therefore, a company may evaluate the cloud as a valid and safe option for the protection of data, since it allows the implementation of a high availability environment with adequate levels of redundancy.
The best data backup software should allow the user to encrypt the backup data, in order to guarantee its privacy. If we take into account that various global and local access storage devices can be used, built-in protection that guards against attempts to attack or violate is essential.
Just as the use of cloud services is now common in an enterprise, the use of virtualization has also increased significantly, since it allows for faster administration and optimization of resources as well as reduce hardware costs and implementation. Therefore, the best data backup software should support servers in virtualized environments, whether they are an image on the platform, or a computer on which the virtualization environment is configured and running.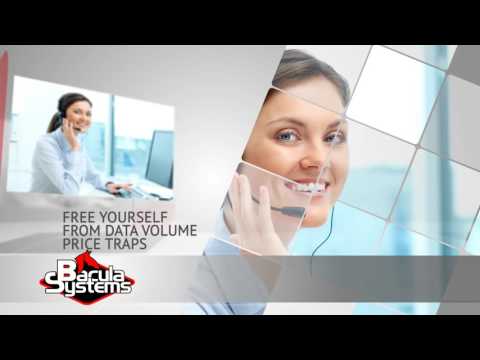 All these characteristics contribute to protecting the infrastructure and computer platforms of a company, including operating systems, databases, user data and applications, to avoid potentially catastrophic data losses that may affect a company's operation.
Explore Our ProductsView Backup Glossary
Request for Proposal and how it works in the backup software industry
When it comes to choosing the actual solutions and suppliers, there is a method companies often use to decide the best enterprise backup solutions for the company's interests. This process is called 'Request for Proposal' (RFP). A well-defined RFP allows companies to prevent wasting money and manpower searching for the best enterprise backup solution compared with manual search in the long backup software list, and even the end results are affected by that.
A request for proposal is a specific document that is used to obtain proposals from organizations that are providing services or products – the ones providing backup and recovery solutions, in our case. Frequent examples of RFP are government organizations seeking proposals from various building companies for municipal building construction, or nonprofit companies looking for assistance in grant writing, and so on. Since an RFP typically covers a vast amount of different needs and buying models, there's no single way of doing it. But there are some general recommendations and a typical process outline. There are also some backup-related specifics that we'll mention, as well.
The entire process of RFP for backup and recovery solutions might be split in four steps:
Data collection and preparations;
The creation of RFP for backup and recovery solutions;
Preparations for the evaluation process;
Evaluation and negotiations with the backup and recovery solutions' providers.
Data collection and other preparations
As mentioned, the general process differs depending on the target market, but there's a good middle-ground base that you can work with and there's a few backup-related specifics there, as well. The first step includes team assembly and timeline development.
Team assembly is not exactly mandatory but heavily recommended nevertheless. It helps a lot if the roles are defined to begin with to avoid confusion and blame shifting. Usually there are at least four categories of participants:
A team/project manager that makes sure the entire process is working properly and meeting all of the deadlines;
Key stakeholders that'll be reviewing both the drafts of the RFP and the final version of it;
Creators of the RFP – the ones doing the drafting and creation of the request for a backup and recovery solution;
Reviewers – employees that will be responsible for the application analysis at the end of the process.
After forming the team in question, it's also important to establish and set in stone a timeline for the entire process, from the date of the first draft being completed down to the time when you'll stop accepting applications from best enterprise backup solutions vendors.
The creation of RFP
After you've completely established your timeline, your designated RFP writer can begin with drafting the RFP, including performing all of the necessary research on the backup industry in general.
There's a few recommendations that work for nearly all of application types, but we'll be going over parts of the RFP that are suited for backup and recovery companies and solutions. As with almost any document, a proper RFP includes a few chapters that present different questions and are handled differently at the analysis part of the plan.
Any good professional document should include the introduction page that is capable of summarizing the general idea of the document and lays a foundation for the request. This part is about specifying all of the deadlines, company's requirements when it comes to backup and recovery software and standardized instructions about the information for the entire document.
The company overview page should allow data backup software companies to specify a bit more of the general information about the recipient in question. This part includes questions like the company's structure, target customer base, the number of enterprise clients currently in the works, general product's description, the most obvious differences from competitors, and so on.
Going further into the more specific backup-related questions, the page about virtual environments is there to find out a company's specific VM-related technologies and capabilities, from more common single file restore jobs and the list of supported hypervisors to some features that are much more specific, like data deduplication, data compression, VM snapshots, accessibility of the full restore logs, the possibility to create backups for VMs in different states, etc.
Of course, virtual environments may not be the only ones that may be relevant. For example, the page about container environments is another possible requirement . This part is more about the specifics of a company's performance when it comes to working with container environments, such as Kubernetes or Docker. Some container-specific questions, like the container backup technologies overview, the amount of backup and recovery process customization that's available to administrators, capabilities of backing up to and restoring from the cloud environments, may be needed.
As well as specifying everything about virtual and container environments, it is also necessary to learn about a vendor's database backup and recovery capabilities. This part may include questions such as the list of supported databases and the available backup-specific technologies such as deduplication and compression capabilities, as well as integration with cloud storages and so on.
Admin tools also need investigation. This section aims to identify the exact process of creating a backup or a restore job using a company's backup tools, as well as other administrational and analytical specifications such as the web interface of the solution, the basic set of admin roles and permissions that are available, the extent of built-in analytic and reporting capabilities, data migration support, and more.
Administration tasks might be performed differently based on the OS of the client. This is why there are separate pages about windows-based and linux-based capabilities of a specific solution. A Windows environment page, for example, should be able to specify the solution's support of various features like EFS, VSS, bare metal recovery, P2V/V2P options, UEFI system support with secure boot, LDAP and AD capabilities, etc. On the other hand, the Linux environment page should specify the Linux distributions that are supported by the solution, the capabilities of the solution when it comes to partitioning, bare metal recovery, ISO creation, machine cloning, and so on.
Of course, one should not forget about the accessibility of the backup and recovery solution, meaning that a customer should know the specific platforms and endpoints that can be protected with that specific solution, such as mobile client, FreeBSD client, HP-UX client, Solaris client, etc.
Even though some of the general storage media-related questions could've been referred to already, it's usually quite important to go deeply into the storage capabilities of the solution in question. Examples of this could be the range of cloud storage providers that are supported by this specific backup and recovery software, the typical restore costs from cloud, if there is tape backup support, if there is support for any NDMP-powered storage devices, and if there is a capability for faster restoration from NAS devices, and more.
The end of the RFP is better suited for less storage-related questions, like the company's policy and security when it comes to backup storage. An example of those can be the support for incremental/differential backups, job scheduling capabilities, "incremental forever" backup scheme support, EFS data protection support, data corruption detection capabilities, encryption capabilities, and so on.
And let's not forget about customer success and licensing models, as well. A Customer success page specifies technicalities like implementation time, the extent of user documentation provided, standard and extended support hours, average wait and response times, if there's any support representatives for important clients, and more. Licensing model, on the other hand, is all about finding out the monetization form of the data backup software, including the possibility to work under the subscription model, possibility to buy a perpetual license, possibility for an unlimited data licensing, CPU-free licensing, and others.
Preparations for the evaluation process
Once the RFP is done and reviewed by the stakeholders, it's time to distribute it to the potential suppliers from the potential backup software list. Most of the time it is recommended to use a project web page that keeps all of the necessary information about the company with a downloadable version of your RFP. You can also send out emails to the potential vendors that you're interested in and link them to the previously discussed project page. Relevant deadlines and contact info should also be properly provided.
Evaluation and negotiations
Of course, the evaluation process should not just be about hand-picking one of the solutions after manually going through them. To ease the amount of work that is required when choosing, it is recommended to also prepare an evaluation template to make the entire decision process far easier.
The way it works is that there's an importance score that is designated to each feature, and the RFP reviewers would have to decide if each of the answers to the parts of the RFP is functional, lacking, or nonexistent. Each "functional" means two points, each "lacking" is one point, and every "nonexistent" means zero points for the company.
The summarizing of all of the points from the evaluation results would make it easier for the top stakeholders to make the correct choice in regards to the backup and recovery solution.
Most of the time there's only two or three suitable solutions left after the evaluation process is complete. At this point it is recommended to meet the representatives of these solutions in person to have a better understanding of each of their advantages and shortcomings.
Of course, this entire process is not quite over after you have chosen – the contract signing is also considered to be a part of the RFP as a process. The Request for Proposal is considered to be completed as soon as the agreement is finalized and the contract is signed.
Best backup software list
It's understandable that not everyone might choose to proceed with the RFP process, since it is quite a complicated process. For the ones that are like that, we've prepared our top 15 picks on the topic of the best enterprise backup solution:
1. Rubrik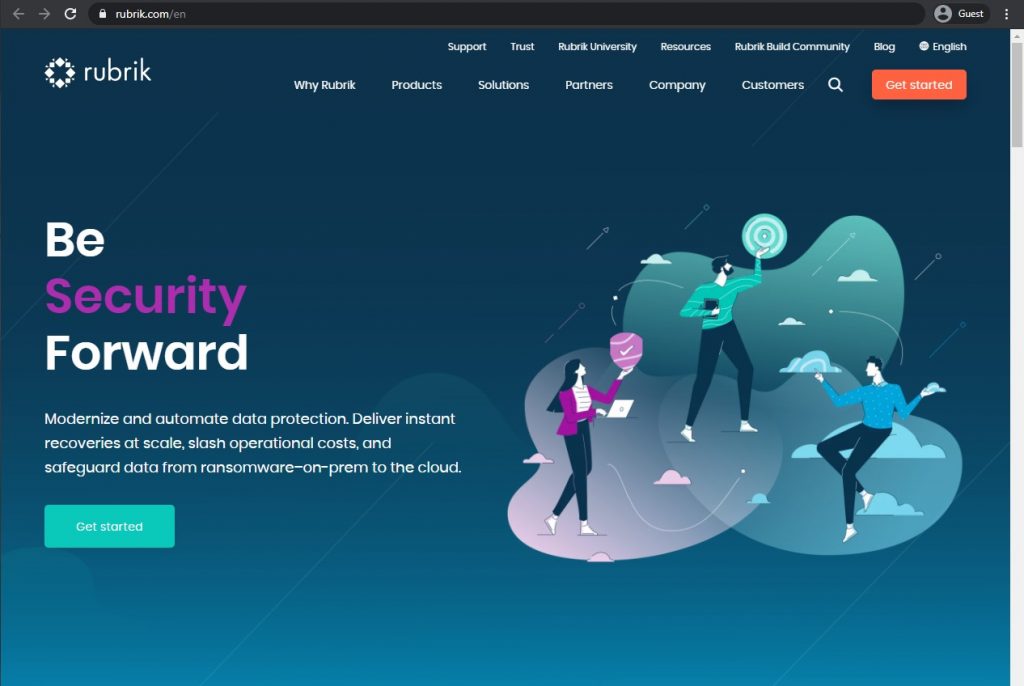 Rubrik is one of the best backup and recovery vendors on the market, and their specialization is hybrid IT environments. Rubrik Cloud Data Management (RCDM) is their own invention that makes data protection and cloud integration so much easier. Of course, they also have their own data management platform called Polaris. Polaris consists of Polaris GPS – policy management and reporting, and Polaris Radar with ransomware detection and rehabilitation as its main function.
Unfortunately, nothing is perfect, including Rubrik. Some users have been reporting a few noticeable problems here and there, like VM's cost, app protection for smaller companies, AD's lack of granular control and so on.
2. Unitrends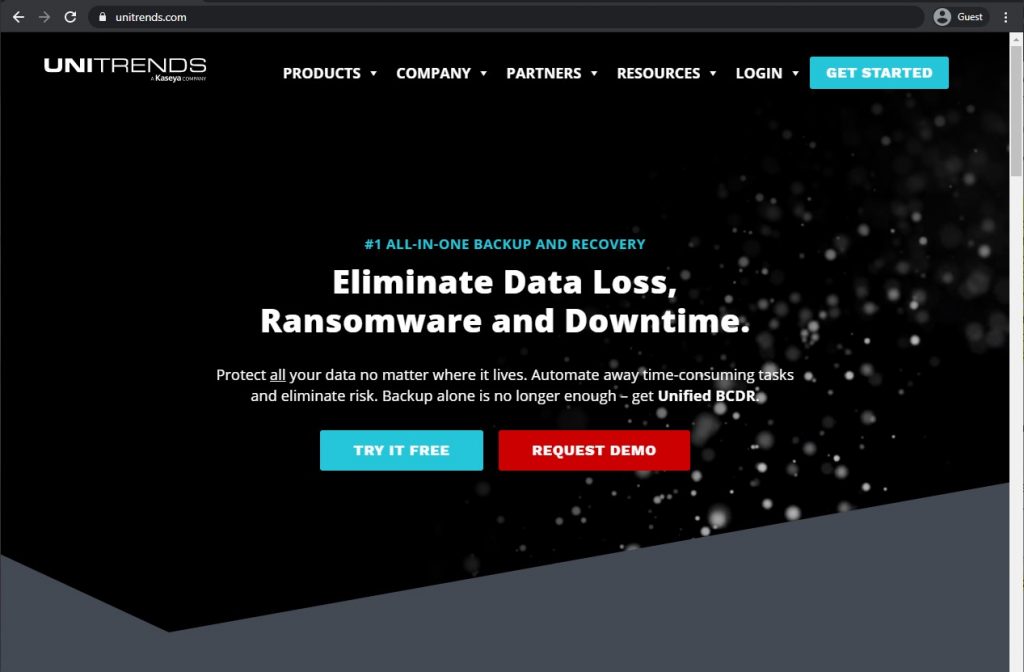 When it comes to Hyper-V and VMware backup solutions, Unitrends is always an option for these cases. First of all, it's free for the first 1 TB of data, and there are multiple editions (free, essentials, standard, enterprise, and enterprise plus) for different needs of customers with different data limits. Other features of Unitrends' backup solution include instant VM recovery, data compression capabilities, ransomware detection service, protection for virtual and physical files, and, of course, community support.
3. Veeam Backup & Replication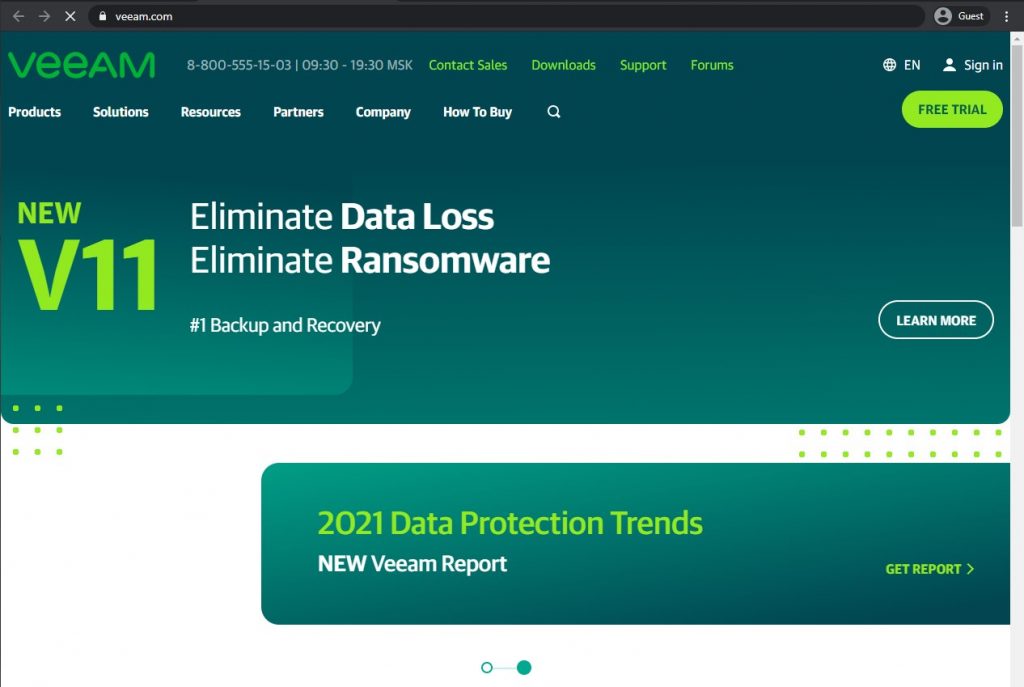 If we're talking about virtual environments, then Veeam might be our first pick, with their cutting-edge technologies that allow flexible and fast data recovery when you need it. Their all-in-one solution is capable of both protecting your VMware vSphere/Hyper-V virtual environments and doing basic backup and recovery jobs, as well. The scalability of the solution is quite impressive, too, as well as their number of specific features, like deduplication, instant file-level recovery, and so on. Veeam's distribution model is not exactly complex, either: there are several versions with different capabilities and variable pricing.
4. Bacula Enterprise
Bacula Enterprise is a reliable backup and recovery software that presents various functions like data backup, recovery, data protection, and more. It offers especially high security and is mainly targeted at medium enterprises and larger Bacula provides an unusually large range of different features, from various storage types and easy setup to low deployment costs and extra-fast data recovery times. It can work with the majority of the popular Linux distributions (Debian, Ubuntu, etc.), and a lot of other operating systems, too, like Microsoft, MacOS X, Solaris, and more. Bacula also has a unique modular architecture that helps protect it against ransomware and other attacks. It offers a choice (or combination) of both command line and Web-based GUI's. There's also a very strong range of security features, and many additional high performance, enterprise-grade technologies such as advanced deduplication, compression and additional backup levels. The licensing model also avoids charging per data volume, which makes it especially attractive to MSPs, ISVs, Telcos, Military and Research establishments, large data centers and governmental organizations.
5. Acronis Cyber Backup
Acronis is a well-known competitor in the software market, and its Cyber Backup solution keeps up with the company's standards, offering a secure and effective backup solution for multiple use cases. Acronis can help you with protecting your information from a wide variety of threats, including software failures, hardware problems, cyber-attacks, accidents, and so on. There are also more features within the same field, such as in-depth monitoring and reporting, minimized user downtime, the ability to ensure if a backup is authentic or not, and so on.
6. Cohesity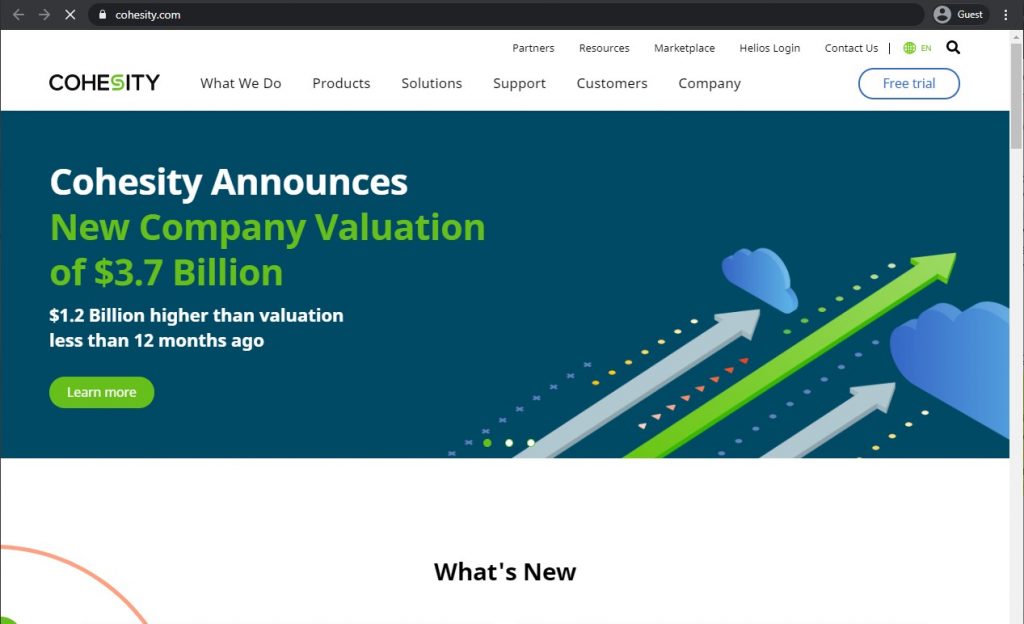 Cohesity is more of a "all-in-one" solution, capable of working with both regular applications as well as VMs, and its scalability is quite impressive, as well, thanks to their own cluster-like structure with nodes. It can keep backups with app-native formats and use NAS protocols to manipulate a variety of data types. Their data restoration speed is good, as well. Unfortunately, the pricing model isn't that flexible and some specific objectives, like MS Exchange or SharePoint granular recovery, are only covered by separate modules that you'll have to pay for first.
7. MSP360 (formerly Cloudberry Lab)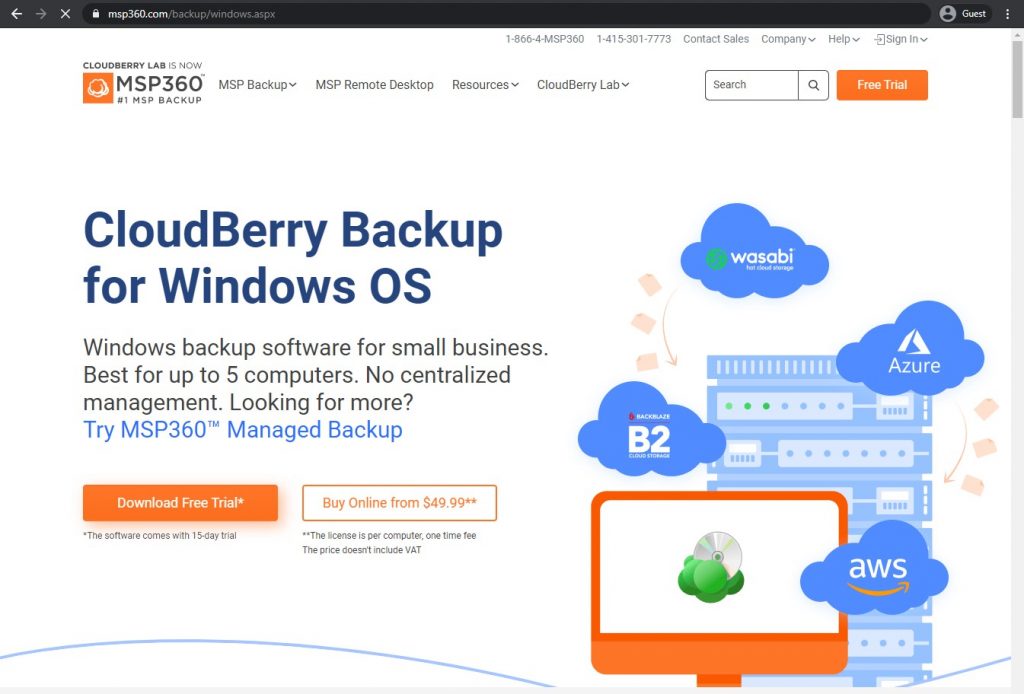 MSP360 is a well-known cross-platform backup and recovery solution, offering integrations with most of the big public cloud storage providers, such as AWS, Azure, Google, etc. MSP360's backup-related capabilities are vast and varied, including both image-based and file-level backups, disaster recovery in the cloud, high-class encryption and data compression. It also works with Mac, Windows and Linux operating systems, providing an unprecedented level of protection and disaster recovery capabilities.
8. IBM Spectrum Protect
IBM's prime goal is to make data protection as simple as it gets, no matter the storage type or data type. There's also a lot more of the different features, like basic backup and recovery jobs, disaster recovery, bare metal recovery, and so on. The solution itself is based on the agentless virtual environment and it can work well with both VMware and Hyper-V environments. The licensing model is charged per TB spent, no matter the data type, which makes it cheaper for some specific cases with large data processing amounts.
9. Dell EMC Data Protection Suite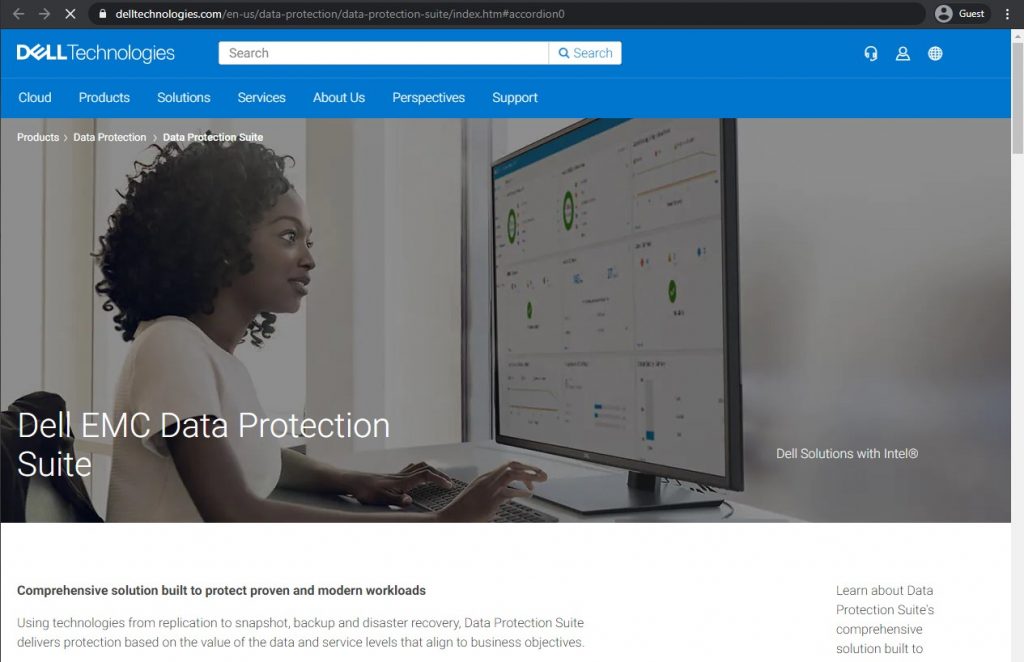 Dell EMC is a comprehensive data protection solution that should work for the majority of the companies of any size. Data protection levels are variable, user-friendly UI allows for easy data protection visualisation, and built-in continuous data protection technology (CDP) allows for fast recovery times for VM environments. There's also a number of different applications in the package, as well, like the separate backup in the cloud, the support for more storage types, data isolation/data recovery/data analytics automatization, and so on.
10. Backblaze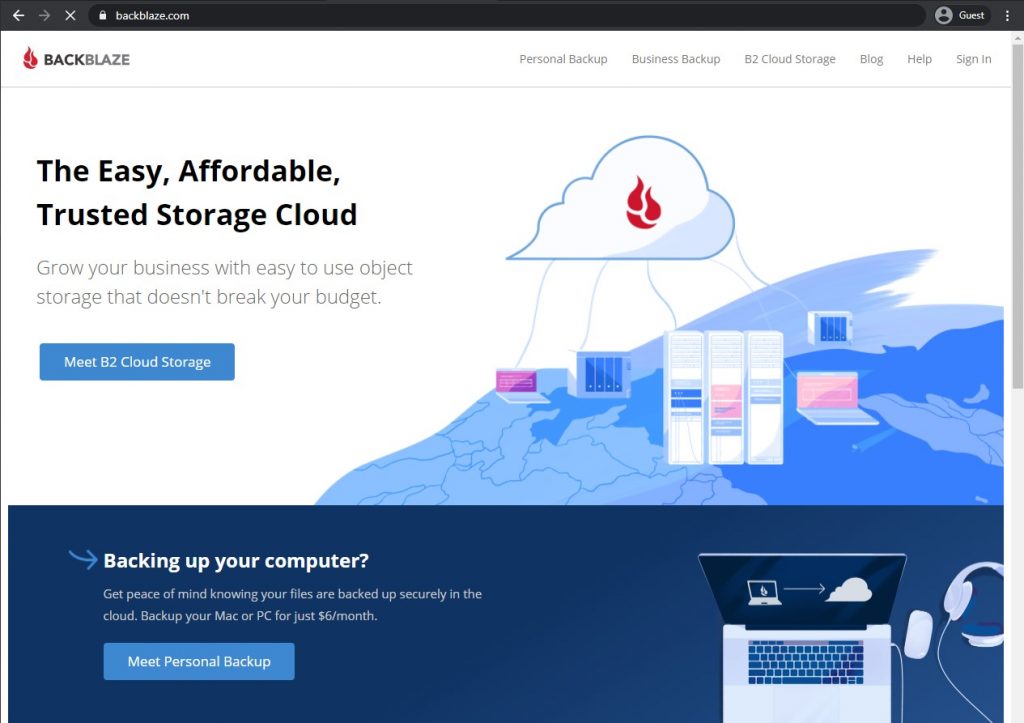 While some services offer a plethora of case-by-case features, Backblaze is more about a backup solution that is just simple and operates as intended. The storage capacity is unlimited, both Windows and Mac are supported, and it can be used by both companies and single users for a variety of purposes. Some of the basic features that Backblaze provides include, but not limited to, the following: backup scheduling, versioning, backup search feature, no limits on backup speed, etc.
11. Vembu BDR Suite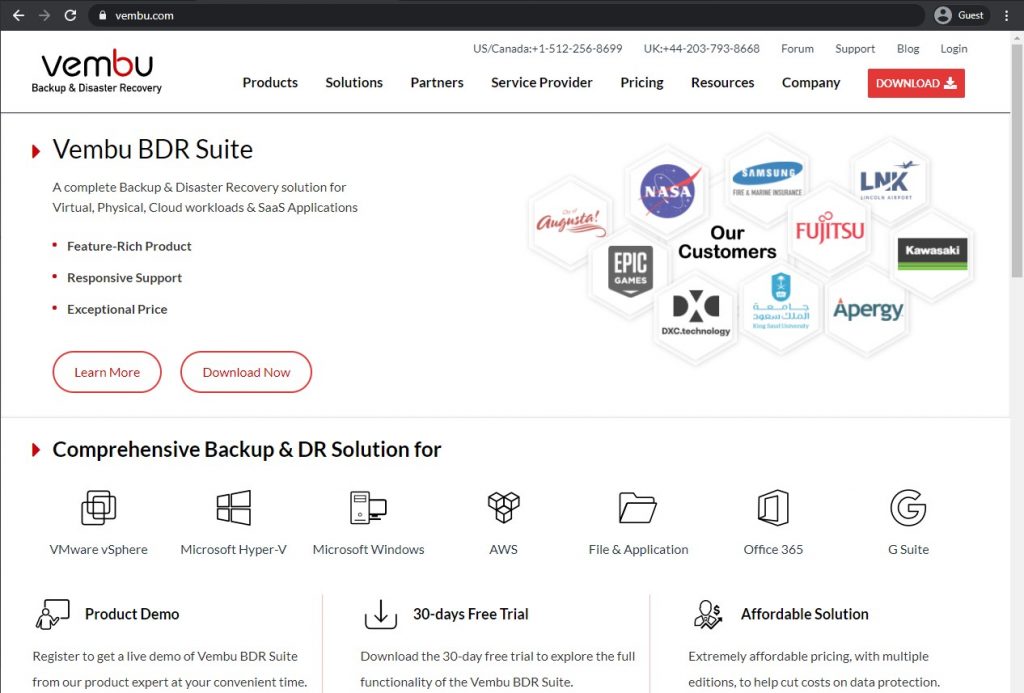 Data protection complexity is one of the prime points of Vembu's solution, and they claim to be able to work with companies of any size. Their feature list is quite extensive, as well, having VMware backup, Windows Image backup, app backup, data replication, and so on. Their configuration time is shorter than many of its competitors, and the overall system responsiveness is praised by many users. However, it can get somewhat too complicated at times, and some users find that pretty annoying.
12. Veritas Backup Exec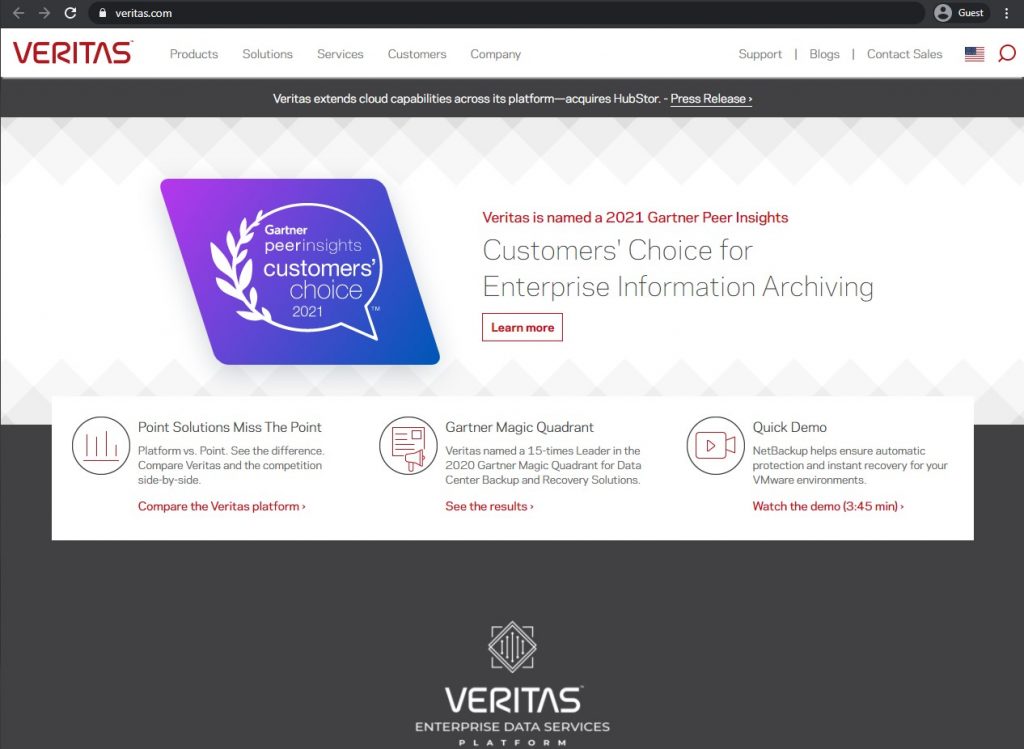 If you're looking for a company that has a long history – Veritas may be the one for you, with its several decades of company success. Its backup and recovery capabilities are quite extensive, with information governance, cloud data management, and other brand-new functions. You can choose from either the deployable version of their solution or the integratable appliance. Veritas is highly favored by older legacy companies that prefer services that have proven themselves with time. However, users report that there are some problems with hardware scaling capacity, as well as other little 'niggles' here and there.
13. NAKIVO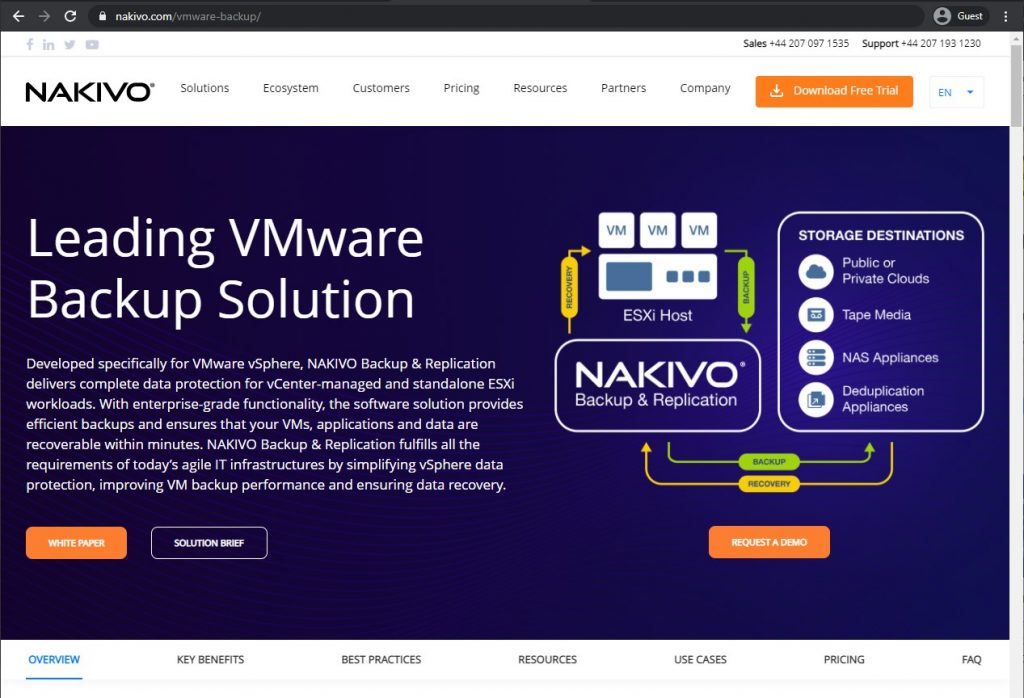 Nakivo Backup & Replication is another competitor on the list that is developed by a much larger company in general. Their backup solution is reliable, fast and can work with both cloud and physical environments, offering enterprise-grade data protection and a whole package of other features. Some of these features are: file recovery on-demand, incremental backup for different platforms, low backup size, impressive overall performance – and all of that is packed in a nice and easy-to-use UI.
14. NetApp SnapCenter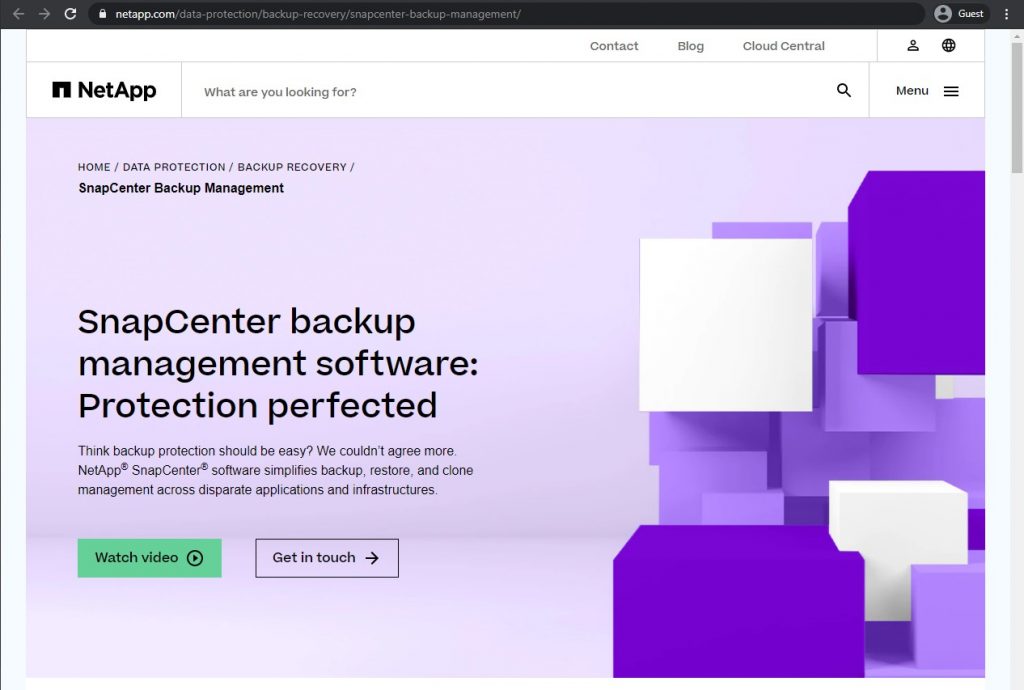 NetApp's power is their availability – with over 150 offices all over the world it is capable of providing a lot of local support. There are a range of different backup and recovery-related functions, with the ability to have access to your data via your laptop or even the mobile phone. There's a centralized interface for your monitoring, scheduling and logging efforts, and there's a variety of different data types supported, from apps and databases to MS Exchange servers, VMs, and so on. Their response times are good, and according to user reviews, the centralization is quite handy. But there are also problems with customer experience here and there, as well as documentation thoroughness concerns.
15. Commvault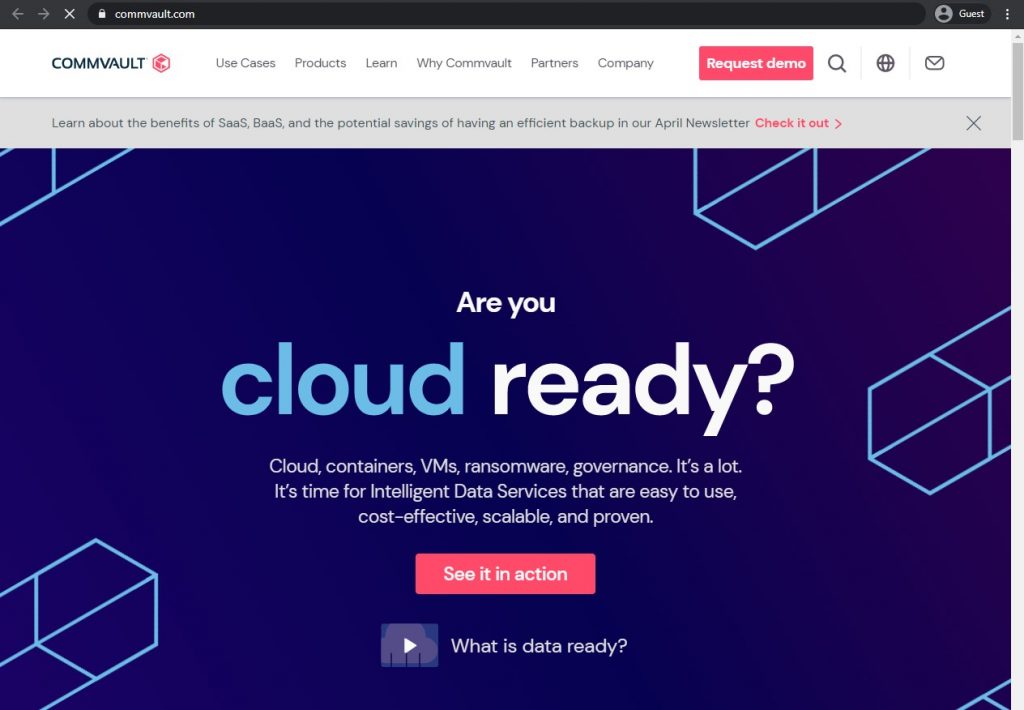 Commvault is all about applying cutting-edge technologies of their data backup and recovery solution to provide the best experience possible with various file types, data sources, backup types and storage locations. Commvault is known for its pinpoint accuracy backups for VMs, databases or endpoints, VM recovery, unstructured data backup, data transfer, etc. Commvault can integrate with more than a dozen cloud storage providers, including VMware, AWS, Azure, and many more. On the other hand, there are some areas that need to be worked on, according to some customer reviews, like UI friendliness.
16. Datto SIRIS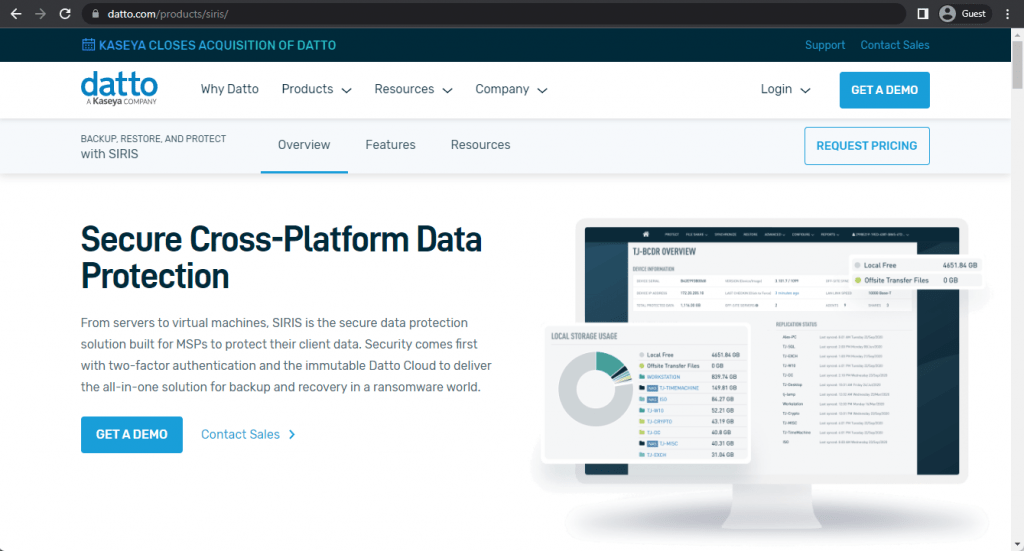 With simplicity as its main principle, Datto SIRIS offers a so-called Business Continuity and Disaster Recovery solution (BCDR, for short) targeted at Managed Service Providers to improve their productivity by minimizing data loss and downtime. Datto's main features are local backups with a repository based in the cloud and a full disaster recovery from that same cloud. The solution itself is a cloud portal that makes it easier for MSPs to interact with their clients' data on a regular basis. Datto SIRIS is a flexible and scalable solution for different kinds of clients, offering a variety of features and advantages, including several patented technologies – ransomware scanning, screenshot verification and more.
17. Asigra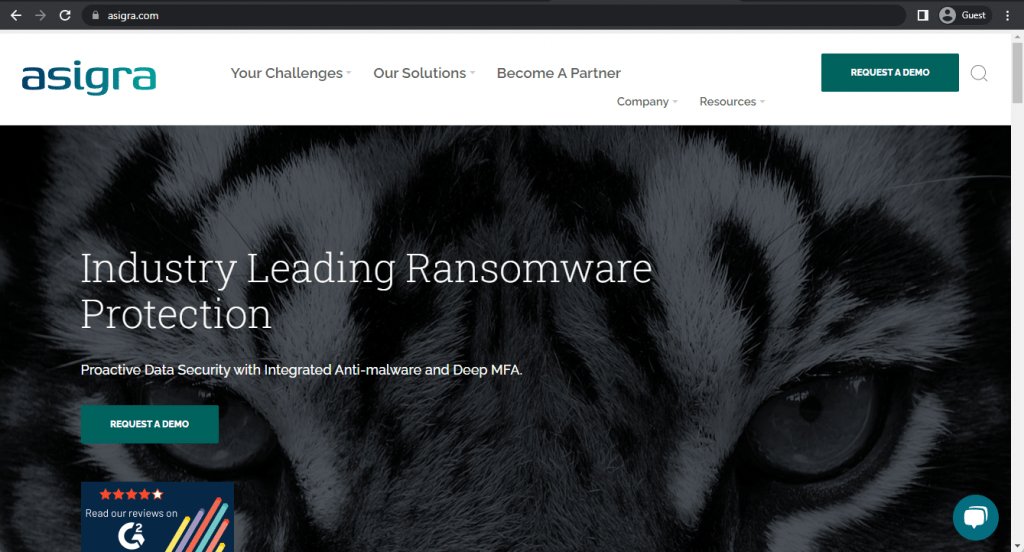 Asigra has been on the market for a while now, earning its reputation over more than thirty years of experience in the field. Now Asigra provides a data recovery solution to its clients from anywhere in the world, taking advantage of a wide partner network with cloud backup and recovery services for different deployment types. Asigra is an agentless enterprise-class recovery software that supports not only servers and databases, but also VMs, endpoint devices, applications, and more. It can also eliminate backup data silos, reduce RTOs and claim a guaranteed recovery assurance in any case.
18. Carbonite Endpoint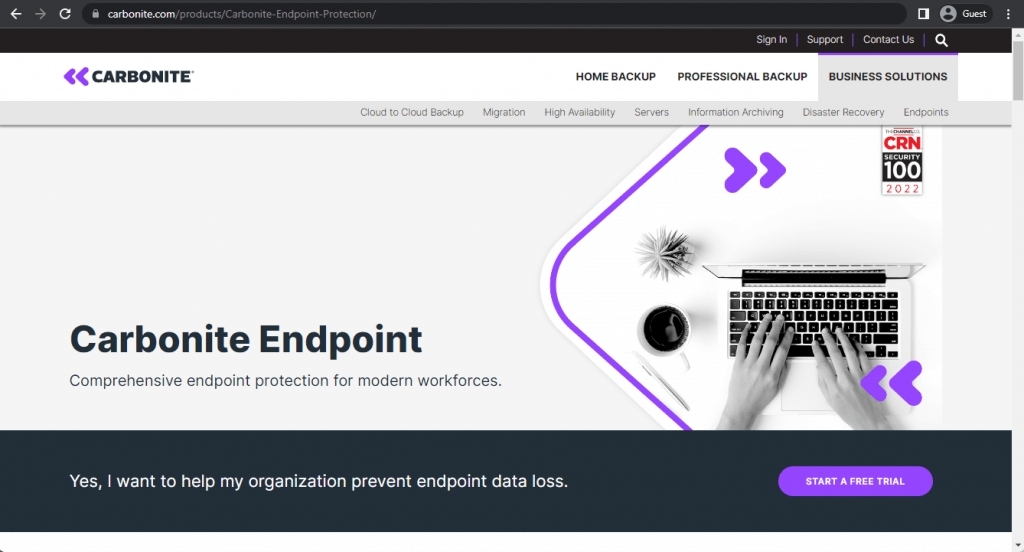 As the name suggests, Carbonite Endpoint is all about protecting the endpoint data – information that resides in users' smartphones, tablets, computers and laptops. Carbonite uses multiple different technologies such as global deduplication and file-level backup to improve data recovery speed and manage bandwidth of the backup and recovery processes. It can also interact with servers and external hard drives, offering a great deal in terms of security for your data without overpaying for it. The solution itself is fairly easy to use and offers a great deal in terms of price for the feature set.
19. Druva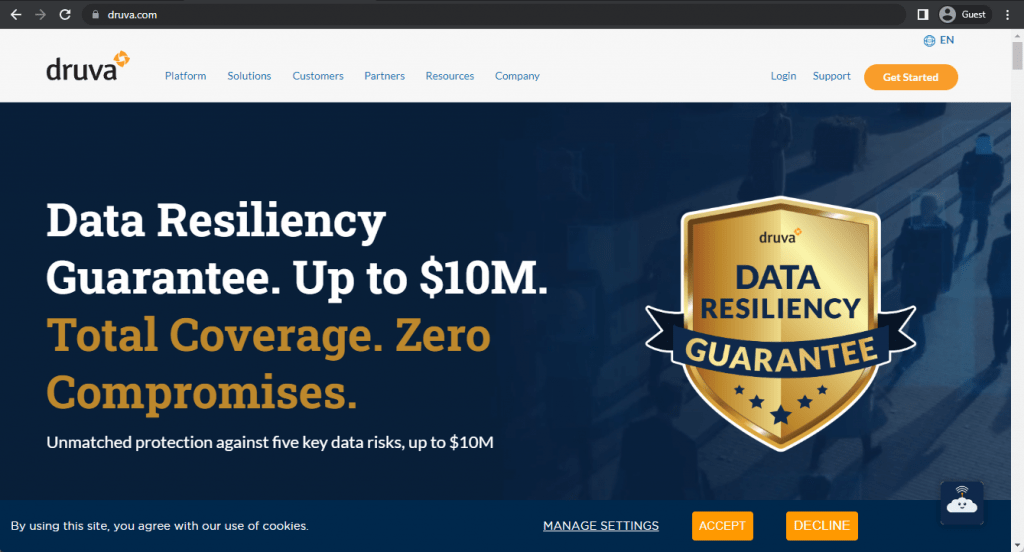 It is fairly common for any company now to have their data spread across hundreds of different devices due to workforce mobility and the quick rise of various cloud services. Unfortunately, this change also makes it rather difficult to make sure that each and every device with the company's data is properly protected. Services like Druva Cloud Platform come in handy in these situations, offering a wealth of data management options across different devices and applications. The platform itself works as-a-service and offers easier backup and recovery operations, better data visibility, less complex device management, as well as a range of regulatory and compliance operations.
20. CrashPlan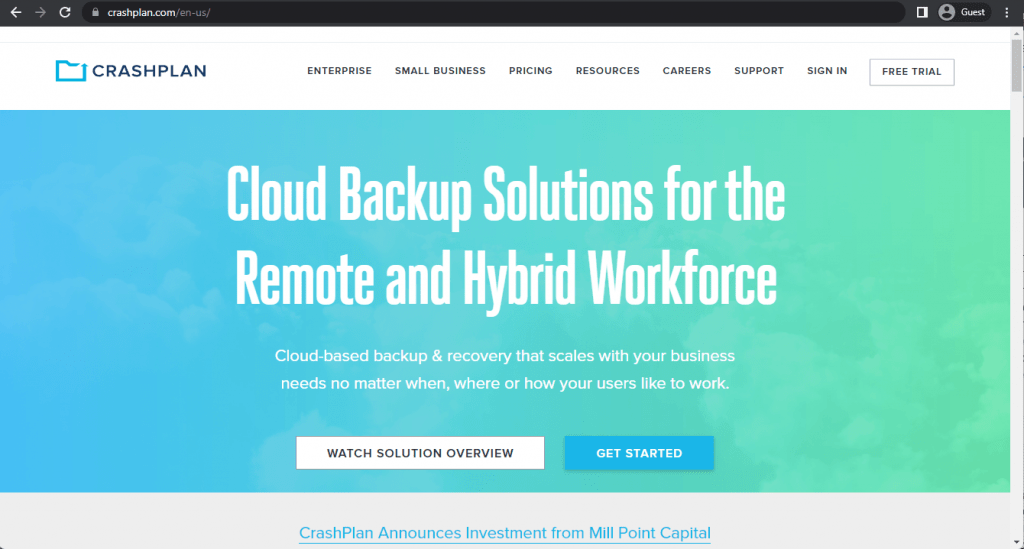 Not every solution has to be capable of working with massive enterprises with thousands of employees: there is an enormous market of smaller companies that also have their own needs in terms of data protection, backups, and so on. CrashPlan is a data protection solution created for this exact purpose – assisting businesses with up to 200 employees. CrashPlan provides file retention, external drive backup and the ability to customize how long your deleted files would be kept in the system. All of that is covered by the AES-256 bit data encryption with customizable settings and a number of features to assist with different compliance regulations.