What is Continuous Data Protection? CDP Backup Advantages & Drawbacks.
Continuous Data Protection is a method of disaster protection that constantly updates every little detail that changes in a user's database or file set. In other words, it automatically saves a copy of every change of that data, essentially recording  each version of the data that the user saves.
The majority of popular data types can be backed up since the process itself is somewhat similar to the traditional backup types – you can choose the time interval between backups, and which file types you need to be backed up, including:
Files;
Folders;
App data;
Databases, etc.
There are a number of advantages that CDP can offer, including, but not exclusive to:
Can restore multiple data versions – restoring information from any point in time;
Constantly saves your data, allowing you to get back to a previous state almost immediately after any sort of data loss or issue;
Demands far less disk space than the traditional backup methods, with typically around 15% of the regular amount of storage space being used, only keeping the bare minimum of the data;
Significantly helpful with disaster recovery, allowing for multiple backups and offsite storage copies;
The effect on system performance is barely noticeable since you don't have to run nightly backups and the regular data amount is small enough to barely be noticeable;
You can also run backups quite frequently, making RTOs that much shorter.
Of course, there are some drawbacks to this method, as well:
While the disk space itself is saved, you may have to invest in faster physical drives for the entire system to work efficiently.
Even though the performance gap is still significant compared to the traditional methods, the fact that each data change needs to be instantly backed up means that your data exchange rate is basically doubled, which may cause performance problems in some cases.
It's still not the perfect solution to everything and should not be used as a single backup system – in order not to be likely to lose everything in case your CDP would encounter some sort of error.
CDP compared against other backup technologies
While there are a lot of different advantages and specifications that CDP can offer as an alternative to other backup technologies, there's still a potential catch if you want to replace all other traditional backup types with CDP.
The problem is the location of your future backup. You may still be exposed and left without all of your data if you're keeping all of your backups on-premise – at the same location as your main server. Offsite backup storages are crucial to prevent that kind of possibility entirely.
Snapshot backups and CDP
When it comes to comparing CDP and snapshot-based backup technologies, there is usually a clear winner between the two, and it's CDP. There are two main reasons for that – storage space savings and intervals between backups.
First of all, the difference in storage space taken between snapshot-based backups and CDP ones is quite impressive – up to two times less disk space is taken with a regular CDP backup when compared to a snapshot backup. There's also the fact that CDP can perform backups with remarkably small intervals – like several seconds – but snapshots are typically not less than an hour interval.
Near CDP and true CDP
On the other hand, the difference between CDP (True CDP) and near-continuous backup (sometimes referred to as Near CDP) is not as clear. Both can offer instant data recovery and both can roll back to a specific point in time in case there's a need for that.
The main difference between them is in the RPOs that they can offer. While CDP can easily offer a recovery point objective of practically 0, a near-continuous one aligns with your shortest backup interval, which is typically at one hour mark.
As such, we can draw a conclusion that Near CDP is an acceptable strategy when partial data loss is tolerable and not immediately critical to the business's existence. In this case. For the sake of storage space conservation, this backup type is usually limited to a certain number of backups to be kept at once, with the ability to rewrite the least recent backup file when that limit is reached.
True CDP, on the other hand, works under the assumption that RPO can only be zero, thus offering a service of continuous backup for each and every change within your server. It keeps a lengthy changelog of backed-up data so that you can always restore your system to a specific point in time whenever you need to do so to prevent data corruption or data loss.
Mirror backup and CDP
One backup type left is mirror backup, and this one has a lot of differences with CDP, too. The main difference is that a mirror backup creates an exact copy of all of the files within the selected folders and replicates it to a separate offsite storage space to have an alternative in case any disaster happens.
This storage technology on its own is relatively outdated and was at its most popular before cloud backups, and when continuous data protection was too much money and effort to implement at the time.
Can CDP replace classic backup?
CDP is a great technology from a cybersecurity standpoint, and the more data an organization has – the more useful CDP would be for that organization. The ability to restore data that is as recent as possible gives a lot of freedom and is incredibly convenient – but it is also not a solution for every problem of the industry.
While the technology itself is rather useful, there is still a lot of emphasis on how the backup data is stored. If the data in question is stored in the same location as the server itself, then there is still a chance that a disaster of sorts would be able to damage both your existing data and your backups at the same time.
As such, the introduction of CDP does not mean that other security measures are less effective now, and the 3-2-1 rule is still one of the most important backup and security strategies to date – creating at least three copies of your data that are stored using at least two different storage mediums, with one backup copy being stored off-site at all times.
Examples of CDP backup solutions
Of course, this kind of technology would not be exactly popular or useful if there were no backup solutions that support it. Luckily, there are plenty of backup solutions out there that act as continuous backup software with a varying set of services and features. This list is in no way conclusive and it only serves to showcase different solutions that are available on the market right now.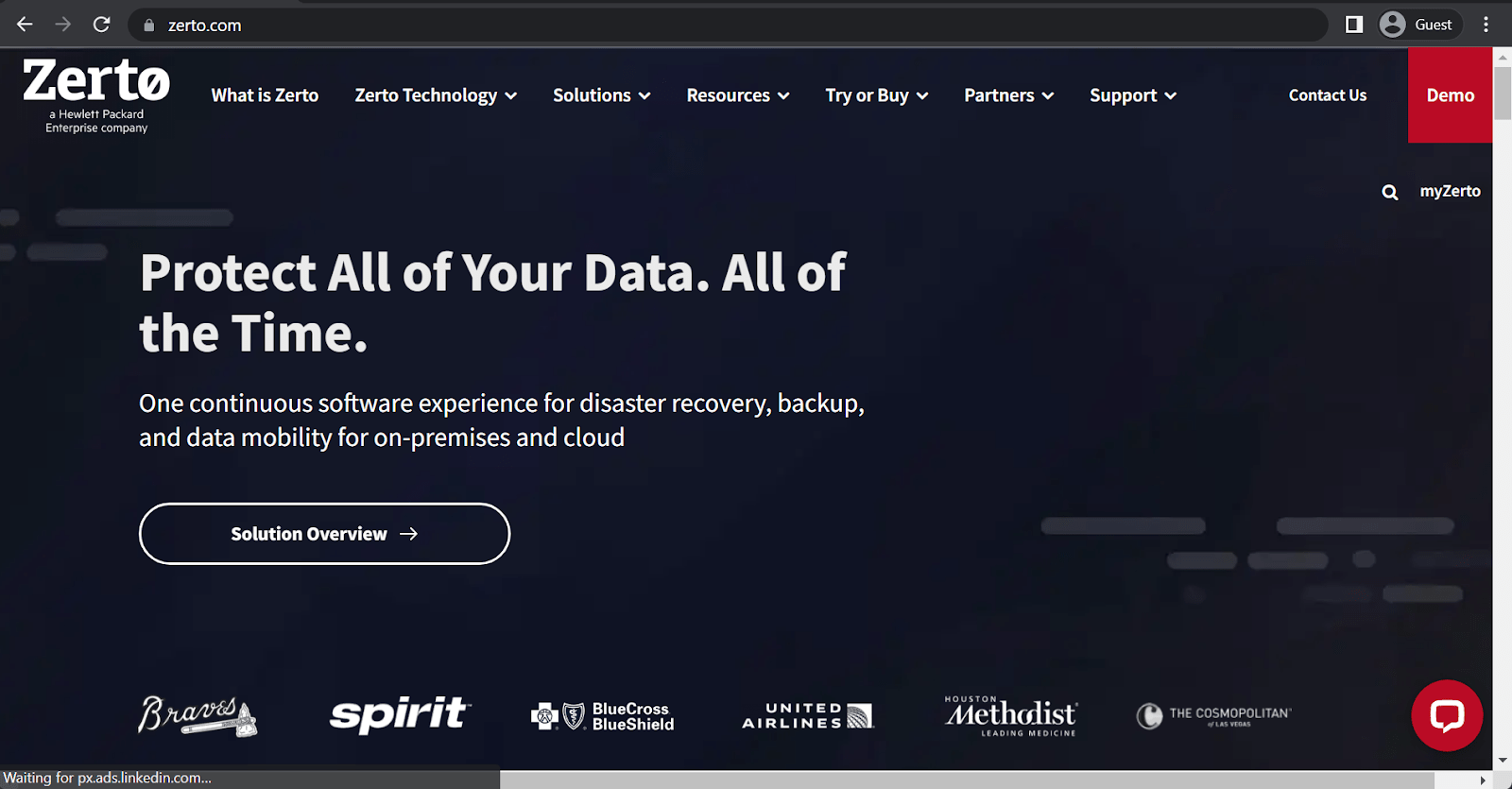 Zerto offers a simple yet effective data protection solution that has been built specifically with container-based and virtualized environments in mind. These environments can run in the cloud, on-premises, or in some sort of hybrid deployment setup – Zerto can cover all of it. Continuous data protection is one of the biggest selling points of Zerto, including their own journaling technology that allows data recovery from any point in time – be it seconds ago or years ago. Zerto also claims to be able to group applications while creating backups to achieve higher backup consistency and make it easier to restore specific VMs or apps whenever there is a need to do so. All of the data that Zerto copies gets saved to cost-effective storage locations, no matter if the original data is on-premises, in the cloud, or anywhere in-between.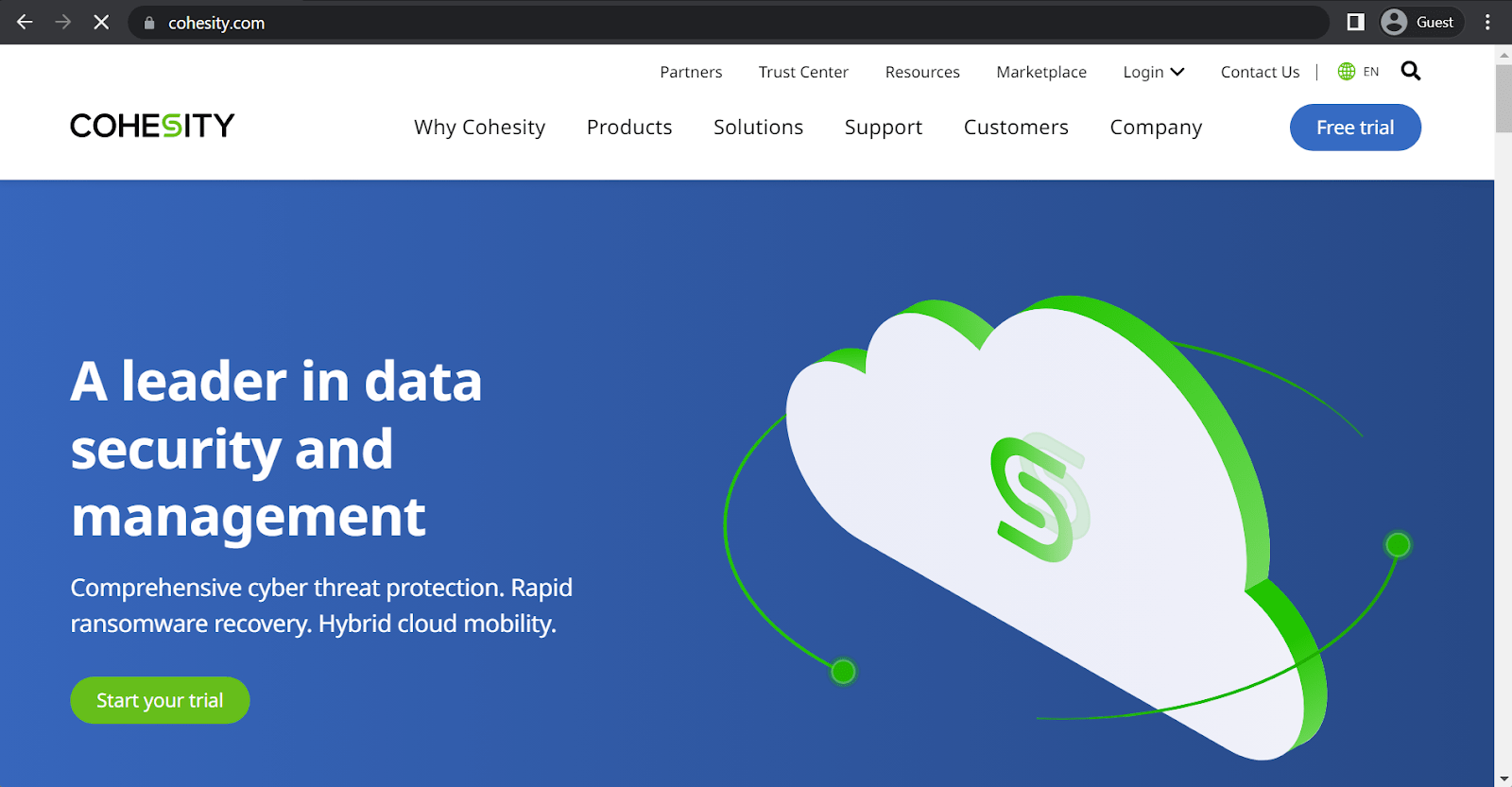 Cohesity is a comprehensive platform that combines data security with data management in a single package. It has a wide variety of features, ranging from industry standards such as backup and recovery capabilities or disaster recovery to something a bit more specific and niche, be it long-term retention, convenient Dev/Test environment support, and, of course, Continuous Data Protection support. Cohesity's capabilities in terms of CDP support are rather standard, offering journal-based recovery with high accuracy, RPOs that are as close to zero as it gets, as well as enterprise-grade data protection for the entirety of backed-up data at all times.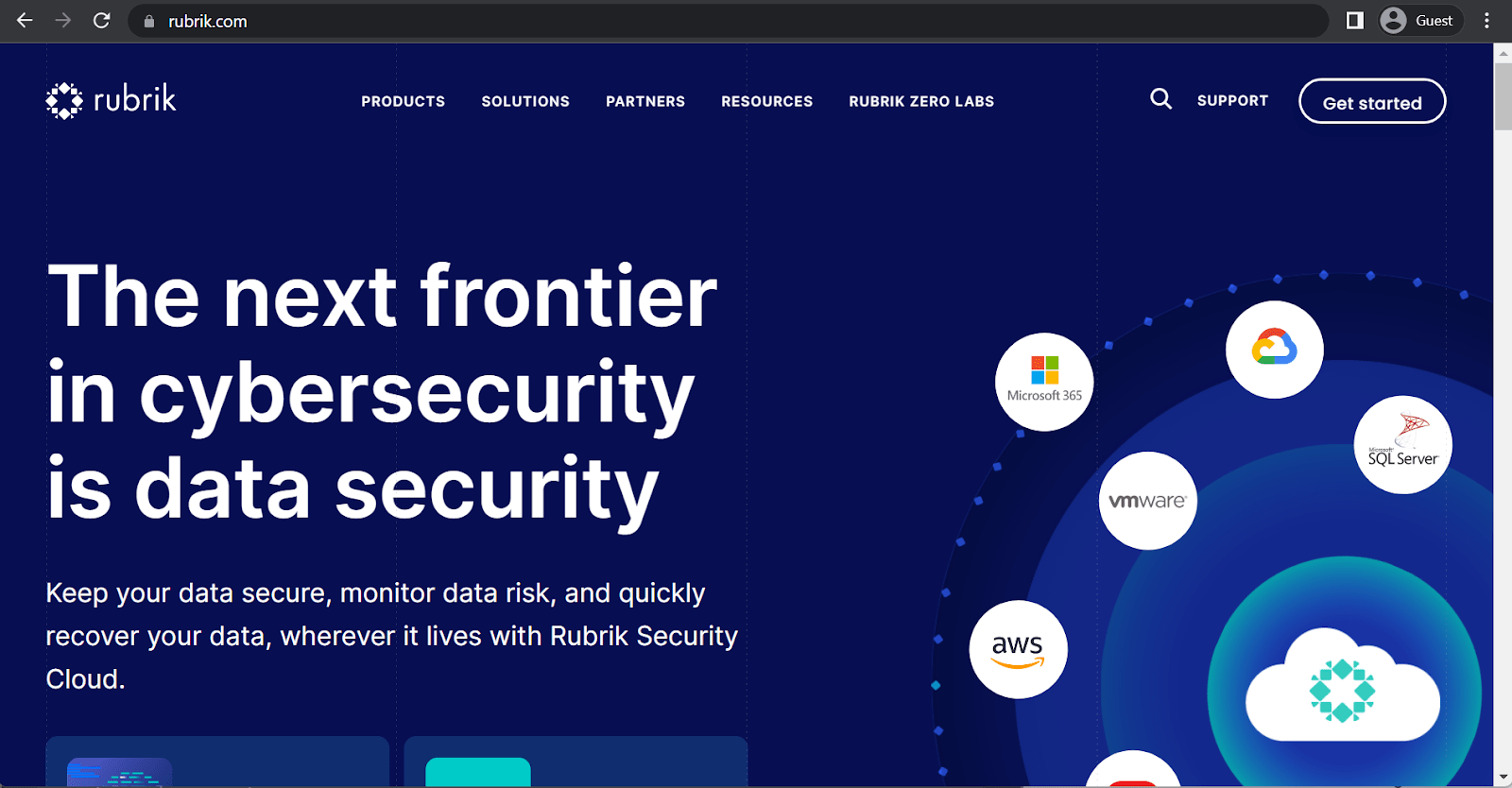 Rubrik is trusted by a variety of companies all over the planet to work as a data security platform with a lot of features that it can offer. It is fast, resilient, secure, and offers extensive system logging with visualization to see various data risks and indicators of data being compromised that much more clearly. Rubrik also supports Continuous Data Protection, offering near-zero Recovery Point Objective time, a journal-based cataloging and recovery of data from any point in time, as well as simplified management of the entire process. This includes all of the existing capabilities of Rubrik in terms of backup management, such as archival policies, backup and replication rules, and so on.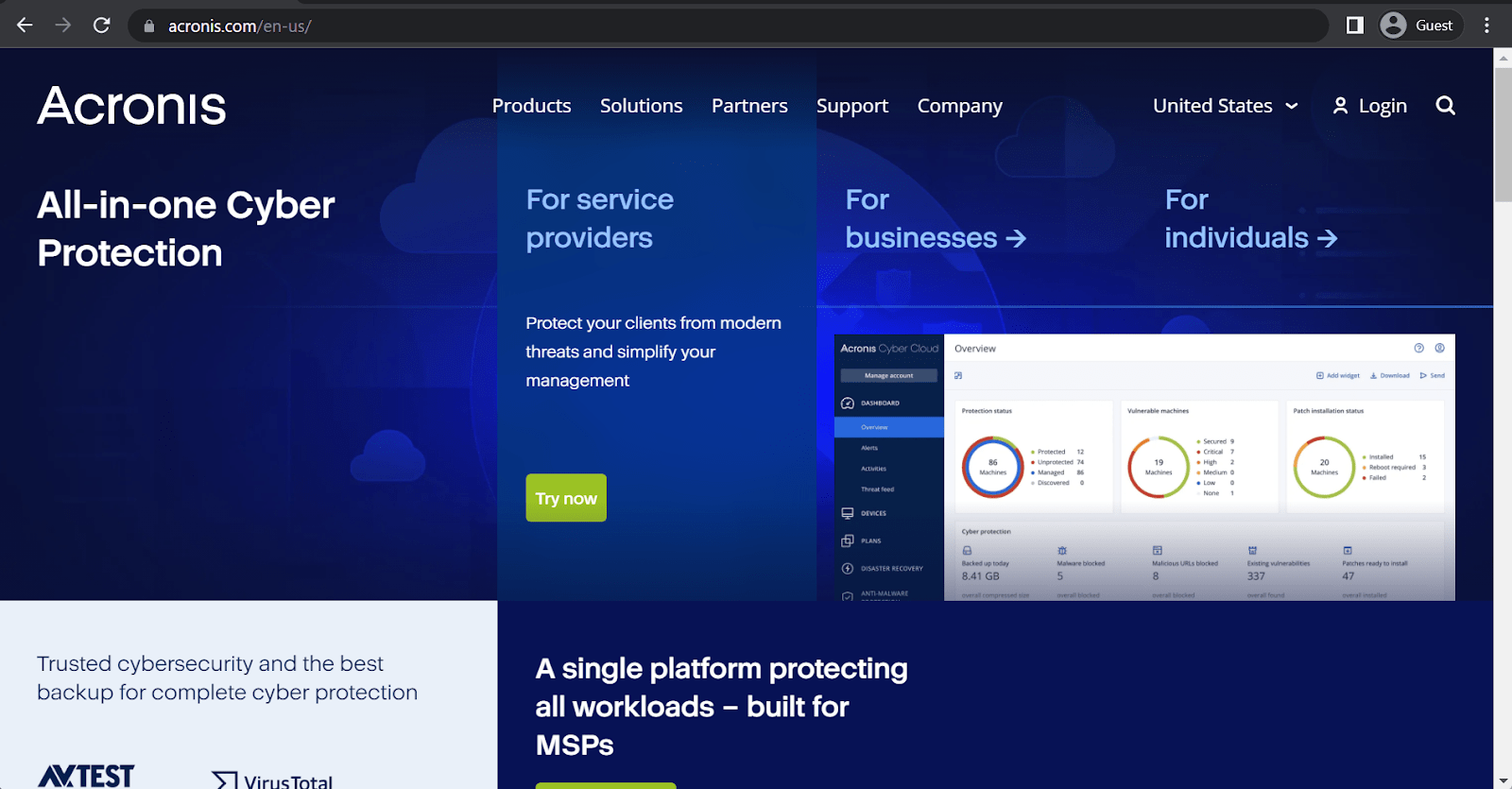 Acronis Cyber Protect is a continuous backup software combined with a proverbial mountain of features in the field of data security, data management, and so on. Acronis offers a multifunctional data security solution with a plethora of integrations and many industry-specific features to be able to serve as a great centralized management platform for different types of data and storage. Acronis also supports continuous data protection across all of its solutions, offering all of the advantages that CDP brings – a journal-like approach to data recovery, near-zero RPOs, as well as Acronis's own cyber protection measures, workload protection measures, and many others.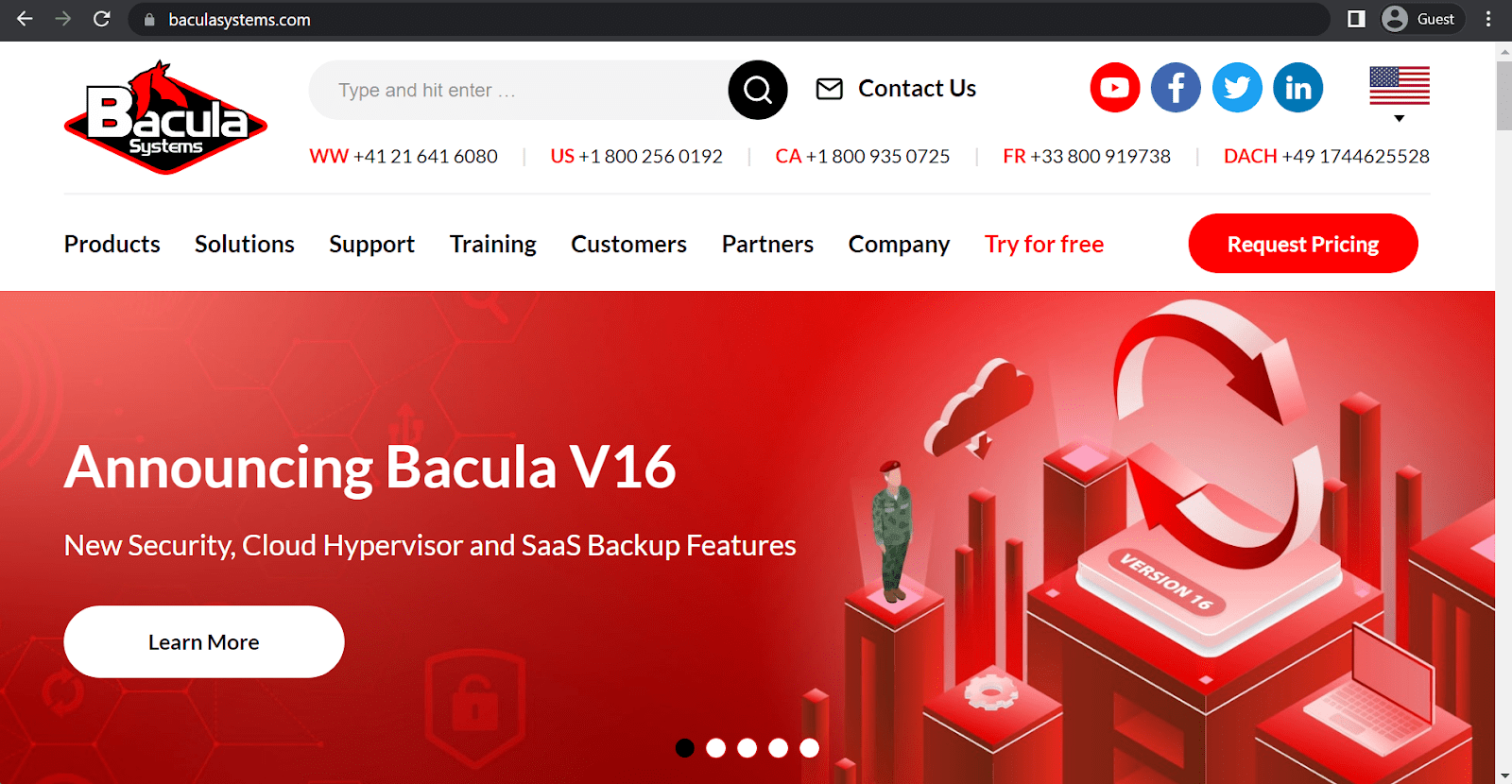 Bacula Enterprise is a single-platform backup and recovery solution with an unprecedented level of integrations and features. It can work with a myriad of different storage types, has a number of unique proprietary features, and it can also extend its capabilities with its own system of modules, allowing Bacula Enterprise to be one solution for almost any company out there, no matter what data type they are working with. Bacula also has its own interpretation of Continuous Data Protection technology, offering a constant backup process after every change, granular recovery capabilities, as well as extremely low and small RPOs and RTOs. It can also perform all of the traditional features of a backup solution – scheduling, different backup types, data compression, etc.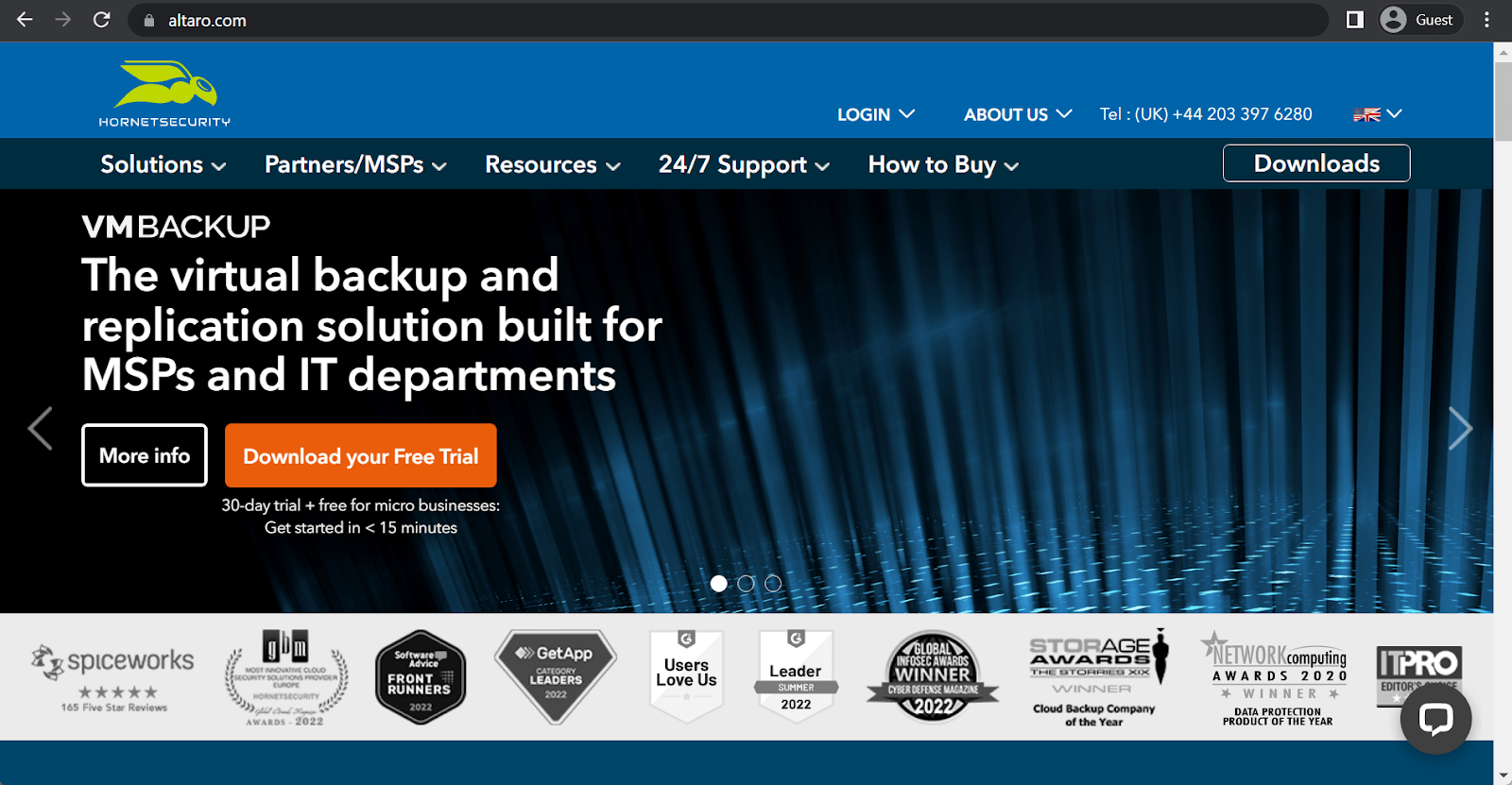 Hornetsecurity Group is a collection of several different software appliances, one of which is Altaro VM Backup – a VMware and Hyper-V backup solution that claimed to be able to greatly simplify the overall process of creating backups for virtual machines. It is an affordable and effective solution for all kinds of use cases centered around virtual machine backup operations. One of the many backup features of Altaro is its ability to switch from a traditional backup approach with regular backup operations to a continuous data protection model with RPOs of about 5 minutes. This solution is only available with the highest Altaro subscription tier, but the ability to enable CDP for your system is so much more valuable to companies that it is barely a disadvantage in the first place.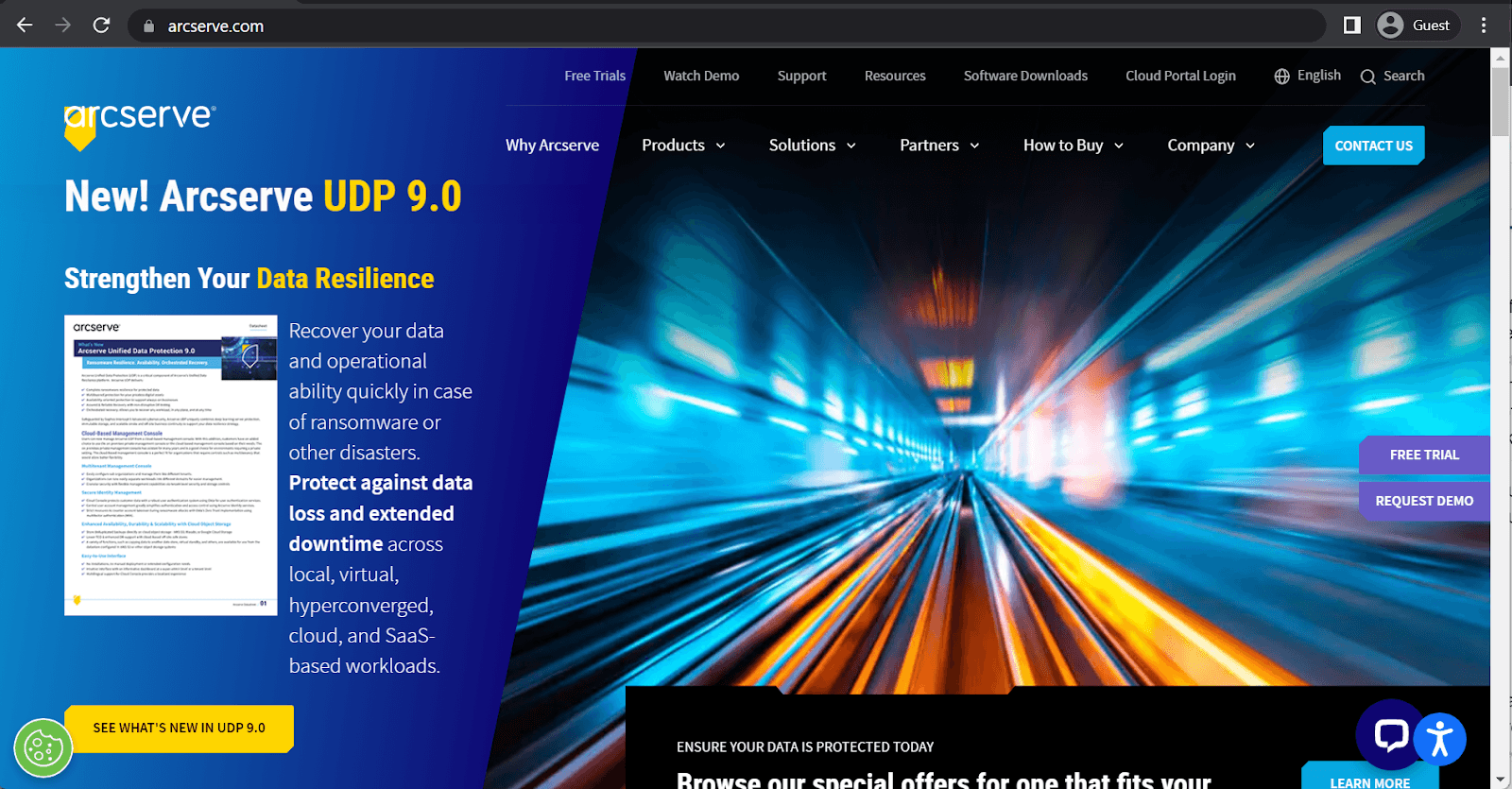 Arcserve is a fairly well-known solution vendor that offers continuous data protection solutions, business continuity solutions, disaster recovery solutions, and more. It offers a lot of different features, services, and integrations that are supposed to make it far easier for your business to achieve success. Continuous Availability is one of many solutions of Arcserve that expands upon the existing concept of CDP backup software, creating a carbon-copy of your existing system and constantly copying every change to the original system to its double, creating a perfect replica of your entire system that can take the place of the original one if any kind of disaster or ransomware attack happens. There's also application rollback, data encryption, support for the replication of many specific applications, and so on.
Conclusion
Continuous Data Protection is a rather useful data security approach, but it is also not the solution for every problem that this particular market has. CDP has its own limitations, from rather high storage prices in the long run to the reliance on the storage location to keep the data safe. Different Continuous Data Protection solutions also have their own unusual variations of the technology, although the basic package is almost always present – the ability to create backups extremely frequently, the journal-like approach to data recovery, and so on. This technology can be extremely useful for all kinds of companies, but knowing its limitations is also important, which is why this article exists in the first place.