In the digital world, regular backups are an absolute must and unavoidable. There is nothing worse than the sudden loss of your documents, photos or videos. NAS backups allow you to back up data using the so-called 3-2-1 method. This method consists of three different copies of data: two internal media and one external backup. For the best possible backup of your data, this method can be easily combined with backup software.
What exactly is meant by Network Attached Storage (NAS), what are the advantages of this type of data backup and how to back up your data with Bacula Enterprise, we have summarized for you below.
What is NAS backup and what does NAS data backup mean?
NAS (Network Attached Storage) is a network attached storage. A NAS backup requires a NAS device, which is effectively a small computer because it has an enclosure, a processor, an operating system, and at least one hard drive. The device is linked to your router with a network cable, making it part of your network. Through transfer protocols, the data is backed up on the network.
NAS data backup does not need a specific PC or server to back up data, as it can work automatically due to the direct network connection.
Thanks to NAS data backup, backups can be done simultaneously from multiple devices. All data is backed up centrally on the network. The automatic backup guarantees that all data is always stored in the backup and thus the probability of data loss is significantly reduced.
How does a NAS backup work?
First and foremost, a NAS backup is used to secure data. Here's how it works:
All data from different PCs, smartphones and other devices can be backed up with a NAS data backup – no matter where they are located.
The NAS device has an additional USB port for possible extensions or for example a printer – so documents etc. can also be printed from all devices within the network.
Access in the local network can be controlled by the administrator. Of course, it is also possible to give rights to different employees.
NAS devices can be operated with reliable hard disk configuration, so that in case of failure the data is saved on a mirrored hard disk (e.g. RAID-1 mirroring) and there is no risk of data loss.
NAS servers support the following protocols: SMB, AFP, CIFS, NFS.
Any device within the local network can access the NAS server.
Why do you need a NAS system?
NAS systems can be used for different types of data backup. For example, for these:
Data Storage
A network storage is the ideal backup system for small businesses. Thanks to the 4 hard disk slots, one can backup up to 40 TB of different data from the entire network with a NAS backup. Additionally, one can fully automate the backup thanks to appropriate backup software. This type of backup is extremely easy to manage.
Backup system for companies
There are professional NAS systems for companies and enterprises, with their own mail server. A VPN connection allows employees to securely access the internal NAS network, even from home. This is possible, for example, with secure FTP access or WebDAV standard.
Employees can even synchronize calendar entries and address data so that important information is always at everyone's fingertips.
NAS systems can also be used for surveillance. To do this, all you have to do is connect surveillance cameras to NAS servers and install the appropriate software. For companies that want to implement a NAS backup solution, it is advisable to use backup software, such as Synology backup software from Bacula.
Cloud
The NAS system is usually connected to a router and allows all members that are on the network to always have access to it. Thus, NAS systems are also perfect as a private cloud, since NAS data backup can be done over the Internet. This type of backup is an excellent alternative to other clouds, such as Google Drive or iCloud. This solution is useful for businesses and also for individuals.
Media archive
NAS devices are not only suitable for backing up documents and files, but also for storing different media. Stored movies, pictures, etc. are always available for everyone in the network and can be played on different devices such as a TV. For this, the UPnP AV server must be activated on a smart TV so that the TV can recognize the NAS device. Alternatively, the media can be played on devices that are directly connected to the NAS system via the network.
Furthermore, NAS devices can convert certain content into formats so that it can be played on a receiving device. For example, MKV files can be converted to MP4 if a terminal device can only play MP4. The conversion is done automatically. Since all devices on the network can access the NAS server, a NAS system is great as a media archive for the family or even micro-businesses.
NAS system interfaces
Normally, a NAS backup system is directly part of the network via Ethernet or TCP/IP. The intelligent design of the devices makes it possible to use multiple interfaces simultaneously. However, this requires additional NAS implementations to allow multiple accesses to files.
If a NAS system is used only for home use, one can simply customize a web interface. Unlike SAN systems (storage area networks), access to NAS servers then runs via NFS, CIFS, HTTP, FTP or SMB protocols.
NAS data backup advantages and disadvantages
Data backup using a NAS system has many advantages, but also some challenges:
Advantages
Fast and easy. NAS systems have a fast connection and are a user-friendly solution for data backup.
Low power consumption. Most servers consume little power even though they operate nearly 24 hours a day. NAS devices typically consume 10 to 20 watts.
Large data volumes. Thanks to multiple hard disk slots, a NAS device can handle larger volumes of data.
Centralized storage. Vast amounts of device data can be stored centrally and made available to all users on the network.
Data security. If the device is RAID-enabled, security is guaranteed.
High transfer speed. High-quality NAS devices with Gigabit LAN have a high transmission speed.
Disadvantages
Slow data transfer. NAS systems usually transfer data slower compared to USB 3.0, unless you have a NAS model with Gigabit LAN.
Crypto Trojan. Without RAID 1 or RAID 6, a NAS system can be vulnerable to crypto Trojans.
Standalone software solutions needed. NAS systems need backup software to be used in the best possible way, for example, Synology data backup software from Bacula Enterprise is recommended here.
NAS backup protection
There is no such thing as the perfect backup. But the 3-2-1 backup principle comes close. In addition to the NAS data backup, it is advisable to have at least one other backup. If a NAS system is used as a storage location and not as a backup, one should create a backup in any case to avoid data loss.
There are several options here:
Backup with another NAS system: data can be backed up easily and quickly with a NAS protocol here.
External backup, e.g. a USB hard drive: works quickly and easily, but not automatically. Applications or system configurations cannot be backed up here either.
Cloud: the most flexible solution, as little storage space is required. The acquisition costs are low and hardly any maintenance is required.
Backup on a file server: This requires more storage space, compared to a NAS system. Supported protocols are: WebDAV, HTTP, OpenStack, rsync, and S3.
Examples of NAS backup solutions
It should be mentioned that there are many NAS backup solutions on the market at the moment, and each solution has something special and unique that it can offer to its customers.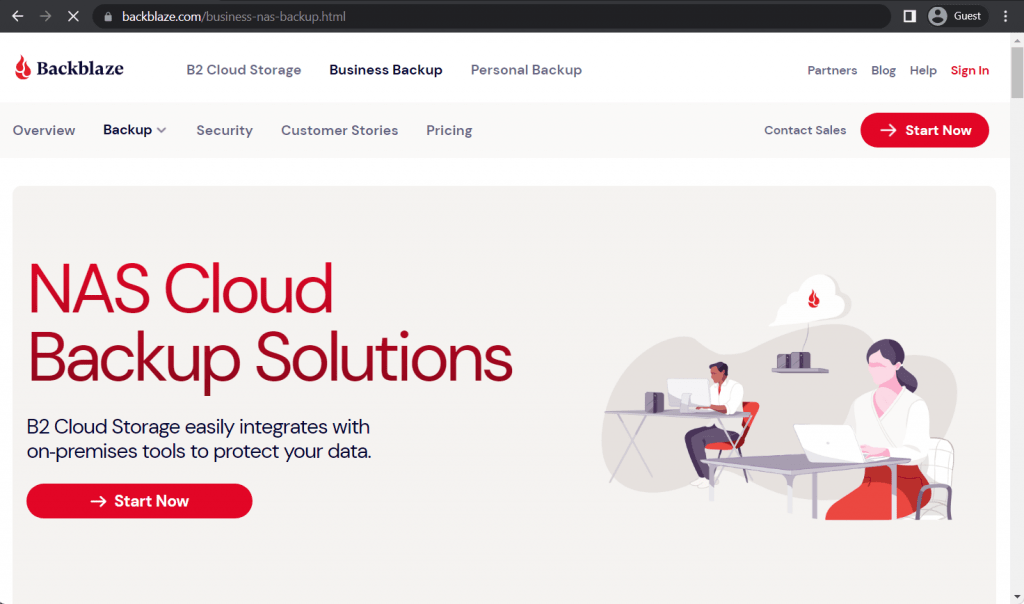 Backblaze B2 is one of the more effective NAS backup solution on this list, and it can also boast being one of the higher value ones. It is a rather versatile NAS backup solution with an impressive compatibility list, including multiple NAS vendors, and there are also several different security-related features included in the package, such as data encryption, 2FA, and more.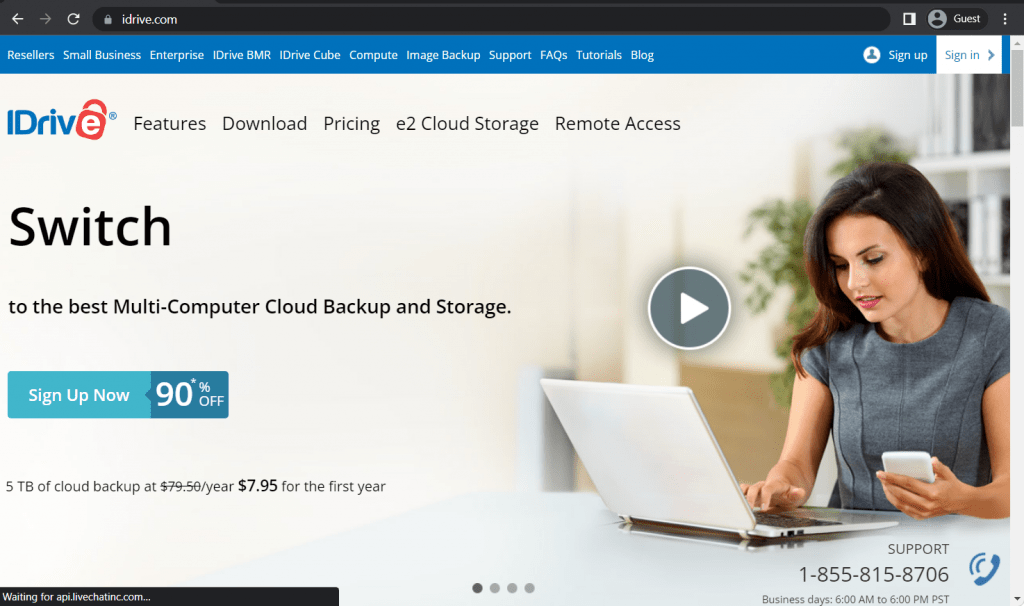 IDrive as a backup provider has a lot of positive reviews already; one of the reasons why it is also considered one of the better NAS backup providers. It has several data plans with different pricing, zero-knowledge encryption capability, as well as the capability to synchronize and share files from within NAS backups. It is relatively low cost and is considered one of the fastest online backup providers on the market, which makes it a good choice for NAS backup purposes.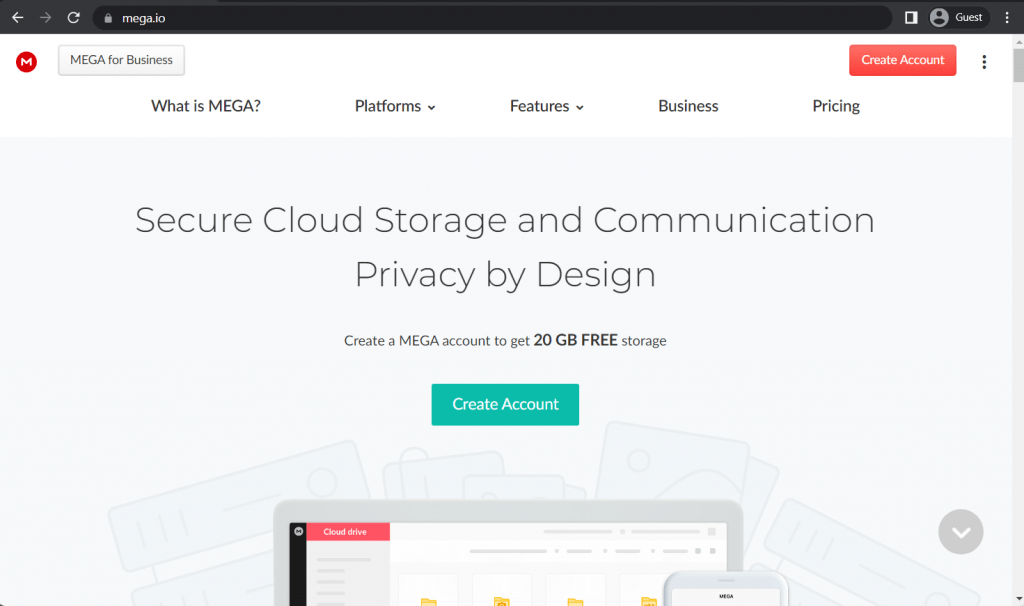 Speaking of low cost NAS backup solutions in terms of storage capabilities, MEGA is also considered one of the cheaper ones on the market, even though it can only work with QNAP and Synology devices for now. Other than that, MEGA is extremely low cost, offers a number of security options, and also has both data sharing and data syncing as features included in the package. There is also a free plan as well, even though its capability is extremely limited. However, it may well be worth your trying it out to see if it works for your specific case.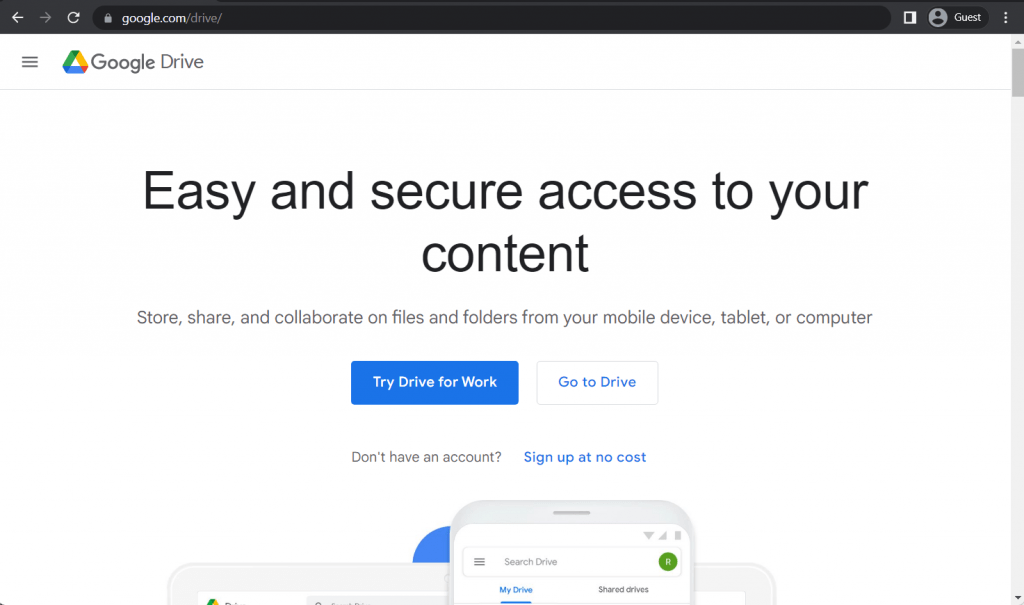 The majority of popular cloud storage providers are also great at serving as storage locations for NAS backups, and Google Drive is no exception. The solution itself can integrate with several different software to make them viable storage locations for your NAS backups, as well – which makes it a great option for smaller businesses since storage is relatively affordable with Google Drive, and file sharing is extremely easy as well. Unfortunately, there are quite a lot of security concerns when it comes to Google Drive data, and the user's control over backups themselves is somewhat limited, so these factors should be kept in mind when choosing a NAS backup solution.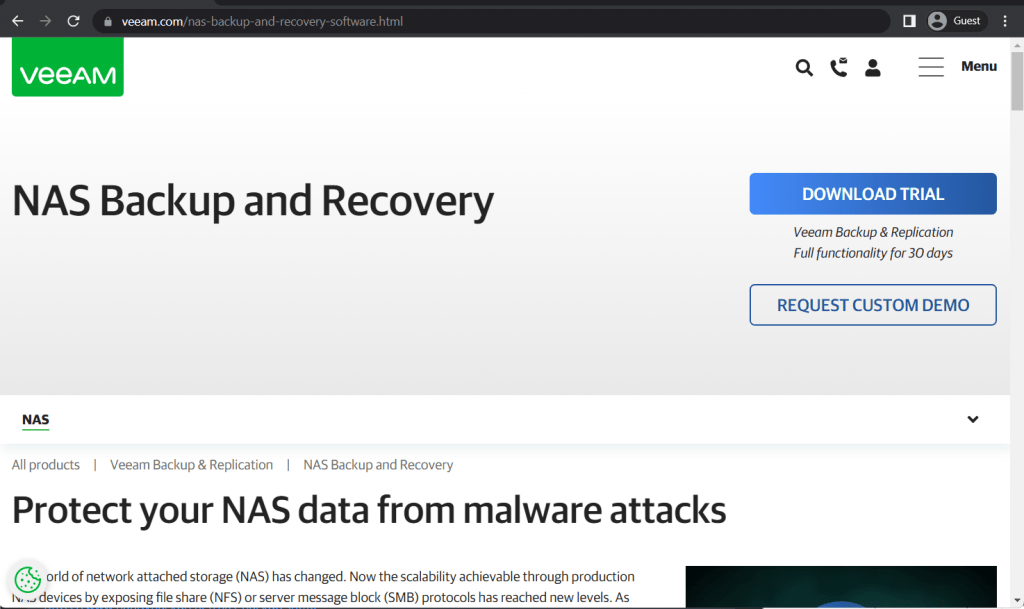 Veeam is a famous backup and recovery platform that can create backups of many different data types and locations, NAS included. It is a NAS backup solution that is relatively easy to set up and use, but also flexible and reliable for all company sizes. Its restoration capabilities are also top-notch, with the capability to recover both entire data sets, as well as specific folders or files. It is even possible to perform a rollback of sorts using your NAS backup, returning to a previously stored state of the system as a whole, which is extremely helpful in case of data breaches, ransomware attacks, and such.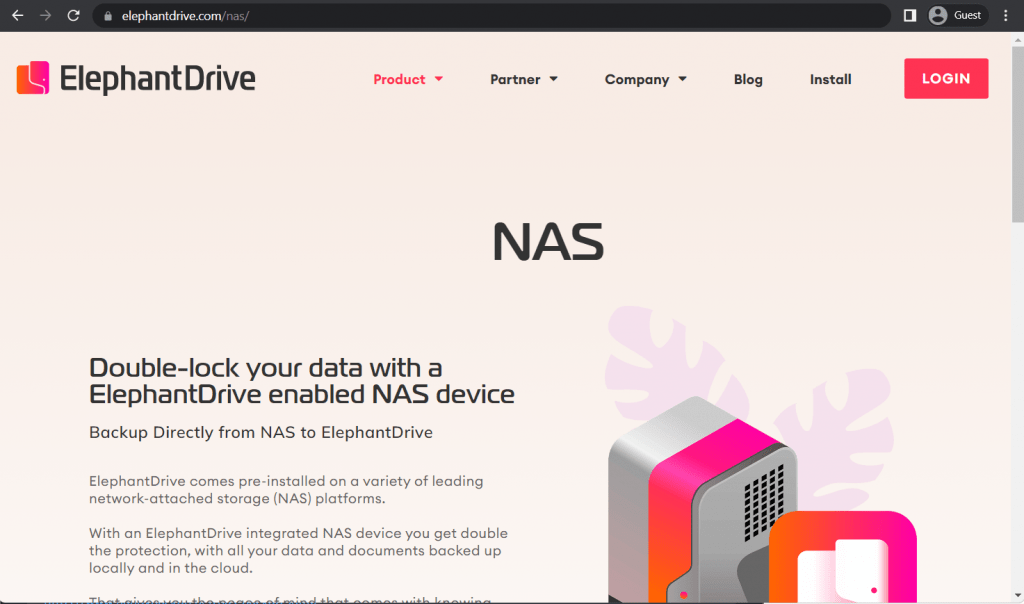 ElephantDrive is a fairly simple NAS backup solution that offers both Synology and other NAS vendors. It is relatively easy to set up and use, and its security level is high enough for most use cases. The only potential issue with it might be the older/outdated Synology NAS models, which is why it is highly recommended to check your NAS model before picking this particular NAS backup solution.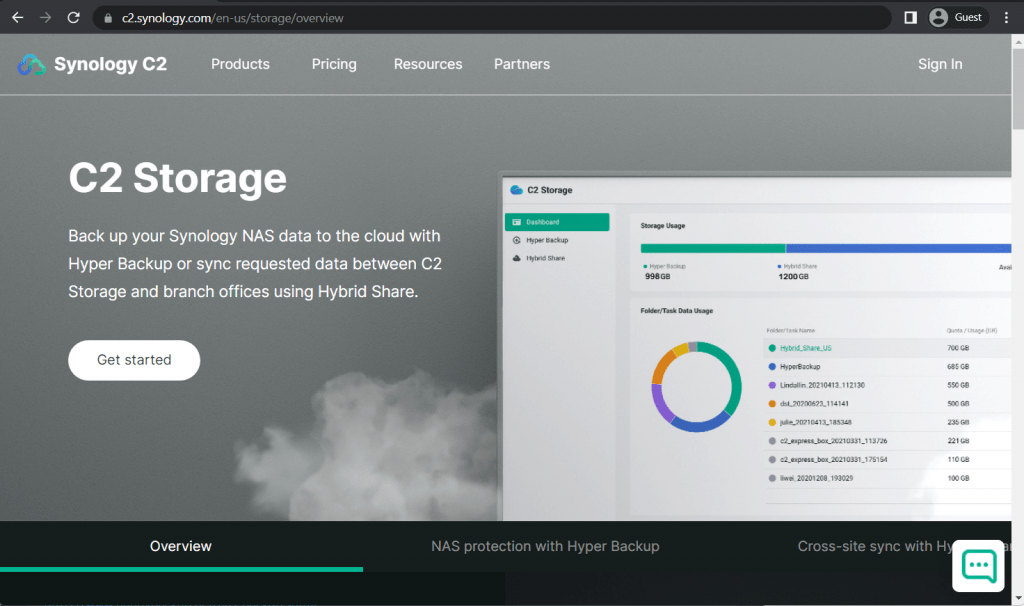 In the world with so many different NAS backup solutions, it is no surprise to see NAS providers themselves offering backup options for its users. C2 Storage is a backup solution from Synology – arguably one of the most popular NAS providers on the market. It is a rather useful service with a lot of different features for your NAS backups, such as data encryption, integrity checks, as well as cross-site synchronization and many other ones to protect and preserve the customer's data as much as possible.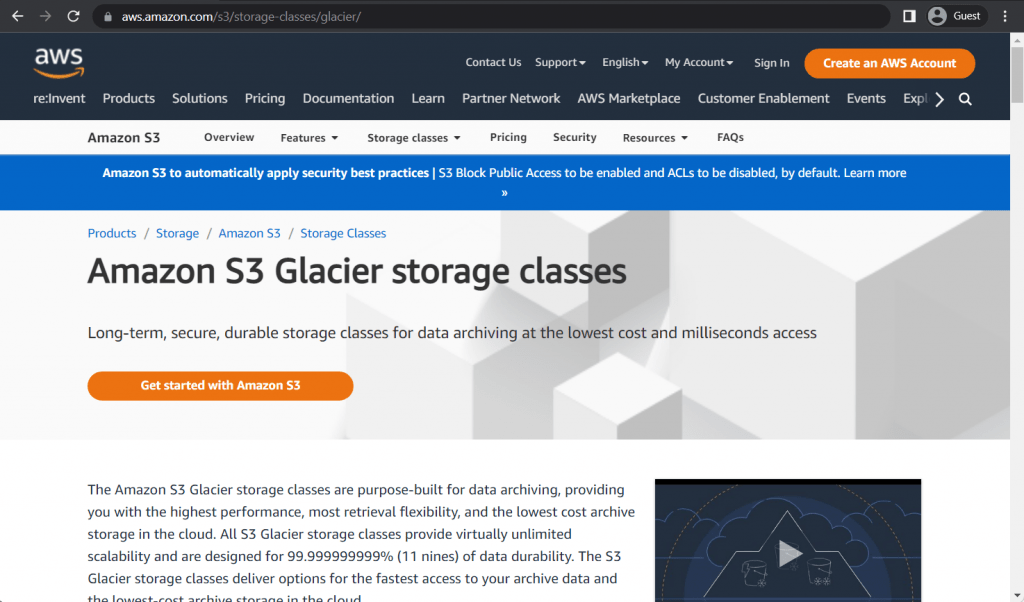 One of the biggest technological giants in the world, Amazon, has an entire host of services under the umbrella of AWS, and S3 Glacier storage is one of them – a backup cloud storage service that is also capable of working with NAS devices. It is not as user-friendly as it could be, and the initial setup might be somewhat complicated, but the upside is potentially an incredibly low cost cloud storage that can hold a lot of data. However, it is worth mentioning that S3's pricing options are not exactly straightforward since the price may depend on a lot of different factors, which is why it is recommended to do more research on the topic before attempting to purchase S3 Glacier storage for your NAS backup needs.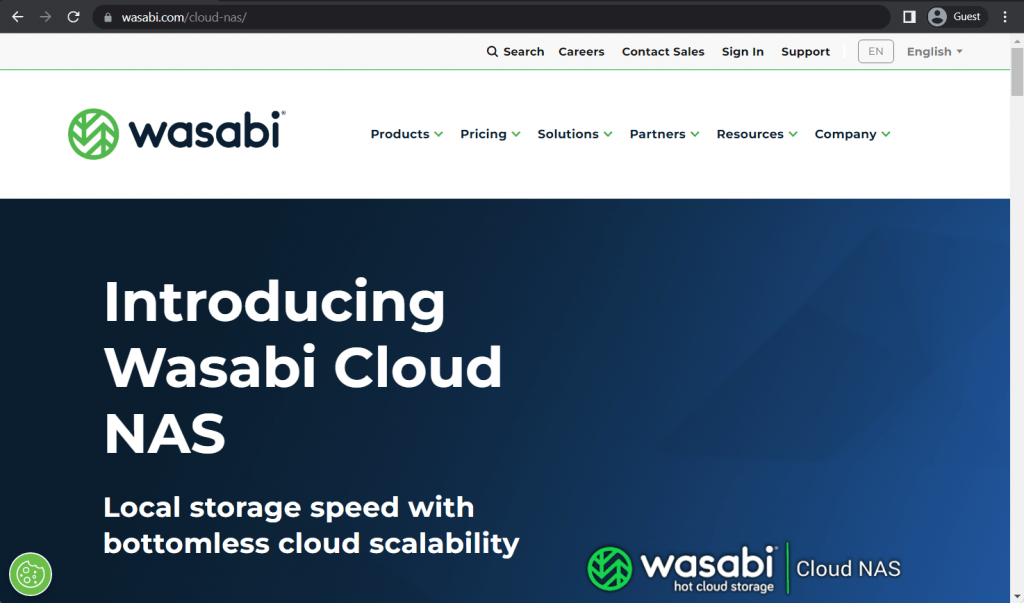 Wasabi Cloud NAS is one of the few rare solutions that does not have any kind of limitations to the cloud storage capacity. It is one of the biggest selling points of the solution that allows users to only pay for the amount of data that was consumed during a specific period of time. This helps companies with saving quite a lot of funds on unused backup storage capacity, among other benefits.
Expanding upon the idea of a NAS backup software that does not have limitations in terms of backup storage capacity is Livedrive – a NAS backup solution that has unlimited data plans for its users, while also offering easy-to-follow set-up guides for NAS backups as a whole. It is compatible with multiple different NAS providers and can be useful for both individual users and entire companies in their NAS backup efforts. Unfortunately, it does not have an end-to-end encryption option, which can be a deal-breaker for some clients.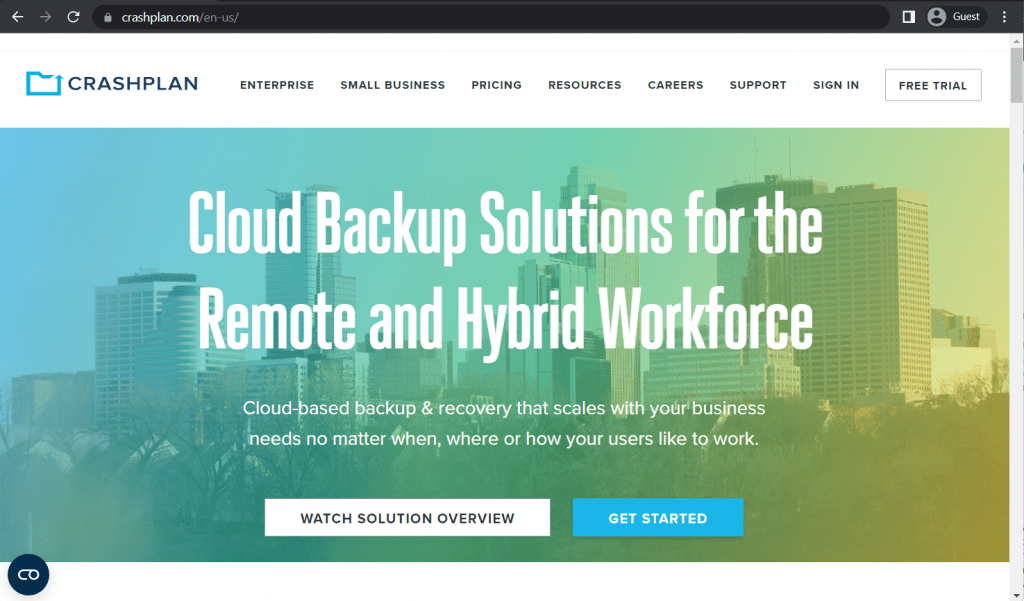 One more solution with unlimited storage capacity is CrashPlan – even though it is mostly suitable for smaller businesses, for a number of reasons. Its NAS-related features are also somewhat lacking in comparison with other solutions, since it is at its best with QNAP NAS only, and other NAS solutions are somewhat more difficult to configure. Additionally, CrashPlan does not have the ability to create backups from mounted drives on Windows, which may be a significant issue for many Windows-based NAS users.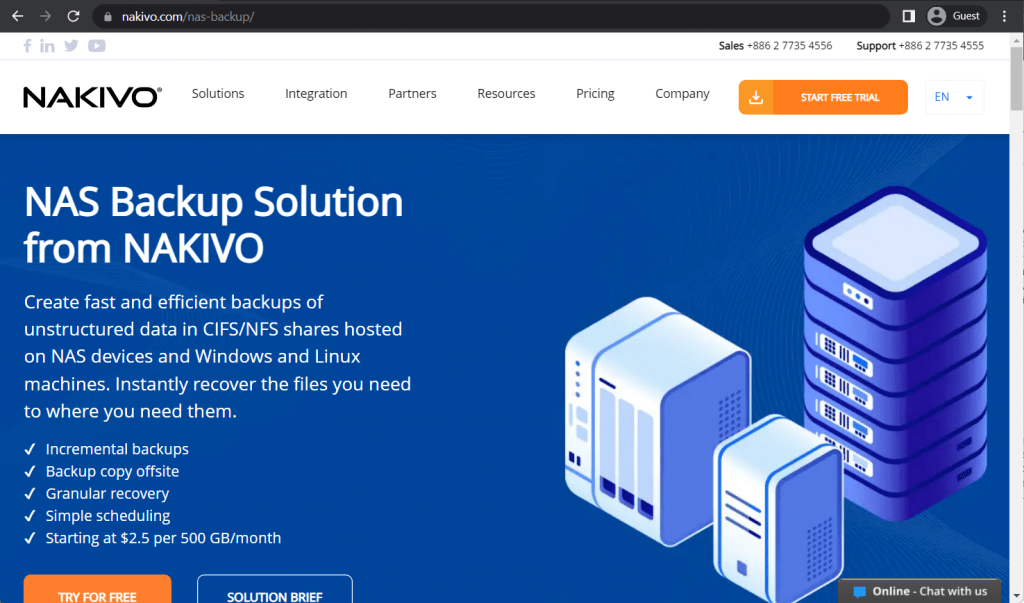 Nakivo is a rather well-known name on the backup market as a whole, and its NAS backup solution is also worth mentioning separately. It is a great data backup and recovery software that offers flexibility, data protection, a variety of useful features and the ability to work with other backup purposes in a unified ecosystem that Nakivo has. There are multiple backup types, file-level recovery, AES-256 data encryption, a convenient web interface to work with – and that is just a small fraction of what Nakivo NAS backup can offer to its customers.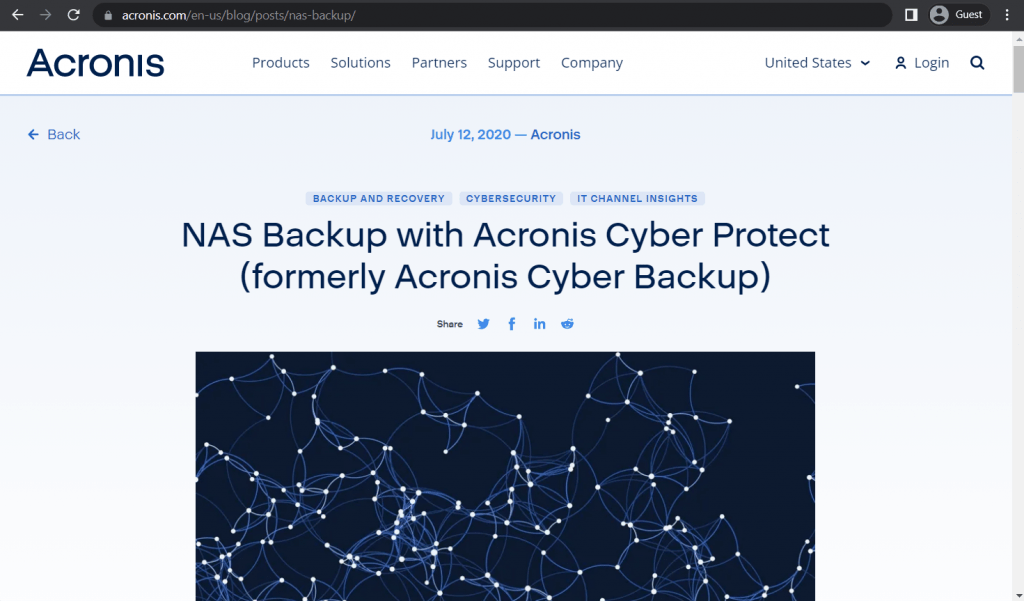 Acronis is a popular backup solutions, offering a variety of features such as file-level backup, image-level backup, versioning, as well as many disaster recovery features. It is also capable of creating NAS backups in both of its Home and Cyber Protect plans. However, its home version only allows its users to create backups of individual files, while the Cyber Protect plan does not have such limitations whatsoever and can be used to back up the entirety of a NAS. The so-called "business plan" also adds a few more features to the mix, including smart alerts, global threat monitoring, and more.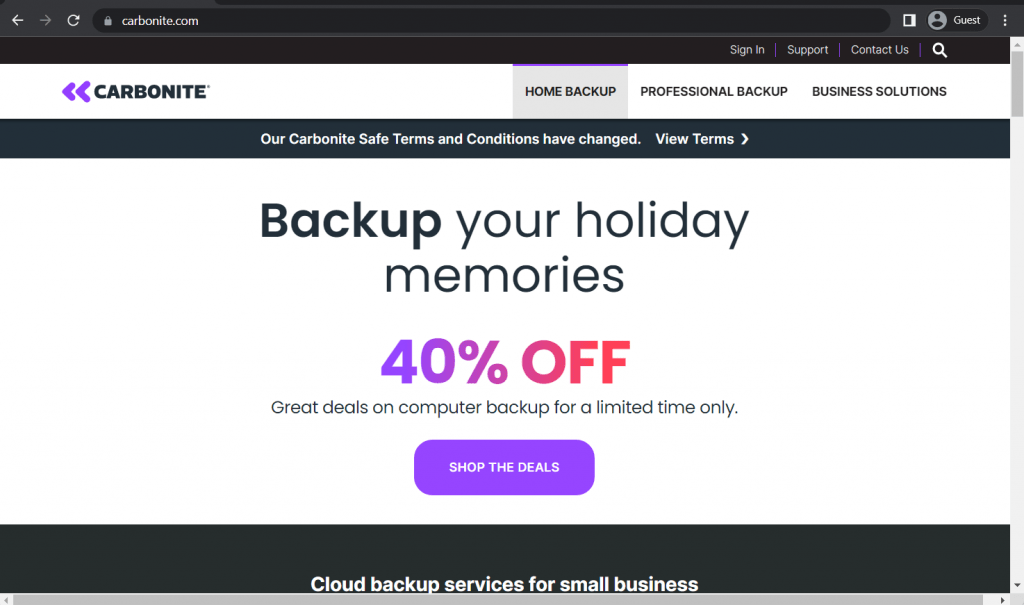 Carbonite is another solution with no data caps for both basic and premium plans, but there is a catch when it comes to NAS backups specifically. The fact is that NAS backup is a feature that only some of the more expensive plans have, while the cheaper versions do not have this feature. It can also be difficult to figure out which plans have the NAS backup feature in the first place. Other than that, it is a rather effective solution that supports several other backup types in-house (M365, Server and so on), but may be somewhat lacking in features when compared with other solutions.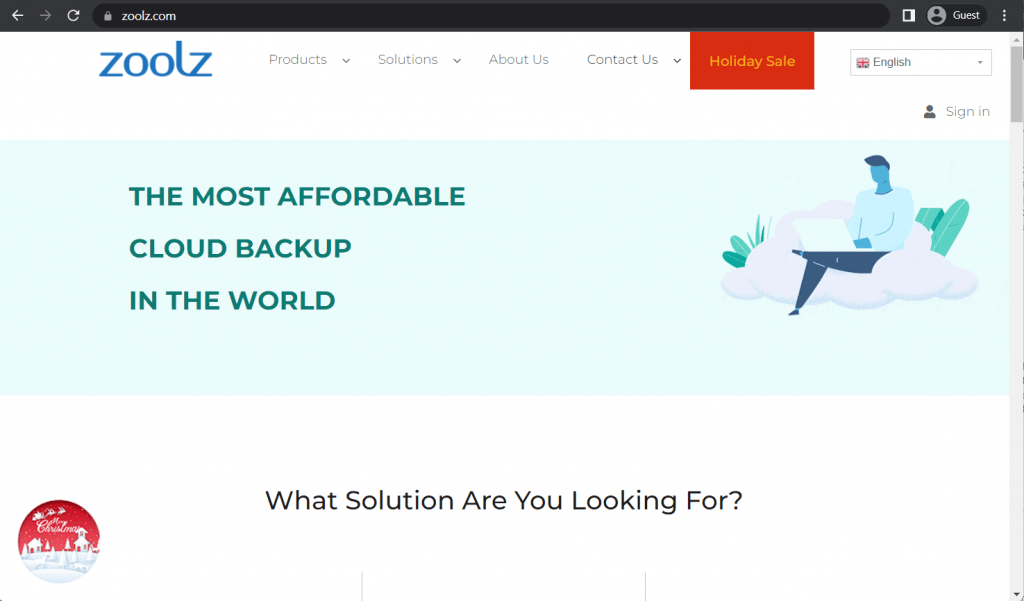 Unlike the previous example, Zoolz is a solution that supports NAS backups for all of its plans, no matter how much they cost. It is a rather convenient solution that is easy to work with, and it also caters a lot to the more technical crowd, offering a number of advanced solutions that require a specific amount of knowledge to use properly. Other than that, it is a rather normal NAS backup solution with data caps and capability to work for both businesses and regular users, if necessary.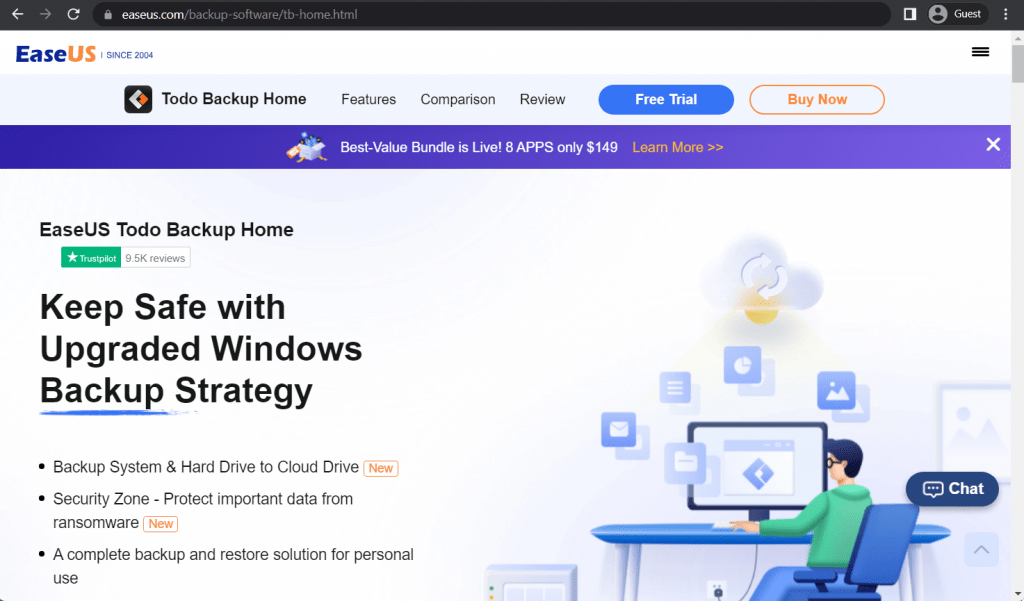 EaseUS Todo Backup Home is a relatively simple NAS backup solution that can work with Synology NAS hardware. The software in question is easy to use, has a free tier to work with, and offers a number of useful features – system cloning, different backup types, backup scheduling, backup automatization, and more. However, it does take a bit of time to get used to the interface as a whole, and the customer support of the solution might not be as helpful as it can be for certain situations.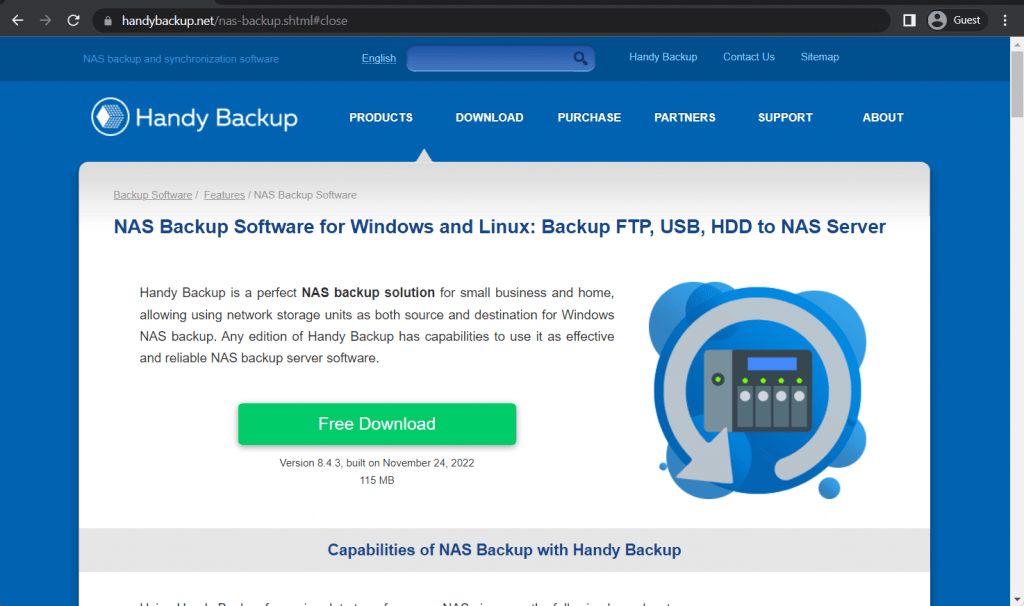 Handy Backup might not be the most well-known backup solution on the market, but it is definitely one of the more versatile ones, in a NAS backup software that is great for both personal use and for small to medium businesses. It has both "white box" and "black box" approaches, can be fully automated, offers 100% control over the backup itself, has several backup types, and more. It can also transfer NAs backups to many other sources, from cloud storage providers to local hard drives or even external USB devices.
There is also one other solution that is worth mentioning on the topic of NAS backup software, and that solution is Bacula Enterprise.
NAS backup software solutions from Bacula
Suitable for Synology data backup software and other NAS vendors – Bacula Enterprise
The open-core Bacula Enterprise product is an especially highly secure software that is designed to meet the complete data backup needs of IT organizations responsible for NAS-based (Synology and other vendors) infrastructures that cannot afford additional high-end backup software due to cost. Bacula's backup and recovery capabilities actually go far beyond that of only NAS – but for the purposes of this post, we will focus on Bacula's qualities in the NAS domain.
Bacula Enterprise's backup software consists of many elements, such as Bacula Enterprise core technology, Bare Metal Recovery for Linux, the NDMP tool and the Accelerator for NetApp. The backup solution can be installed and customized in a normal Bacula Enterprise environment in a short time.
Advantages
Bacula Enterprise backup software is a standalone, all-in-one NAS software for Synology, NDMP– and a program for NetApp functions.
Individual data can be conveniently restored.
Data is backed up reliably, completely, and incrementally to your NAS device.
Rapid image backup at the block level of your NetApp (SMTAPE).
Possibility to restore data from your NAS server.
Support of classic tapes and hard disks.
Saves space with deduplication on an external Synology backup.
Compression of Comm-line saves network bandwidth, facilitating backup to the cloud.
The backup is automatic.
Encryption between backup system elements and your NAS storage provides better security.
Synology Cloud Backup
With Synology backup software from Bacula Enterprise, you can use the following clouds:
Microsoft Azure
Amazon and S3
Google
Oracle
NAS backup with Bacula Enterprise is available exclusively for Red Hat Enterprise Linux platforms, but is also compatible with several other vendors:
Hitachi BlueArc (Bacula Enterprise 6 and higher)
NetApp with Data ONTAP 7.3 and higher
EMC Celera (Bacula Enterprise 6 and higher)
Conclusion
Classic USB backups protect against data loss in case of hardware defects and accidental deletion. They are the simplest form of backing up your data.
With cloud backups and NAS apps, you can further protect your data from theft and other eventualities as the data is stored with third parties. A cloud backup is flexible and offers a wider range of tools, but copies more data than necessary. Both options are needed to encrypt your data.
Backing up to a private, off-site server is optimal, but rarely considered by home users because it can be complicated and expensive. For the best possible backup of your data, it is advisable to acquire some know-how and decide what is the best solution for you individually, based on this. Businesses may need to consult an expert here.