Introduction to Nutanix
Nutanix is a hybrid software platform with a focus on scalability. This kind of scalability is possible because of HCI – Hyper-Converged Infrastructure, which is a system of individual server instances that can act as a unified single system with the help of the aforementioned software platform.
Each individual server is called a node, and the name of the unified system in the context of Nutanix is a cluster. Each individual server can have a variety of hardware; processors, network interfaces, internal storage, etc. All of this hardware can be utilized by the software to make the entire cluster as efficient as possible, creating two of the biggest advantages of Nutanix – redundancy and scalability.
The existence of multiple storage appliances within one cluster can make the system more resilient to data loss events whenever one of the nodes suffers some sort of failure. The process of scaling this kind of cluster structure is also extremely easy as it is – all you have to do is add more hardware to the cluster.
Since Nutanix itself is a software-only company, it is easy to understand why they choose to certify a number of hardware providers to work with their infrastructure – this allows Nutanix to focus all of their consumer support efforts on the software side, leaving any hardware issues to the vendors.
As a hybrid system, Nutanix uses its own Acropolis Hypervisor to manage data and perform visualization. The boundaries between physical and virtual servers are extremely vague with Nutanix, since it is a hybrid system that works with on-premise hardware, public and private cloud environments at the same time.
This kind of hybrid deployment makes Nutanix a great choice for all kinds of use cases with a lot of flexibility. Unusual situations such as seasonal infrastructure scaling is where Nutanix excels at, offering the ability to expand your cluster with ease via public or private cloud storage providers.
Reasons to backup Nutanix
Nutanix is a hybrid software platform with the potential to be a great choice for a variety of different companies and businesses. With data being a critical resource of practically all organizations, the topic of data protection and backups for Nutanix naturally becomes increasingly prevalent as the time passes.
However, the very nature of Nutanix makes it somewhat problematic to cover for more traditional backup systems – since a Nutanix node can be either a physical piece of hardware or a cloud server storage space. As such, some companies may try to cover the issue of creating Nutanix backups with multiple different solutions – the first one is for hardware backups, the second one is for cloud storage, and so on.
This approach is extremely inconvenient and would inevitably bring a lot of issues later on, which is why it is highly recommended to use one of the more modern Nutanix backup solutions above. All of these solutions have the full capability to work with Nutanix and its hybrid infrastructure, with the ability to manage different storage types from one single management console.
Bacula Enterprise is a good example of such software, providing both great flexibility as a general enterprise backup solution and also offering multiple features specific to Nutanix environments. Bacula offers agentless deployments of its solution and has multiple, different backup approaches for a wide range of requirements and use cases (image level backup, snapshot-based backup, incremental backup, etc.). It can also restore both specific files, applications and entire VMs/network interfaces, does not have a shutdown requirement for the VM backups to occur, and a wide range of customizability. Crucially, it also offers especially high levels of security compared to other vendors. Bacula's solution is certified by Nutanix.
However, Bacula Enterprise is not the only example of such a platform, which is why we are going to present a variety of different Nutanix backup software in the following list.
Top 11 Nutanix backup solutions
While it is true that convenience is at the forefront of hybrid systems such as Nutanix, it is also important to remember about data protection for these systems – since there might be some limitations when it comes to covering hybrid deployments with a specific backup solution provider. Below we are going to go over ten different examples of such software/solution providers, explaining their specific advantages and use cases.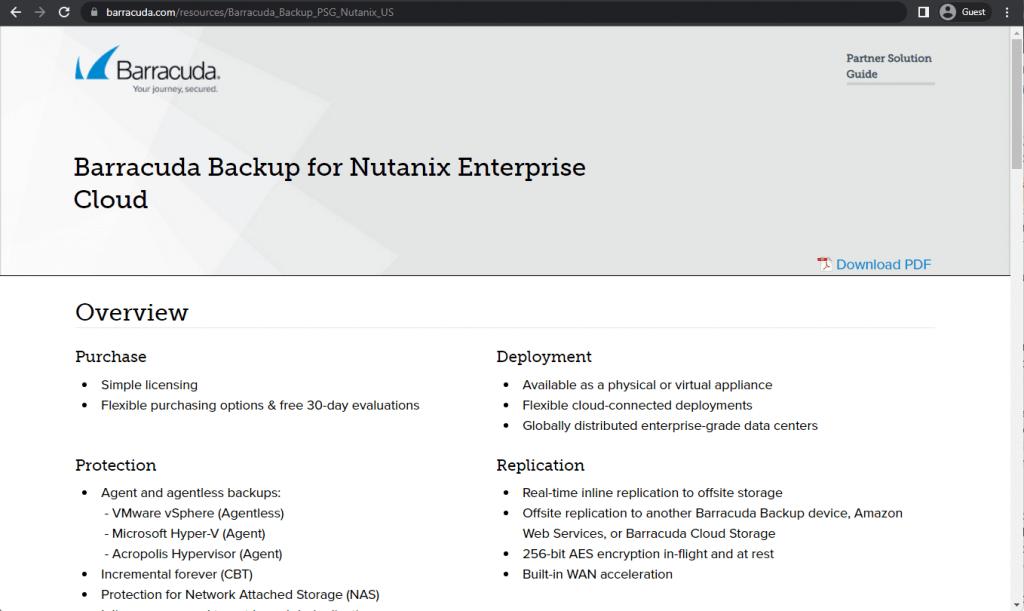 Barracuda Backup has every mark of a successful backup and recovery solution for Nutanix – capability to be deployed as either physical or virtual appliance, a variety of data protection features, multiple data recovery options, centralized data management for your backups and a 24/7 live support for its clients. It supports agentless backups for VMware and agent-based backups for AHV and Hyper-V, it has its own variation of incremental backup type (incremental forever), it can encrypt your data on an AES-256 level and perform real-time inline replication, and so on – the wealth of features that Barracuda Backup has is impressive.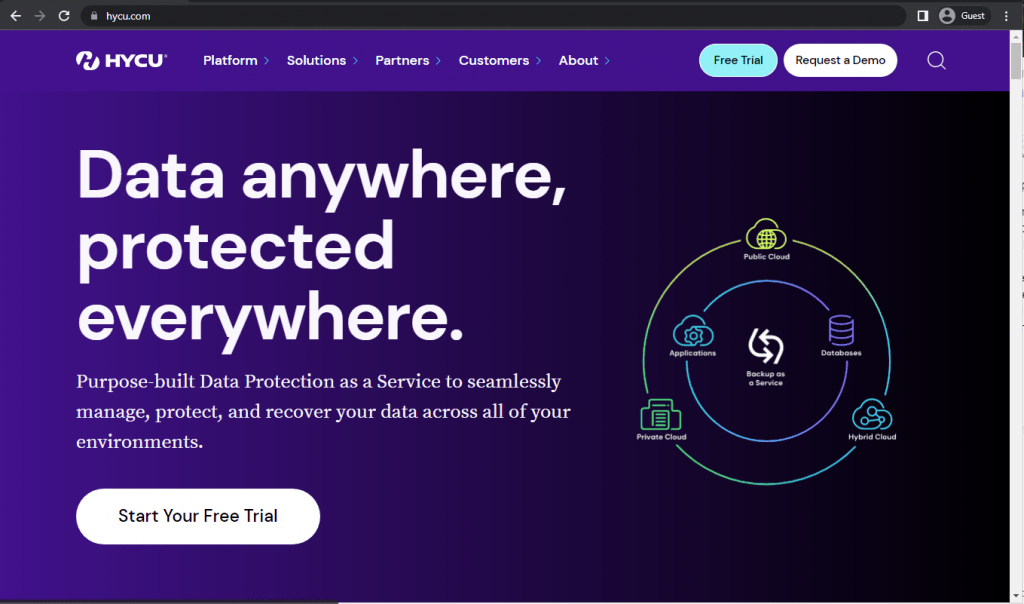 As a purpose-built Nutanix backup and recovery software, HYCU is a combination of effectiveness and simplicity, offering a variety of features in a user-friendly interface. HYCU is integrated directly into Nutanix infrastructure, offering application data protection features, disaster recovery features, as well as data migration capabilities, easier data compliance, better data security, and more. The native integration level makes HYCU a great choice for Nutanix-based companies.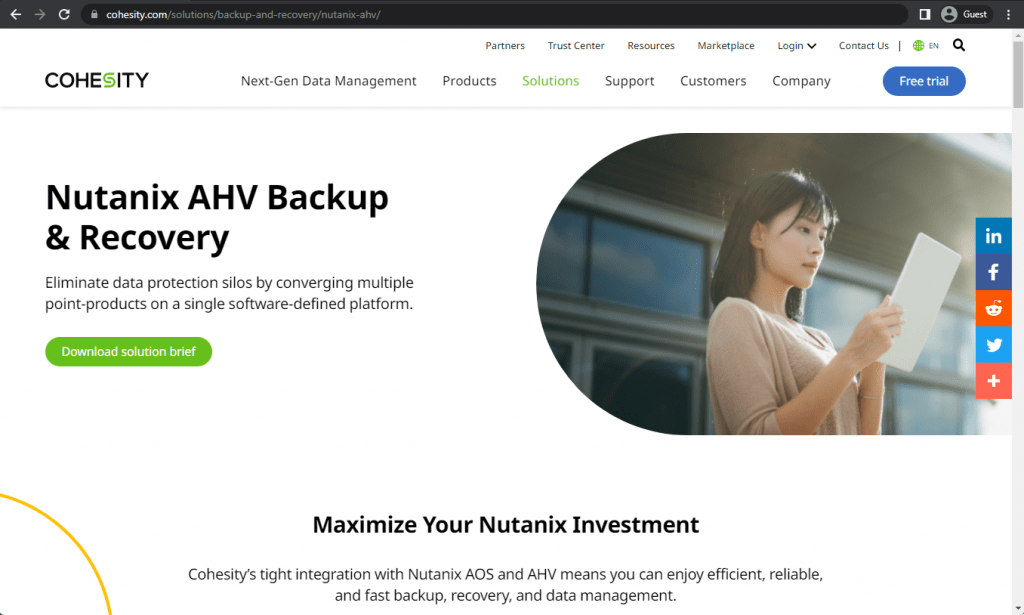 Cohesity is capable of acting as a data protection silo, providing multiple different features in one centralized solution for data protection, automation, backup and recovery operations, etc. Cohesity provides remarkable scalability across different physical and cloud storage locations with public cloud integration capabilities and Cohesity's cloud-like scalability. Cohesity is also extremely efficient with its storage with reduced data footprint, offers extremely high data resiliency, capable of detecting and protecting VMs automatically, and also has a variety of different features to improve your RTOs and RPOs.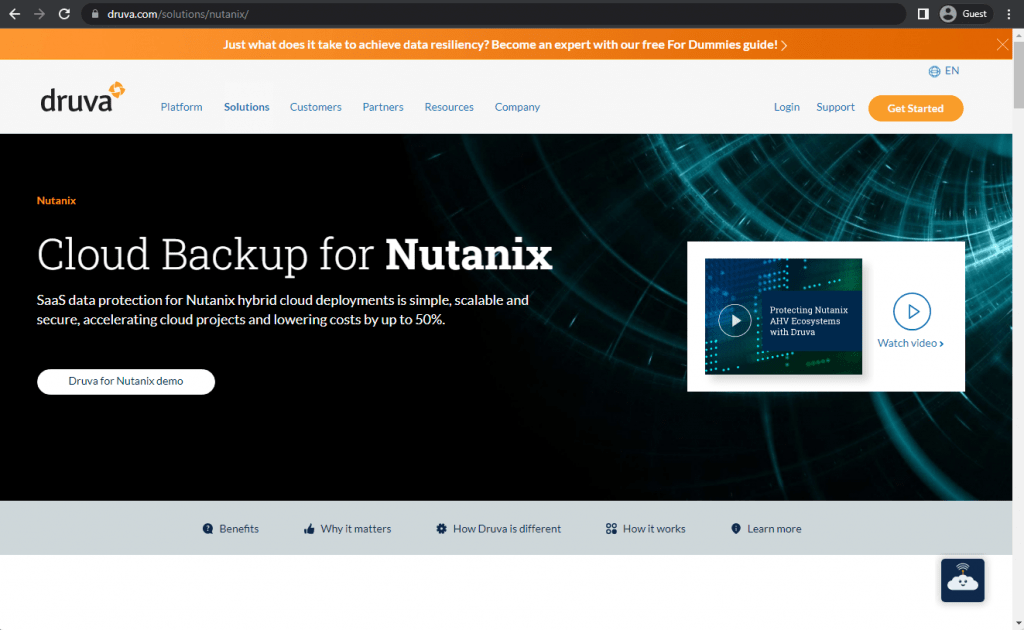 Druva positions itself as an alternative to more traditional Nutanix backup solutions that can only cover one part of the hybrid environment. Druva is capable of protecting all kinds of Nutanix-based information across different storage mediums of this hybrid environment, from offline data storages to remote offices and cloud environments. It is a great solution that combines simplicity and scalability in a single package, offering a variety of useful features to its users – including ransomware protection, low ownership costs, flexible backup and restoration capabilities, data encryption capabilities and many different automation options.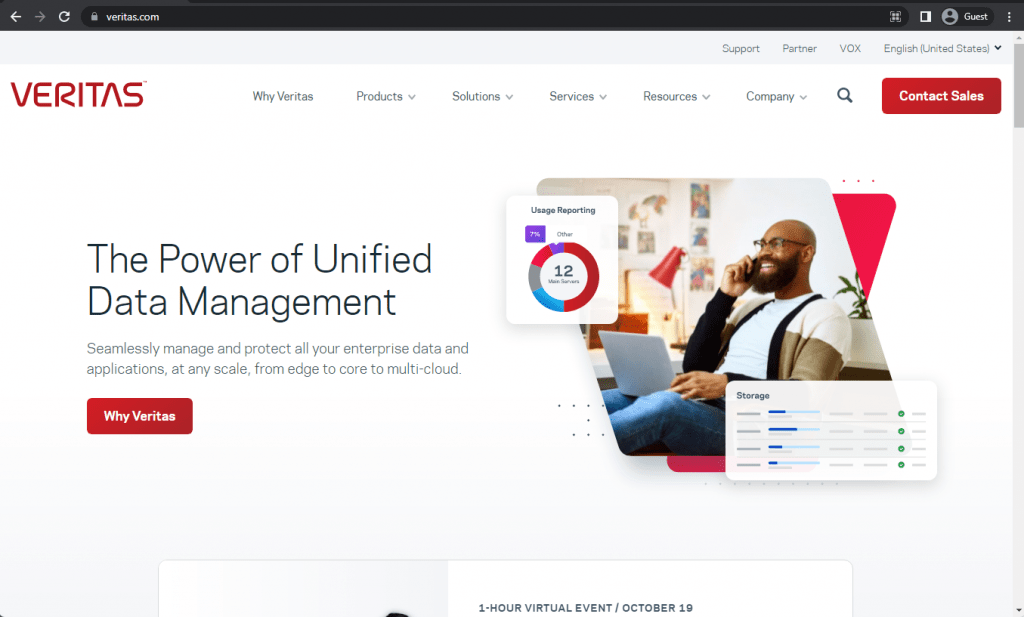 Veritas NetBackup is a data management solution with many different options and possibilities. As one of the bigger competitors on the backup market as a whole, Veritas supports a variety of different storage formats and file systems, with Nutanix's Acropolis Hypervisor (AHV) being one of them. It is a versatile solution that offers data protection, backup to different platforms, both Windows and Linux operating systems, and can also perform various cross-platform recovery processes.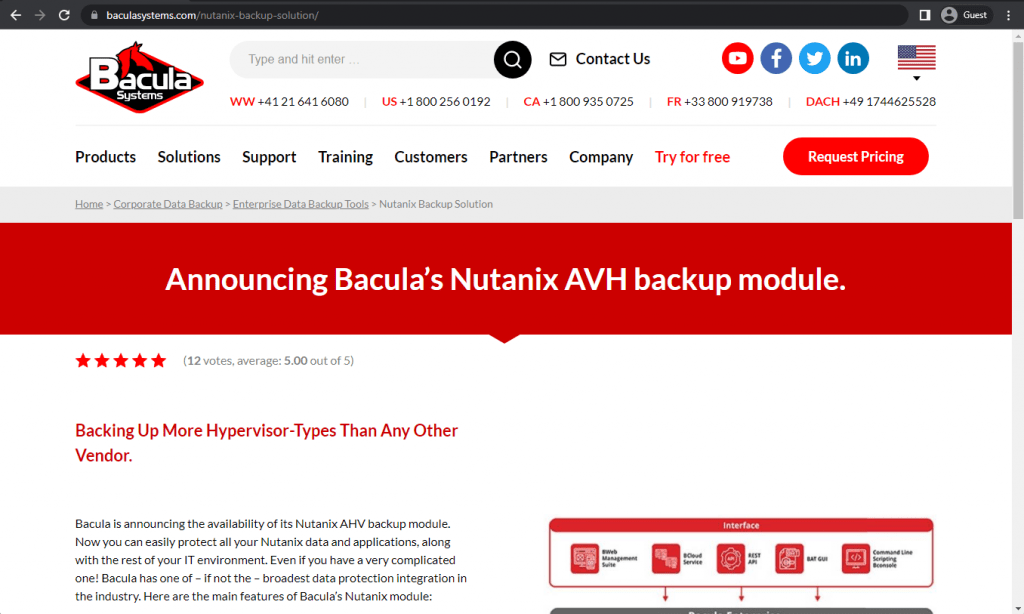 Bacula Enterprise is unique due to its usage of modules to greatly expand the functionality of the original backup and recovery solution exactly according to a users needs. Bacula Enterprise's Nutanix-Certified AHV module offers snapshot-based backups, agentless deployments, full VM image restoration and many other features. Bacula also natively integrates with an especially wide variety of other VM types aside from Nutanix, such as VMware, Hyper-V, Xen, RHV, KVM and Proxmox, making it one of the most flexible solutions on the market. Its potential for customization is also outstanding. More importantly however, is its especially high levels of security and built in protection against ransomware, which tends to go above and beyond other backup vendors. As such, it is a particular favorite among military, defense, government and high performance computing (HPC) organizations.
Veeam is another well-known name in the field, and its Nutanix-related capabilities are just as valid as any other part of the solution. It offers repository-agnostic backups, flexible recovery processes, a centralized management console, fast item-level recovery for specific apps, native Linux file-level recovery, as well as multiple backup types. It is also simple to operate, making it far less taxing to keep around compared with other solutions that rely on legacy infrastructures.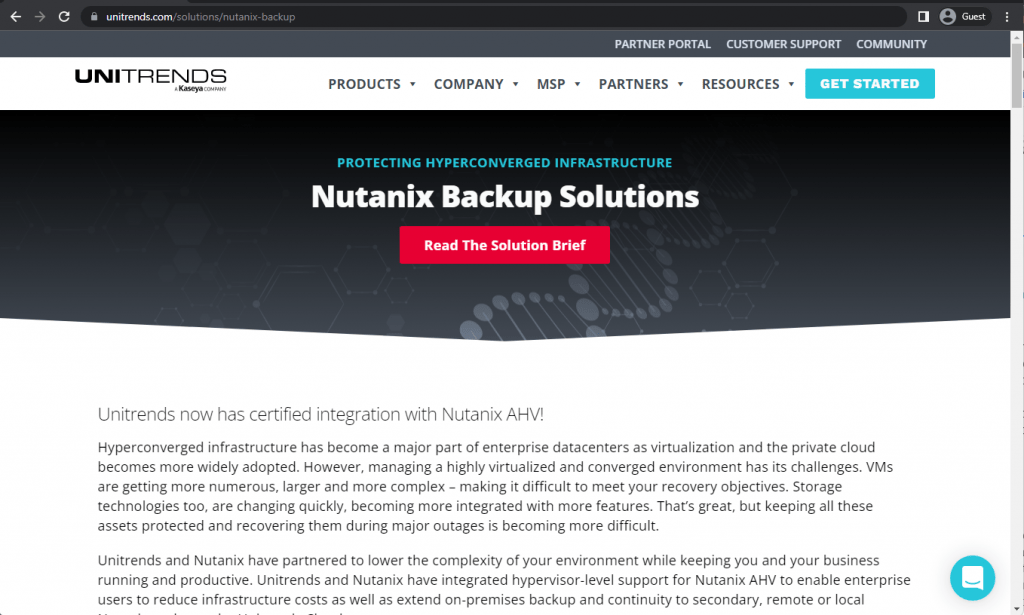 While not as popular as some of the biggest names on the market, Unitrends has its own share of popularity and can offer a backup solution designed with the client's interests in mind. Their integration with Nutanix AHV allows Unitrends to perform backups of any of the Nutanix nodes with little to no effort, and a host of other features. Unitrends' feature list includes enterprise-level data deduplication capabilities, integrated cloud continuity, extensive ransomware protection, support for multiple file systems and operating systems, and more.
Commvault as a solution is a great fit for Nutanix as an infrastructure, since both offer a variety of options for different kinds of users. Commvault can be deployed on any type of storage location, from physical to cloud and hybrid. It also supports a long list of hypervisors and data strategies, including Nutanix AHV. Commvault has a long list of features, including disaster recovery capabilities, endpoint data protection, data encryption, VM archiving, VM replication, tape management, and so on.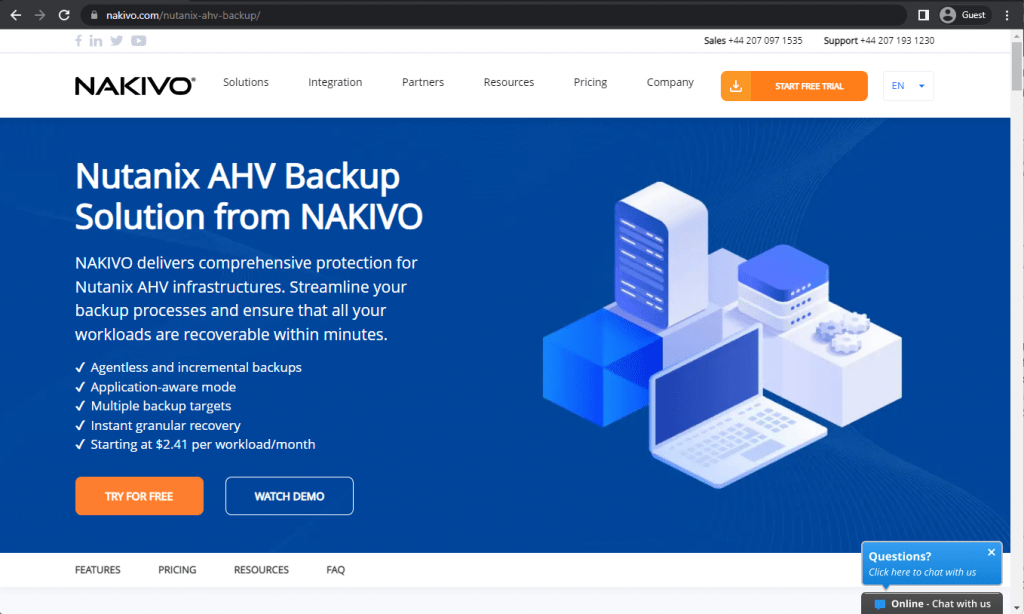 NAKIVO is a comprehensive data protection solution for Nutanix AHV environments, offering fast recoverability and streamlined backup processes. It can perform agentless backups, recover specific parts of your data and backup multiple storage locations or applications at once. Other features of NAKIVO include ransomware protection for both on-site and cloud data, LAN-free data transfer, advanced encryption capabilities, vast workflow automation options, and more.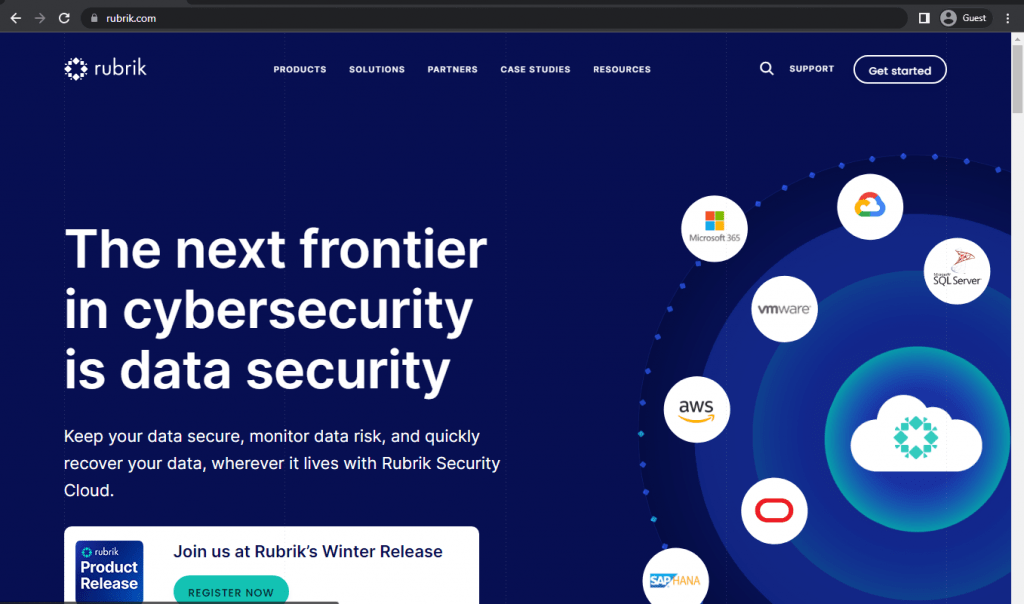 Rubrik Cloud Data Management is a versatile platform with a wealth of features in data compliance, data search, data analytics and data protection fields. It offers a unified interface for data stored in different environments and offers complete control of backup, recovery and other operations that it provides. Some of the features provided by Rubrik are data deduplication, extremely low RTOs, instant recovery with no data rehydration, self-service capabilities, customizable data archival policies, etc.
Conclusions
Figuring out the best backup and recovery solution for your company can be a daunting task, even if you limit your search to a specific infrastructure type such as Nutanix.
Some users that focus exclusively on Nutanix infrastructure may find solutions such as HYCU better than everything else on the list, while larger, more diversified companies with bigger budgets may be looking for a well-known name in the field that has a wealth of different options and features, such as Bacula Enterprise with its higher levels of security. This is increasingly happening because, as many organizations undergo digital transformation projects it is often important for them to be able to back up all of their IT Estate: data, applications, hypervisors, cloud and edge locations, etc. all from one single platform, thus benefiting from "single pane of glass" operation.
The biggest universal advice that could be provided here is to clearly identify your organization's needs and priorities: if you know what feature set you need for the company to protect itself properly – searching for the best Nutanix backup solution for your company becomes that much easier.