VMware backup solutions
Data backup is an important, if not often critical solution, to nearly all problems that may cause or result in data loss – be it because of hardware failure, ransomware attacks, natural disasters, internal tampering or any other similar reasons. This applies in exactly the same way to other types of systems and storage locations, such as Virtual Machines.
For the majority of businesses, any kind of software or hardware failure, when it comes to VMs, typically results in some degree of financial loss when there are service interruptions. Additionally, actions such as granular restoration, 'Bare Metal Recovery', full disaster recovery, etc. can also be especially useful in some specific use cases – and all of these data recovery techniques (and more) can readily be performed with a proper VMware virtual machine backup solution.
Backup, snapshot and replication
What is important here is to understand the main differences between physical backups and Virtual Machine backups – and the difference is quite significant. Regular physical backups usually use some kind of an 'agent' to create a snapshot of the system and store it into a dedicated backup location.
VM-specific backups are often using an agentless approach based on a hypervisor API for backup purposes. This approach is faster, more convenient for a system administrator, and places less load on the entire VM infrastructure when compared with a traditional agent-based VM backup.
This is also the reason why both backup and snapshot operations are slightly different with VMs when compared with physical backups. With physical backups, a backup is a full copy of the existing system at a specific point, while a snapshot is a state of the system at a particular point in time (it can be both a copy of data and a feature). Backups and snapshots in this context are not mutually exclusive and are often used as a combination for a better backup result.
With VM backups, on the other hand, the main difference between a backup and a snapshot is in the way they're performed (agent and agentless, as we have mentioned before) – and this is also the reason backups and snapshots are separate from each other. Additionally, snapshots in the context of VMware virtual machine backup operations are using delta files to store a copy of the existing VM locally – while each VM backup is immediately transferred to a separate storage location.
In case of VM snapshots, they are often used for testing or development purposes, since it is far easier to restore a snapshot of a VM when only one snapshot was taken. Restoration from multiple snapshots via delta files might not be as straightforward.
Regarding the difference between a backup and a replication, it is the same for most of the backup types – these are similar processes, but with different goals and purposes.
Backups are usually created for long-term storage and have a relatively low cost of implementation, avoiding big investment. The only specific thing needed to begin the process of backing up applications or data is to have the storage location for the backup available – be it a disk, a tape, cloud storage, or something else.
The main purpose of a backup as a process is typically either long-term storage or the process of meeting compliance requirements. They are relatively cheap and easier to implement in comparison – but the time period between backups tends to be rather long, as well.
Replication, on the other hand, is a variation of the process that may be more expensive, but also offers a more immediate help to a business whenever it is down or unavailable. Replication usually implies building an entire additional infrastructure with a number of business processes and other investments.
Unlike backups, replication focuses on achieving high availability of the data in question with as low of a downtime as possible if there is a problem. Backups on the other hand, are harder to be affected by cyber threats, but have a longer recovery time period, while replication is more disaster recovery-focused but is costly to maintain for a long time and typically easier to infect with malware and other malicious software.
10 top VMware backup solutions
A lot of the popular backup services offer backups for many types of storage at once – including VMware and other examples. Many solutions can only cover some, or a limited range, of technologies. In a list below, we are presenting our own top 10 of VMware backup solutions, in no particular order: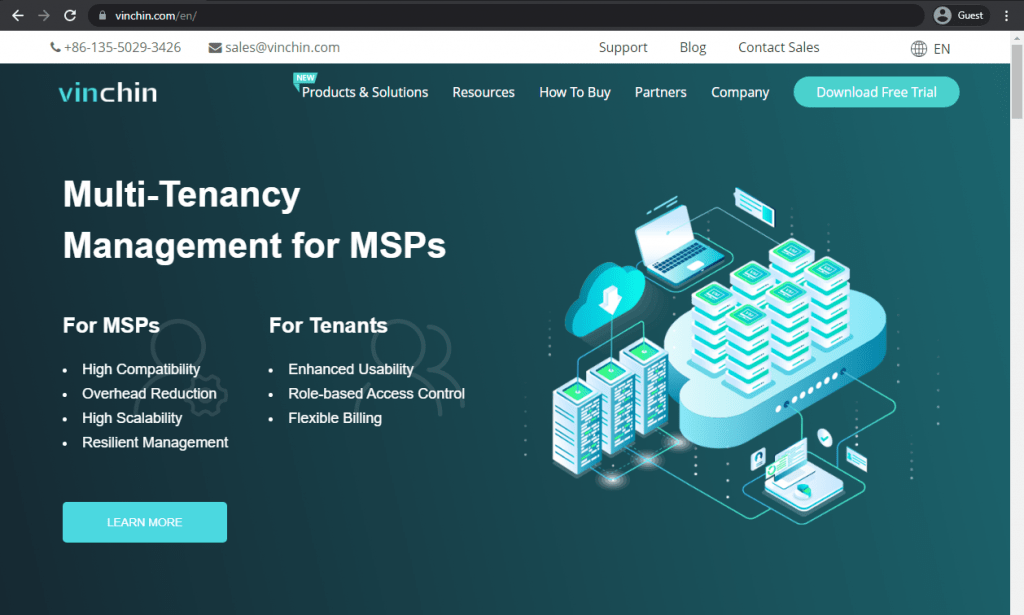 Starting off with a rather unconventional choice, Vinchin claims to offer the combination of functionality and data protection for Hyper-V and VMware, as well as multiple other environment types. It has quite an impressive list of features, including app-aware backups, the combination of data deduplication and data compression, backup retention policies, many different storage types that can act as backup repositories, multiple scheduling options, and more.
Vinchin offers multiple ways to interact with its platform – there is a free version called "Free Edition", offering simplified data protection for smaller environments to backup VMware deployments. The commercial edition of Vinchin, on the other hand, offers multiple important features, such as disaster recovery to both cloud and off-site,hybrid backup and recovery operations, and a lot more than that – and there's also a free trial available for two months of the community version for new users.
Customer ratings:
Advantages:
User-friendly and versatile GUI
A centralized dashboard for better control over the entirety of your data
A good number of features available to users once everything is up and running
Shortcomings:
Email reporting is lackluster and could use more features
The overall mobility of the solution is rather limited since there is no web-based GUI and no mobile app available
Pricing:
Vinchin offers four different pricing tiers and two licensing types. The pricing tiers are as follows:

Essential Edition for smaller businesses that rely on VMware or Hyper-V in their day-to-day operations and don't have too big of a budget for a data security solution

Standard Edition are targeted towards SMBs (small to medium-sized businesses) that use VMware, Hyper-V, KVM or XenServer infrastructure in their work and require specific advanced features from a backup solution

Enterprise Edition would be more suitable for large companies with sophisticated virtual infrastructures and a demand for complex data security

Enterprise Plus Edition offers everything Vinchin is capable of, and would be at its most effective when dealing with hybrid environments that include physical servers, databases, VMs, and so on.
All four of these plans can be purchased using either a subscription license or a perpetual license:

A subscription license offers the ability to subscribe to Vinchin's services for a period of 1-3 years, this includes technical support and version updates
A perpetual license is a different approach that allows customers to purchase permanent licenses to a software, but there is also the matter of version updates and technical support that must be paid for separately.
A single purchase of a perpetual license includes one free year of "renewal services", and it would cost 25% from the solution's MSRP for that same service starting from year two

Unfortunately, despite the long and detailed explanation of different pricing models and licensing approaches, there is no actual official price available on the official Vinchin website, and the only way to receive such information is to request a personalized quote from the company in question.
Customer reviews:
Somchai L. – "With the help of Vinchin Backup & Recovery, our whole IT team now feel rather relieved when it comes to data protection. Through a centralized web console, no matter how complicated and large the production environment can be, backup jobs on any VM can always be easily deployed with just a few clicks, bringing much convenience for us to better carry forward other essential work tasks, let alone the valuable benefits we've got from many other useful features like instant restore and file-level restore for fast and accurate data recovery."
Daniel B. – "A few months ago, while the Exchange ProxyLogon Attacks, Vinchin helped me restore our Exchange Server in different Versions. Every Backup and restore creates a new VM automatically. So i was able to switch between day-versions for running test scripts to find IoCs and export overwritten logs."
Penny Z. – "We have 100 Xenserver vms running on our environment. Given the popularity of Xenserver, it's not difficult to find a reliable backup vendor, but what stumps us is a comprehensive one with reasonable prices and reassuring protection guarantee. Vinchin happens to be the one that fits our standards. Bitdetector, node expansion and data deduplication, all these technologies save a lot space and cost for us, not to mention the archive to cloud and offsite backup copy features, they can be strong support against disasters and accidents. And another one we choose it because Vinchin charges reasonably."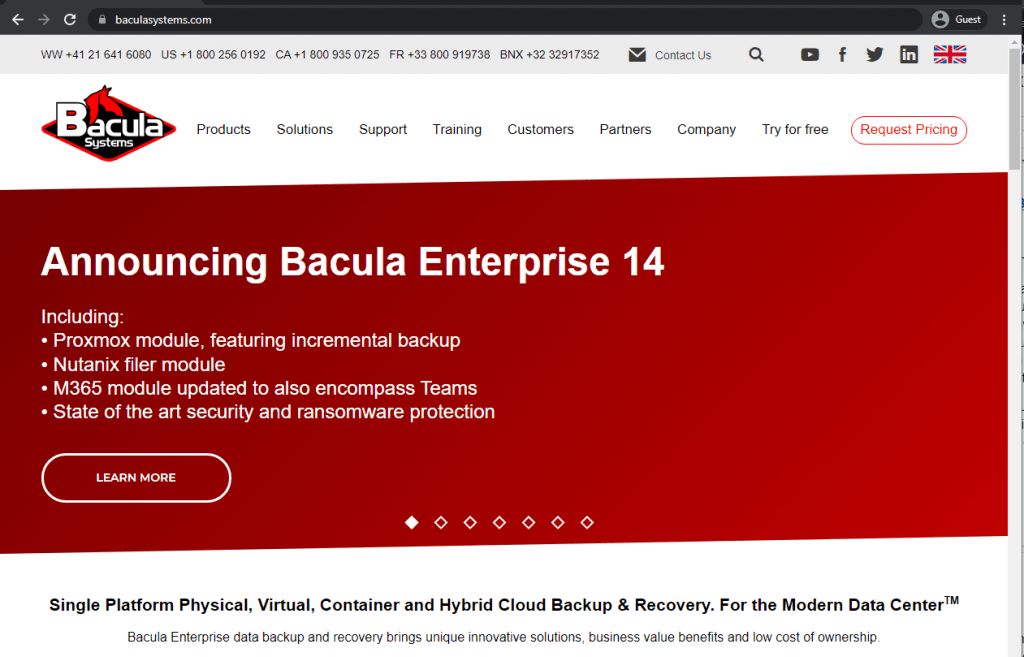 Bacula Enterprise is a backup solution with an especially broad and deep range of capabilities, with one of the most important ones being highly scalable VMware backup. It offers efficient backup and recovery operations for VMware ESXi hosts with vSphere, as well as many other features included in this particular module – granular file restoration, bare metal recovery, Changed Block Tracking, Single File Recovery, Instant Recovery, and more. This solution is also notable in that it also provides native integration with and protection for a wide range of other hypervisors, such a Hyper V, Xen, KVM, Proxmox, etc. Bacula is well known for having an architecture that offers unusually strong levels of security, as well as advanced ransomware detection tools. Because Bacula is a high-end enterprise solution, it also brings with it a host of other capabilities, whether it be its range of storage destinations, its hybrid cloud connectivity, its range of deduplication technologies, its compression and encryption functions, and its high customization levels.
Bacula is a favourite of IT departments with lots of data, as its licensing model does not include any data volume charges. While Bacula Enterprise on its own is a premium product, it's not the only way to work with Bacula. For example, Bacula offers a free 30-day trial of its software, and there is also a completely free version of the software called Bacula Community. While it may be not as effective and feature-rich as Bacula Enterprise, it is still a comprehensive enterprise solution with a lot of use cases with many different storage destinations, including backups to NAS (Synology, QNAP, etc.), cloud backups (AWS, Azure, etc.), physical backups, and more.
Customer ratings:
TrustRadius – 9.6/10 stars based on 53 customer reviews
G2 – 4.7/5 stars based on 55 customer reviews
Advantages:
Acts as a reliable framework capable of performing both backup and disaster recovery operations
Offers extensive scheduling and automation capabilities, helpful to businesses of all sizes
Can work with nearly all data environments and backup targets, from physical workstations and cloud storage providers to databases, clusters, VMs, applications, and more
Offers especially high levels of security and is often used by mission critical government, defense, or high security business organizations
Shortcomings:
Bacula's main web based GUI has recently been updated, but is still not as easy to use as some other vendors
Most of the additional plugins that are not part of Bacula's subscription incur some extra cost, although users only need to pay for what they choose to use.
Bacula's unusually deep range of capabilities means that first-time setup and configuration is relatively sophisticated and may take an extended amount of time
Pricing:
Bacula Enterprise's pricing information is not publicly available on their official website and the only way to obtain such information is by contacting the company directly for a quote.
There are plenty of different subscription plans that Bacula Enterprise can offer, even though there is no pricing published for any of them – it is necessary to contact Bacula for pricing:

BSBE – Bacula Small Business Edition, it can cover no more than 20 agents and 2 contracts, offering features such as web support and BWeb management suite
Standard – can cover up to 50 agents and 2 contracts, adds support answer deadlines (from 1 to 4 business days)
Bronze – can cover up to 200 agents and 2 contracts, offers phone support and shorter deadlines for customer support (from 6 hours to 4 days)
Silver – can cover up to 500 agents and 3 contracts, introduces a deduplication plugin and a lower customer support answer deadline (from 4 hours to 2 days)
Gold – can cover up to 2000 agents and 5 contracts, drastically reduces customer support answer deadline (from 1 hour to 2 days)
Platinum – can cover up to 5000 agents and 5 contracts, has PostgreSQL catalog support and one training seat per year for Administrator courses

Unofficial sources claim that Bacula Enterprise's pricing starts at $500 per month
Customer reviews:
Telssen Nogueira – "As a daily user of the Bacula Enterprise tool, it was necessary to improve knowledge about data backup and recovery technology. My team is responsible for maintaining the backup in various files on virtual servers and times to ensure that all Backup services work correctly on a daily basis. We are also responsible for handling data recovery tickets from servers and databases. We use Postgres and Oracle."
Eloi Cunha – "Currently, the Brazilian Naval Supply System Command uses Bacula Enterprise to backup and restore the database. As a result, we have advanced features and the ability to handle the high volume of data we need for daily life, performing snapshots, advanced deduplication, single-file restores efficiently and reliably. I can detail as pros & cons the following personal use cases. Pros: Data reliability and great cost-benefit. Cons: interface difficult to handle, demanding high study time."
Jefferson Lessa – "During these two years, we have been using Bacula Enterprise as a backup and disaster recovery solution for our entire data environment. This tool solved the problems we had in monitoring backups and in the agility to recover information. We are currently using this solution for more than 2Tb of data in a primarily virtualized environment. Bacula Enterprise's technical support has perfectly met all the needs we've had in recent years. The installation of the tool was easy and the entire team adapted well to the daily use of this solution."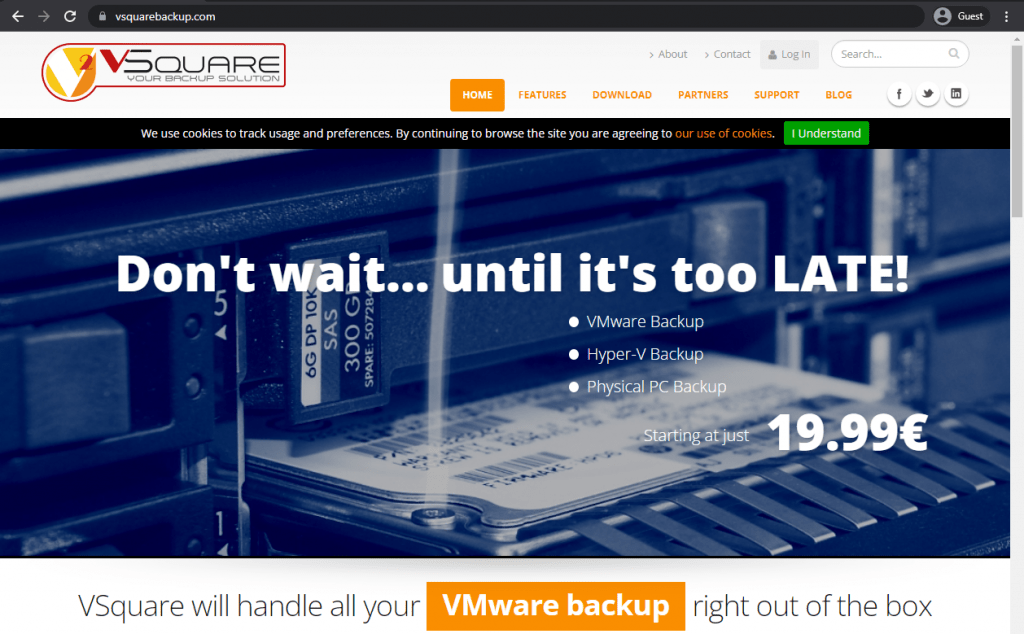 A participant of this list that is not particularly well-known is VSquare – an unusual VMware backup software with an impressive host of features and zero licensing limits. It has Hyper-V CBT support, works with MS Exchange and supports VMware ESXi. It can also backup physical storage locations and supports data deduplication.
As we've mentioned before, VSquare offers flexibility when it comes to the number of machines or sockets used when it comes to its commercial version. Additionally, there is also a free version of VSquare called "Startup plan", which offers a bit less extensive list of features (limitations for backup thread numbers, VM numbers, and so on), but it is completely free of charge.
Pricing:
VSquare has four different pricing plans it can offer to its customers:

Startup is completely free, is limited to 3 VMware/Hyper-V installments, and contains a very basic feature set such as file level restore, centralized management console, email reporting, etc.
Professional – €19.99 per month, no limitations on the number of systems covered, adds differential backup, backup integrity check, email support, and other features to the previous package
Enterprise – €39.99 per month, adds granular backup/restore, off-host Hyper-V backup/restore, reverse incremental backups, transactional backups, SharePoint reporting, and more
Corporate – €99.99 per month, a complete package of VSquare's features, adds premium support, disaster recovery site, and removes data limit on how much data could be restored using host to site DR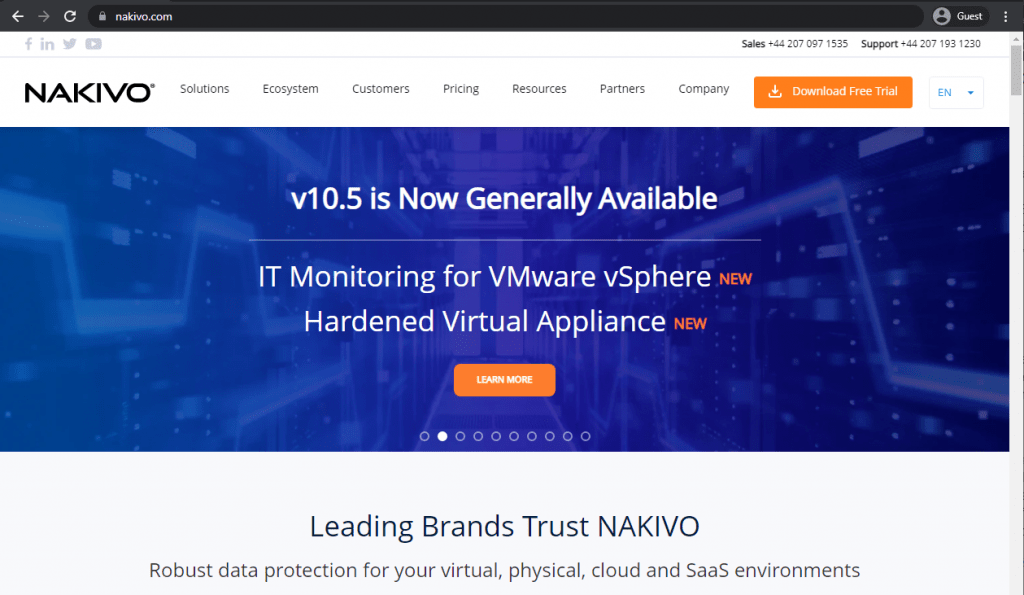 Nakivo is a well-known name on the backup market, offering a set of features with a special focus on VMware vSphere-related features. It works with both standalone ESXi workloads and the ones managed by vCenter, offering instant VM recovery capability, granular restore for specific files or objects, as well as recoverability testing, job chaining, and more features to backup VMware and other types of deployments.
Nakivo's solution is available to trial, with the full version of the software having a 15-day trial, and a free version of the software that has somewhat limited features, works for only a year, and has a licensing limit of 10 VMs.
Customer ratings:
Capterra – 4.8/5 stars based on 305 customer reviews
TrustRadius – 9.2/10 stars based on 142 customer reviews
G2 – 4.7/5 stars based on 203 customer reviews
Advantages:
NAKIVO's user interface is clean, simple, and easy to navigate even for users with little to no prior experience in the field
The customer support team received universal praise over the years, being both quick and helpful no matter the topic of the inquiry
The solution is easy to set up and configure
Shortcomings:
The overall price of the solution is noticeably higher than average and the pricing model can be confusing to navigate
Physical servers that run on Linux do not receive the same level of support that their Windows counterparts do
Reporting and logging are relatively basic and can rarely help with determining the reason for a specific error
Pricing:
NAKIVO's pricing can be split into two main groups:
Subscription-based licenses:

"Pro Essentials" – from $1.95 per month per workload, covers most common backup types such as physical, virtual, cloud and NAS, while also offering instant granular recovery, virtual and cloud replication, storage immutability, and more
"Enterprise Essentials" – from $2.60 per month per workload, adds native backup to tape, deduplication appliance integration, backup to cloud, as well as 2FA, AD integration, calendar, data protection based on policies, etc.
"Enterprise Plus" does not have public pricing available, it adds HTTP API integration, RBAC, Oracle backup, backup from snapshots, and other features
There is also a subscription available for Microsoft 365 coverage that costs $0.80 per month per user with an annual billing and can create backups of MS Teams, SharePoint Online, Exchange Online, OneDrive for Business, and more
Another subscription from NAKIVO is its VMware monitoring capabilitiy that comes in three different forms:

"Pro Essentials" for $0.90 per month per workload with CPU, RAM, disk usage monitoring and a built-in live chat
"Enterprise Essentials" for $1.15 per month per workload that adds AD integration, 2FA capability, multi-tenant deployment, and more
"Enterprise Plus" with no public pricing that adds RBAC and HTTP API integrations

Perpetual licenses:

Virtual environments:

"Pro Essentials" for $229 per socket, covers Hyper-V, VMware, Nutanix AHV, and features such as instant granular recovery, immutable storage, cross-platform recovery, etc.
"Enterprise Essentials" for $329 per socket, adds native backup to tape, backup to cloud, deduplication, 2FA, AD integration, and more
"Enterprise Plus" with no public pricing that adds RBAC and HTTP API integrations, as well as backup from storage snapshots

Servers:

"Pro Essentials" for $58 per server, covers Windows and Linux, and features such as immutable storage, instant P2V, instant granular recovery, etc.
"Enterprise Essentials" for $329 per server, adds native backup to tape, backup to cloud, deduplication, 2FA, AD integration, and more
"Enterprise Plus" with no public pricing that adds RBAC and HTTP API integrations

Workstations:

"Pro Essentials" for $19 per workstation, covers Windows and Linux, and features such as immutable storage, instant P2V, instant granular recovery, etc.
"Enterprise Essentials" for $25 per workstation, adds native backup to tape, backup to cloud, deduplication, 2FA, AD integration, and more
"Enterprise Plus" with no public pricing that adds RBAC and HTTP API integrations

NAS:

"Pro Essentials" for $149 per one Terabyte of data, can backup NFS shares, SMB shares, folders on shares, and offer file level recovery
"Enterprise Essentials" for $199 per one Terabyte of data, adds AD integration, 2FA support, calendar, multi-tenant deployment, etc.
"Enterprise Plus" with no public pricing that adds RBAC and HTTP API integrations

Oracle DB:

"Enterprise Plus" is the only option available for Oracle database backups via RMAN, it can offer advanced scheduling, centralized management, and more

VMware monitoring:

"Pro Essentials" for $100 per socket with CPU, RAM, disk usage monitoring and a built-in live chat
"Enterprise Essentials" for $150 per socket that adds AD integration, 2FA capability, multi-tenant deployment, and more
"Enterprise Plus" with no public pricing that adds RBAC and HTTP API integrations
Customer reviews:
Martin S. – "Nakivo is a very helpful and simple program. It takes only 2 minutes to setup and then it works. If you have problems with the setup and the backup tasks they have a nice staff that will help you through it until your backup is running 100%.Ease of use, and installation is important."
Andrew E. – "It's as close to bullet proof as we've seen. Our backups run nightly and on the occasion when we need to restore, there are some very flexible ways of getting either individual files, VMDKs or entire VMs out the other end. We have yet to try out the non-VM backup but we suspect that at some point we will throw that out and move it all to Nakivo."
Joerg S. – "We are using Nakivo B&R for our new server with quite a number of virtual machines (VM Ware). Backup of data is onto a Synology via 10GB/s. The backup makes use of all available network speed. Once you understand how it works, its configuration is straight forward. Whenever we experienced some issues, Nakivo Service was very helpful (GoTo meeting) and pretty fast (next day at the latest). So far no complaints on their repsonse."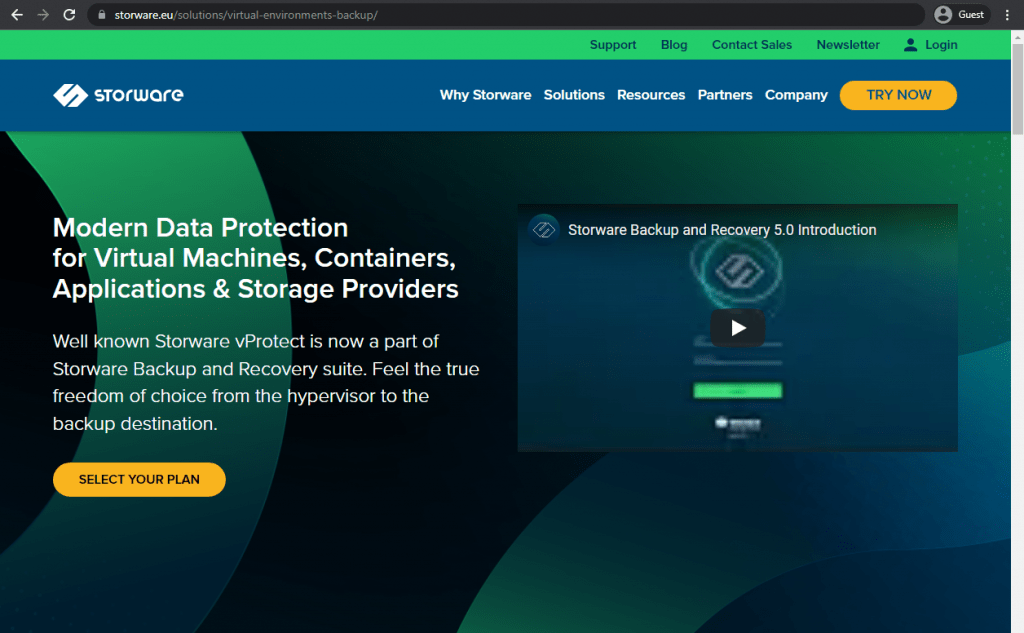 Storware Backup and Recovery (a part of it that was formerly known as Storware vProtect) is a backup and recovery tool that focuses on snapshot/backup management for all kinds of containers and virtual environments. The solution offers a user-friendly interface, supports multiple backup destinations, can work with many virtual environments, and has 24/7 customer support.
As with many other examples here, Storware offers several different versions of its solution. The most restricted one is the free version, which lacks direct customer support, cannot backup endpoints, does not have an enterprise backup integration module – but it's also free. The second option is the free trial – a two-month-long experience of the entire functionality of Storware, with no limitations whatsoever. And, of course, there's also the commercial version, which can be paid for as a monthly subscription and as a perpetual one-time license.
Customer ratings:
G2 – 4.7/5 stars based on 28 customer reviews
Advantages:
Initial configuration and setup process is relatively simple
Clean and simple GUI makes backup/recovery management easier
Agentless infrastructure removes the need for a physical centralized server for the entire solution to work properly
Shortcomings:
Little to no notification customization available
The reason why initial setup process is simple is because there is a good online tutorial available, not because the process itself is short or easy
Retention policy configuration process could be easier
Pricing:
Storware's official website offers two public pricing plans:

Freemium – a completely free offering with multiple limitations, such as 100 or less M365 users, 10 or less virtual environments, 1 TB data, 10 or less apps, etc. All of the Storware's backup and recovery features are included in the package.
Trial – a full version of the solution for 60 days, no limitations in terms of workspaces and storage whatsoever, official support, and all of the backup/recovery features of Storware.

The rest of the pricing-related data is not available on Storware's official website and can only be acquired via a personalized quote that a company would have to request from Storware in the first place
Customer reviews:
Konrad K. – "The product guarantees data backup in real time (we don't need to turn off VMs during backup) as well as restoration if needed. Its easy and clean GUI improves performance of operator."
Szymon K. – "I was looking for a solution to back up my RHV/oVirt environment, and Storware Backup & Recovery is the best product on the market for that. It has helped me to easily and effectively protect my data."
Wojciech B. – "Reliable backup software for oVirt – it works where many other solutions failed! If you have multiple different hypervisors running in your environment, I would definitely suggest giving it a try."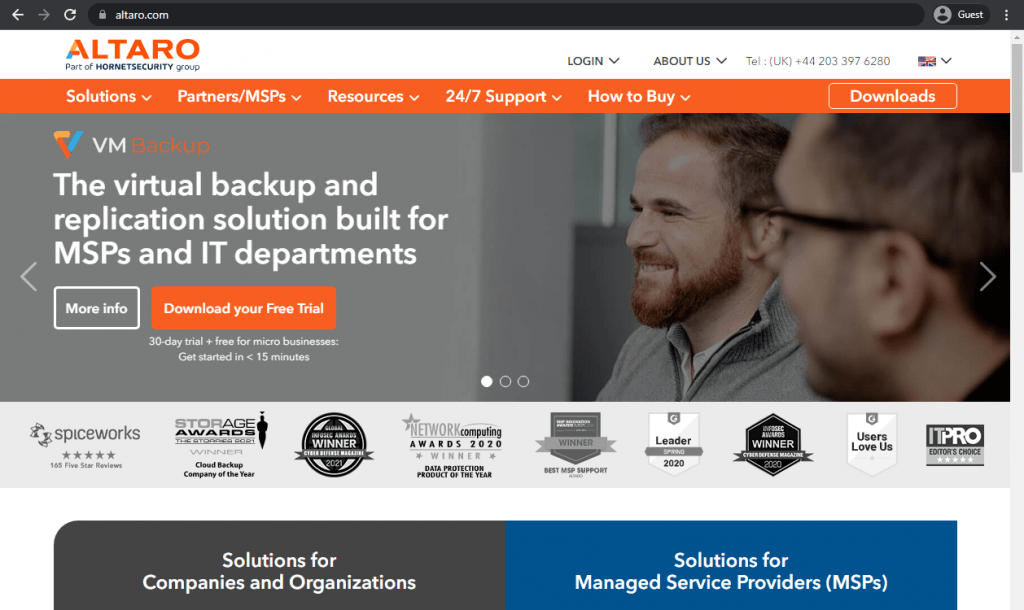 VM Backup may not exactly be the most popular competitor in the field, but it does not change the fact that it is a great VMware backup solution for all kinds of virtual machines. It offers extensive data deduplication to save space and traffic, offers many different options for the actual backup processes, offers a centralized management board for all of your VMs, has automation features, scheduling, and more.
VM Backup offers multiple different solutions for backup and recovery, and they are not just about VM backups, either. Each solution has multiple different commercial versions, depending on the use case of the customer. Additionally, most of the backup solutions, including VM Backup, have a 30-day free trial. Surprisingly enough, VM Backup also has a free VM backup solution that is limited to 2 VMs at once and is great for smaller businesses.
Customer ratings:
Capterra – 4.7/5 stars based on 188 customer reviews
TrustRadius – 8.9/10 stars based on 47 customer reviews
G2 – 4.7/5 stars based on 174 customer reviews
Advantages:
The overall simplicity of the solution makes it more accessible than most backup software on the market
Easy initial setup with the help of drag-and-drop operations
Customer support is helpful and responsive
Shortcomings:
The software has a session timeout trigger, which may be inconvenient to some users
Notifications are not detailed enough in some cases, and cannot be customized to be more informative
Troubleshooting errors by hand is difficult because of how little information about the error is provided
Pricing:
VM Backup from Hornetsecurity has two different license types and three pricing tiers (editions) it offers to its customers.
A subscription-based pricing model includes a single pricing plan:

Unlimited Plus Edition – $579 per 5 VMs per year (the number of VMs can be adjusted but cannot go lower than 5), a full package of features and capabilities, including CDP, cloud backup to Azure, access to CMC (Cloud Management Console), etc.

A pricing model based on perpetual licensing has three different pricing tiers:

Standard Edition – $595 per host with a year of SMA, 5 VMs per host, a basic feature package
Unlimited Edition – $695 per host with a year of SMA, no limitations on the number of VMs, deduplication, vCenter, Boot from Backup capability, and more
Unlimited Plus Edition – $875 per host with a year of SMA, no limitations on the number of VMs

SMA is Software Maintenance Agreement, includes priority support and new version upgrades for perpetual license owners, available as a separate purchase once the first year of a perpetual license owner's subscription expires
Customer reviews:
Steve H. – "I've been very pleased with Altaro VM Backup for my VMware ESXI network. Other backup packages were either way too simple or way too expensive and too complicated. I'm not primarily a network administrator, I'm a software engineer, so I don't want to have to understand all the intricacies of complex backups. I just want to be able to set up a reliable backup that happens in an automated way and notifies me in a clear fashion if the backup completes and warns me if it doesn't complete. Altaro hit all the right balance of those features for our small company."
Giuseppe M. – "This product has allowed us to implement local and offsite backups of our virtual machines (2) at a reasonable price. We often use the offsite backup to restore our VMs to a test server for testing of new application software upgrades and feature. This product has proved to be very useful for us."
Ray K. – "My overall experience with this Software is Positive. No negative feelings and we have it running at a lot of our customers, most installations just run, notifications keep coming in, and backups are made. We sometimes test it , and every time the backup can be restored. Not losing sleep over this."
Vembu is a software provider that managed to gain a lot of popularity among smaller and middle-sized companies and customers, mostly due to the combination of user-friendliness and the payment model flexibility. Vembu BDR Suite is a massive combination of solutions for backups of different appliances, including physical storages, virtual machines, cloud workloads, and more. This makes Vembu a rather attractive solution to keep all of your backup solutions working in tandem with each other.
It is worth mentioning that each part of the entire Vembu BDR Suite also offers a free version of itself – you can find the exact limitations of free versions on Vembu's comparison page. Additionally, there is also a one-month-long trial for the entire Suite with no functionality restrictions whatsoever.
Customer ratings:
Capterra – 4.5/5 stars based on 17 customer reviews
TrustRadius – 8.4/10 stars based on 88 customer reviews
G2 – 4.2/5 stars based on 130 customer reviews
Advantages:
A user-friendly web-based interface with easy access to all of Vembu's features and capabilities
A complete Linux version of the software as a part of the offering
Customer support with a myriad of positive reviews
Shortcomings:
While the interface is easy to navigate through, the solution itself has a rather steep learning curve and could take a while for an average user to get used to all of its features
A large part of customer support's knowledge is based on the Windows version of Vembu, and it is not 100% identical to the Linux version, creating unnecessary confusion sometimes
BDR Suite's price tag is not exactly user-friendly, and the recent price increase across the board made it even higher than the market average
Pricing:
Vembu BDR Suite's pricing varies quite a lot depending on the target data source:

VM Backup – from $18 per year per VM, with support for both Hyper-V and VMware deployments

Server Backup – from $60 per year per server, both Linux and Windows servers are supported
Application/DB Backup – from $60 per year per application/database, can work with SQL, MySQL, and Exchange
SaaS Backup – from $12 per year per user, works for Google Workspace and Microsoft 365
Cloud VM Backup – from $30 per year per AWS instance
Endpoint Backup – from $15 per year per endpoint, supports Windows and Mac devices

It is also worth noting that most of the BDR Suite's backup solutions are also available for free with most of the features and a strict limitation on the number of workstations/VMs/servers it can work with.
A lot more details about Vembu BDR Suite's pricing can be obtained at the official pricing page.
Customer reviews:
Dan Worrell – "We use Vembu BDR Suite across our organization and implement it at client sites. It addresses all of our backup and DR needs by providing a consistent console, the ability to backup bare metal, VMs, all the way down to single files and database entries. It solves an issue we had before with not being able to easily backup client data directly to our data center. Vembu BDR Suite makes this really simple and efficient."
Carl Z. – "Not good. I wish the company well, but they have a dis jointed support and on-boarding process. The product does appear well built, but software without the proper support and consulting services is almost worthless, particularly mission critical software such as a backup system."
Daniel E. – "Overall the software is great for being free. I'm wouldn't be confident or as likely to recommend it as a purchased product at the price point they are asking. Their whole product and documentation need improvement before I would have confidence in recommending it to other companies that would use it in their production environment."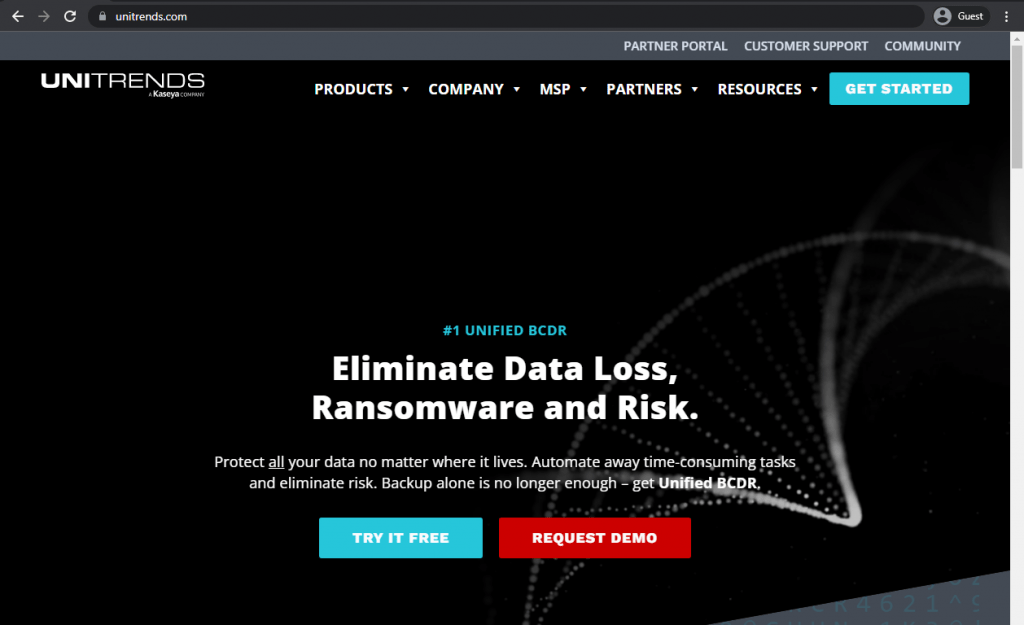 At some point, Unitrends was one of the most feature-rich backup solutions on the market, and it is still a great option for all kinds of use cases, especially when it comes to VMware ESXi appliances. Hyper-V is also supported, and there is a wide choice of data protection features, including instant recovery, integration with different cloud storage providers (Microsoft Azure, Amazon S3), and more.
Unitrends also has a free version of its product, with no limitations for the number of virtual machines supported. However, it does come with a 1TB limit of the amount of data that can be protected. Additionally, there is also a free guided trial that you can request from Unitrends themselves at any time.
Customer ratings:
Capterra – 4.7/5 stars based on 34 customer reviews
TrustRadius – 7.9/10 stars based on 613 customer reviews
G2 – 4.3/5 stars based on 355 customer reviews
Advantages:
Offers centralized access to all kinds of information about the system in the form of a convenient dashboard
The backup processes can be launched with ease once the solution is set up and running
The entirety of a backup process can be controlled from start to finish and customized to some degree
Shortcomings:
The solution itself does not offer any form of instructions to it, it can only be found using web forums or other sources of information
Web interface limits the solution's capability to initiate and control granular file recovery
False alerts are irregular and distracting
Pricing:
Unitrends's pricing information is not publicly available on their official website and the only way to obtain such information is by contacting the company directly for a quote, a free trial, or a guided demo.
The unofficial information states that Unitrends has a paid version that starts at $349 USD
Customer reviews:
Chris B. – "As we only have a relatively small setup I used the free edition available through Spiceworks (now withdrawn). I had a problem initially getting it configured to use a NAS as the backup destination but despite it being a free edition their support resolved the issue and I was then able to use it reasonably reliably for several years. Occasionally it would simply stop backing up for no apparent reason but never emailed to say the backup failed; it just stopped working altogether so sometimes it took several days before we realized the daily backup emails had stopped and we could then go in and reset the Unitrends VM which brought it back to life. The upgrades were generally easy to do, just click an upgrade link and wait until it finished, however the last time I did this it completely corrupted the VM making it unbootable. We then installed the latest version from scratch but again hit the problem of it not backing up to the NAS. Unfortunately this time their support was very unhelpful, refusing to give any support or advice unless I paid for a ridiculously expensive annual support contract. That caused us to look at competing products and we settled on Nakivo which is MUCH faster to do the full and incremental backups as well as having vastly superior compression so we can keep more backup history. I've not found anything that I used on Unitrends that's not easier and quicker to do with Nakivo and I paid less than the annual support cost for Unitrends! No brainer 🙂"
Yuri M. – "We love the product because it restores quickly  in case of emergency and also the learning curve is quick. The reports are also very informative so we can know exactly what is happening with the backups and make sure we can restore in case of need."
Greg L. – "Needed to replace two old backup solutions, one that handled virtual, the other handled physical servers. Unitrends allowed us to consolidate our backups to one solution that has been supremely reliable"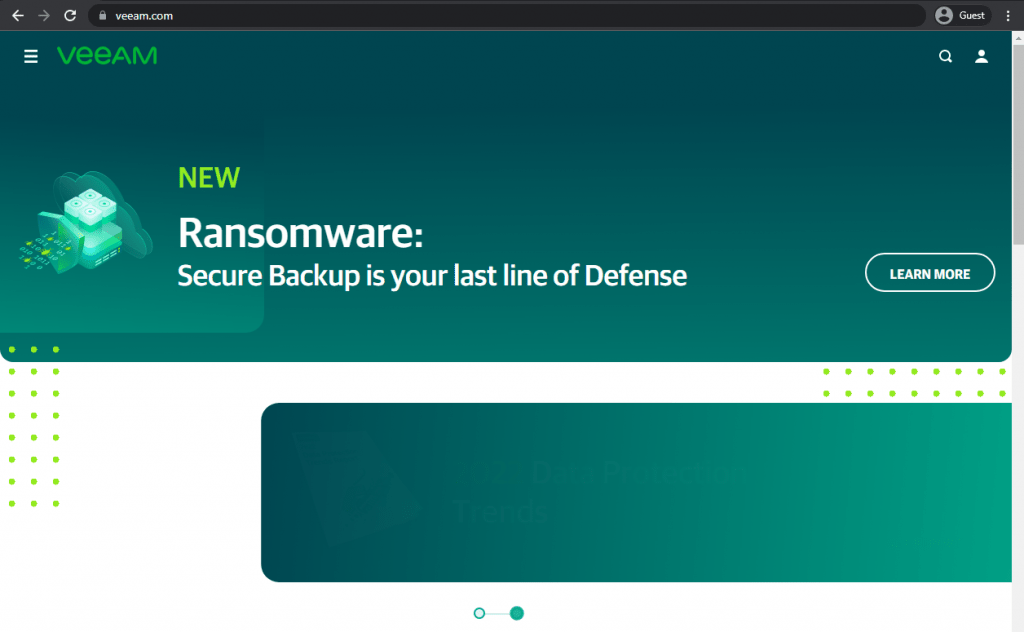 Veeam is another name that is popular on the backup and recovery market – and its product also works with both Hyper-V and VMware appliances. However, Veeam does not stop here and can also offer features such as VMware migration, granular recovery, support for both Linux and Windows, vCloud director support, and more.
Veeam's VMware backup capabilities are available for all of the Veeam Backup & Replication users, as well as for Veeam Availability Suite users (Veeam Backup & Replication + Veeam ONE). There's also a 30-day free trial and multiple free versions of different products, with some limitations in functionality.
Customer ratings:
Capterra – 4.8/5 stars based on 69 customer reviews
TrustRadius – 8.8/10 stars based on 1,237 customer reviews
G2 – 4.6/5 stars based on 387 customer reviews
Advantages:
A lot of Veeam's products and offerings have a dedicated free version that is great for either trying out the solution itself or for small companies to use on a regular basis for free
Veeam's customer support receives a lot of praise from many customers all over the world
Initial setup process for Veeam is simple and intuitive
Shortcomings:
Veeam's wealth of features is also a significant problem for newcomers since getting used to the solution and learning all of its capabilities takes quite a long time for most people
The solution's pricing is referred to as relatively expensive, or higher than the average market cost
Veeam's user interface is not exactly simple, nor easy to use
Security levels may be an issue for some.
Pricing:
Veeam's pricing information is not publicly available on their official website and the only way to obtain such information is by contacting the company directly for a quote or a free trial.
But there is a pricing calculator page that lets users specify the number of different environments they want covered with Veeam's solution, as well as the planned subscription period. All of that can be sent to Veeam in order to receive a personalized quote.
Customer reviews:
Joshua H. – "I use this to manage backups of office-facing and production servers in a non-profit business. We have less than 10 servers to care for and the free Community Edition is perfect. I have found the features and reporting to be robust. Practicing restores is no trouble. I have never needed vendor support to operate or configure this Veeam Backup & Replication – it works well and has good documentation!"
Turan A. – "Although the configurations took a long time in the first installation, everything was clear after the installation. In a very short time, we started the instant backup process by integrating our virtual machines. Great performance in replicating data to another medium and sending backups. Thanks to the management of data from a single point, we started to use our processes, lost time and resources more effectively. Moreover, the ability to instantly monitor the errors, reports and logs allows you to have control over all processes."
Johannes R. – "Having used several products in the past (NTBackup, Windows Backup, Backup Exec, Acronis, vRanger, Networker) I never really had the feeling that one of these products really is there for me when things get really worse. With Veeam I have a feeling that they got my back. I can finally sleep well again when I think about my clients and my data."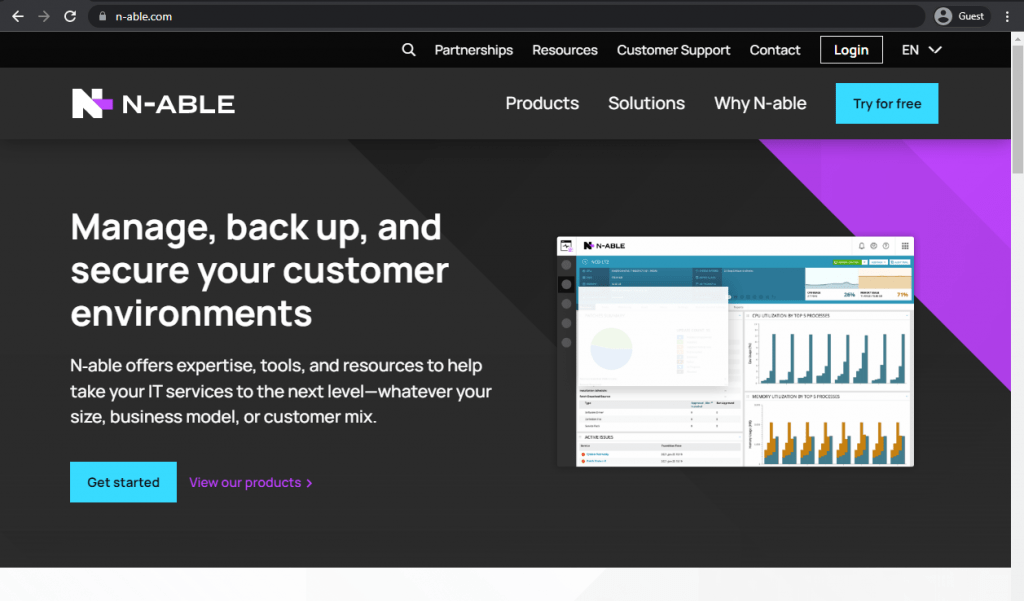 Another interesting example of a VMware backup solution is N-able Cove Data Protection – a backup platform that offers multiple different backup options and works on a Software-as-a-Service model. It works with both Hyper-V and VMware, can take snapshots of your entire virtual environment, encrypts all of your data while offering disaster protection, compatibility with several cloud storage services, as well as the ability to work with different environments from the same account.
N-Able is a commercial product that tailors its price depending on the client's needs and purposes – but it also has a free 30-day trial with no limitations in terms of capability, allowing customers to explore the product before purchasing it for their company or business.
Customer ratings:
Capterra – 4.7/5 stars based on 35 customer reviews
TrustRadius – 8.8/10 stars based on 48 customer reviews
G2 – 4.3/5 stars based on 228 customer reviews
Advantages:
Single centralized source of information in the form of a dashboard with clearly traceable patterns and problems
Local storage is not mandatory but it could be added if it is necessary for the client
Generally high performance of backup/recovery operations across the board
Shortcomings:
Multiple issues with backup report emails, including aforementioned emails being sent out before the backup window closes
Reporting features are lackluster in some specific cases
Some integrations are very limited in their capabilities, including M365 integration that can only create very basic backups
Pricing:
Cove Data Protection's pricing information is not publicly available on their official website and the only way to obtain such information is by contacting the company directly for a consultation or after initiating a free trial.
Customer reviews:
Nathan S. – "Enables us to prevent data loss as well as quickly restore data in any situation from user error (deletion of a file or email) to extinction-level events such as network-wide ransomware attacks. Allows us to provide a sense of security to our customers that they see high value in."
Simon B. – "We are seeing a massive increase in compliance requirements and having a clear, easily priced product that ticks those compliance boxes for our customers is fantastic. It's an easy sell, very simple to look after, and we make a sensible markup on the product so it saves us time and makes us a bit of money at the same time."
Scott Beukelman – "We use Cove data protection as an MSP for over 200 servers and over 100 workstations for our managed clients. Cove helps us greatly to make sure customer machines are backed up a regular basis. Also disaster recovery is well taken care of with this product and we have no worries about doing a file restore or a full disaster image restore. We even use this product to migrate servers to other locations at times."
Conclusion
The available choices for VMware backup software is large, and most solutions offer at least one way of testing their product before buying it. This is a great way for users to evaluate which solution suits them the most before deciding if it is worth buying in the first place – and we hope that our top 10 VMware backup list was useful to you.
There are also plenty of options that focus exclusively on VM support, such as Storware or VM Backup, with each solution being dedicated to providing a relatively cheap VM data security solution with a wealth of useful features.
Alternatively, there are solutions like Veeam that are a good example of a massive number of features in a single package, including VMware compatibility. Unitrends is very similar in this regard, offering a long-running effective solution that can work with plenty of backup storage locations, and not just VMware.
Bacula Enterprise is also a sensible choice for this category – a highly secure, flexible backup and recovery platform that does not charge based on traffic amounts and has one of the biggest lists of integrations and compatibilities on the market. Therefore, Bacula is especially effective in large, complicated and growing environments that require high levels of security.
At the end of the day, the choice between different VMware backup solutions is not an easy one, and there are plenty of factors that have to be kept in mind when making a choice like that.
Why you can trust us
Bacula Systems is all about accuracy and consistency, our materials always try to provide the most objective point of view on different technologies, products, and companies. In our reviews, we use many different methods such as product info and expert insights to generate the most informative content possible.
Our materials offer all kinds of factors about every single solution presented, be it feature sets, pricing, customer reviews, etc.  Bacula's product strategy is overlooked and controlled by Jorge Gea – the CTO at Bacula Systems of Bacula Systems, and Rob Morrison – the Marketing Director of Bacula Systems.
Before joining Bacula Systems, Jorge was for many years the CTO of Whitebearsolutions SL, where he led the Backup and Storage area and the WBSAirback solution. Jorge now provides leadership and guidance in current technological trends, technical skills, processes, methodologies and tools for the rapid and exciting development of Bacula products. Responsible for the product roadmap, Jorge is actively involved in the architecture, engineering and development process of Bacula components. Jorge holds a Bachelor degree in computer science engineering from the University of Alicante, a Doctorate in computation technologies and a Master Degree in network administration.
Rob started his IT marketing career with Silicon Graphics in Switzerland, performing strongly in various marketing management roles for almost 10 years. In the next 10 years, Rob also held various marketing management positions in JBoss, Red Hat, and Pentaho ensuring market share growth for these well-known companies. He is a graduate of Plymouth University and holds an Honours Digital Media and Communications degree, and completed an Overseas Studies Program.