VMware backup solutions
Data backup is an important, if not often critical solution, to nearly all problems that may cause or result in data loss – be it because of hardware failure, ransomware attacks, natural disasters, internal tampering or any other similar reasons. This applies in exactly the same way to other types of systems and storage locations, such as Virtual Machines.
For the majority of businesses, any kind of software or hardware failure, when it comes to VMs, typically results in some degree of financial loss when there are service interruptions. Additionally, actions such as granular restoration, 'Bare Metal Recovery', full disaster recovery, etc. can also be especially useful in some specific use cases – and all of these data recovery techniques (and more) can readily be performed with a proper VMware virtual machine backup solution.
Backup, snapshot and replication
What is important here is to understand the main differences between physical backups and Virtual Machine backups – and the difference is quite significant. Regular physical backups usually use some kind of an 'agent' to create a snapshot of the system and store it into a dedicated backup location.
VM-specific backups are often using an agentless approach based on a hypervisor API for backup purposes. This approach is faster, more convenient for a system administrator, and places less load on the entire VM infrastructure when compared with a traditional agent-based VM backup.
This is also the reason why both backup and snapshot operations are slightly different with VMs when compared with physical backups. With physical backups, a backup is a full copy of the existing system at a specific point, while a snapshot is a state of the system at a particular point in time (it can be both a copy of data and a feature). Backups and snapshots in this context are not mutually exclusive and are often used as a combination for a better backup result.
With VM backups, on the other hand, the main difference between a backup and a snapshot is in the way they're performed (agent and agentless, as we have mentioned before) – and this is also the reason backups and snapshots are separate from each other. Additionally, snapshots in the context of VMware virtual machine backup operations are using delta files to store a copy of the existing VM locally – while each VM backup is immediately transferred to a separate storage location.
In case of VM snapshots, they are often used for testing or development purposes, since it is far easier to restore a snapshot of a VM when only one snapshot was taken. Restoration from multiple snapshots via delta files might not be as straightforward.
Regarding the difference between a backup and a replication, it is the same for most of the backup types – these are similar processes, but with different goals and purposes.
Backups are usually created for long-term storage and have a relatively low cost of implementation, avoiding big investment. The only specific thing needed to begin the process of backing up applications or data is to have the storage location for the backup available – be it a disk, a tape, cloud storage, or something else.
The main purpose of a backup as a process is typically either long-term storage or the process of meeting compliance requirements. They are relatively cheap and easier to implement in comparison – but the time period between backups tends to be rather long, as well.
Replication, on the other hand, is a variation of the process that may be more expensive, but also offers a more immediate help to a business whenever it is down or unavailable. Replication usually implies building an entire additional infrastructure with a number of business processes and other investments.
Unlike backups, replication focuses on achieving high availability of the data in question with as low of a downtime as possible if there is a problem. Backups on the other hand, are harder to be affected by cyber threats, but have a longer recovery time period, while replication is more disaster recovery-focused but is costly to maintain for a long time and typically easier to infect with malware and other malicious software.
10 top VMware backup solutions
A lot of the popular backup services offer backups for many types of storage at once – including VMware and other examples. Many solutions can only cover some, or a limited range, of technologies. In a list below, we are presenting our own top 10 of VMware backup solutions, in no particular order: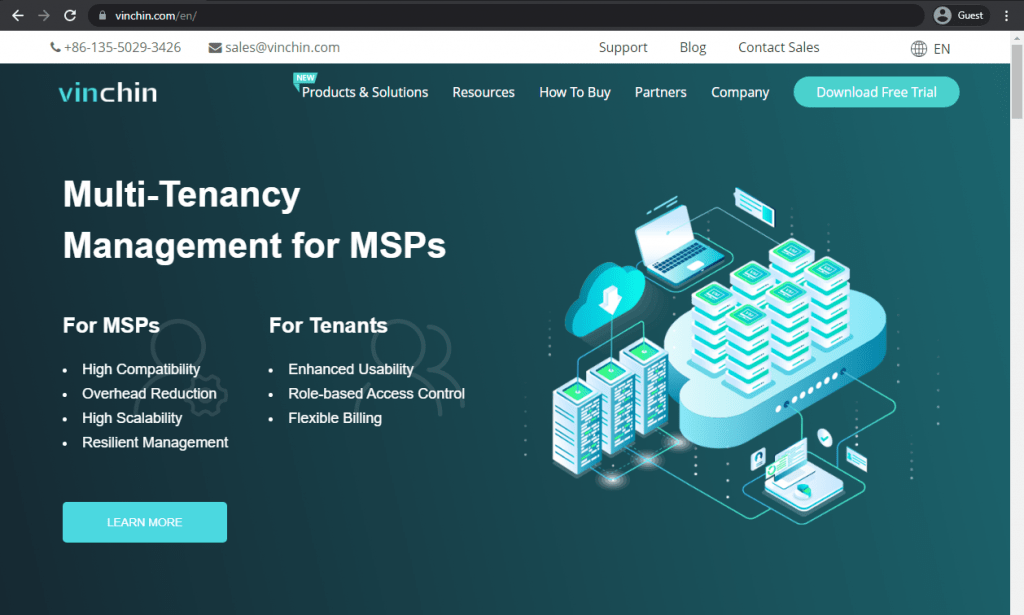 Starting off with a rather unconventional choice, Vinchin claims to offer the combination of functionality and data protection for Hyper-V and VMware, as well as multiple other environment types. It has quite an impressive list of features, including app-aware backups, the combination of data deduplication and data compression, backup retention policies, many different storage types that can act as backup repositories, multiple scheduling options, and more.
Vinchin offers multiple ways to interact with its platform – there is a free version called "Free Edition", offering simplified data protection for smaller environments to backup VMware deployments. The commercial edition of Vinchin, on the other hand, offers multiple important features, such as disaster recovery to both cloud and off-site,hybrid backup and recovery operations, and a lot more than that – and there's also a free trial available for two months of the community version for new users.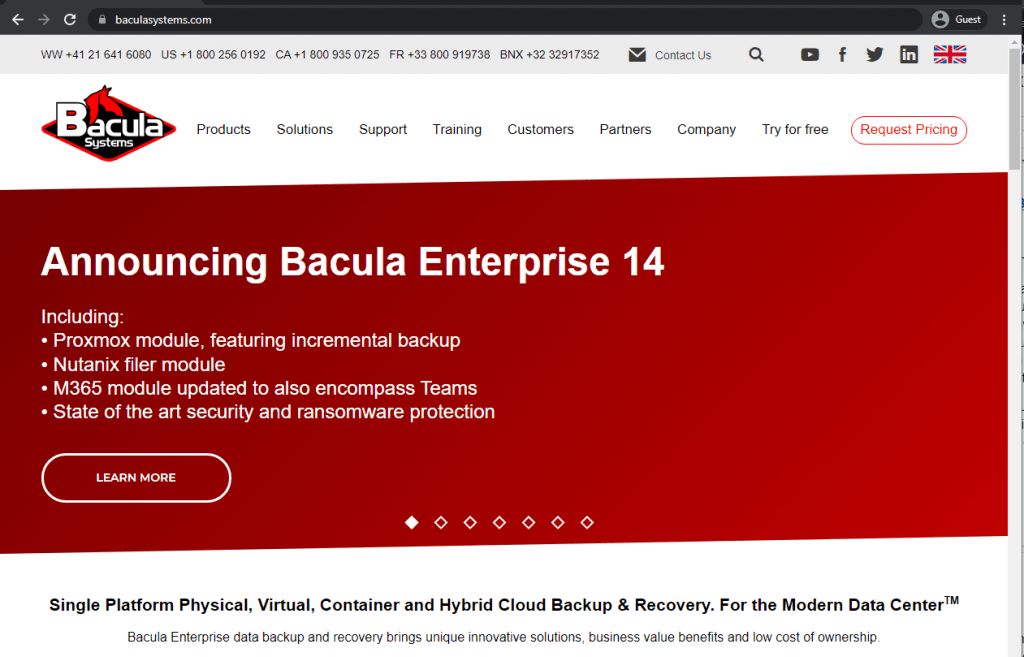 Bacula Enterprise is a backup solution with an especially broad and deep range of capabilities, with one of the most important ones being highly scalable VMware backup. It offers efficient backup and recovery operations for VMware ESXi hosts with vSphere, as well as many other features included in this particular module – granular file restoration, bare metal recovery, Changed Block Tracking, Single File Recovery, Instant Recovery, and more. This solution is also notable in that it also provides native integration with and protection for a wide range of other hypervisors, such a Hyper V, Xen, KVM, Proxmox, etc. Bacula is well known for having an architecture that offers unusually strong levels of security, as well as advanced ransomware detection tools. Because Bacula is a high-end enterprise solution, it also brings with it a host of other capabilities, whether it be its range of storage destinations, its hybrid cloud connectivity, its range of deduplication technologies, its compression and encryption functions, and its high customization levels.
Bacula is a favourite of IT departments with lots of data, as its licensing model does not include any data volume charges. While Bacula Enterprise on its own is a premium product, it's not the only way to work with Bacula. For example, Bacula offers a free 30-day trial of its software, and there is also a completely free version of the software called Bacula Community. While it may be not as effective and feature-rich as Bacula Enterprise, it is still a comprehensive enterprise solution with a lot of use cases with many different storage destinations, including backups to NAS (Synology, QNAP, etc.), cloud backups (AWS, Azure, etc.), physical backups, and more.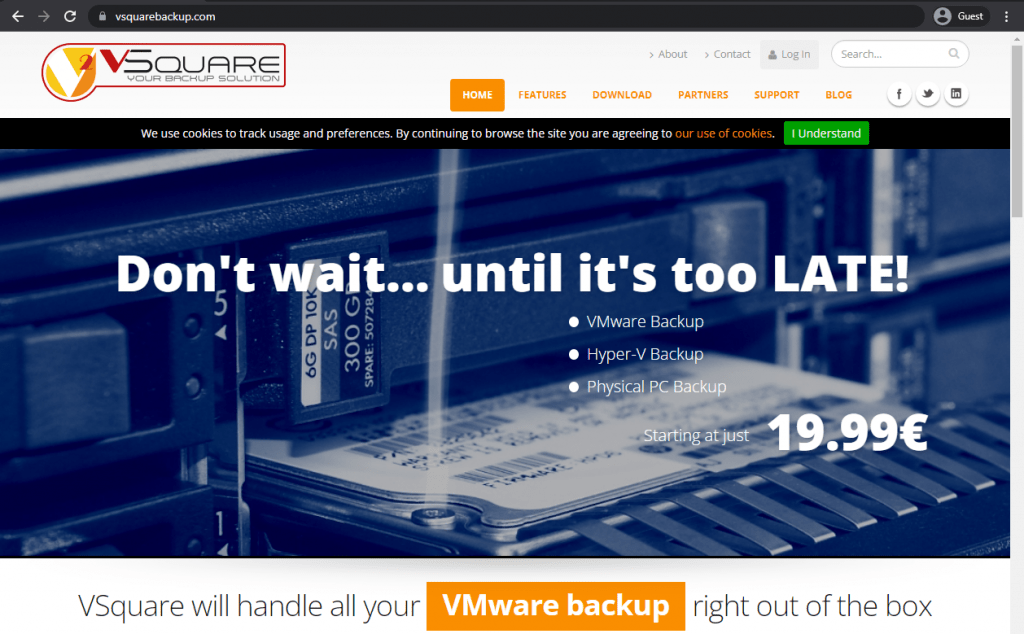 A participant of this list that is not particularly well-known is VSquare – an unusual VMware backup software with an impressive host of features and zero licensing limits. It has Hyper-V CBT support, works with MS Exchange and supports VMware ESXi. It can also backup physical storage locations and supports data deduplication.
As we've mentioned before, VSquare offers flexibility when it comes to the number of machines or sockets used when it comes to its commercial version. Additionally, there is also a free version of VSquare called "Startup plan", which offers a bit less extensive list of features (limitations for backup thread numbers, VM numbers, and so on), but it is completely free of charge.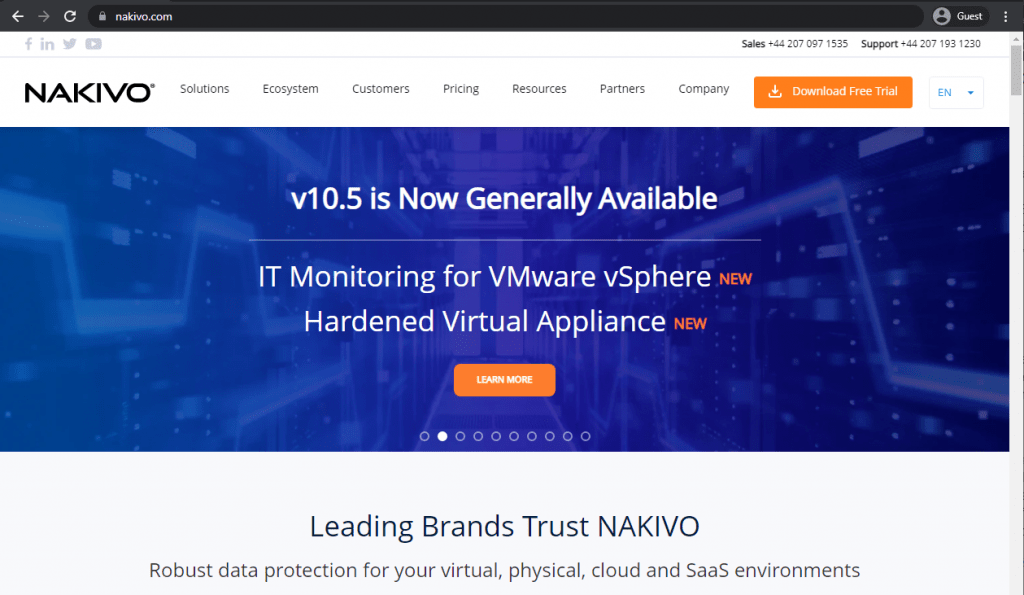 Nakivo is a well-known name on the backup market, offering a set of features with a special focus on VMware vSphere-related features. It works with both standalone ESXi workloads and the ones managed by vCenter, offering instant VM recovery capability, granular restore for specific files or objects, as well as recoverability testing, job chaining, and more features to backup VMware and other types of deployments.
Nakivo's solution is available to trial, with the full version of the software having a 15-day trial, and a free version of the software that has somewhat limited features, works for only a year, and has a licensing limit of 10 VMs.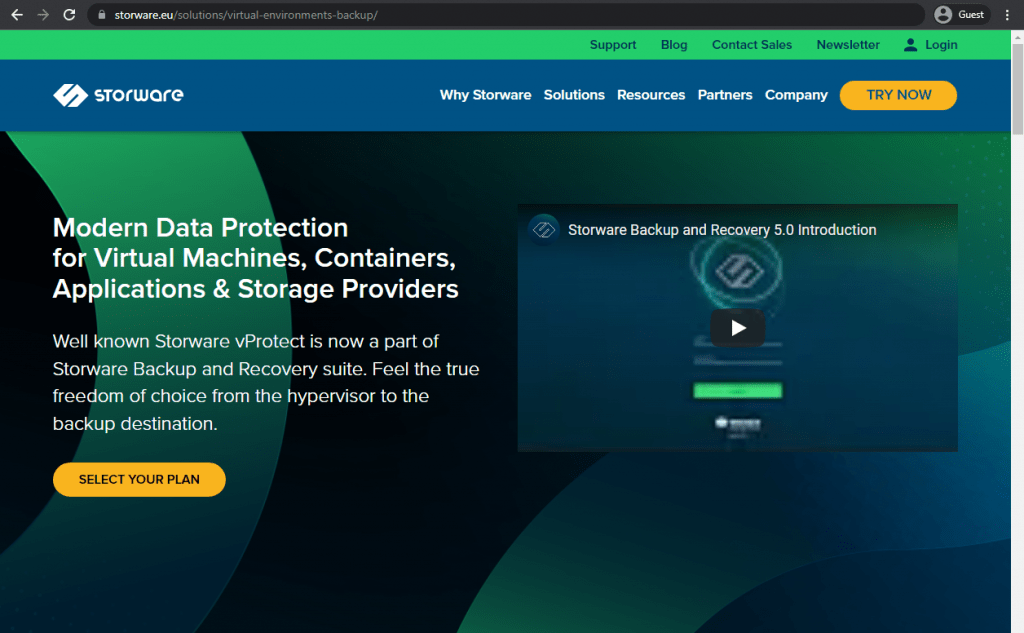 Storware Backup and Recovery (a part of it that was formerly known as Storware vProtect) is a backup and recovery tool that focuses on snapshot/backup management for all kinds of containers and virtual environments. The solution offers a user-friendly interface, supports multiple backup destinations, can work with many virtual environments, and has 24/7 customer support.
As with many other examples here, Storware offers several different versions of its solution. The most restricted one is the free version, which lacks direct customer support, cannot backup endpoints, does not have an enterprise backup integration module – but it's also free. The second option is the free trial – a two-month-long experience of the entire functionality of Storware, with no limitations whatsoever. And, of course, there's also the commercial version, which can be paid for as a monthly subscription and as a perpetual one-time license.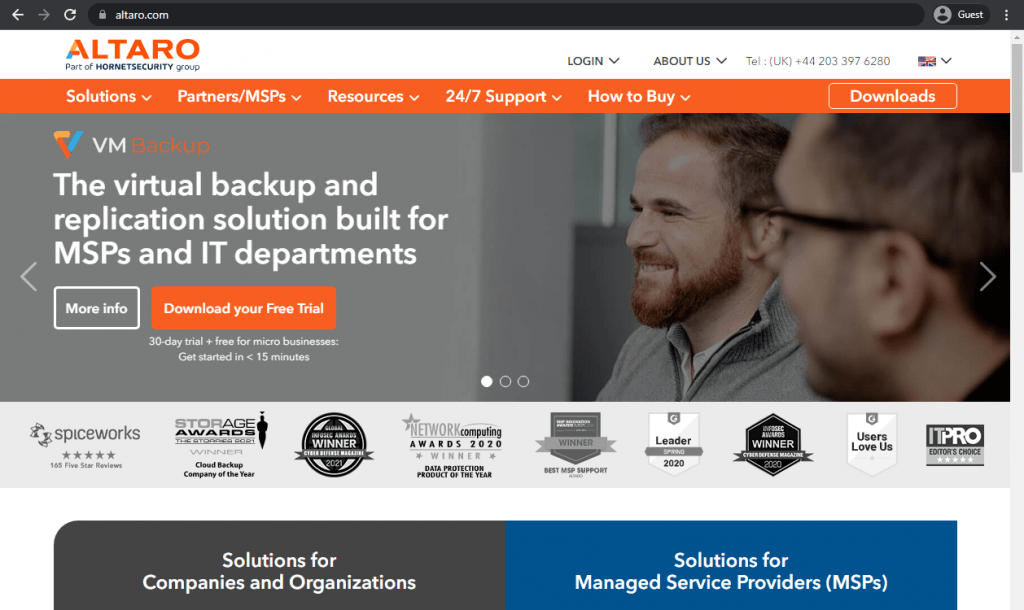 Altaro VM backup may not exactly be the most popular competitor in the field, but it does not change the fact that it is a great VMware backup solution for all kinds of virtual machines. It offers extensive data deduplication to save space and traffic, offers many different options for the actual backup processes, offers a centralized management board for all of your VMs, has automation features, scheduling, and more.
Altaro offers multiple different solutions for backup and recovery, and they are not just about VM backups, either. Each solution has multiple different commercial versions, depending on the use case of the customer. Additionally, most of the backup solutions, including Altaro VM backup, have a 30-day free trial. Surprisingly enough, Altaro also has a free VM backup solution that is limited to 2 VMs at once and is great for smaller businesses.
Vembu is a software provider that managed to gain a lot of popularity among smaller and middle-sized companies and customers, mostly due to the combination of user-friendliness and the payment model flexibility. Vembu BDR Suite is a massive combination of solutions for backups of different appliances, including physical storages, virtual machines, cloud workloads, and more. This makes Vembu a rather attractive solution to keep all of your backup solutions working in tandem with each other.
It is worth mentioning that each part of the entire Vembu BDR Suite also offers a free version of itself – you can find the exact limitations of free versions on Vembu's comparison page. Additionally, there is also a one-month-long trial for the entire Suite with no functionality restrictions whatsoever.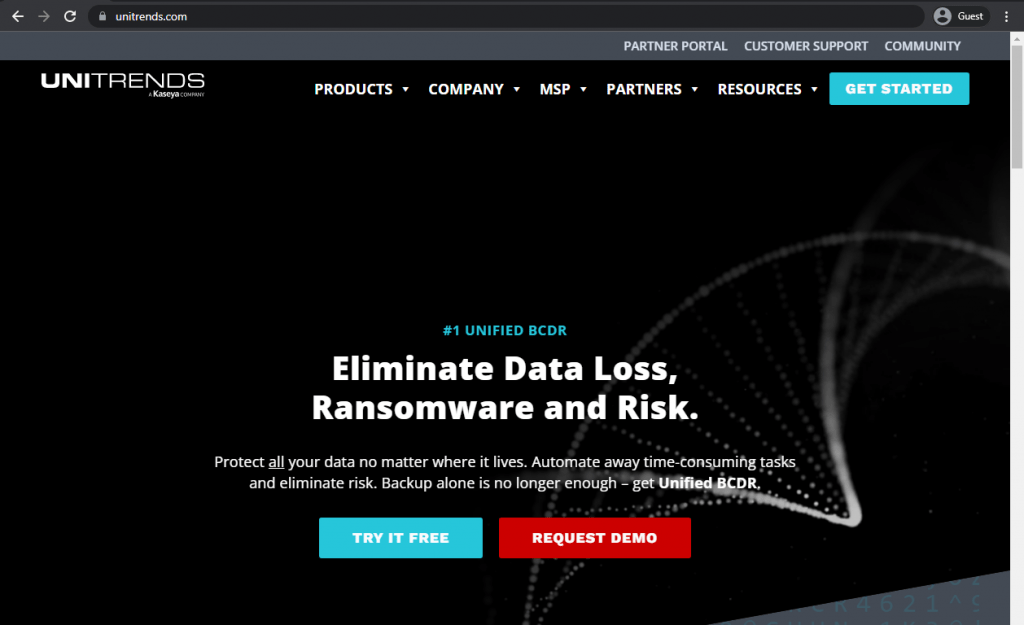 At some point, Unitrends was one of the most feature-rich backup solutions on the market, and it is still a great option for all kinds of use cases, especially when it comes to VMware ESXi appliances. Hyper-V is also supported, and there is a wide choice of data protection features, including instant recovery, integration with different cloud storage providers (Microsoft Azure, Amazon S3), and more.
Unitrends also has a free version of its product, with no limitations for the number of virtual machines supported. However, it does come with a 1TB limit of the amount of data that can be protected. Additionally, there is also a free guided trial that you can request from Unitrends themselves at any time.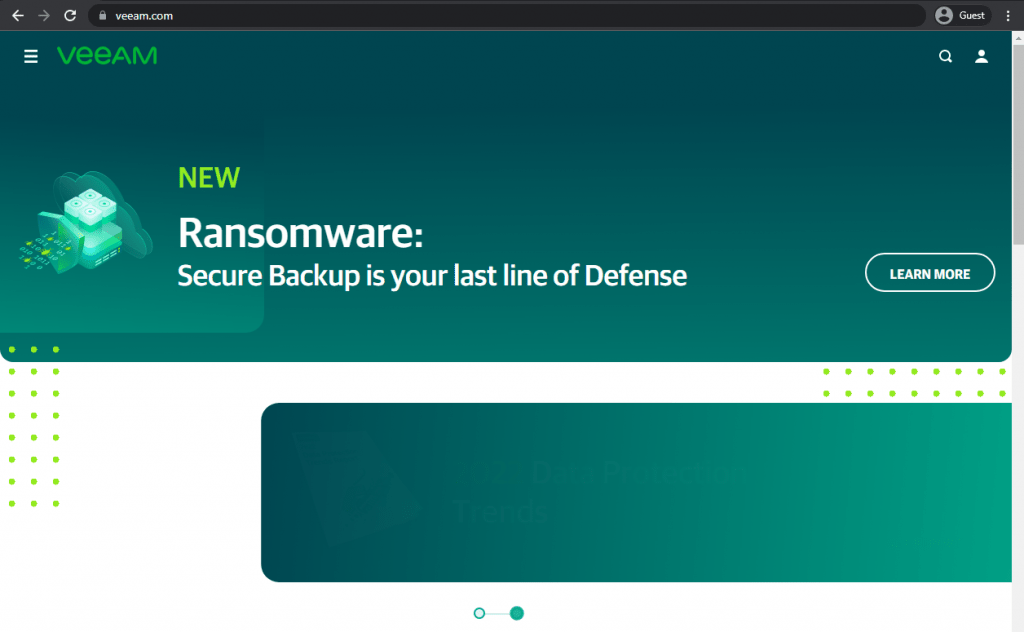 Veeam is another name that is popular on the backup and recovery market – and its product also works with both Hyper-V and VMware appliances. However, Veeam does not stop here and can also offer features such as VMware migration, granular recovery, support for both Linux and Windows, vCloud director support, and more.
Veeam's VMware backup capabilities are available for all of the Veeam Backup & Replication users, as well as for Veeam Availability Suite users (Veeam Backup & Replication + Veeam ONE). There's also a 30-day free trial and multiple free versions of different products, with some limitations in functionality.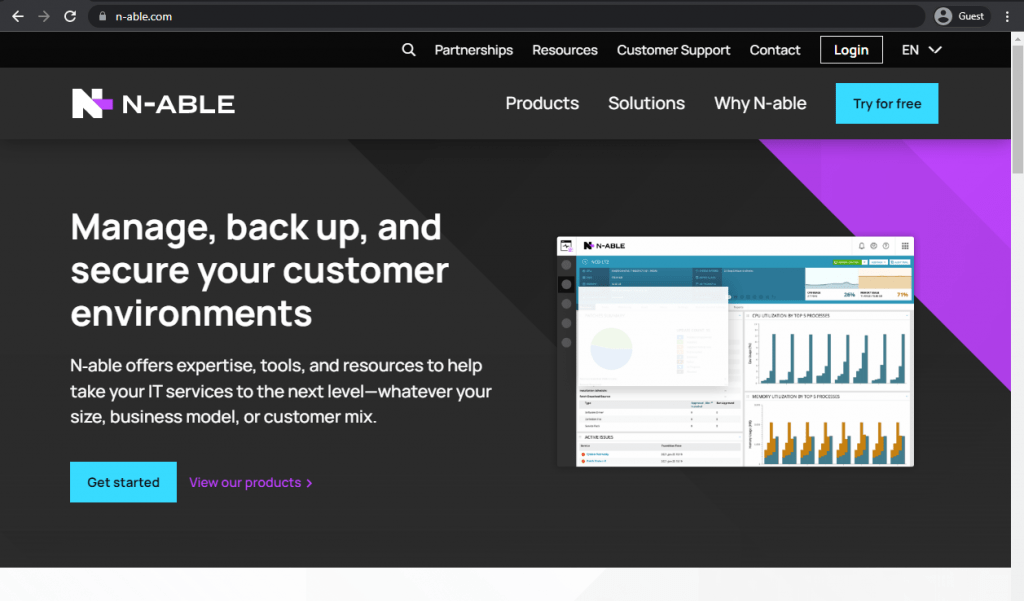 Another interesting example of a VMware backup solution is N-Able Backup – a backup platform that offers multiple different backup options and works on a Software-as-a-Service model. It works with both Hyper-V and VMware, can take snapshots of your entire virtual environment, encrypts all of your data while offering disaster protection, compatibility with several cloud storage services, as well as the ability to work with different environments from the same account.
N-Able is a commercial product that tailors its price depending on the client's needs and purposes – but it also has a free 30-day trial with no limitations in terms of capability, allowing customers to explore the product before purchasing it for their company or business.
Conclusion
The available choices for VMware backup software is rather vast, and most solutions offer at least one way of testing their product before buying it. This is a great way for users to evaluate which solution suits them the most before deciding if it is worth buying in the first place – and we hope that our top 10 VMware backup list was useful to you.