Introduction to SAP HANA and BACKINT interface
SAP HANA is a complete relational database and suite of accompanying management tools to store, recover, manipulate, and analyze data. Like any good RDBMS it provides advanced tools for analytics and analysis, and also functions to allow data to be backed up into a standardized format and recovered easily and accurately into a new database when necessary.
This article details the process of SAP HANA backup and recovery with the help of Bacula Enterprise's multifunctional SAP HANA backup plugin leveraging the backint interface.
Manually creating SAP HANA backup jobs
Although normally the process of both backing up and recovering your SAP HANA database is automated using Bacula Enterprise or your specific SAP HANA infrastructure, we'll go through the process of doing so manually using Bacula Enterprise's SAP HANA plugin and the Bacula bconsole command line. The manual backup and restore procedure is chosen here to show all of the steps of this specific process.
SAP HANA backup configuration
To begin, SAP HANA backup plugin must be configured so that the Bacula Enterprise server and the SAP HANA backint process can authenticate and share data. Fortunately this rather complex process can be automated by running the included configuration script, which will prompt the user for the necessary SAP HANA information and store it for future backup jobs. Once this configuration script has successfully executed, backup jobs can be scheduled for regular operation or can be run manually.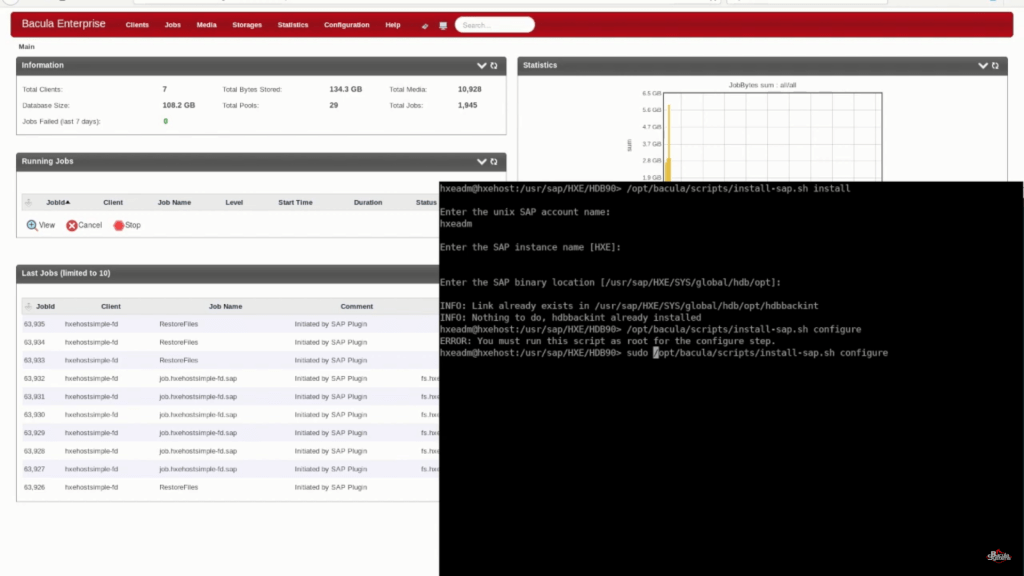 Manual SAP HANA backup initiation
Next, let's go through the process of initiating a backup job manually. The first step is to  log in to a SAP HANA interactive console. The backint command is configured to send data directly to the Bacula Enterprise server. When running manually, you can also specify a job name and timestamp.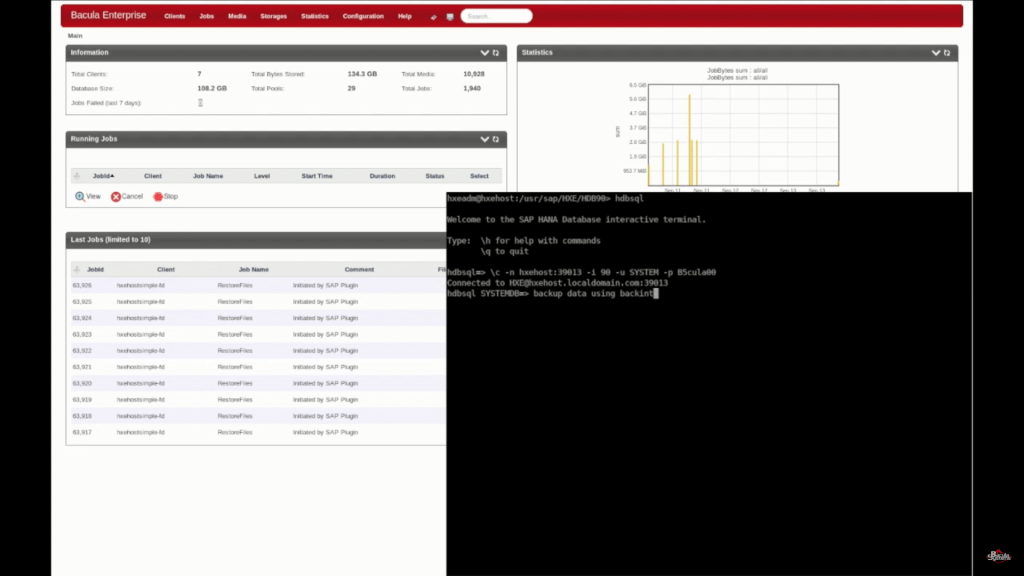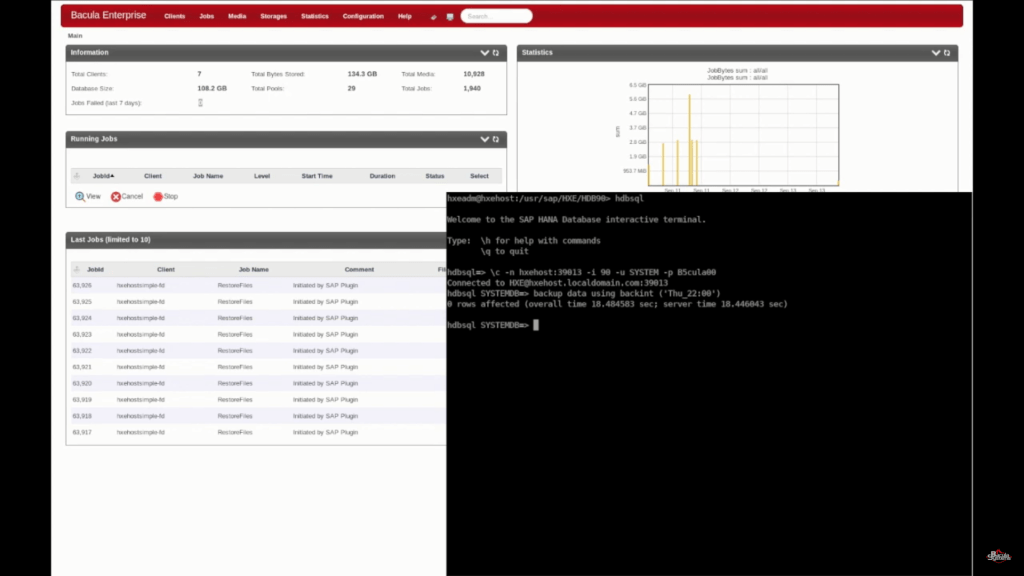 After running that command you should be able to see your brand new backup jobs, created by the backint command.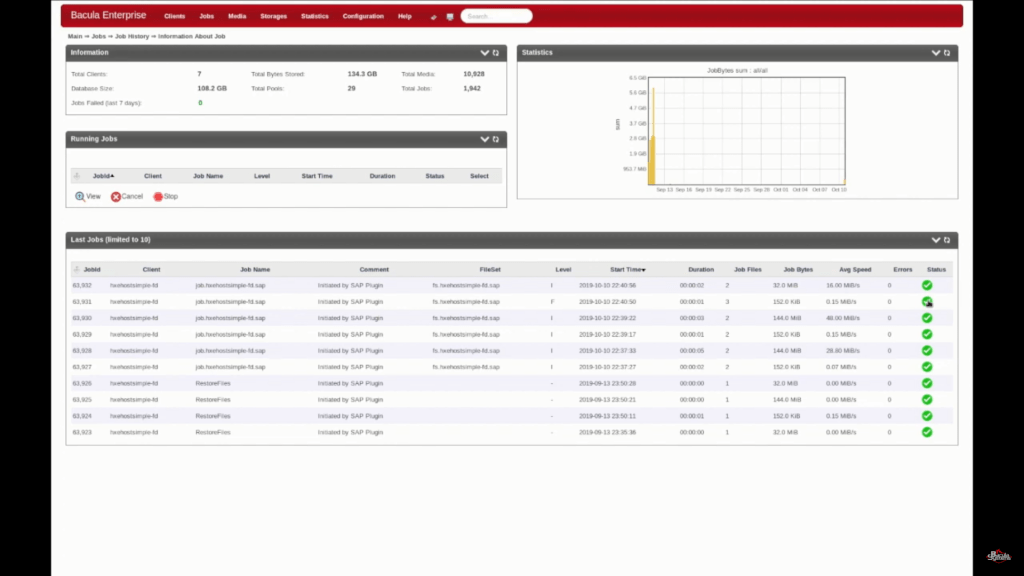 Backup administration using SAP HANA studio
There's also a graphical way of managing backups that you've created, and it's done with the help of a SAP HANA admin console, also called "SAP HANA studio". This graphical interface allows you to initiate backups and also makes it easy to schedule runs of backint to initiate Bacula SAP HANA plugin backups. This leaves control of backup scheduling with the DBA, which is often preferable.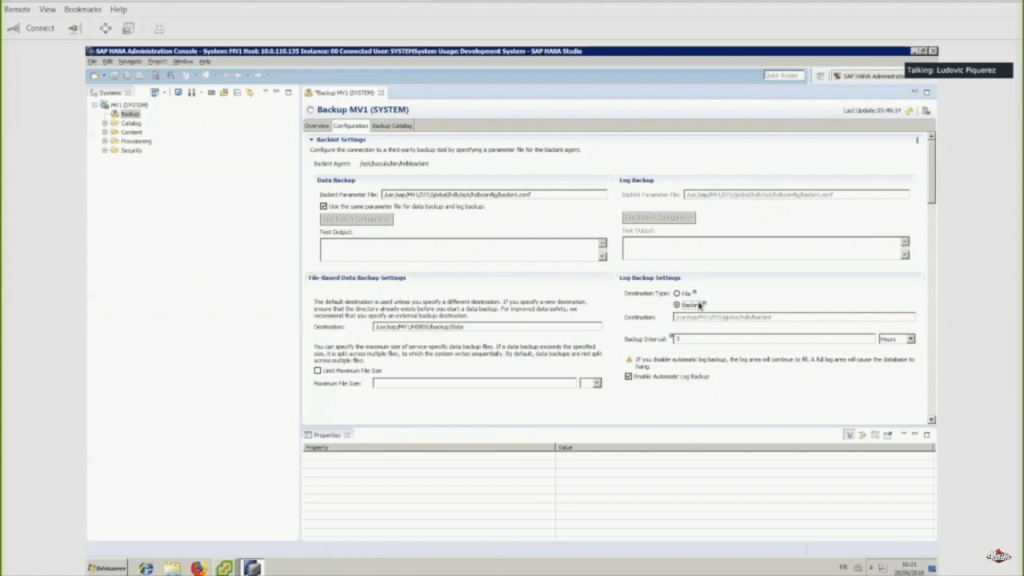 Regardless of how the job is initiated, you have a very detailed log of every job available via BWeb by clicking on the status icon in the same line as your backup job is (if the job is done correctly, it should be a white checkmark with a green background). For example, here is the backup job that was created in the previous steps, the first line is showing that there is a connection between the SAP HANA database and the server, and the rest of it is a detailed steps of the whole process, including the total size of your backup, how many files are in it, what's the compression rate and so on. And the very last line should of course be the confirmation that everything went right – an OK status.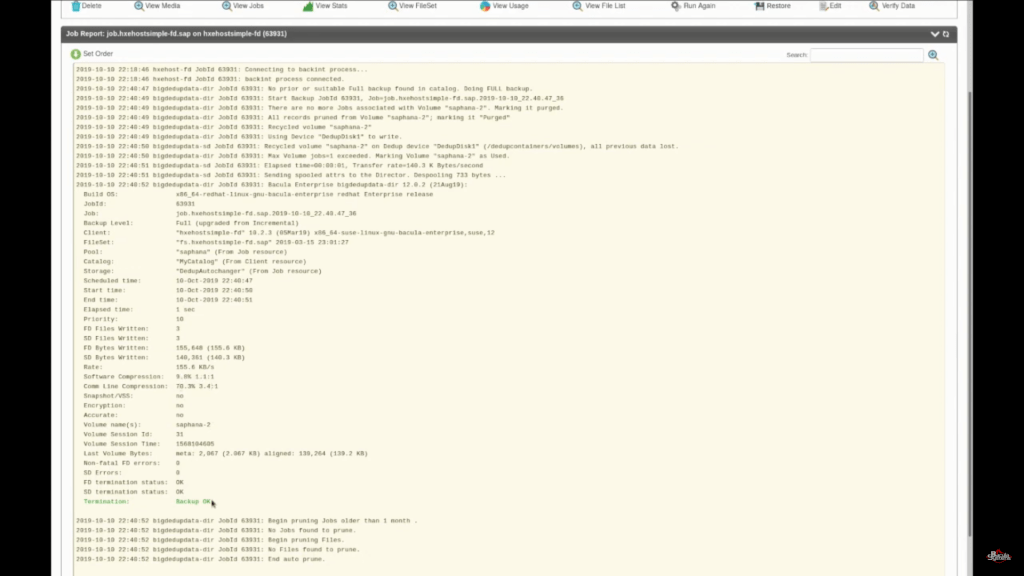 Manually creating SAP HANA recovery jobs
Now let's move on to the SAP HANA recovery process. There are many ways to recover a database, including restoring a backup from previously mentioned SAP HANA studio or directly restoring a backup through the same backint command, but for the sake of simplicity in this example we've used the Bacula Enterprise user-friendly recovery script. All you need to do is specify a restoration point-in-time and the recovery script handles the rest.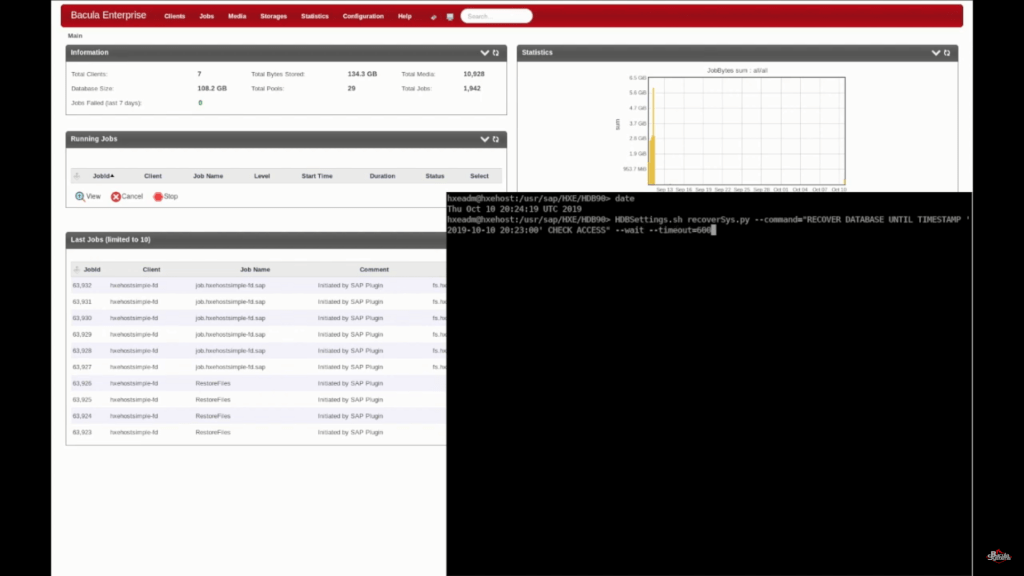 After executing the script , recoverSys leads the process to check the database in question, to stop it if it's running, connect to the Bacula Enterprise servers and to restore the data you need. Once the restore finishes you'll see the console outputs showing that the process was a success.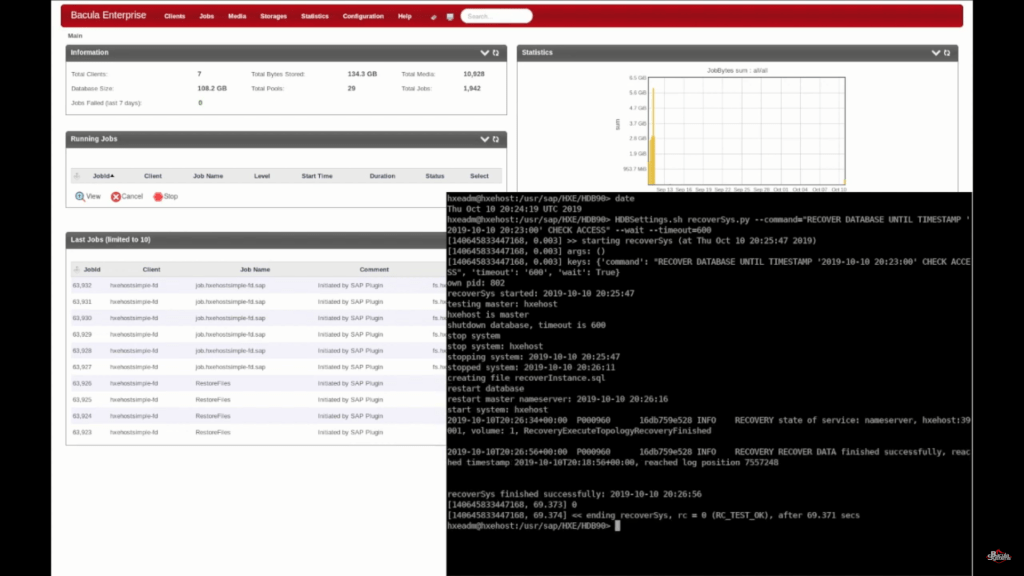 You can also check BWeb to see your restore job logs and see in detail how the process went and that it was a success (confirming what was shown via the command line restore script).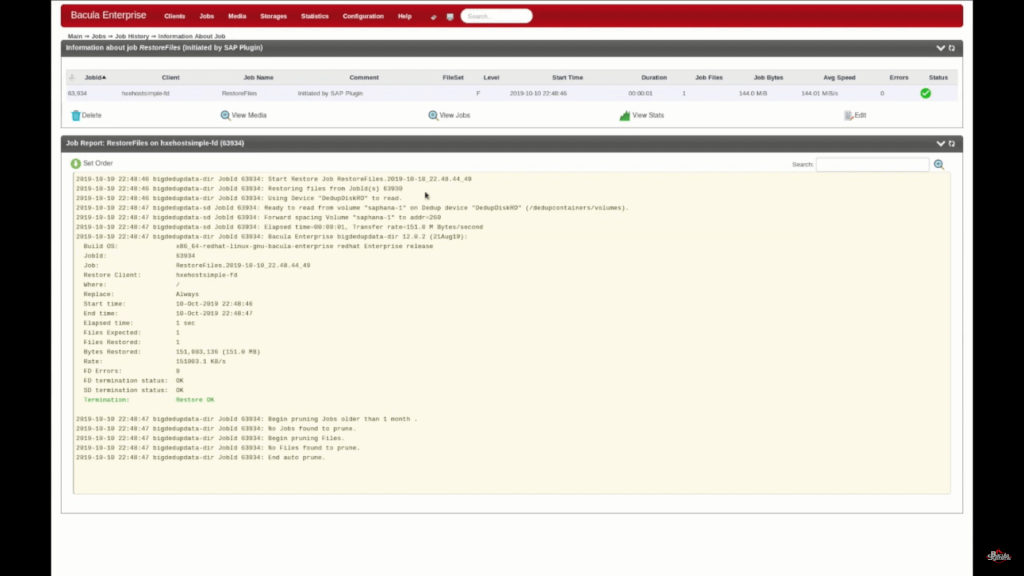 Conclusion
As you can see, Bacula Enterprise's SAP HANA backup and recovery plugin is capable of both backing up and recovering your critical data within SAP HANA databases and provides a number of options to script and automate the process or to leave it in the hands of the SAP HANA DBA. The Bacula Enterprise SAP HANA plugin is SAP certified to protect your data.