Continuous Data Protection (CDP)
What is Continuous Data Protection? Continuous Backup Advantages & Drawbacks.
Continuous Data Protection is a method of disaster protection that constantly updates every little detail that changes in a users database or file set. In other words, it automatically saves a copy of every change of that data, essentially recording  each version of the data that the user saves.
The majority of popular data types can be backed up, since the process itself is somewhat similar to the traditional backup types – you can choose the time interval between backups, and which file types you need backed up, including:
Files;
Folders;
App data;
Databases, etc.
There's a number of advantages that CDP can offer, including, but not exclusive to:
Can restore multiple data versions – restoring information from any point in time;
Constantly saves your data, allowing you to get back to a previous state almost immediately after any sort of data loss or issue;
Demands far less disk space than the traditional backup methods, with typically around 15% of the regular amount of storage space being used, only keeping the bare minimum of the data;
Significantly helpful with disaster recovery, allowing for multiple backups and offsite storage copies;
The effect on system performance is barely noticeable, since you don't have to run nightly backups and the regular data amount is small enough to barely be noticeable;
You can also run backups quite frequently, making RTOs that much shorter.
Of course, there are some drawbacks to this method, as well:
While the disk space itself is saved, you may have to invest into faster physical drives for the entire system to work efficiently.
Even though the performance gap is still significant compared to the traditional methods, the fact that each data change needs to be instantly backed up means that your data exchange rate is basically doubled, which may cause performance problems in some cases.
It's still not the perfect solution to everything and should not be used as a single backup system – in order not to be likely to lose everything in case your CDP would encounter some sort of error.
CDP compared against other backup technologies
While there are a lot of different advantages and specifications that CDP can offer as an alternative to other backup technologies, there's still a potential catch if you want to replace all other traditional backup types with CDP.
The problem is the location of your future backup. You may still be exposed and left without all of your data if you're keeping all of your backups on-premise – at the same location as your main server. Offsite backup storages are crucial to prevent that kind of possibility entirely.
When it comes to comparing CDP and snapshot-based backup technologies, there is usually a clear winner between the two, and it's CDP. There are two main reasons for that – storage space savings and intervals between backups.
First of all, the difference in storage space taken between snapshot-based backups and CDP ones is quite impressive – up to two times less disk space is taken with a regular CDP backup when compared to a snapshot backup. There's also the fact that CDP can perform backups with remarkably small intervals – like several seconds – but snapshots are typically not less than an hour interval.
On the other hand, the difference between CDP and near-continuous backup is not as clear. Both can offer instant data recovery and both can roll back to a specific point in time in case there's a need for that.
The main difference between them is in the RPOs that they can offer. While CDP can easily offer a recovery point objective of practically 0, a near-continuous one aligns with your shortest backup interval, which is typically at one hour mark.
One backup type left is mirror backup, and this one has a lot of differences with CDP, too. The main difference is that a mirror backup creates an exact copy of all of the files within the selected folders and replicates it to a separate offsite storage space to have an alternative in case any disaster happens.
This storage technology on its own is relatively outdated and was mostly popular before cloud backups, and when continuous data protection was too much money and effort to implement at the time.
Continuous Backup Software from Bacula Systems
Continuous Data Protection (CDP) solutions enable you to backup your data in real time at a pace that may bring increased protection and convenience to you. It automatically detects and saves each and every change made to your data, so that nothing is left overlooked. These changes can be stored locally or remotely and are readily available for recovery just when you need them.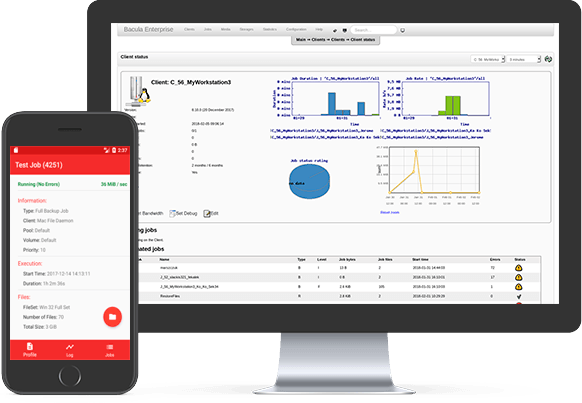 Conventional Backup Solutions
Conventional backup solutions create snapshots or images of your client computers and virtual machines at set time intervals. Although this approach has been used successfully in on-premise physical environments, it can present certain additional challenges for cloud and virtual environments:
Snapshot creation puts additional workload on your system. This may be taxing on your whole environment, especially on virtual machines that are resource-efficient and typically operate at 80% CPU usage. By contrast, most physical servers operate at 10-30% CPU usage.
In modern-day environments changes happen so rapidly, that periodic snapshots may not capture all bits of data that have changed back and forth since the latest snapshot.
When restoring data, not all solutions can restore single, specific files. For snapshot based backups, it may be that you can only restore the whole snapshot, not just the data you need.
Why is Continuous Data Protection Backup So Much Better?
Continuous backup users use the journal only when they commit to the point in time selected, avoiding the performance impact of a typical snapshot. This can make an even more significant difference when attempting to power on multiple snapshots on replica VMs.
Journal-based restore maintains a constant log of all changes made by users of applications and data.
With the changes being continuously written to the datastore, Continuous Data Protection delivers point-in-time restore to within a specific time window
The journal can live on any datastore, where maximum size limits and warnings can be specified. This prevents the datastore from becoming full which would jeopardize replication. Using snapshots on replicated VMs offers no way of controlling the snapshot's data volume, with the result that SLAs and efficiency become non-scalable.
Continuous Data Protection software gives an ongoing flow of recovery checkpoints to use for restore. In the event of malicious attacks such as ransomware, data can be recovered literally in seconds before the event took place, minimizing impact to the organization and its stakeholders.
CDP makes use of change-block tracking to constantly replicate and write data to storage. Because continuous backup is always on, it provides significantly better RPOs than solutions that are based around snapshots.
As no snapshots are created using Continuous Data Protection backup solutions, the source storage requires no extra space. Only about 7-10% of the target storage is utilized which saves significant amounts of space. This can lead to dramatic savings. Alternatively, Snapshot technology typically requires a good deal of overhead in the storage arrays, often as much as 20-30% at both the target and source
Advanced CDP Solutions with Bacula Enterprise
As opposed to conventional backup solutions, Bacula Enterprise CDP does not require regular snapshots of your entire system. It saves only the bits of data that have changed, which results in seamless backups that are not taxing on your resources and have no significant impact on your system's operational workload. This approach enables you to perform granular recovery of only those bits of data that you actually need to restore. Granular restore can be crucial for predominantly virtual environments, where recovery point objectives (RPOs) are tight and recovery time objectives (RTOs) are very short.
Continuous Data Protection with Bacula Enterprise
| | | |
| --- | --- | --- |
| | Conventional Backup | Bacula Enterprise CDP |
| Full Backup | yes | yes |
| Differential Backup | varies | yes |
| Incremental Backup | varies | yes |
| Granular Backup and Restore | no | yes |
| Backup Scheduling | yes | yes |
| Restore time | minutes to hours | seconds to minutes |
| Price | additional cost | Free* |
Free* – For Bacula Enterprise customers
How does Continuous Backup from Bacula work?
Bacula's continuous data protection software includes two components: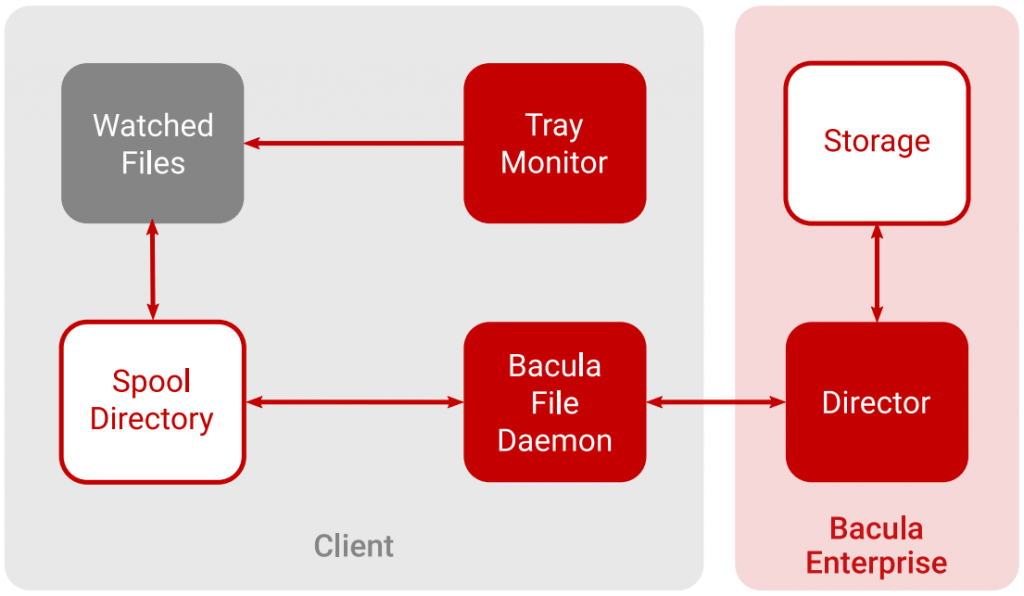 Tray Monitor: A CDP backup client application that monitors and scrapes any changes to your data in the locations you define.
Bacula File Daemon plugin: A plugin that saves and stores these changes in your Bacula Enterprise environment.
To set up Continuous Data Protection:
Use the Tray Monitor on your client computer, server, or virtual machine to define the folders that you would like to watch for changes.
Once the Tray Monitor detects a change in one of the watched files, it copies this change to the Spool Directory that stores it as a new version of the watched bit of data.
When you need to revert your data to one of the previous versions, you can do it right away. If the Spool Directory is available locally, no connection with Bacula Enterprise Director is required.
In addition, the Bacula File Daemon plugin syncs new changes with Bacula Enterprise Director and saves them in Bacula Enterprise Storage at regular time intervals that you can customize as you need. This sync-up does not affect the data in the Spool Directory – it is still available to you at any time.
CDP Solutions Availability for Bacula Clients
Continuous Data Protection is available at no extra cost for all Bacula Enterprise customers and can be used on client computers and virtual machines based on Windows, Linux, Mac OS, or any other supported platforms.
Use Case of Continuous Backup
A medium-sized hosting provider operating in Greece and the Balkan states needed an always up-to-date backup, as well as the ability to dial back to the right moment in time before an event – such as data corruption – had happened. Five years ago, their hosting environment consisted of approximately 70% physical servers and 30% virtual machines. The company had been using traditional backup solution and methods that provided full and differential backups. This had initially been enough for its needs. Now, however, the company's technicians were running out of time to complete regular backups.
In addition, the company's difficulties were being exacerbated by a growth in data volume. As the company was growing successfully, this data growth was expected to continue well into the future, and any solution would have to be 'future proof' with this aspect in mind.
It became clear that the company needed to move to a solution that was modern, efficient and fast, and that would allow the user or administrator to restore data to any point in time. After further research, the company realized it would be highly advantageous to employ a true CDP software solution that would detect when a file was changed and copy it into a local spool area. The company needed files to be available for immediate recovery locally, and the ability to automatically capture and track data modifications, saving every version of user-created data locally or at a target repository. However, in recent years, as the company moved towards virtual infrastructure, the proportion reversed: now their environment is mostly made up of virtual machines and servers (78%) with physical servers making only 22%.
As conventional backup and restore operations are highly resource – and time-consuming, the organization started looking for a CDP system that they could use instead or together with their existing backup infrastructure.
After a careful comparison of all alternative CDP solutions, the company decided to use Bacula Enterprise, benefiting from its built-in Continuous Data Protection capability. Bacula closely integrates highly effective CDP into a comprehensive, enterprise-grade backup and recovery environment, which presents an advantage to system administrators and users. Bacula's approach is to be as platform-agnostic as possible, with no particular file system requirements. Among the many advantages of this philosophy, one of them is the ability to significantly reduce the need to rely on snapshots.
Further help on CDP software:
Are you planning to store backups in the cloud: Amazon, Azure or any others? See our cloud connectivity options.
Interested in backup technologies application in real life IT infrastructures? You can find this information in our backup glossary.
You may also be interested in: