Introduction to Google Workspace
Google Workspace is the latest iteration of Google's collection of products, previously known as G Suite and Google Apps. Google Workspace includes products such as:
Chat
Meet
Gmail
Contacts
Currents
Calendar
Drive
Google Docs Editors
Classroom (in the education edition)
It is true that the majority of these services and products are already available for free for all Google accounts, but there are also features that are exclusive to Google Workspace – such as custom domains, unlimited Google Drive storage capacity, advanced customer support, and a host of different administrative settings.
Additionally, Google Workspace accounts do not have advertisements and are not used for advertising purposes whatsoever, and there is also the ability to fine-tune a number of privacy and security settings for these accounts. However, there is quite a large problem that Google Workspace has – data backups. The platform itself is secure, but it has no way of restoring your data after it was lost or corrupted – be it after a malware attack, a human error, an insider threat, or even a sync error.
Reasons to backup Google Workspace
This particular problem is so noticeable that Google itself recommends resorting to third-party backup solutions for data control purposes, and has a separate paragraph in its Terms of Service that claims they are not responsible for any and all data losses, profit losses, or any kind of damage to the business in general.
Here are ten different reasons why creating backups of Google Workspace data is necessary:
The potential disaster with sync clients is always a threat, since ransomware can affect your desktop device, and the synchronization client would immediately transfer infected files to the cloud service, infecting your cloud storage accordingly. Restoring a backup would be more or less the only possible way to replace this data.
Google itself allows for multiple devices to be signed in at the same time, and Workspace is no exception. The obvious caveat here is that a single stolen device means a massive security risk for the entire system, from ransomware to full-on critical data deletion. A complete backup restoration process is the only way for a business to recover its data – and in some cases, even survive  something like that.
Both acquisitions and mergers are a challenge from a security standpoint because it is a lot easier to just use backed-up data for migration instead of extracting and migrating it directly from your Google Workspace system.
Ransomware is hardly a new issue in this sphere, and yet it is still a significant problem for almost any organization – a type of malicious software that is capable of encrypting your data with the purpose of demanding a monetary sum (ransom) for a decryption key. There are plenty of different ways to be vulnerable to ransomware, with one of the most common being an infected email. Every ransomware attack can have alarming consequences for an organization in the form of critical data being deleted, and backup solutions are the last resort and most reliable method of counteracting that.
Practically every third-party app added to your Google Workplace system has the possibility of creating gateways into your system for potentially disastrous  criminal activities. This is a problem that is far more common than it may appear, and there are many applications that can be abused to gain access to critical company data.
Not every data deletion incident has to be malicious – there are many examples of accidental data overwrite events that lead to important data being replaced or deleted with no malicious intent whatsoever. This problem is especially relevant for Google Workspace as a shared space that allows its users to gain access to files all at the same time.
Google has two separate tools for data protection – Google Takeout and Google Vault. Google Takeout is a rather limited tool that can download data from Google Applications with a limit of 50 Gb per single download and cannot cover shared folders. Google Vault is an archival tool that allows IT administrators to retain data, hold it or export it, but it also does not create a separate copy of data for all of these purposes – meaning that once the data is deleted from Google Drive, it'll also be deleted from Google Vault. Both of these data security measures are extremely far from a proper data security solution and have a lot of limitations.
Legal and compliance matters are also quite relevant in this context, and using Google Vault for these purposes might not be enough for proper data storage or protection since Google Vault data gets deleted after a certain time period. As such, having a separate backup system is far more effective for this purpose.
Relying on one or several SaaS applications is a relatively normal occurrence for businesses these days, but all of these services work under the assumption that these servers stay online forever. Unfortunately, that is not the case, and a single outage can corrupt or delete a lot of data if a proper backup system was not established beforehand.
Some apps can even overwrite various data 'behind the scenes', and you may well not even notice this before accessing said data – making the restoration process that much harder without a proper third-party backup solution in place.
Examples of Google Workspace backup solutions
There are quite a lot of different backup solutions that work with Google Workspace (G Suite) data. All of these solutions can be separated into two distinct categories – the ones that are self-hosted and the ones that operate as cloud services themselves. It is worth mentioning that the list below is going to include both solutions that are built exclusively for the sake of Google Workspace backup creation, as well as big multifunctional backup solutions that also have support for Google Workspace data.
Cloud backups
As such, we are going to start with cloud backup services: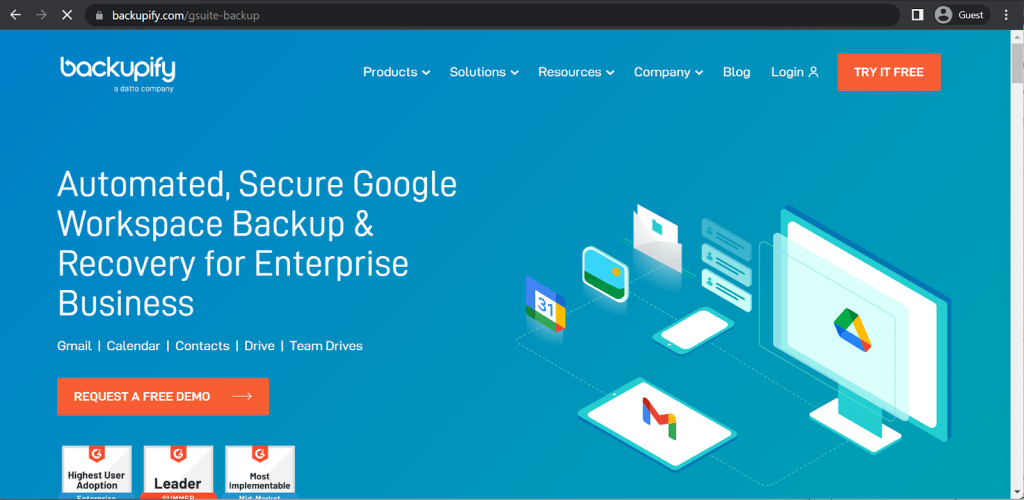 Backupify is a backup service for both Microsoft 365 and Google Workspace created by Datto – an American cybersecurity company. Backupify offers automated backups several times a day, support for data from Google Drive, Calendar, Contacts, and Gmail, and a quick setup process. Backupify has intelligent API throttling that allows it to offer the best performance when it comes to exporting Google's data, and there are also several variations of restore – both full and granular. Backupfy provides its users with full control of their data without any unnecessary licensing costs and extensive scalability.
Backupify's distribution model is fairly simple – the price is calculated per single user and can be billed either on a monthly or on annual basis. However, the exact pricing is not published up front, meaning that every potential user would have to go to a specific page and fill in a relatively short form in order to request pricing information in the first place.
Customer ratings:
Capterra – 4.1/5 stars based on 31 customer reviews
TrustRadius – 8.7/10 stars based on 25 customer reviews
G2 – 4.2/5 stars based on 160 customer reviews
Advantages:
Backupify can offer backup and retention policies (as well as their automation) to all of the essential components of the M365 package – including SharePoint, Teams, Outlook, Notes, Calendar, and OneDrive
The solution's interface is user-friendly and easy to work with even for customers that have little to no technical background
There's also an extensive backup provisioning that is included in the package, with the ability to copy excel sheets, work notes, technical documentation, and more
Shortcomings:
Backupify was purchased by Datto back in 2014, and some legacy users still have issues with the log-in process
Updating billing information is a rather unintuitive process
Some specific integrations do not create backups of all the data – for example, Backupify can only back up some lists from SharePoint, and even those backups are limited to list items, excluding meta info and other necessary information
Probably not suitable for use in large enterprises
Pricing:
The only piece of information about Backupify's pricing that can be acquired from the official website is that its pricing is "per user per month/year basis". Additional information about the solution's pricing can only be acquired by contacting the company directly and requesting a personalized quote
My personal opinion on Backupify:
Backupify is created and owned by Datto – a technological software company that focuses on backup-related solutions of all sorts. This particular option is a handy cloud backup service with a respectable number of features to work with – API throttling, granular restore, full control over the customer's data, and a relatively simple pricing model. However, it has its own issues, such as the inability to create backups of all SharePoint data, as mentioned above, so it would be a wise idea to research this particular solution well before making a choice for or against it.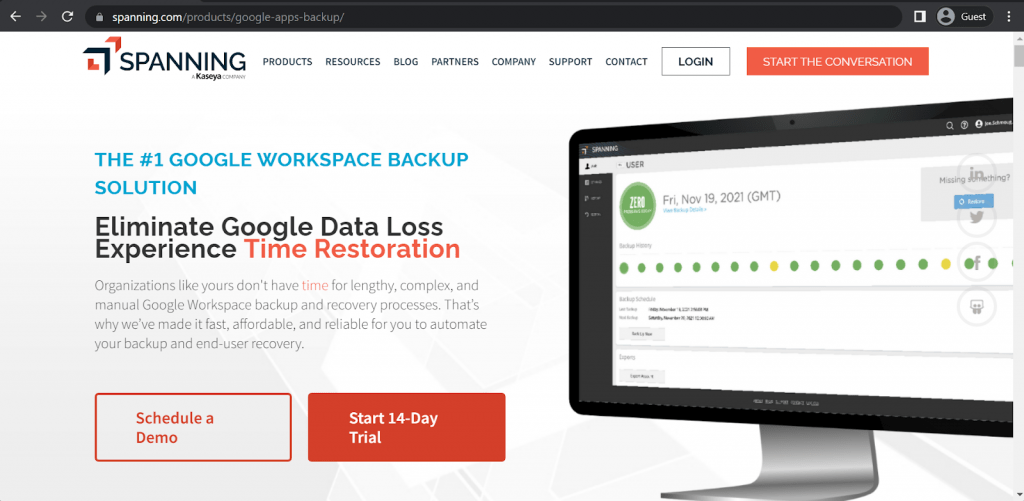 Spanning Cloud Apps is a well-known software provider for SaaS organizations in the field of backup and recovery operations. Its main focus of operations is Microsoft 365 and Google Workspace data, and its Google Backup solution is one of the highest-rated backup solutions on the Google Workspace Marketplace – offering a versatile and user-friendly backup and recovery solution that would be useful for both end users and IT administrators. Spanning offers daily backups for a good number  of Google applications, including Gmail, Drive, Contacts, and so on. There are also plenty of additional useful features; such as granular recovery, point-in-time restore, immutable audit logs, email retention policies, etc.
Spanning's pricing model is fairly typical of this space, calculating the final price according to the number of future users with the capability to pay on either a monthly or an annual basis – and there is also a limited free trial available for potential users. However, Spanning's website does not have a dedicated "Pricing" page that is easy to access, and getting to the "Request quote" page is not as straightforward as with some of its competitors – even if the page itself is relatively standard and requires filling in a short form before being able to request pricing for your specific case.
Customer ratings:
Capterra – 3.8/5 stars based on 26 customer reviews
TrustRadius – 9.6/10 stars based on 27 customer reviews
G2 – 4.2/5 stars based on 154 customer reviews
Advantages:
Spanning's capability to cover data migration, archiving, data immutability, and user self-service, among other features, is what a lot of customers gave most praise towards
Easy backup target selection and automatic account importing for all new M365 users are also what Spanning is regarded for
Spanning requires minimal effort for most of its automatic regular backup tasks, it is very much a "set it and forget it" package
Shortcomings:
Some of the integrations are still incomplete – such as M365 integration, which cannot create backups of all the app data
Spanning's reporting is a bit basic and lacks important details – such as the ability to see the full file path towards data that was not backed up
There is no relative backup progress indicator – such as the percentage completion data
As an overall backup solution, Spanning may demonstrate some lack of functionality for medium and large enterprises
Only one account can be restored at a time
No coverage for Microsoft Teams.
Pricing:
Spanning's official pricing information cannot be obtained using just the official website, the only way to receive this kind of information is to contact the company directly and request a personalized quote
My personal opinion on Spanning:
Google Workspace has its own separate store with all kinds of applications, and Spanning is the highest-rated cloud backup solution on that store. The company itself is a well-known cloud app storage provider that covers primarily M365 and Google Workspace apps, offering a separate solution for each one of them. It is fast, reliable, and packs a variety of features, be it immutable audit logs, granular recovery, point-in-time restoration, etc. There are some potential issues such as the lack of detailed reporting, or the lack of the backup completion indicator.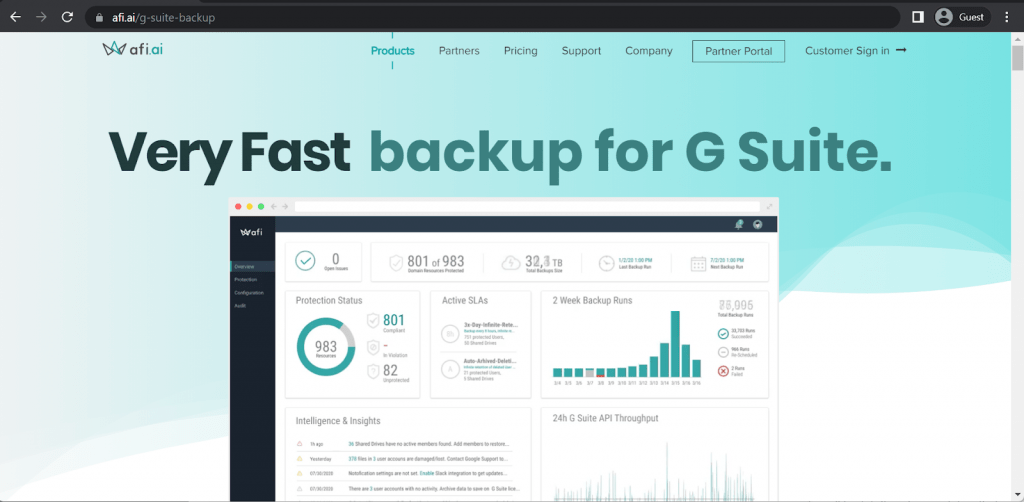 Afi.ai is a data protection service that was created for working with cloud data sources first and foremost and is also considered one of the fastest solutions on the market for Microsoft 365/Google Workspace backup software. Afi.ai has a number of different features, many of which are exclusive to this one solution, such as Afi full-text Gmail search, recovery point auto-labeling, and intelligent handling of G Suite API (to prevent bottlenecks and API call limits). It apparently has early ransomware attack detection and is also a solution that is easy to automate, easy to manage, and easy to control access – with instant administrator alerts, custom backup operator roles, and backup schedule management according to their SLAs, as well as many other features.
Afi.ai has a very clear "Pricing" page available on its website, with different plans clearly outlined and separated from one another. Since we are talking about Google Workspace backups, Afi.ai SaaS Backup is what is relevant here – it (at the time of writing) has a baseline of $3 per month per user with a lower limit of five users per order, although it is possible that the pricing might change after requesting a personal quote for your business. That same plan can also be paid for on an annual basis, with $36 per year per user being the baseline price for this case.
Customer ratings:
Capterra – 4.7/5 stars based on 21 customer reviews
TrustRadius – 9.9/10 stars based on 13 customer reviews
G2 – 4.9/5 stars based on 31 customer reviews
Advantages:
Afi.ai is considered one of the cheapest solutions in this particular niche, and yet there are no compromises in terms of the feature set or how detailed the features are themselves
Excellent customer support experience reported by the majority of customers over the years, praising high level of professionalism and quick response times
Afi.ai's first-time setup process is quick and simple, and the interface as a whole is very user-friendly
Shortcomings:
Transferring backups to a customer's own storage is only available to the highest-paid subscription tier
Documentation as a whole is fairly weak; not particularly detailed or extensive, especially when it comes to sections that describe API-related matters
There is no way to allow a specific person in the company to see a specific backup, the only options available are everything, nothing, and "their own backups"
Limited Scalability
Pricing:
The licensing model of Afi.ai is relatively simple, and includes only two different pricing plans:

"SaaS Backup" – $3 per user per month (5 users and more), a standard feature set of Afi.ai with M365 backup, G Suite backup, automated daily backups, protection against ransomware, RBAC support, and more
"Data Platform" – an extended version of the previous tier with no public pricing, it adds AI data governance capabilities, support for backups directly to customer's own storage, AI-based failure prediction, Kubernetes application backup support, etc.

It is worth noting that the "SaaS Backup" pricing tier can also have a custom quote depending on how many users the potential client would want to work with
My personal opinion on Afi.ai:
Afi.ai is often considered one of the best cloud backup solutions as a whole, offering an impressive combination of a low price and a wide range of features, a lot of which are proprietary. Afi.ai can perform full-text Gmail searches, as well as its own take on a ransomware scanning feature, an unusual approach to G Suite API to avoid bottlenecks, and so on. Afi.ai is easy to set up, its customer support is top-notch, and there are very few issues that customers find with it – such as the lack of detailed documentation or the inability to save backups to your own storage if you are not using the most expensive version of the software, but most of them are not particularly disrupting and don't take away the fact that it is a good solution with plenty of advantages.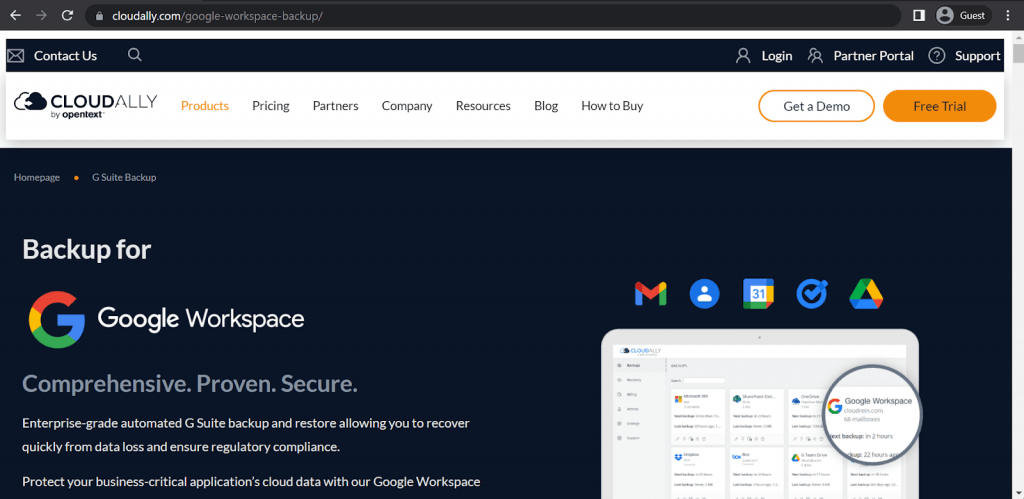 Cloudally was founded in 2011 and is considered one of the oldest cloud-to-cloud backup offerings on the market, focusing its efforts mainly on Google Apps and Salesforce, and also managed to debut the first commercial Microsoft 365 backup in 2014 (referred to as Microsoft Office 365 at that time). The company has continued to expand since then, and now it also provides a Google Workspace backup service, with granular recovery, reinforced recoverability, and practically all of Workspace's data sources covered – Gmail, Contacts, Calendars, Shared Drives, Tasks, and even metadata. The solution also makes it easier to control your data with centralized management and other features that make it easier to ensure compliance and perform audits.
Cloudally's approach to pricing is interesting since it is the only solution on this list that offers both per-user pricing and per-storage pricing. While it is true that per-storage pricing is only available specifically for the content of Shared Drives, it is still fairly unusual for a cloud backup in this sphere to have pricing based on traffic. This particular pricing plan is $3 per 10 GB of data per month or $30 per year. The other pricing plan is calculated based on the overall user count, starting from $3 per user per month (or $30 per year), although the price itself is subject to change, especially if the company in question is an enterprise requesting a personal quote.
Customer ratings:
Capterra – 4.8/5 stars based on 10 customer reviews
TrustRadius – 1010 stars based on 2 customer reviews
G2 – 4.6/5 stars based on 6 customer reviews
Advantages:
The solution can connect with Google Workspace environments with ease, making it ready for backup creation in no time
There is a simple yet effective user interface, it provides access to all of the necessary features with little effort
Centralized access to different cloud service backups, it is easy to see what data has been backed up already
Shortcomings:
Recovery processes are not particularly fast – even though this particular issue seems to be fairly common for cloud-based backup tools as a whole
The number of services and integrations is rather limited
There are no visual estimates when it comes to how much time is left for the backup to complete
Pricing:
Since Cloudally is less of a single comprehensive solution and more of a collection of software for specific needs, there is also an entirely separate version of the software built specifically to create backups of Google Workspace data
The solution costs $3 per user per month, or $30 per user per year – and there is also an option to receive a personalized quote for large enterprises with a significant number of employees
Both the user-based and the traffic-based backups are combined in a single solution priced per user per time period, offering backup and data protection capabilities for all of the necessary Workspace software – Tasks, Drive, Calendar, Mail, Contacts, Shared Drive, etc.
My personal opinion on Cloudally:
The market of cloud backup solutions specifically is not particularly mature, mostly due to the technological side of it, but Cloudally is legitimately considered one of the oldest offerings – even though it was created in 2011 and only started performing M365 backups since 2014. That's not to say that Cloudally is a bad solution, quite the contrary – it is a great cloud backup software that supports plenty of Google Workspace applications, while also making it easier to perform data management as a whole (with its centralized management console). It was also offering two separate pricing models – per user and per data amount – for quite a while before switching to the user-based pricing model to prevent user segregation, which can be a bit inconvenient for small-scale users.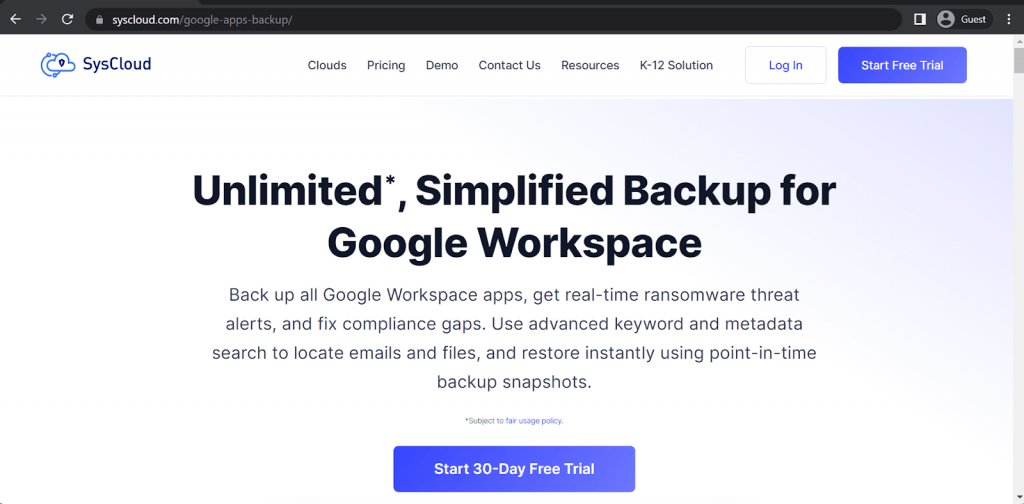 SysCloud is another solution focused primarily on SaaS services and apps, providing backup and recovery coverage for Google Workspace and Microsoft 365. It started off as a data migration solution for Google Workspace in 2013 and evolved multiple times since then to provide a feature-rich solution for Google Workspace backups, with ransomware protection, coverage of all necessary Google apps (including Google Classroom), backup automatization, and more. SysCloud provides complete visibility of your Google Workspace backups while also offering point-in-time recovery capabilities, extensive data search, several exporting functions for Gmail, Calendar, Contacts, and Google Drive data, as well as many other features.
SysCloud is fairly simple when it comes to pricing – there is a free trial, and there is also a rather clear separation of each category of applications supported – Google Workspace, M365, Slack, etc. There are also multiple columns for specific types of organizations, be it non-profit organizations, educational institutes, and others. A Google Workspace backup is priced at $4 per user per month or $38 per user per year, and each user is free to add other potential applications to be backed up, as well as a number of additional features (if those are available for the chosen application type).
Key features:
A feature-rich free version and a 30-day free trial, so that potential users may see the full spectrum of SysCloud's capabilities
Support for a variety of popular applications and platforms – Microsoft, Google, Slack, QuickBooks, etc.
Capability to mitigate and/or fix a variety of different data loss events, from ransomware attacks and other malicious acts to human errors or even compliance gaps
Pricing:
SysCloud's pricing plan is not particularly complex, it only has two distinct pricing tiers – free and paid (the feature range depends on the application target):

The free version of the solution is limited to 10 users backed up per single account, and can only back up a limited selection of Google Workspace apps
The paid version is not limited by the user count, supports a wider selection of Google applications, as well as several other advantages

SysCloud as a solution supports a variety of applications, offering a separate price tag for each app group, such as:

Google Workspace – $4 per month per user
Microsoft 365 – $4 per month per user
Slack – $3 per month per user
HubSpot – $3 per month per user
QuickBooks – $20 per month per user
Salesforce – $3 per month per user

There is a 20% discount that is applied to all prices if the client chooses to pay for a year of service in advance, and the prices are also significantly lower for non-profit organizations, specifically
My personal opinion on SysCloud:
SysCloud is a competent cloud backup solution with a significant focus on protecting and managing various applications – not just Google Workspace, but also Slack, QuickBooks, Salesforce, M365, and HubSpot. It can offer extensive data search capabilities, point-in-time recovery, multiple exporting approaches, and more. It was designed to prevent all kinds of data loss events, from human errors to ransomware or even compliance gaps. It is also relatively cheap and should be extremely affordable even for small-scale businesses.However, the user interface may not be considered to be particularly good.
Self-hosted backups
Now that we have showcased a number of different cloud backup services for Google Workspace, it would be appropriate to also talk about self-hosted platforms and software solutions: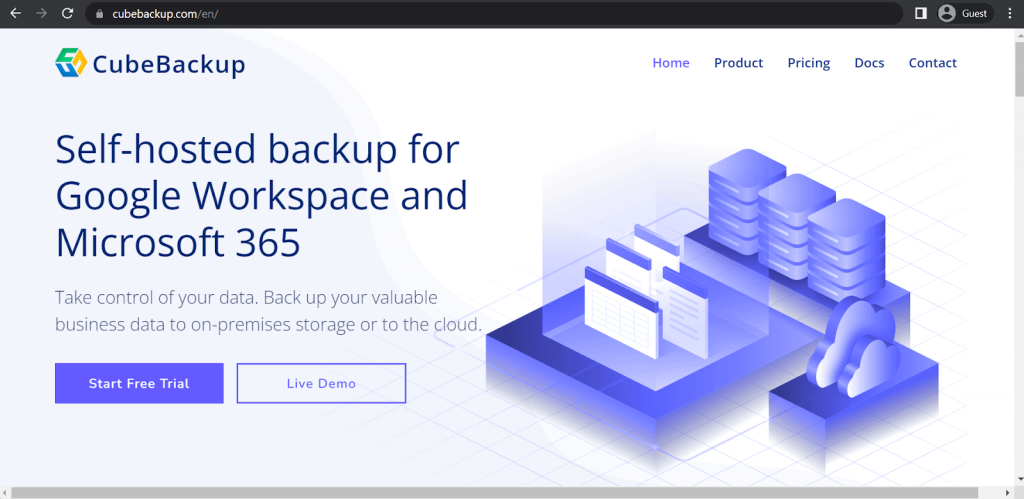 CubeBackup is a self-hosted backup platform that focuses its efforts on Microsoft 365 and Google Workspace as its two main targets. It can be deployed on-premises or in the cloud, and it can save data to many different storage locations such as Google Cloud Storage, S3 Storage, NAS, local disk, Azure Blob, and so on. It covers data from Calendar, Gmail, Contacts, Google Drive, and Shared drives with the ability to automate backups to be performed on an hourly basis. It has a granular retention policy, data encryption for backups and data transfers, no limits on version history, several backup types, and so on.
Customer ratings:
Advantages:
Praise-worthy customer support team, offers quick and informative responses to any request
Simple first-time setup process, easy to operate and perform various tasks
Affordable licensing model that does not turn out to be extremely expensive when the solution needs to scale up
Shortcomings:
The solution's data retention capabilities are somewhat limited and basic
Having a dedicated server is a necessity, not a recommendation
CubeBackup is still a small-scale solution that would not be capable of supporting the needs of a large business in both scale and feature set
Pricing:
CubeBackup's pricing model is simple, the solution itself only supports M365 and Google Workspace data as separate pricing plans with the same price
$5 per user per year is the base price of CubeBackup, which is also scaled down to $2 per user per year for non-profit and educational organizations
My personal opinion on CubeBackup:
This particular category has both full-scale enterprise-level backup platforms with Google Workspace backup capabilities and solutions created specifically to back up Google Workspace data. CubeBackup belongs to the latter category, it is a self-hosted backup solution that targets primarily Microsoft 365 and Google Workspace data. A drawback is that it can only restore files to the root of the Shared Drive. It is relatively simple, not particularly expensive, and can save backups to a variety of storage locations – cloud storage, local storage, NAS, etc. Its data retention capabilities are rather limited, and the solution itself would not be capable of supporting a large enterprise's needs due to its own scale – which is why it is important to know your needs beforehand when choosing a backup solution.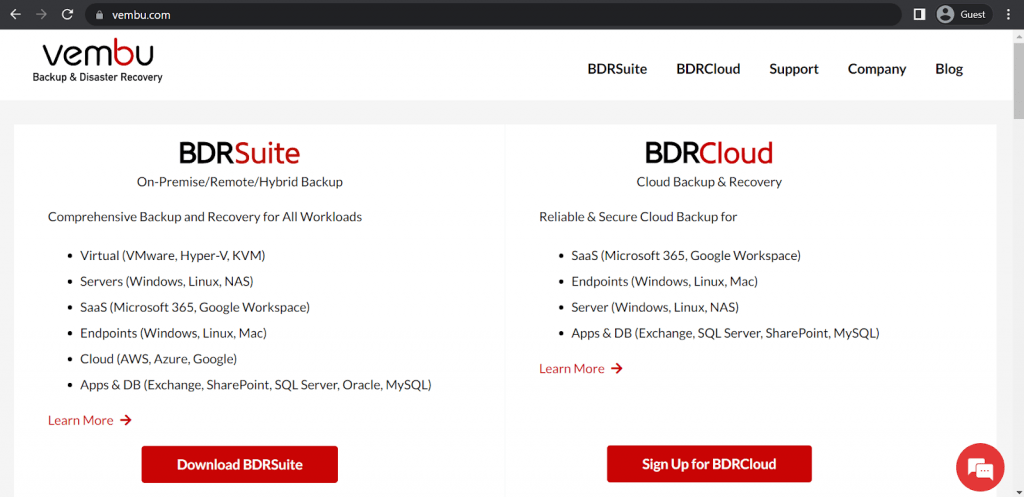 Vembu BDR is the first backup on this list that is not solely focused on handling Google Workspace/Microsoft 365 data. Vembu has been around since 2002, and it managed to quickly become one of the most renowned backup solutions on the market, offering backup and recovery capabilities to a multitude of different locations and applications – from Windows and Linux systems to Hyper-V VMs, AWS cloud workloads, and even SaaS applications such as Google Workspace/Microsoft 365.
Technically speaking, Vembu can be considered both a cloud backup service and a self-hosted backup solution, since it has two main products – BDR Suite and BDR Cloud. BDR Suite is your standard multifunctional self-hosted backup solution with a mountain of use cases, and BDR Cloud is Vembu's take on a cloud backup solution for applications, servers, databases and SaaS offerings. Both of these applications offer Google Workspace backup capabilities, covering a variety of Google apps and their data – and BDR Cloud also has several bonus features for this specific use case, including granular restore, backup automatization/scheduling, as well as impressive scalability and reliable reporting.
Customer ratings:
Capterra – 4.5/5 stars based on 17 customer reviews
TrustRadius – 8.4/10 stars based on 88 customer reviews
G2 – 4.2/5 stars based on 130 customer reviews
Advantages:
Vembu has an impressive customer support team that manages to find quick and effective solutions to most of the issues customers address them with
As for the more unconventional feature, Vembu has a dedicated Linux version of its solution – even if it is not as feature-rich as its Windows counterpart
Vembu as a whole is a surprising combination of an impressive number of features and a user-friendly interface
Shortcomings:
As helpful as the customer support team can be, its knowledge is based primarily on the Windows version of the software, which can be a bit of an issue for customers that work with Linux versions
Vembu as a solution has impressive scalability that works both ways, but the fact that its pricing is not suitable for smaller businesses means that at least a part of this capability would not be utilized
Most of Vembu's interface is rather user-friendly, but there are still some unconventional design choices here and there that may be confusing or overcomplicated to some users, for example, confusing error messages.
No command-line interface
Pricing:
Vembu BDR Suite's pricing varies quite a lot depending on the target data source, and can be purchased using either a subscription-based model or a perpetual license.
Subscription-based pricing model includes:

VM backup – from $18 per year per VM, with support for both Hyper-V and VMware deployments
Server backup – from $60 per year per server, both Linux and Windows servers are supported
Application/DB backup – from $60 per year per application/database, can work with SQL, MySQL, and Exchange
SaaS backup – $12 per year per user, works for Google Workspace and Microsoft 365
Cloud VM backup – $30 per year per AWS instance
Endpoint backup – from $15 per year per endpoint, supports Windows and Mac devices

Alternatively, pricing model based on perpetual licensing includes:

VMware or Hyper-V backup – from $90 per VM or $432 per CPU socket
Server backup – from $150 per server, Windows Server version supports file, folder, and image-level backups, while Linux Server version only supports file and folder backups
Cloud VM backup – $75 per single AWS EC2 instance
SaaS backup – $30 per user, applies to Google Workspace and Microsoft 365
Endpoint backup – from $37.5 per endpoint, both Windows and Mac devices can backup files and folders, but only Windows version also supports the image version
Application/DB backup – $150 per application/database, can work with SQL, MySQL, and MS Exchange

Vembu's pricing model can be rather confusing, offering both perpetual licenses and subscriptions, as well as several different subscription "levels" to choose from. A lot more details about Vembu BDR Suite's pricing can be obtained at the official pricing page.
My personal opinion on Vembu:
Vembu BDR Suite is the first example of an enterprise-level backup solution with Google Workspace backup capabilities on this list. It is an incredibly powerful and feature-rich backup and recovery platform with a well-earned reputation in the overall backup software community. Vembu BDR Suite can be deployed on-premise or in a hybrid environment of sorts, while its counterpart BDR Cloud operates on a SaaS basis and does not have to be deployed (although it does have fewer features in comparison). Vembu's solutions are incredibly powerful, scalable, and easy to use – but their approach to pricing as a whole makes it difficult for smaller companies to afford it, including its Google Workspace backup capabilities.
Druva is a SaaS-based data protection solution that offers a wealth of features for securing data across various Google Workspace applications. It has data encryption, air-gapped storage, data immutability, ransomware protection, and more. Druva can also act as a compliance monitoring platform, with the ability to discover, govern and protect it no matter where it is located. Druva is also not limited to Google Workspace applications, either, offering M365 coverage, Salesforce coverage, and many other target data locations to work with.
Customer ratings:
Capterra – 4.7/5 stars based on 17 customer reviews
TrustRadius – 9.2/10 stars based on 438 customer reviews
G2 – 4.6/5 stars based on 443 customer reviews
Advantages:
Impressive customer support performance, including both a quick response time and detailed answers to all inquiries
A centralized dashboard with an easy overview of different data storage types and backup measures is a great help to customers that want to have more control over their data
Initial deployment process is relatively simple and easy to manage for customers of any background
Shortcomings:
The M365 self-service portal does not have the same level of UI/UX that the original centralized console can offer
While Druva does offer some degree of pricing customization, most smaller businesses would find it rather expensive
The solution may be difficult to get into due to the sheer number of features it presents, and there is definitely a rather steep learning curve in place
Poor Azure support
Some files take a long time to restore
Limited monitoring and reporting
Pricing:
Druva's pricing tends to vary from one product to another, and Data Resiliency Cloud's pricing may be the most confusing of them all
The solution's pricing is split in four categories depending on what data storage types a specific client needs to protect

Data Center category has pricing based on credit and calculated per terabyte of storage consumed, it ranges from $210 to $300 per month per 1TB of storage consumed after deduplication
SaaS Applications category operates on a user per month basis, ranging from $4 to $7 per month per user
Endpoints category is also relatively cheap, ranging from $8 to $10 per month per user
AWS Infrastructure category is the only one with a free version, as limited as it may be, and its premium pricing plans range from $7 to $9 per month per resource
My personal opinion on Druva:
Druva is a software provider that offers a number of different solutions for specific use cases – and its Data Resiliency Cloud offering is the one capable of performing application backup. It works with both Google Workspace and Microsoft 365, it is distributed as-a-service, can offer plenty of data security-related features, and has an extremely competent customer support team. It is not particularly user-friendly as a solution, and some users may find it too expensive to afford as a small or medium-sized business, but the overall solution is still good and suits plenty of use cases.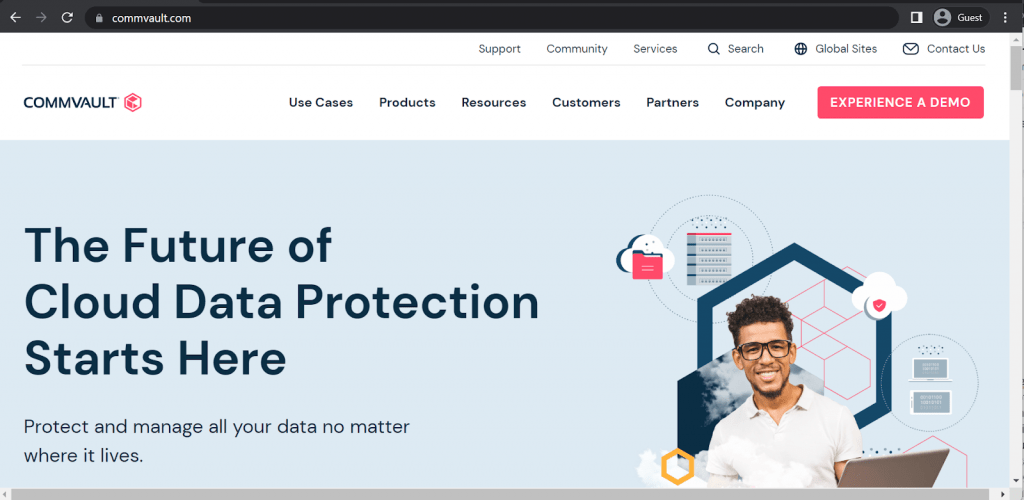 Commvault is a well-known software developer company that specializes in two fields – data management and data protection. Commvault itself can be applied to a wide range of different use cases, ranging from classic backup and recovery operations to ransomware protection, virtualization, and VM backups, as well as compatibility with containers. Commvault is also compatible with the Google Cloud Platform, making it easier to protect data within GCP workloads and making it possible for it to cover some of the Google Workspace applications, such as Google Drive and Gmail. It has a number of features that work for this data, too, such as granular recovery, even though the solution itself prioritizes GCP workload coverage first and foremost.
Customer ratings:
Capterra – 4.8/5 stars based on 9 customer reviews
TrustRadius – 7.8/10 stars based on 207 customer reviews
G2 – 4.2/5 stars based on 78 customer reviews
Advantages:
Seamless integration with IT infrastructures of practically any size, from small businesses to large enterprises
Plenty of integrations available at a moment's notice for any customer
Configuring backup and recovery tasks is a simple task for Commvault's interface
Shortcomings:
Commvault as a solution is mostly targeting large-scale companies, meaning that its pricing is not very suitable for small and middle-sized businesses (SMB)
A rather common issue for this market is the problem of basic reporting features, and Commvault is no exception to that
Commvault is a complex solution at heart  – leading to plenty of unconventional design choices that are difficult to understand by new users
Complex to implement
No Active Directory backup
Pricing:
Commvault's pricing information is not publicly available on their official website and the only way to obtain such information is by contacting the company directly for a demo showcase or a free 30-day trial.
The unofficial information suggests that Commvault's hardware appliances' price ranges from $3,400 to $8,781 per month.
My personal opinion on Commvault:
As a well-known backup software provider, Commvault provides a solution that combines data security with data management. It can perform a wide number of different tasks ranging from regular backups to VM backups, container backups, application backups, etc. It is also compatible with GCP, allowing for some Google Workspace app data to be protected. Its backup and recovery tasks are easy to configure, but the solution as a whole is not particularly user-friendly – and it also suffers from the all-too-common issue of reports not being detailed enough to be useful.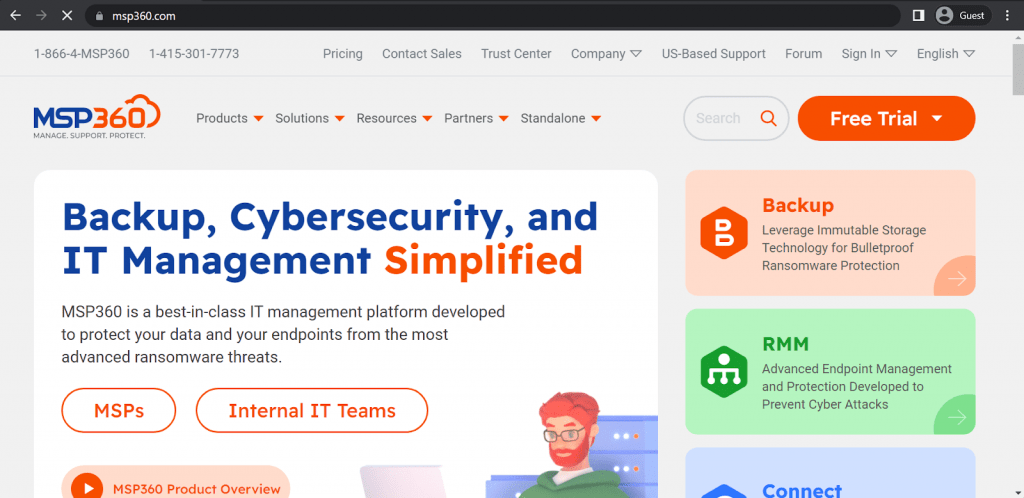 MSP360 as a company was established back in 2011 and has been providing a number of cutting-edge solutions for IT management and backup departments. MSP360 can be used for data protection, as well as for remote access to help customers, and there is also a rather useful RMM (Remote Monitoring and Management) to work with IT infrastructures of different sizes. One of MSP360's many capabilities is its capacity to create backups of various Google Workspace applications. It covers Contacts, Calendar, Gmail, Google Drive, and even data from shared drives. It also allows for backups to be stored in one of several cloud storage locations, offers file exporting capabilities, and has a centralized console for all the MSP360-related operations to work in at once.
Customer ratings:
Capterra – 4.7/5 stars based on 204 customer reviews
TrustRadius – 8.1/10 stars based on 45 customer reviews
G2 – 4.5/5 stars based on 403 customer reviews
Advantages:
MSP360 can offer a relatively simple first-time configuration process that is not particularly confusing, even to the less knowledgeable customers
A lot of MSP360's features are user-friendly and accessible
There is also a great centralized data management panel that offers plenty of insights into different backup types and storage locations
Shortcomings:
MSP360's main audience is among middle-sized and large businesses, and while it can work with smaller companies – most of them would not be able to afford the solution in question
The customer support team in MSP360 has plenty of conflicting reviews, with some customers praising its effectiveness, and others stating that it was completely useless
Plenty of different features from MSP360 are not included in the base package and have to be purchased separately for an additional price
Limited support of SQL databases
Pricing:
MSP360's pricing information is not publicly available on their official website and the only way to obtain such information is by contacting the company directly for a quote.
Their special "quote calculator" page allows potential customers to specify what device types they want to be backed up in the future. This particular page allows for three different solution types to be mentioned.
The first one is MSP360 Managed Backup – a cross-platform backup and recovery solution, this part allows a potential customer to specify how many devices and data sources of specific types they need covered by the solution, including:

Windows Desktop
Windows Server
MS Exchange
MS SQL Server
Mac OS Desktop
Linux Desktop
Hyper V Server or Server Socket
VMware Server or Server Socket
Microsoft SharePoint
Microsoft Teams
Microsoft 365
Google Shared Drives
Google Workspace

The second one is MSP360 RMM – a trustworthy endpoint management solution with options such as RMM (priced per administrator), and deep instinct (priced per endpoint)
The last option is MSP360 Connect – a well-protected remote access solution, it allows for the number of potential remote access devices on either Windows or Mac platform to be specified
Additionally, a potential customer has the option to mention the need for premium support, onboarding, custom SSL, and advanced rebranding
After the correct number of options for each data source has been selected, a potential client has to provide additional information about the company in question so that they can be contacted later with a personalized quote.
It is worth noting that there is no clear separation between pricing tiers of MSP360, which is why AD backup and restore operations can be utilized by any customer that has image-based backup as a feature included in their package
My personal opinion on MSP360:
MSP360 as a company and service was called Cloudberry Labs for quite a while, but now it is a much more sophisticated solution with all of the Cloudberry's features included in the package. It can help companies manage their data in multiple ways both on-premise and remotely, and it also supports plenty of storage locations, such as Google Workspace. MSP360 can cover Calendar, Contacts, Gmail, and even Shared Drives as a part of its Google Workspace integration package, offering a centralized data management console, the ability to save backups in one or several locations at once, and more. At the same time, its pricing model does raise some questions, and there are not that many positive reviews about the customer support experience as a whole, so further research into the subject is highly advised.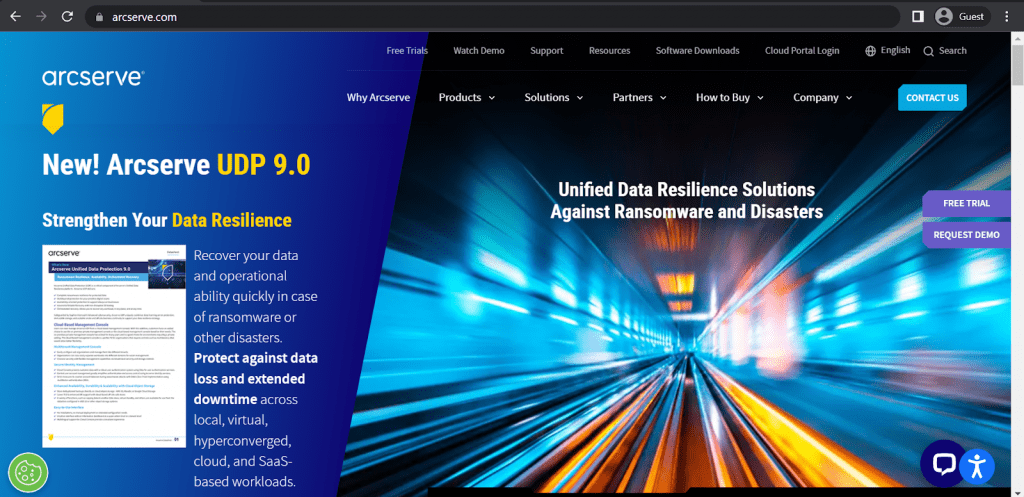 Arcserve, a data protection software company for middle-sized and large companies, was established in 1983 as Cheyenne Software. It has become a versatile data protection solution with a number of features and capabilities – including extensive scalability, disaster recovery, multiple backup target locations, data deduplication, and more. One of many capabilities of Arcserve SaaS Backup is its compatibility with Google Workspace, offering backup support for a variety of Google apps – Gmail, Drive, Calendar, Sheets, Tasks, Docs, Slides, and more. Arcserve can perform a fast search for all of the backed-up data, it has several different versions of the restore operation, as well as RBAC, scalability, data sovereignty (via four different copies of data in at least two different data centers), full audit capabilities, and more.
Advantages:
A comprehensive data protection solution with plenty of features to choose from, such as granular restore, backup immutability, and many others
A centralized console for various data management tasks, focused primarily on backup and recovery-related data
High degree of ransomware protections, including scanning, encryption, and plenty of other features
Shortcomings:
Larger data pools tend to slow down the solution quite a bit in terms of both backup and recovery operations
Can require dedicated equipment
Limited Hypervisor compatibility
Customer support reviews are very polarizing, some customers praise its capabilities, others report complete absence of help in the first place
Pricing:
Arcserve does not usually reveal any kind of pricing information about its solutions publicly. As such, the only way to receive such information from a company is for that company to request a personalized quote.
My personal opinion on Arcserve:
Arcserve is, undoubtedly, the oldest software company on this list, dating back to as far as 1983 for its creation. Now it is a well-known data protection solution provider with a variety of specific applications to choose from. One such application is Arcserve SaaS Backup – a cloud-native backup solution created specifically for safeguarding data stored in application clouds provided as a service, be it M365, Google Workspace, Salesforce, etc. It may struggle a bit with larger data volumes, and its customer support experience is less than stellar, but the solution itself is well worth the attention of customers looking for a dedicated Google Workspace backup solution.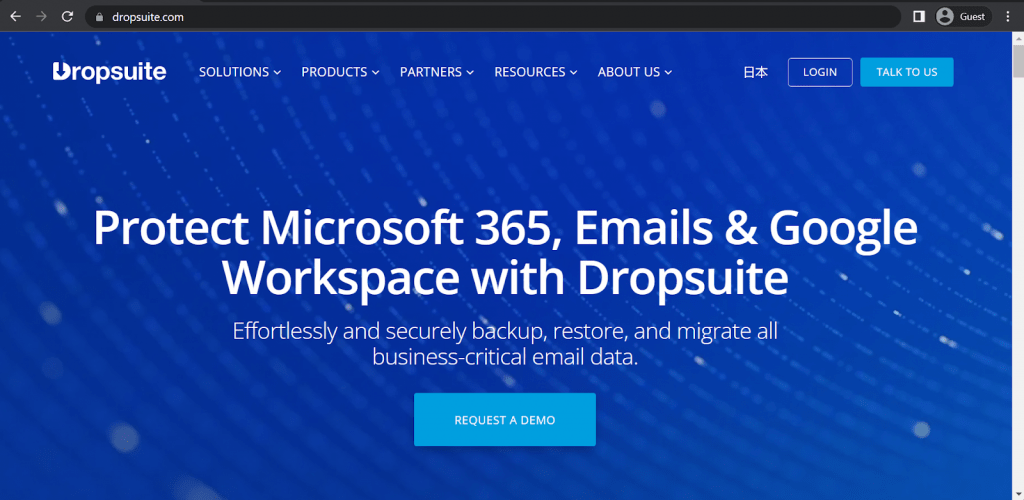 Dropsuite is another notable solution in the field of SaaS application backups, offering a wealth of data security options from one of the fastest-growing cloud backup solutions on the market. Dropsuite provides a host of cloud backup technologies in a highly scalable and secure form, covering websites, emails, Microsoft 365, and Google Workspace data. Dropsuite has three main solutions to offer – Email Backup, Email Archiving, and Website Backup. Both Email Backup and Email Archiving can work with Google Workspace data to cover applications such as Gmail, Google Drive, Tasks, Calendars, Contacts, and so on. Dropsuite's feature set is not just about backups, either – there are also automation capabilities, data encryption, a centralized dashboard, granular restore, incremental backup capability, and many others.
Customer ratings:
Advantages:
Dropsuite's customer support works 24 hours a day and 7 days a week, making it very convenient for US-based clients
Initial setup process is rather simple and not particularly complex
Dropsuite's search tools are extremely powerful and can help customers find specific data parts in a client's backups
Shortcomings:
Unlike plenty of its competitors, Dropsuite does not have an option of a separate pricing model for non-profit companies
Dropsuite's notification system is not particularly consistent and not exactly detailed
There is no direct phone support available, which can be critical for businesses in case of emergencies, no matter how fast the email support response time may be
Pricing:
There is no pricing information that could be obtained from Dropsuite's official website, the only way to obtain such information is to request a personalized quote from the company in question
My personal opinion on Dropsuite:
Dropsuite is another example of a relatively small-scale solution that was created for application backups from the get-go. It offers a variety of features in the realm of data security to its users, capable of covering websites, emails, M365 data, Google Workspace data, etc. It is relatively easy to set up, and there is also a very powerful data searching tool included in the package, but its notifications are rather basic in their descriptions, and the 24/7 work ethic of the customer support team is somewhat diminished by the fact that there's no direct phone support at all.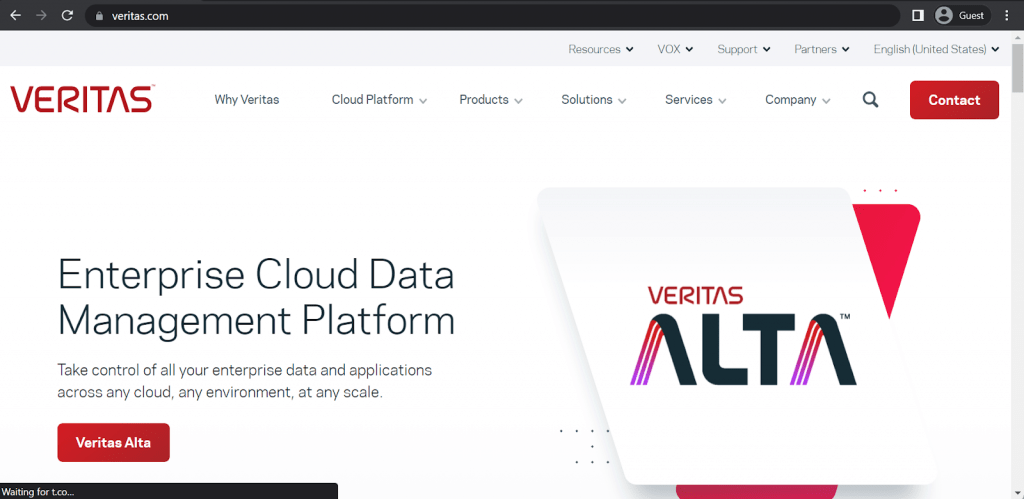 A company that is now known as Veritas Technologies was founded way back in 1983 as Tolerant Systems, and was always a storage management software company, first and foremost. It is a well-known company in and of itself, and it has several different backup solutions to offer. Two of its biggest offerings are Backup Exec and NetBackup – the former being the most suitable for smaller companies or individual systems, while the latter is a full-fledged enterprise-level backup software with a wealth of features and systems in place. Both of these solutions are developing all the time, with NetBackup receiving Google Workspace support at the beginning of the year 2022. Now NetBackup can cover both Gmail and Google Drive data, with the capability to restore emails, labels, attachments, metadata, and special handling to all of Google's proprietary file formats such as Slides, Drawings, Sheets, Docs, and App Scripts.
Customer ratings:
Capterra – 4.0/5 stars based on 7 customer reviews
TrustRadius – 6.8/10 stars based on 150 customer reviews
G2 – 4.1/5 stars based on 230 customer reviews
Advantages:
Veritas managed to connect quite the portfolio over the years, and its customer support is one of the most consistent parts of the solution, always offering a helpful and quick response to practically any question
The feature range of Veritas is one of the biggest on the market, and it is also a large part why it remains on the market to this day
And yet, the overall solution versatility does not make it harder to manage – its interface is easy to work with and extremely user-friendly
Shortcomings:
Reporting as a feature is not particularly difficult to manage, but there are some operations that may prove problematic, such as the possibility of exporting reports to a specific file format
At the same time, while reports can be generated automatically – the amount of customization that could be done with them is very limited, not even including the ability to change the default save location
Lack of customization in Veritas is not just limited to reporting, since tape library integration also lacks a lot of customization options and spouts plenty of issues
Pricing:
Veritas's pricing information is not publicly available on their official website and the only way to obtain such information is by contacting the company directly.
My personal opinion on Veritas:
Veritas is a direct competitor of Arcserve when it comes to the overall company age – surprisingly enough, both of these companies were originally created in the year 1983. Veritas is a well-known backup and recovery software provider that managed to gather an extremely positive portfolio of clients over the years. Its amount of features is also practically unparalleled, which is another reason why the solution gets so much recognition. The solution is relatively easy to use but has its own problematic parts – mostly concerning the lack of detail or customization for specific features. However, none of its issues are enough to damage Veritas's reputation in the long run.
Bacula Enterprise as a Google Workspace backup solution
There is also another backup solution that offers comprehensive protection of Google Workspace, and that is Bacula Enterprise. Bacula Enterprise is an especially highly secure, but extremely versatile backup solution that can handle an especially broad range of different systems, applications, file-types and storage locations via its own system of modules. This solution has a plethora of different features and functions, including bare metal recovery, data control centralization, many different backup levels, an impressive level of configuration, and a high level of compatibility with tape and other storage technologies.
One of many capabilities that Bacula Enterprise has is its integration with Google Workspace to create backups of a wide variety of different applications and data types by interacting with a number of Google Workspace APIs. The solution itself is easy to deploy and can be used to create highly secure, resilient backups of applications such as Google Drive and Google Mail (or Gmail). We can also showcase what data is getting backed up from each of these applications.
Google Drive
Generally speaking, Bacula Enterprise is capable of protecting My Drive data, as well as Shared Drive data, with the ability to decide what exactly needs to be backed up. Here is a more detailed list of what kinds of data Bacula Enterprise can backup from Google Drive:
My Drive

File versions
Trash bin
Folders
Google service files
The rest of the data (without API, regular download process)

Shared Drives

File versions
Google service files
Trash bin
Folders
The rest of the data (without API)

File comments
Shared permissions
SharedWithMe User files
Every file backed up from Google Drive also has its hash value stored using the MD5 algorithm, and this value is used for both backup and restore processes to ensure the consistency of both operations. There is also the fact that Bacula Enterprise can combine different folders with the same name into one single folder (even though Google Drive allows for several folders with the same name to exist in the same directory).
Bacula can also follow a useful transparent process of exporting when it comes to Google's proprietary files, transforming them into open-format variants. As such, Google Docs files are transformed into .ODT format, Google Draw is turned into .JPEG, as well as Google Photo, Google Sheets becomes .ODS, Google Slides transforms into .ODP, and Google Scripts are now .JSON.
Speaking of Google Photos, it is worth noting that Google Photos is not supported by Bacula's Workspace module, even though this kind of support is planned for the very near future. The main reason for that is that Google Drive and Google Photos work on separate APIs, which makes it difficult for the module to perform this kind of operation on Google Photos specifically. Additionally, Google Sites cannot be exported whatsoever, since they do not have any export functions in the first place.
Bacula Enterprise and its Google Workspace module also supports a variety of different restore scenarios, with a full list only available per request. Bacula's module can restore files to the local file system, skip restoring versions, restore permissions specifically, and many other options.
Gmail
Bacula's same Google Workspace module can also cover Google Mailboxes, with the ability to decide what exactly to create backups of, as well as the ability to control the restore process. Bacula's module can protect labels, emails themselves, attachments, filters, settings, delegates and forwarding addresses. Mails can be backed up in the RFC 822 format, it is possible to both restore mails with attachments as well as only attachments, and more.
As part of Bacula's higher levels of security than a typical backup vendor, its Workspace module is also capable of excluding messages from a single backup or doing the exact opposite – excluding every single mail except from a specific group of emails. The number of different parameters that can be used to regulate that is impressive, ranging from the sender, the receiver, the tags, the subject, the folder name, and many others.
Another important matter worth mentioning in this context is the language of a label that is restored to a specific user. Traditionally, there is no support for multiple languages for most labels that are created by the user – even if you try to choose the same word in a different language. However, there is an important exception called "system labels" – the ones that are not created by the user in the first place, such as "sent", "inbox", etc. For these specific labels, it can be possible to locate them in a backup by typing the English word for a label, despite the original not being saved in English in the first place.
A part of what makes Bacula's Workspace module so special is it ease in performing incremental and differential backups for Workspace data to speed up and make much more efficient the backup process as a whole. These kinds of features for large enterprises help set Bacula apart from other backup vendors in demanding environments. The process itself is relatively easy, with the module storing specific information about the current state of the backup so that the system knows to only request new data from Google API, thus creating an incremental backup. This overall mechanism is referred to as "Delta Backup".
Google Drive API has a separate function called "Changes" that can be used to do exactly what we have discussed earlier, speeding up incremental and differential backups. Google Mail API, on the other hand, has a "History" function that uses sequential numbers to track each individual email, allowing for the "Delta Backup" feature to speed up the overall backup process by learning what data is already backed up and can be skipped.
It should be noted that Delta Backup is not a mandatory feature, which means that it is also possible for incremental and differential backups to be performed without it. Additionally, there are some specific circumstances that are needed for Delta Backup to work, such as:
Only full entities can be backed up that way when it comes to Google Drive data.
It is possible for some older delta tokens to expire for an unspecified reason, which resets the whole Delta cycle and the system would try to start a new one, resetting all of the speed benefits with that.
Google Mail can perform Delta backups for entire systems and for specific labels, with few restrictions.
A regular backup is triggered automatically whenever Delta backup cannot be triggered, resulting in a generally slower backup speed.
Every Full backup usually resets the Delta cycle and Delta tokens, unless specified otherwise.
While it is true that Google Workspace data may be extremely sensitive for end users, Bacula Enterprise's Google Workspace module still has an option to create a detailed user restore report, mainly for the sake of controlling and reporting as a whole. This report contains a lot of details about what has been restored if there were any issues during the restoration process, as well as the restoration date. The report in question can be generated either as an email in a user's mailbox or as an HTML file in the user's drive unit.
It is worth highlighting that using Bacula to protect Google Workspace means that the user benefits from Bacula's global high security technology, as well as a pricing model that does not charge by data volume, or number of Google Workspace users. Indeed, users will be able to take advantage of Bacula's impressive flexibility and scalability, as well as its wide technology fit and ability to connect to almost any storage destination. Bacula is especially used by medium and large enterprises that require high levels of security.
Conclusion
Google Workspace as a collection of applications can be extremely useful in a variety of different circumstances. However, not being able to backup or restore it manually can make it a rather uncomfortable source of potentially sensitive and/or business-criticall data whose security is barely controlled by the end user. Luckily, there are plenty of third-party Google Workspace backup solutions that provide  different features designed to make all of that data far more accessible and secure than ever before.
Of course, the fact that we could separate all of the aforementioned solutions into categories with ease means that they have their own use cases to work with. Solutions such as Backupify or Spanning would be a great help for smaller companies since they do not have any local storage or network bandwidth requirement – cloud backup services are extremely convenient in this regard.
Solutions such as CubeBackup or MSP360, on the other hand, are self-hosted but still need to be maintained in terms of cloud storage for their backups. Solutions like these are usually cheaper than full-fledged cloud backup solutions, let alone comprehensive backup platforms, but the total ownership cost may scale up rather fast if the company in question grows at a rapid pace.
Last, but not least, we have comprehensive backup solutions such as Bacula Enterprise that has a wealth of different features and use cases, not just for protecting Google Workspace, but for a huge range of other technologies found in large enterprise environments. Solutions such as this are great for larger companies that need many different types of data to be backed up and protected with high security and often with scalability, even though their added functionality often means a little more time and skill is required to implement them compared to the backup solutions dedicated only to Google Cloud.
Why you can trust us
Bacula Systems is all about accuracy and consistency, our materials always try to provide the most objective point of view on different technologies, products, and companies. In our reviews, we use many different methods such as product info and expert insights to generate the most informative content possible.
Our materials offer all kinds of factors about every single solution presented, be it feature sets, pricing, customer reviews, etc.  Bacula's product strategy is overlooked and controlled by Jorge Gea – the CTO at Bacula Systems of Bacula Systems, and Rob Morrison – the Marketing Director of Bacula Systems.
Before joining Bacula Systems, Jorge was for many years the CTO of Whitebearsolutions SL, where he led the Backup and Storage area and the WBSAirback solution. Jorge now provides leadership and guidance in current technological trends, technical skills, processes, methodologies and tools for the rapid and exciting development of Bacula products. Responsible for the product roadmap, Jorge is actively involved in the architecture, engineering and development process of Bacula components. Jorge holds a Bachelor degree in computer science engineering from the University of Alicante, a Doctorate in computation technologies and a Master Degree in network administration.
Rob started his IT marketing career with Silicon Graphics in Switzerland, performing strongly in various marketing management roles for almost 10 years. In the next 10 years, Rob also held various marketing management positions in JBoss, Red Hat, and Pentaho ensuring market share growth for these well-known companies. He is a graduate of Plymouth University and holds an Honours Digital Media and Communications degree, and completed an Overseas Studies Program.