What is data center backup?
The idea -and aim of backup as a technology means that if there is a loss, failure, compromise or otherwise unwanted alteration in the state of some or all of an organizations' data, then a copy of that data can be retrieved safely and if necessary, in its entirety. Typically, a data center is providing a range of data related services, often under contract to its users, and often for mission critical usage – which is why data center backups are extremely important.
The importance of backups for data centers is often related to the possibility of some kind of data center failure. The number of reasons why a data center might stop working correctly is potentially very large, and some issues include:
A massive number of changes to the system within a short time span. Maintenance windows for data centers are often the preferred time for administrators to push various updates to the system, and rushing or over-loading this process could lead to all kinds of errors – as a result of both incomplete updates on top of each other, as well as the inability to see which updates are working in the first place in case something goes wrong.
Old or legacy equipment retention. While it is true that all hardware is prone to failure at some point, this possibility tends to increase the longer the hardware in question is in use. A data center failure because of an outdated system or component is a well known problem, and needs to be mitigated as an ongoing process over time.
Cooling issues. Due to the energy using and heat-generating nature of data center hardware as a whole, it is surprisingly easy to overlook various cooling requirements while forgetting how much heat a regular data center continually generates – and changes in the atmosphere within the data center due to inefficient cooling can cause damage, shorten life-span of hardware, slow down the entire data center, or even put it out of commission entirely.
Not enough backup power. Power issues are a common reason for a data center failure. There can be many reasons for a sudden power loss, and not being able to counteract that could easily lead to a partial data loss at the very least.
Fire suppression based on water. Most of the data center equipment tends to be extremely sensitive when it comes to any liquid – yet some data centers still use outdated wet fire suppression systems, potentially putting all of their equipment at risk.
Cybercriminal activities. Cybersecurity is another issue that is severely underestimated in terms of the amount of damage that it can cause – including methods such as ransomware, phishing, physical theft, and other malware that can cause downtime for a data center.
Since the number of potential issues is significant (and the list above is not exhaustive), there are, correspondingly, many different measures that can be taken beforehand to decrease the risk of failure, or to even try to eliminate that risk completely.
Some specific issues can be addressed directly; replacing older hardware, implementing non-water fire suppression systems, putting in a scalable UPS to provide power to the entire database in case of outages (reducing risk of data loss because of sudden power failure, keeping the entire system running, etc.), investing in data security software, and so on.
At the same time, there are other solutions that can be employed – such as to implement a data center backup system. While data center backups are usually not the only measures taken when it comes to preserving business and/or service continuity, it's still vitally important to back up data centers, create multiple backup copies, store these copies in different locations and all the other data backup best practices that really should be followed.
Data center backup is a much more involved process than some imagine, since it is not just about creating actual backups of various nodes and systems inside of the data center, but also installation and maintenance of a comprehensive backup infrastructure, backup instances of different data center components (cooling resources, data center power, etc.), and so on.
When it comes to choosing a backup and recovery solution for a specific purpose, there are many factors that should be considered. A lot of them are use-specific, but it is somewhat possible to identify different backup challenges that are common to the IT industry as a whole:
Data deduplication is a surprising challenge for a lot of use cases, not least because a number of backup solutions offer it. One key issue is that there are many cases in which data deduplication potential can be severely limited, be it via fixed block deduplication capability, or other deduplication approaches. Some solutions offer very limited deduplication domains.
Scaling issues are rather common for this industry, especially when it comes to changing the existing backup infrastructure to an entirely different one that is bigger in scope and capabilities – many of these operations are potentially extremely expensive.
While regular system-wide downtimes are problematic enough for any business, update downtimes specifically have the added problem of system vulnerability when it is being deployed, leaving the entire system's security situation in a less than ideal state.
It's also not uncommon for backup solutions to have UI fragmentation and siloed workflows, both of which are detrimental to configuring, managing, reporting and analyzing backup workflows for the organization in question.
Backup processes are not the single most important feature of a backup solution – restoration processes are more important, and having problematic restoration operations with performance issues that harm RTOs can be extremely disruptive for any business. Examples can be lack of single item recovery capability, or slow recovery time, due to network overload or poor efficiency.
It is fairly common for systems with some sort of support for the public cloud to have a requirement of deploying a separate cloud gateway that operates as the intermediary between public cloud backup environments and on-premise backup environments. This adds another potential bottleneck for current and future backups.
Price: pricing varies considerably among vendors. It's as important now as it ever was to find a solution that offers clear value for its price.
Security: Finding a backup and recovery solution that is able to be deployed in a correctly configured, properly secure way, while observing best practices is not always a given. Some backup solutions are falling behind to the security needs of the current day, not to mention the needs of tomorrow.
IT departments today can be tremendously complex, yet a backup and recovery system needs to be able to integrate with it all – and at the same time, be reliable and robust enough to always function consistently and correctly. Not all backup solutions can do that.
These are just a few of the many different points that have to be kept in mind when it comes to choosing a data center backup solution, which is why we are going to look at examples of some of these solutions below.
Top 20 data center backup solutions
Of course, data center backup has its own market of third-party backup systems and platforms, with different feature sets, different methodologies, and so on. Please note that these backup solutions are not listed in any particular order since each of them has their own niche and feature set, a direct comparison is often difficult. As such, here is a top 20 list of data center backup solutions: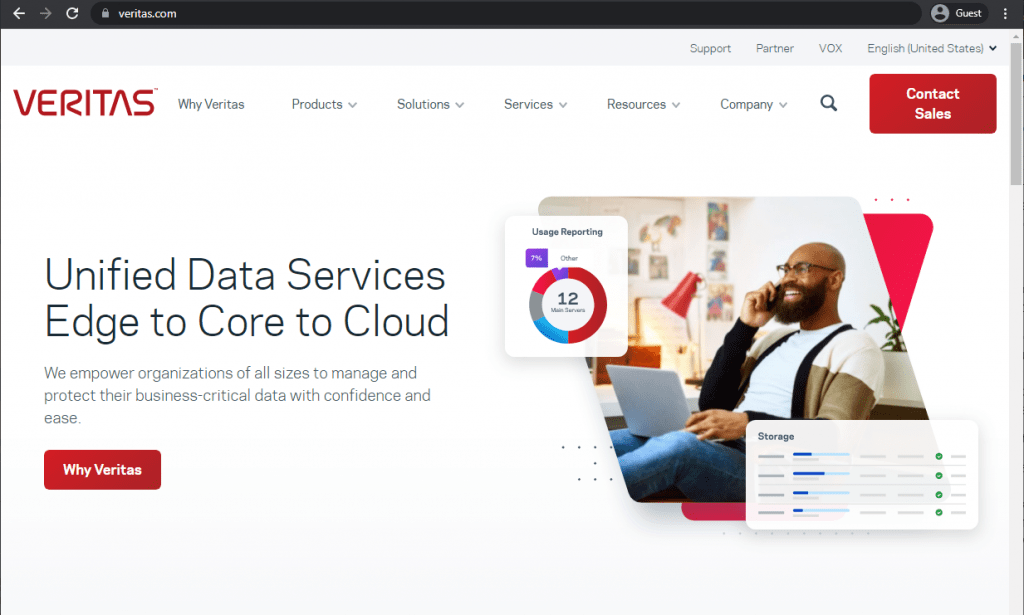 As with most of the examples on this list, Veritas is a technology company that provides tools for information governance, business continuity, storage management, as well as backup and recovery. The latter is provided via their NetBackup product – a feature-full backup and recovery solution for all kinds of workloads, from physical to virtual and even cloud storage.
Veritas NetBackup is provided inside of a converged platform that is easy to administrate, and it even supports multi-tenant setups. It also provides all kinds of features you'd expect to have in a data center backup solution – centralized management, productivity improvements, bandwidth reduction techniques, in-depth search capabilities, and so on.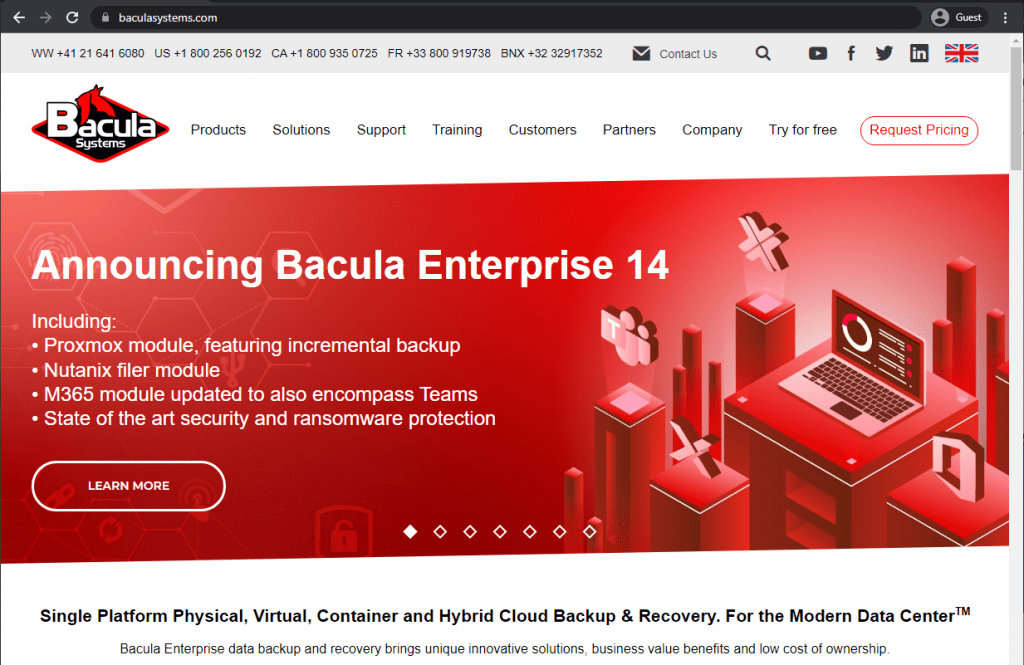 Bacula Enterprise is a comprehensive backup and recovery software solution provided by Bacula Systems. It is unique in its approach, since it can expand its own functionality within the same software – thanks to a highly secure modular system that Bacula uses to provide features like advanced backup levels, different user interfaces, deduplication and compression, advanced volume and pool management, Job Control, endpoint features such as Bare Metal Recovery for Linux and Windows systems, Client Initiated Backup, features for MSP and Hosting companies, and Snapshot technology. Bacula has support for different storage formats (including physical, public and private cloud, and practically all tape technology. As well as offering customizable protection for Microsoft 365 and other SaaS applications, it also covers containers and many different kinds of VMs and databases.
Bacula Enterprise is also especially secure, flexible, customizable and scalable. When you combine it with the fact that it does not charge its users by data volume – it is understandable why it is rapidly growing in popularity with data centers, and is used by NASA, many governmental agencies, HPC environments and large ISVs. It offers automation, centralized management, permission control, advanced ransomware protection and detection tools, and many other advanced enterprise features.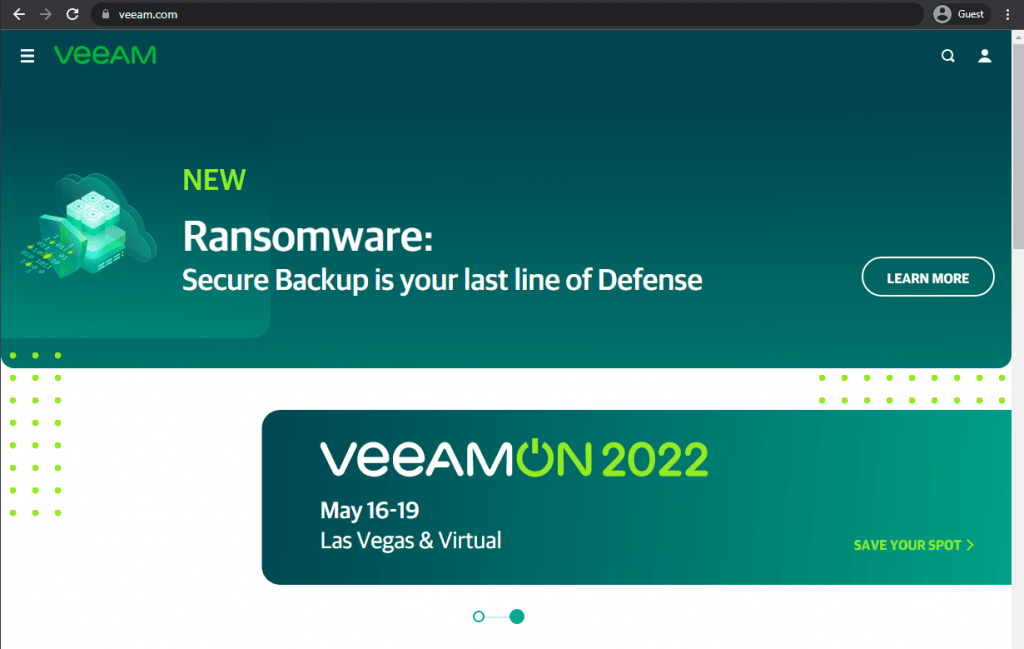 When it comes to disaster recovery for virtual environments, it's hard to avoid mentioning Veeam Backup & Replication – a data protection solution for virtualized apps and data. It is one of the best data protection solutions on the market for Hyper-V and vSphere environments, offering comprehensive backup and recovery operations in a single platform.
Aside from free promotions for O365 Exchange Online and physical server backups, Veeam can offer a number of data center-specific features, such as key deduplication backup integration, snapshot storage integration, tape storage type support, and more.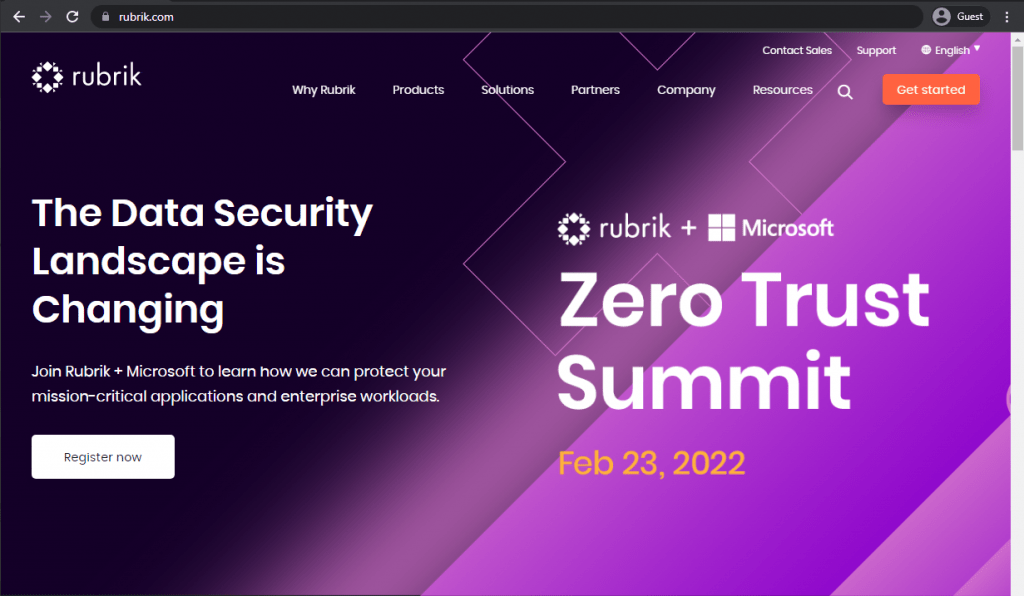 Rubrik is a well-known software platform that provides all kinds of data management features, from efficient backup and recovery operations to compliance, analytics, archival, deep search – and all of that is within a single solution for all of your data storage locations.
Rubrik's software also works with the most popular OS, hypervisors, cloud storage providers, databases, etc. It offers a number of features aside from backup and recovery, such as extensive analytics and reporting, vast compliance and security features (ransomware protection, compliance reporting, etc.), policy-driven data management, and so on.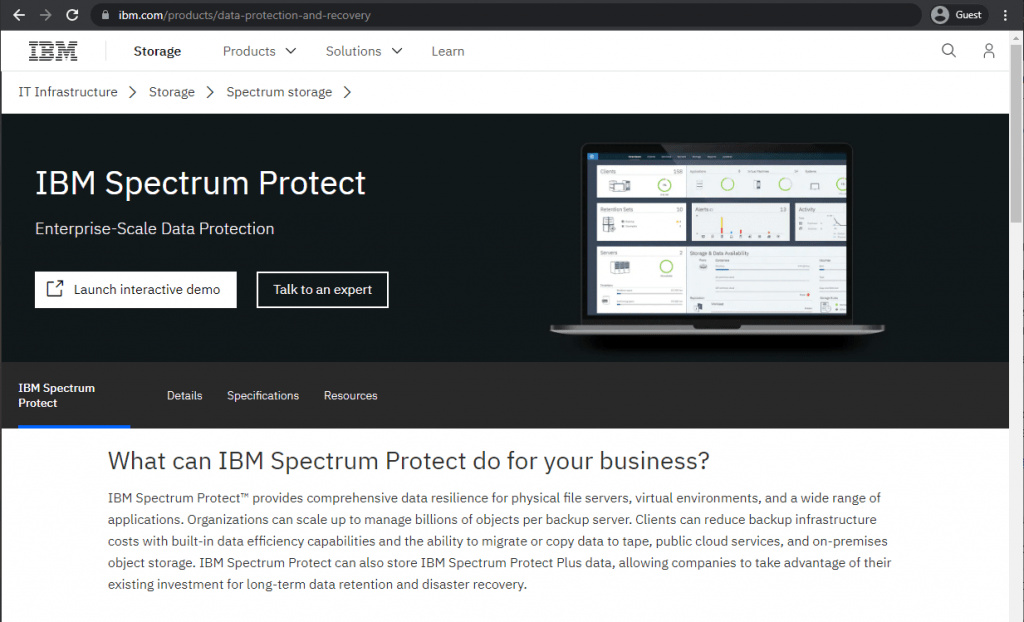 Another technological mastodont, IBM, is also capable of offering all kinds of technological services and appliances, including fields such as software development, predictive analytics, etc. Disaster recovery is also a part of this list – with their Spectrum Protect solution that offers a large list of features for backup and recovery operations, centralized data administration, and so on.
The exact list of features that IBM Spectrum Protect can offer is rather long, with features such as VM protection, role-based administration, backup and recovery operations for different environment types (cloud, virtual and physical), searchable catalog, among many others.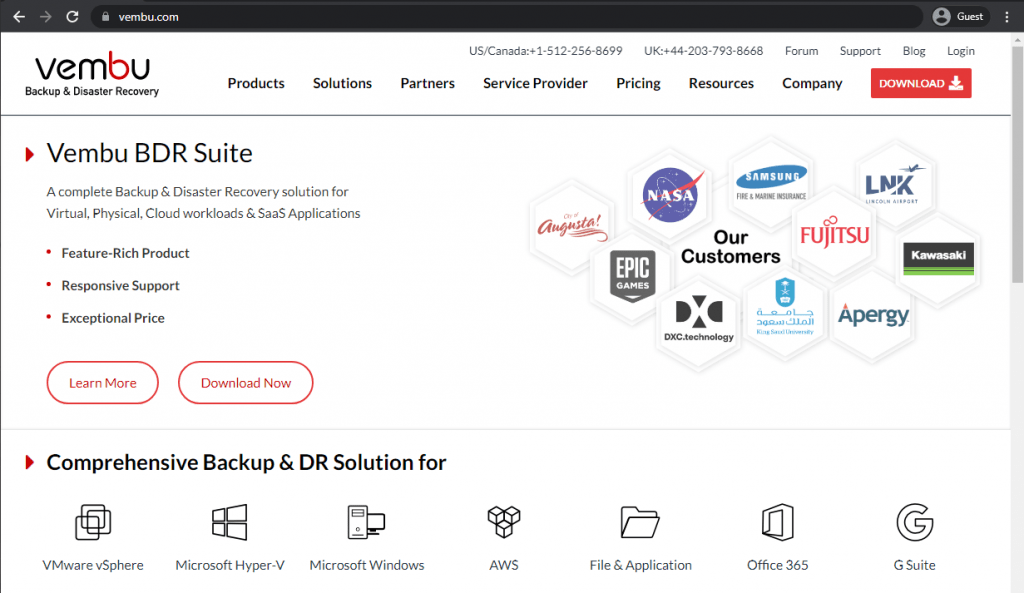 Vembu BDR Suite is a backup and recovery solution that is at its best when working with heterogeneous IT environments that includes many different parts to it. It also has both a free trial and a free version – and what's even more surprising is that the free version is only limited with the number of VMs supported, with no limitations to the feature list.
As for the features themselves, Vembu BDR Suite has a capability to backup physical servers, virtual machines (both Hyper-V and vSphere), O365 items, SharePoint items, Exchange items, workstations, and all of that can be easily managed using a centralized user-friendly UI.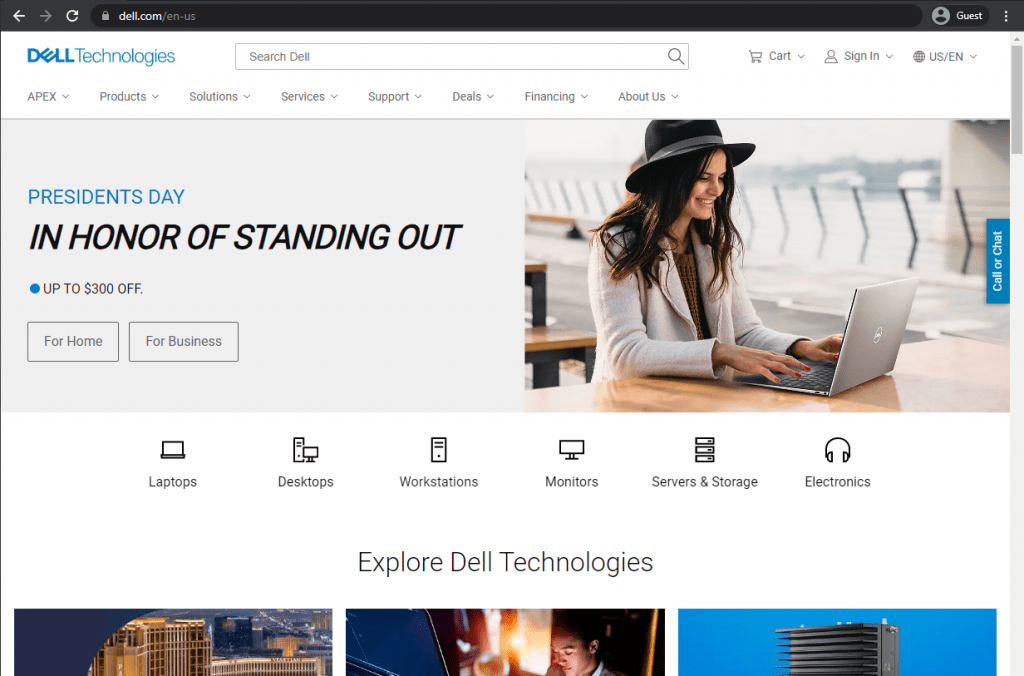 Dell EMC takes a slightly different approach to a backup and recovery solution that they're providing – it's a pre-packaged combination of multiple components, each of which offers a specific feature set. These solutions are Data Protection Adviser, Avamar and Networker. This kind of combination allows Dell EMC to provide a comprehensive disaster recovery suite that can work with many different environments.
Dell EMC provides physical, cloud and virtual environments with continuous availability, offering a digital transformation to a hybrid cloud infrastructure backed up by a modern infrastructure that combines storage locations, servers and other infrastructures.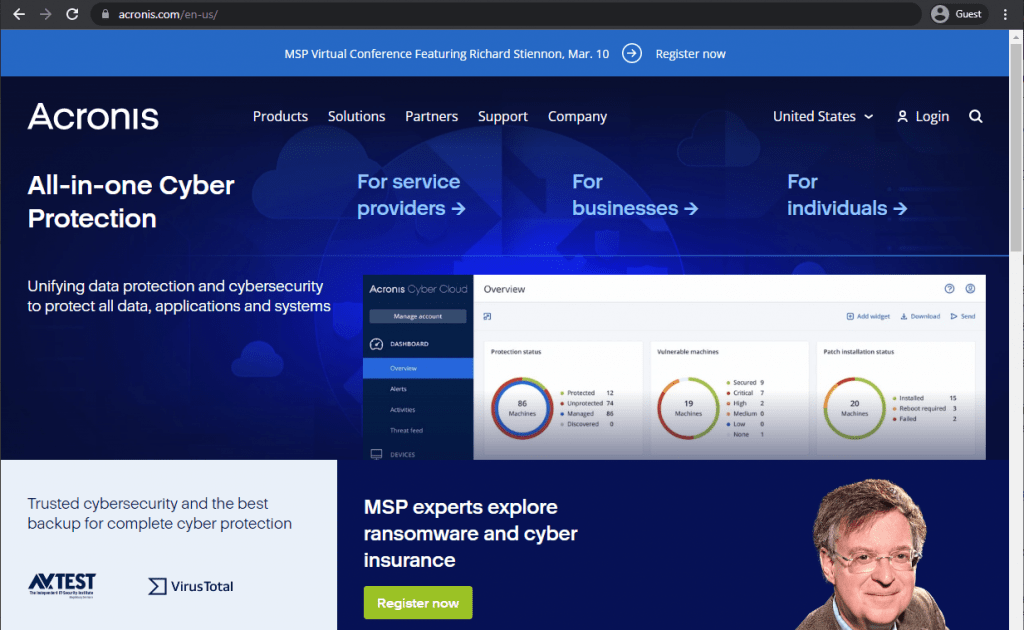 Acronis has earned its place as one of the most well-known enterprise backup solutions on the market, with their Cyber Backup software offering a multitude of features for different storage locations and devices. Since businesses these days value their data more than anything, losing said data would be a massive problem for pretty much any enterprise out there, from single servers to data centers.
Acronis Cyber Backup can help with that, offering a large number of features, including fast backup-restore operations, extensive deduplication, simple licensing for the service, administration automatization, as well as some VM support.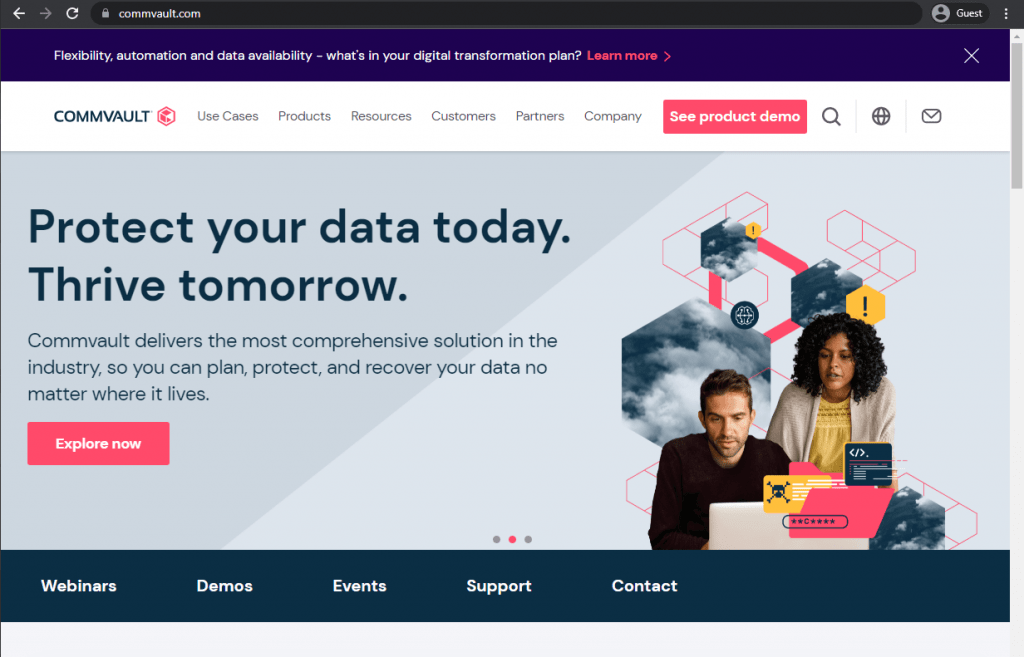 Commvault is another example of a company providing services that exceed simple backup and recovery operations by offering other data management capabilities. Instead, Commvault focuses on the combination of information management and data protection to provide its clients the ability to work with their data in an effective way.
Commvault has also partnered with many different service providers, including hypervisors, public cloud providers, as well as database protection and big data services – to be able to integrate with many other systems on the market. Commvault can also be acquired in three different forms – as a SaaS with Metallic, as an actual appliance, or as a software-only backup and recovery solution.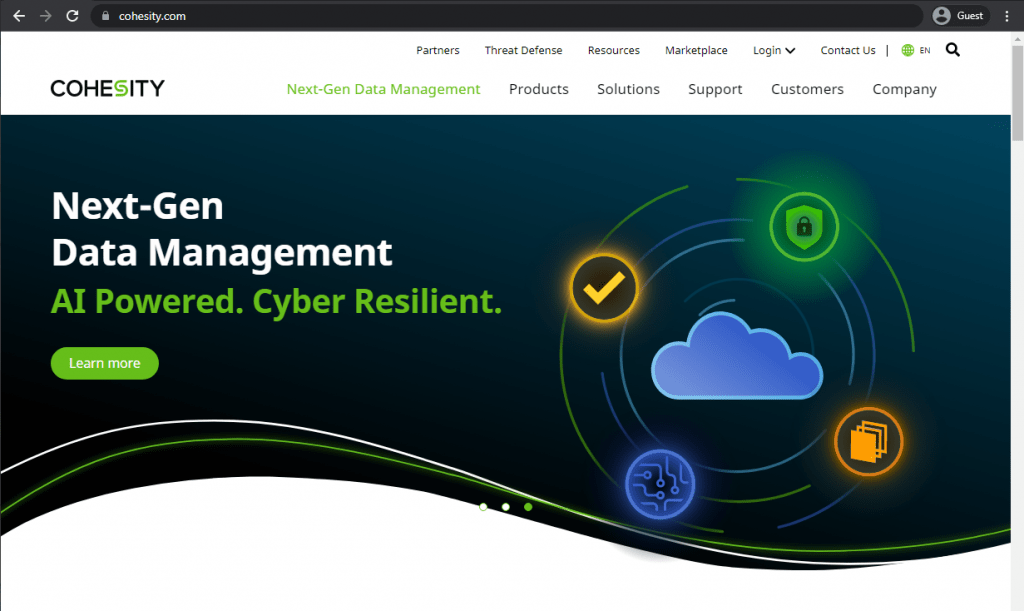 Cohesity Helios is a multifunctional platform that hosts several different software appliances, with each software covering a specific purpose. The one we are looking for here is DataProtect – Cohesity's data protection solution that works on a software-as-a-service model.
DataProtect includes a massive list of features, including backup-as-a-service with extensive cloud security, AES-256 encryption and other means of ransomware protection, as well as multiple possibilities for consolidation and centralized data management. It also has automatization features, multiple ways to restore data from any source, extensive search functionality, and much more.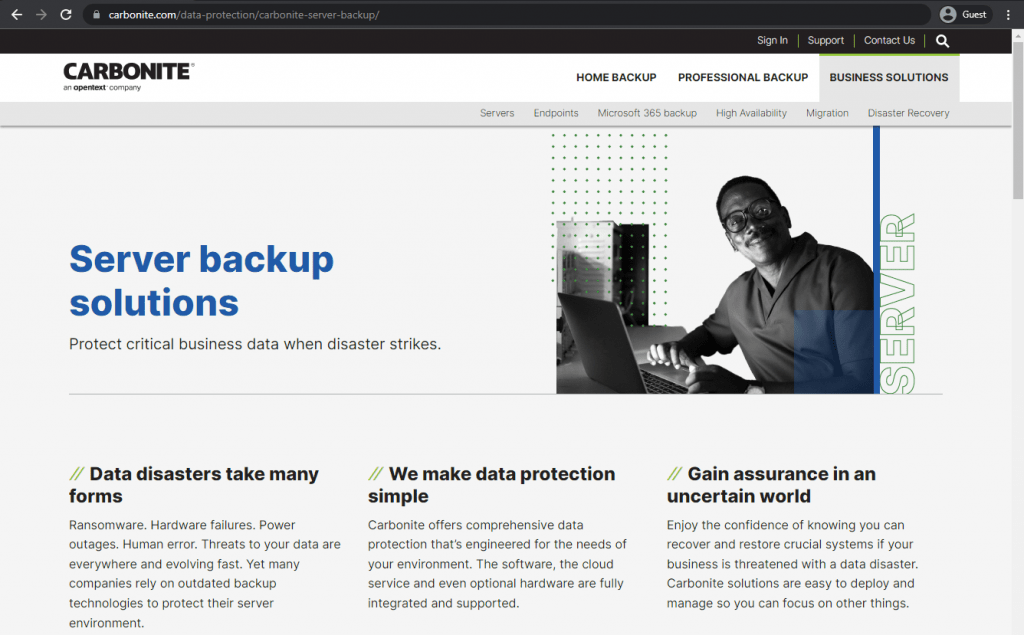 Carbonite Server Backup is a basic data center backup solution with a rather standard host of features – backup, recovery, data protection, granular restoration, support for physical, virtual and cloud storage locations, and so on. It supports multiple backup types (full, differential, incremental), as well as snapshots and can even work with hybrid backup targets.
As for some of the more unconventional options, Carbonite Server Backup supports bare metal restore, 128 bit encryption and TLS for security, offers compliance to HIPAA, GLBA and FERPA, can work with Hyper-V images, offers extensive automation capabilities, and so on.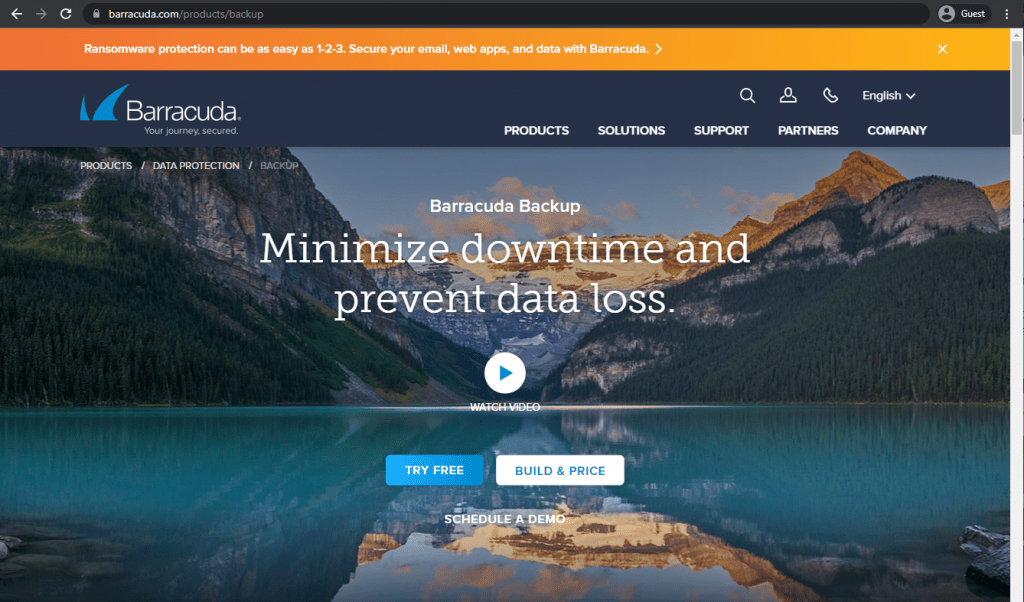 Barracuda Networks offers its own solution for backup and recovery – Barracuda Backup. It is a multifunctional data center backup solution that can back up emails, applications, as well as general data. All of the expected features, such as data encryption, centralized management and extensive deduplication, are included, as well.
Additionally, Barracuda offers pretty much unlimited cloud storage of their own, the ability to store the data off-site, near CDP, data replication, cloud-to-cloud backups, as well as Barracuda LiveBoot – the ability to instantly replace VM environments such as Hyper-V or VMware with Barracuda Cloud Storage.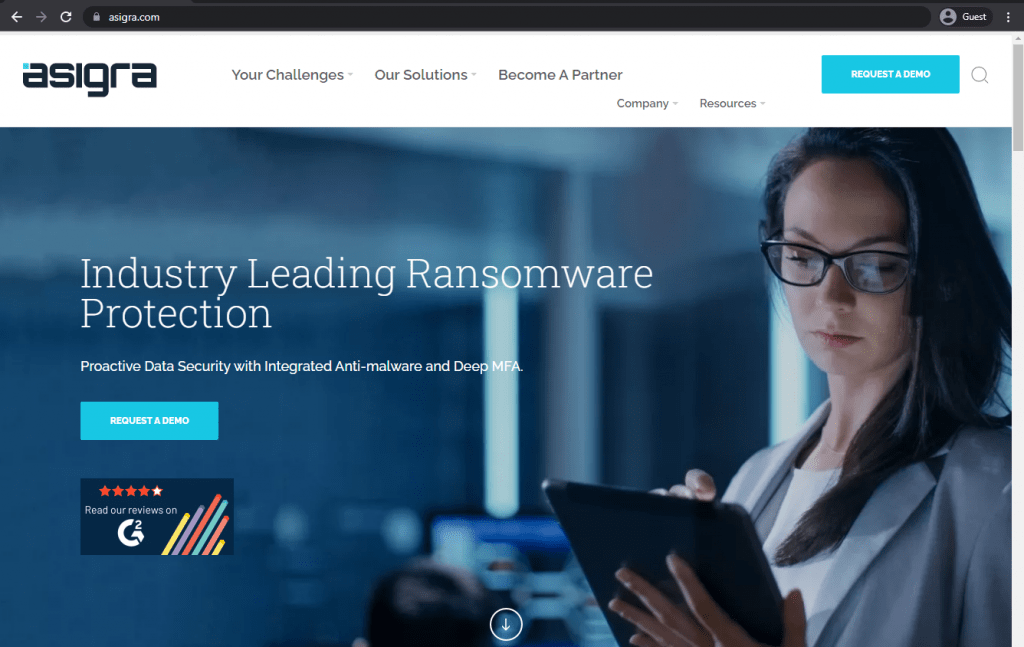 Asigra claims to be the first enterprise level agentless recovery software based in the cloud, and it has been around for over 40 years now. It provides the ability to work with all of the information types, be it applications, servers, VMs, databases, endpoint devices, etc.
Asigra provides a complete recovery assurance, helps eliminate data silos, reduces RTOs and RPOs, and also can affect the total ownership costs, as well.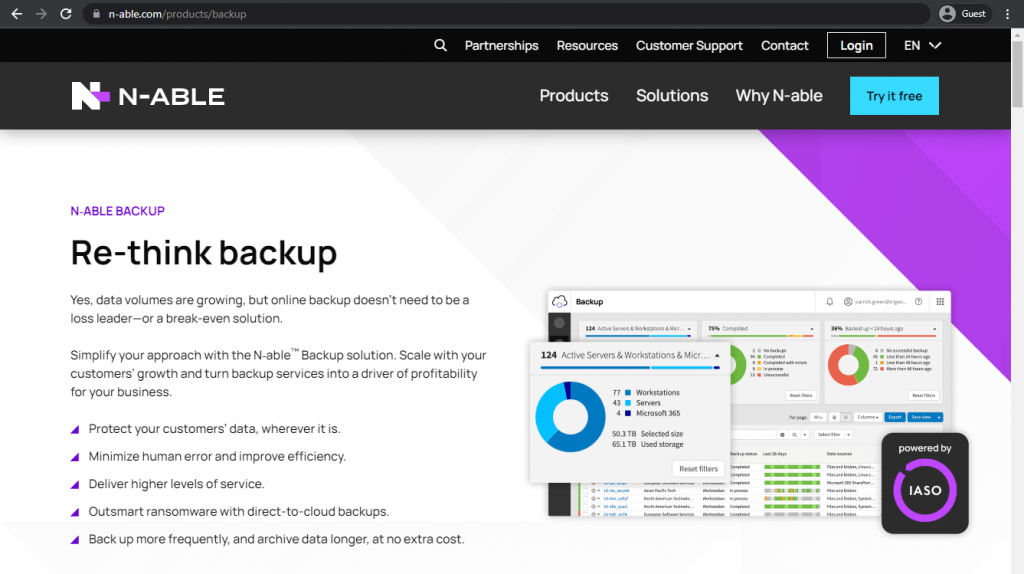 Previously known as Solarwinds Backup, N-able Backup is a data protection service for many different appliances that was built with the cloud service in mind. It can work with many different targets, from specific important documents to M365 environments, workstations, servers, and so on – with the ability to manage all of the operations using a single web dashboard.
N-able offers effective data transfer capabilities with as little bandwidth usage as possible, and can even provide its own cloud storage space with 17 data centers all over the planet. The number of recovery capabilities is also impressive, offering not just the basic recovery operation, but physical-to-cloud recovery, bare metal recovery, continuous recovery, and more.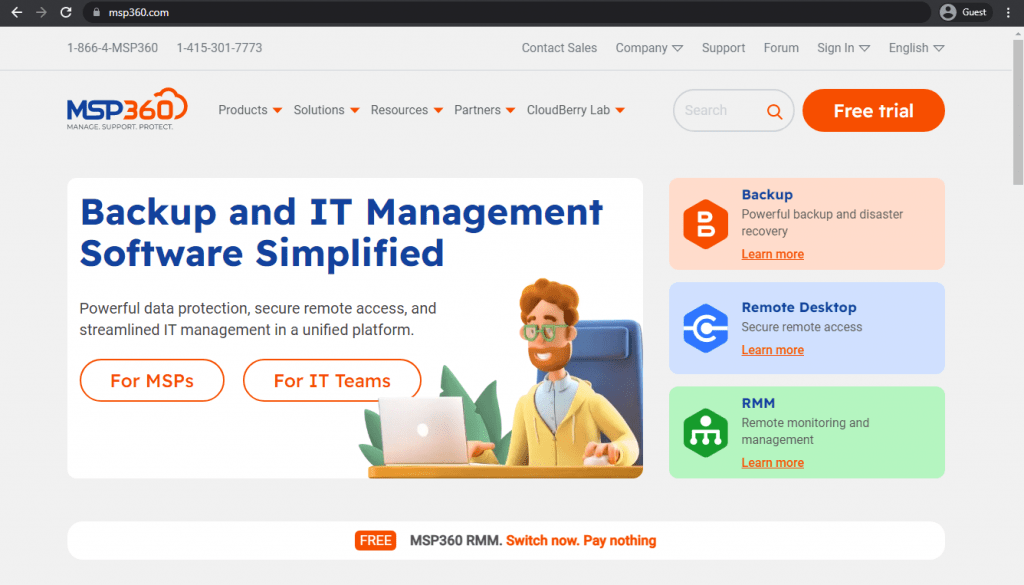 MSP360 was known for a while as CloudBerry Backup – a rather unusual backup and recovery system with plenty of different features. But its current form is just as impressive, offering backup and recovery, monitoring, centralized management, and more.
It is a massive backup platform that works with Azure, AWS, Wasabi and Backblaze B2 to provide all kinds of data protection options for users under different operating systems and appliances – M365, VMware, Hyper-V, Windows, Linux, macOS, and more.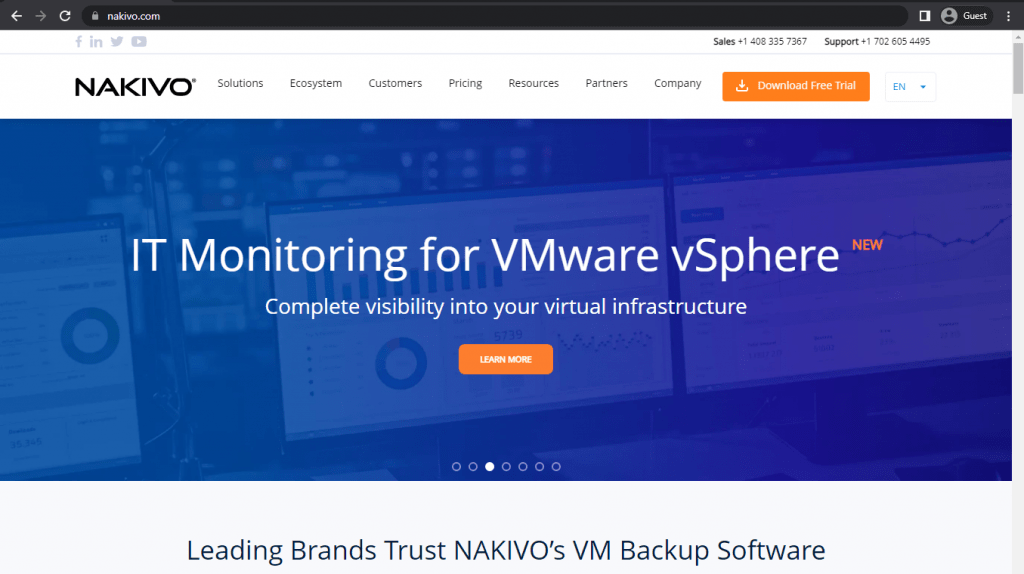 NAKIVO is another rather well-known name on the backup and recovery market, with NAKIVO Backup & Replication offering the combination of performance and reliability in a single backup and recovery solution. NAKIVO offers a multitude of different features and is capable of adapting to many different situations, including data center backup operations.
NAKIVO's backup solution is easy to deploy using the pre-configured appliances, as well as the one-click software installers. It can protect many different target types – physical devices, virtual machines, as well as the application data (such as Microsoft 365). Its backups are fast and small, and the recovery speed is instant or near-instant, due to the usage of a variety of different techniques such as snapshots, cloud backups, and so on.
HPE StoreOnce is a slightly different take on the same subject – it is a backup and recovery solution by Hewlett-Packard Enterprise, with its biggest difference being the fact that it is an actual piece of hardware, a physical appliance that offers features such as deduplication, disk-based backups, as well as long-term data storage.
StoreOnce is capable of working with the companies of all sizes, from small businesses to large enterprises, and it also has many useful features, such as the support for different types of environment, capability to monitor backup processes for multiple systems, as well as a host of advanced features for its integration with other HPE products – such as 3PAR, Nimble and Primera.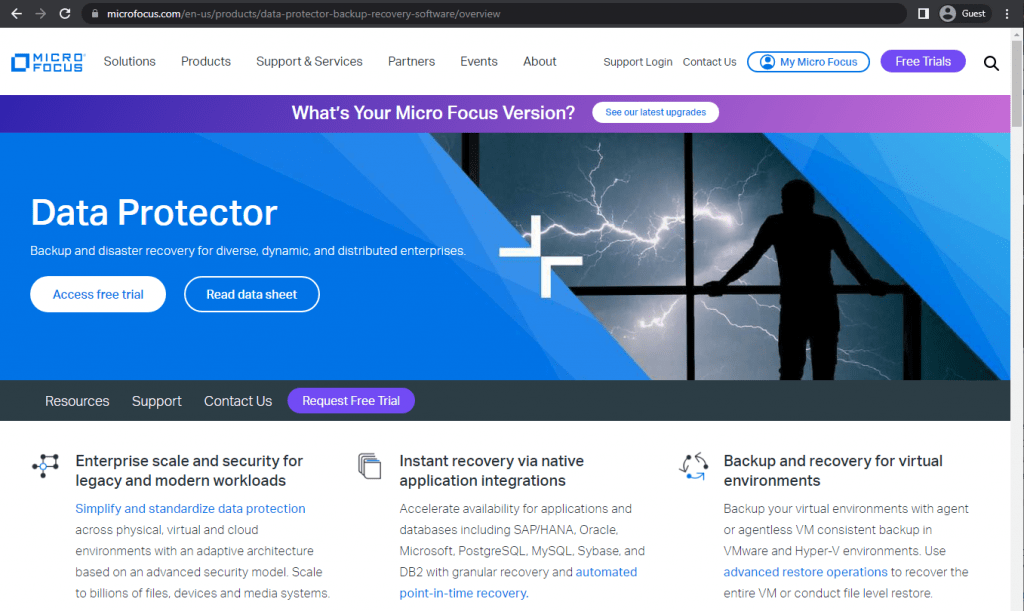 Micro Focus Data Protector is a backup and recovery software that was acquired from HPE. It offers a high level of security, extensive backup and recovery features, as well as monitoring, automation, and other features. Its architecture is partially adaptive, capable of scaling itself to different levels depending on the needs of a client.
The range of existing features of Micro Focus Data Protector is rather impressive, including instant recovery capabilities with a lot of different applications and database types (via app integrations), as well as scalability, cloud backup, support for virtual environments such as VMware and Hyper-V. There is also the capability to track and manage key performance indicators of your backups, as well as the automated disaster recovery system with the bare metal recovery support for your data center backup efforts.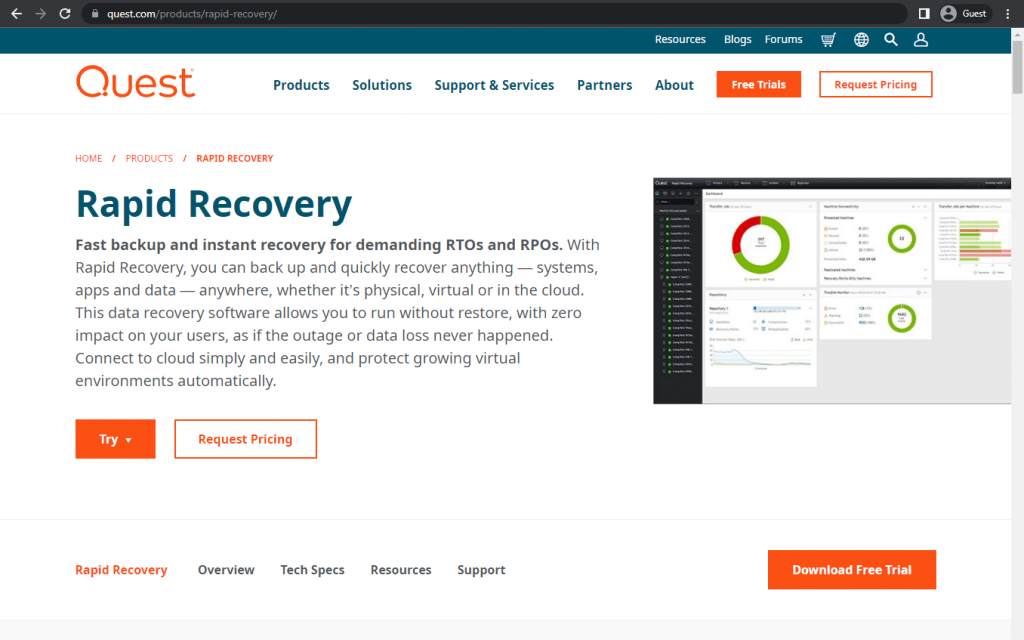 Quest Rapid Recovery is a backup and restore software provided by Dell that provides an abundance of features to its clients in terms of both backup and restore operations. It has a centralized management console, supports plenty of different applications, and has a variety of different cloud storage providers to choose from, provided by a disaster-recovery-as-a-service model.
Quest Rapid Recovery works with even the most demanding RPOs for your data center backup purposes via performing image-based snapshots as often as every 5 minutes, and it can also speed up restoration times with its Rapid Recovery feature. Additionally, there are protection measures for both virtual and physical environments, support for both data replication and data deduplication, and more.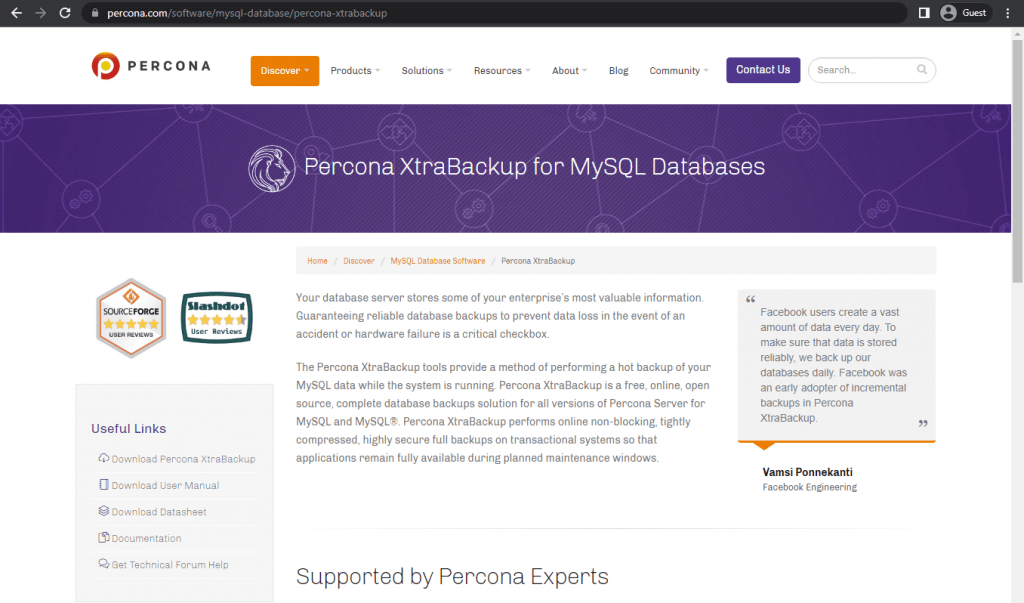 Another unusual participant of the list is Percona XtraBackup – an open source backup solution that is free and is capable of working with app versions of Percona server. It provides fast and reliable backups while saving both network bandwidth and disk space by using technologies such as compression, and it can also verify its backups automatically.
Percona XtraBackup is capable of creating backups for HailDB, InnoDB and XtraDB, among others, without interrupting the applications themselves and producing long downtimes. There is also the ability to perform incremental, compressed and streaming MySQL backups, as well as MariaDB support and many other advantages for database owners.
Conclusion
Data center backup is a matter of great importance for nearly all enterprises, and it is also something that one should not try to overly reduce costs on, since it basically safeguards your entire business as a whole. Picking a specific data center backup solution is not necessarily easy, which is why we have tried to help by presenting our top 15 data center backup solutions for different enterprises and use cases.