In the last few years there have, unfortunately, been many reports of businesses losing data, for a variety of reasons – from cybercrimes to natural disasters. This is not a new development, but it is increasing exponentially in frequency. Most, if not all enterprises work with some sort of backup and recovery system, and most of the time these systems are effective when the critical need for restore arrives.
However, sometimes it might not be enough – especially when it comes to natural disasters that can wipe out server data altogether. In scenarios like this, companies may be in a stronger position if they have an enterprise cloud backup solution, allowing them the ability to recover sufficiently to avert disaster.
For an individual, cloud backup as a service (BaaS) provides users access to a shared infrastructure – a structure that is used to store and protect your backups, in this case. Enterprise cloud backup solutions on the other hand, are slightly different. While the core purpose (data storage) is the same, enterprise cloud backups deal with large organizations, often with millions of dollars in yearly turnover.
This level of clientele – with its often mission critical data – puts additional pressure on enterprise cloud backup providers to offer the best experience possible, both in terms of performance and safety. It is also not uncommon for larger backup providers to also offer IaaS – Infrastructure-as-a-Service. A good example of that kind of service is AWS – Amazon Web Services, which has several different parts to it, and not all of them are strictly about backups in the cloud.
Additionally, it is almost a requirement for an enterprise backup service to be flexible and scalable to meet the client's demands – this function of a cloud backup solution is called elasticity, and it's extremely important since organizations' total data consumption volumes tend to change multiple times a day, making it extremely hard for a non-elastic solution to keep up.
Reasons to use enterprise cloud backups
While the advantages and benefits of enterprise cloud backup solutions are numerous, some of them are far more important than others. This is why we have listed 7 main reasons why it can be a great idea to use cloud backup in a list below:
The usage of cloud backup services as a whole means that users always have access to their data, as long as they have an Internet connection. It is a stark contrast to some of the more classic methods of data backup storage, which may not be available outside of regular office hours.
The number of capabilities and features that cloud backups have offers a great alternative backup storage location that is near impervious to most of the traditional disasters – since cloud servers tend to have various contingency plans in case something actually goes down, and the servers themselves are often located in different areas geographically, practically nullifying the chances of all of them being affected at once.
When it comes to disaster recovery, there are two main approaches that most of the solutions are built around – RTO and RPO, Recovery Time Objective and Recovery Point Objective, respectively. RTO and RPO are usually quite different from one another, and used in different industries, too.
RTO represents a maximum amount of time that the system can stay down before suffering massive losses. RPO, on the other hand, represents the amount of data that can be potentially lost before the whole business can suffer irreparable losses. RTOs are more about various live services that work with clients via the Internet on a regular basis, while RPOs are mostly about various banking services and other similar industries that constantly require Data Continuity to work as intended.
As we've mentioned before, scalability, or elasticity, is extremely important for cloud backups since not all of the predictions come true, especially when it comes to business size. This is why data centers have to be flexible and keep up with customer needs, so that they can grow their businesses without the fear of outgrowing their own cloud backup solution's capabilities.
The fact that your data is in the cloud does not mean that it is immune from all danger – therefore, enterprise cloud backup providers offer multiple storage protocols to ensure that your data stays as safe as possible. This covers storing your data using multiple servers, clusters, disks and so on – so that there is not only one point of contact with the data.
Additionally, all of the file systems usually have the ability to check the content's integrity via checksum algorithms – comparing the values of hashed data blocks and the current state of the content. If the current content is corrupted in some way, it will theoretically not be restored until it's fixed, so that the client does not have corrupted data in its system directly after the restoration process is complete.
Since one of the biggest selling points of cloud backups as a whole is flexibility, it is not exactly surprising when this allows for a lot more flexibility in terms of payments for enterprises. Not only can end-user businesses adjust their storage plans and limitations in accordance to their changing needs – there is also the fact that these solutions often have shorter payment periods (on a monthly basis, for example), so that a company can switch plans whenever it likes, creating far better financial flexibility than with most traditional methods.
Another useful advantage of an enterprise cloud backup system is the ability to manage the entire cloud part of your backup infrastructure from one place. This is a great option for all types of administrators, leaving more time for important tasks and avoid having to do many menial management tasks by hand.
Security concerns are also quite valid when it comes to using cloud backups, since no backup type is completely impervious to every possible type of attack. Enterprise cloud backup providers are aware of that and can offer multiple security measures and practices to protect your data both at rest and in transit.
Some of the more popular methods of securing data are data replication and encryption, but these are not the only ones – a lot of solutions offer their own methods of protecting data, such as Amazon's AWS GDPR DPA (a GDPR-compliant data protection strategy).
Automatic monitoring and reporting are also vitally important for any major businesses, to see their data usage, activity, device health and many other parameters within a single system. Additionally, most of the enterprise cloud providers also offer automatic alerts for negative situations, ensuring that you do not miss any issues that can potentially affect your business.
Choosing an enterprise cloud backup solution
This is a topic that relates to many of the previously mentioned points, but it is still important to discuss since the enterprise cloud backup market as a whole is vast and varied, and it is often difficult to pick a single definitive solution for your company. Here are some factors you should keep in mind when choosing a cloud backup solution:
Assess your bandwidth capabilities. Depending on the way your future cloud backup provider handles backups, you may have to have a lot more bandwidth to work with it in the first place – which is why bandwidth assessment is so important. Additionally, some solutions offer continuous incremental backups, which means only backing up files that were changed since the last backup – this is also capable of reducing bandwidth requirements quite a lot.
Reports and alerts. As we've mentioned before, automated alerts and regular reports are designed in part to reduce the workload of your administrators and, generally speaking, bring peace to most of your data safety concerns. And if you receive reports about the condition of your data in the cloud on a regular basis – this state can be prolonged, since you'll be receiving actual proof of your data located at an off-site location and away from the immediate danger.
Consider your RPOs, RTOs and other parameters. Figuring out what you are expecting to receive from a cloud backup service is a great starting point for this process. That way, you can figure out if you prefer the RPO or the RTO approach, or which features your business has to have (be it versioning, disaster recovery, and so on). This kind of initial consideration can help you find the most suitable provider in the long list of enterprise cloud backup solutions available.
Ensure you can cover all of your data storage device types. In the modern world, organizations can have their data stored on a multitude of different devices, from smartphones and laptops to proprietary databases, SQL servers, NAS devices, and more. The more devices your future enterprise cloud backup solution can provide – the less you'll have to pay extra to backup the entirety of your information across different devices.
Customer support. Having a dedicated enterprise cloud backup solution already means that you're expecting a long-term partnership with a company that works in your interests, and not against them. Which is why a proper and qualified customer support is usually a requirement. In an enterprise-level company, you'd expect any problems with service providers to be solved as fast and easily as possible. Bu that cannot be done without having access to a dedicated customer support that is always ready to help its clients.
As an extension of what we've mentioned before, enterprise cloud backup solutions are complex entities and should contribute to your backup strategy as a whole. This is why you should also consider what your future cloud backup system can do in terms of a "3-2-1 rule".
One of the most common recommendations for backups as a whole is to have at least three copies of your data, with two of them being stored using different types of storage, and at least one copy being stored at a remote location of sorts.
It's not uncommon for enterprise cloud backups to be a part of a bigger, more complex backup platform, in which case you might want to consider implementing a "3-2-1 rule" using a single platform, and not across several separate solutions.
10 best enterprise cloud backup providers
As well as discussing the general advantages, benefits and features of a good enterprise cloud backup system, we will also specifically go over some of the better ones on the market at the moment. It is worth noting that an enterprise cloud backup in this case does not have to have its own cloud servers – many solutions are working as complex multifunctional platforms that offer integration with cloud storage providers and perform backup and restore operations for their clients using these integrations.
As such, here's our take (in no order of preference) of 10 best enterprise cloud backup solutions: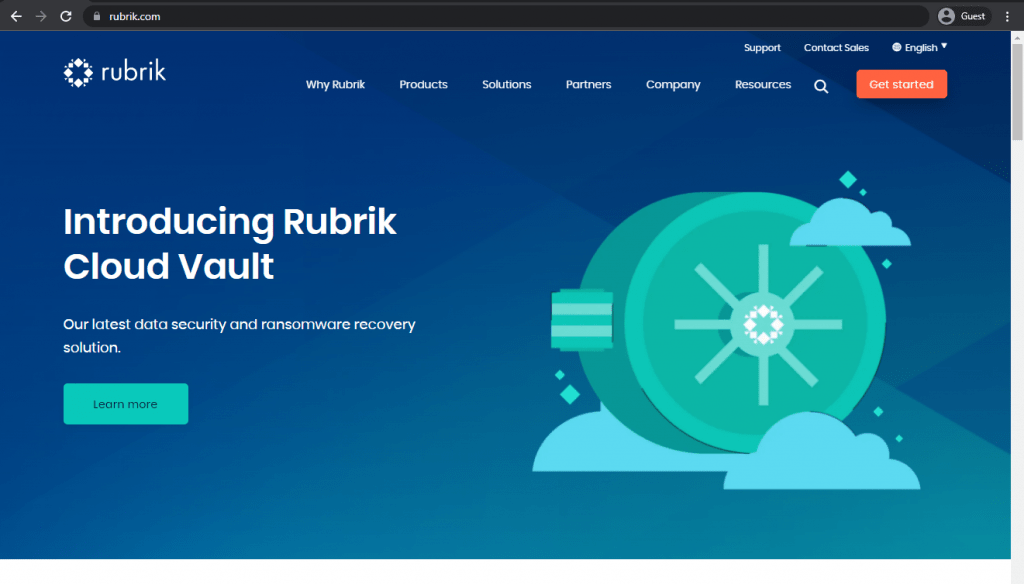 Rubrik is our first example of a comprehensive data management platform that also offers cloud backup as one of its features. It actually has a separate solution for that, too, called Rubrik Cloud Data Management, which can archive data, provide analytics, report compliance issues, and so on. As for the cloud provider itself, Rubrik supports and can integrate with most of the bigger cloud storage providers/environments, such as Azure, Oracle, AWS, Google Cloud, etc.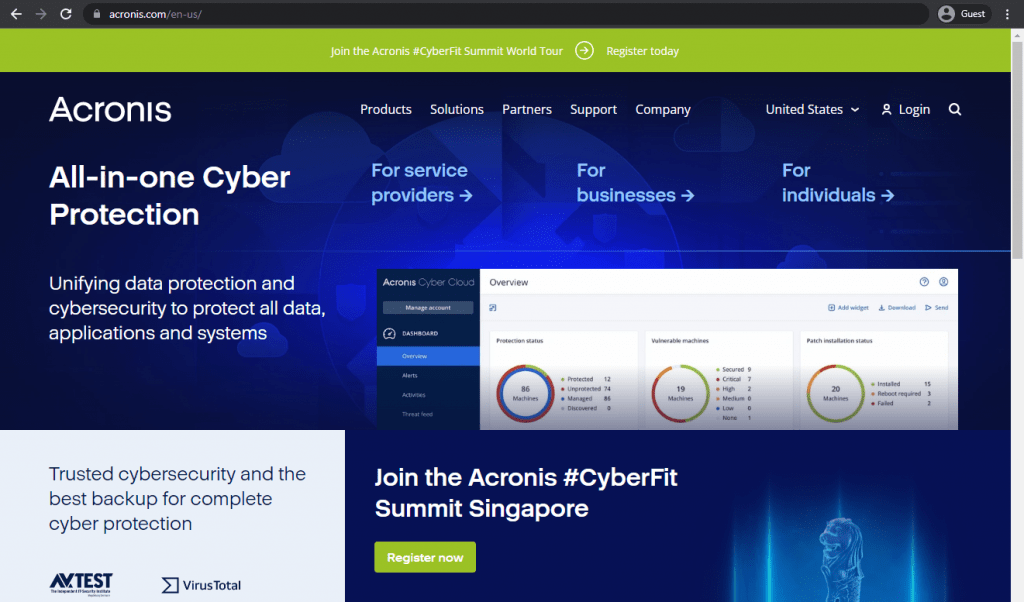 Acronis is a very well-known solution. It can work for both individuals and companies, and it actually has two variations of its backup service as a whole – Acronis Backup for individuals and companies, and Acronis Backup Cloud for service providers. It can work with a plethora of different data storage locations, offers vast security features to its clients, as well as quick deployment time, user-friendly interface, and additional enterprise data management capabilities.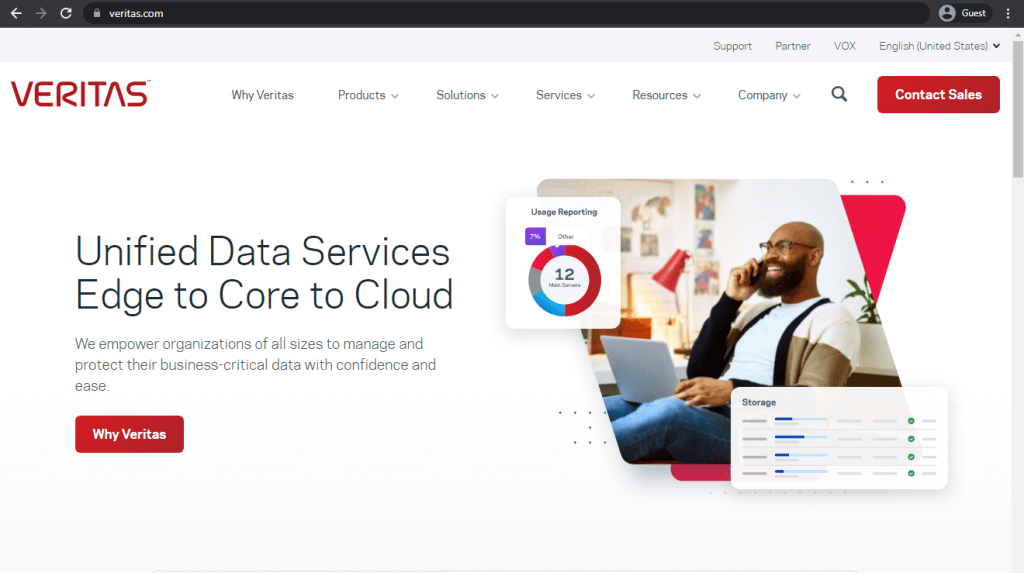 Veritas offers multiple different services within its own unified platform that cover cloud backups, VM backups, backup-as-a-service, and more. It is also fairly easy to manage, helps a lot with meeting compliance regulations, and has partnerships with a long list of prominent technological giants, like Google, Amazon, Microsoft, IBM, and more. As for the clientele, the quality of services that Veritas provides is confirmed by various banks, healthcare organizations, financial institutions and other establishments that have used Veritas before or still use it to this day.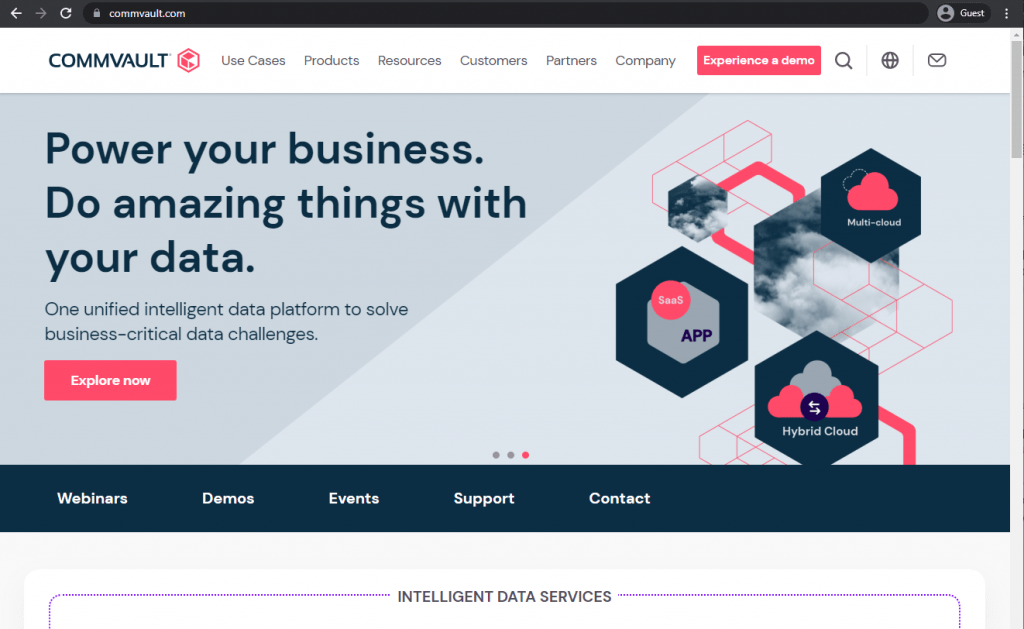 Commvault is a popular solution that combines two important features into one single solution – data management and data protection. Not only can it work as an extensive backup and recovery solution, it can also offer Commvault Software as a Service in three variations – for O365, for AWS and for endpoints. It's also quite well-known in the field of data management as a whole, is extremely fast, and has an extensive ecosystem via various partnerships.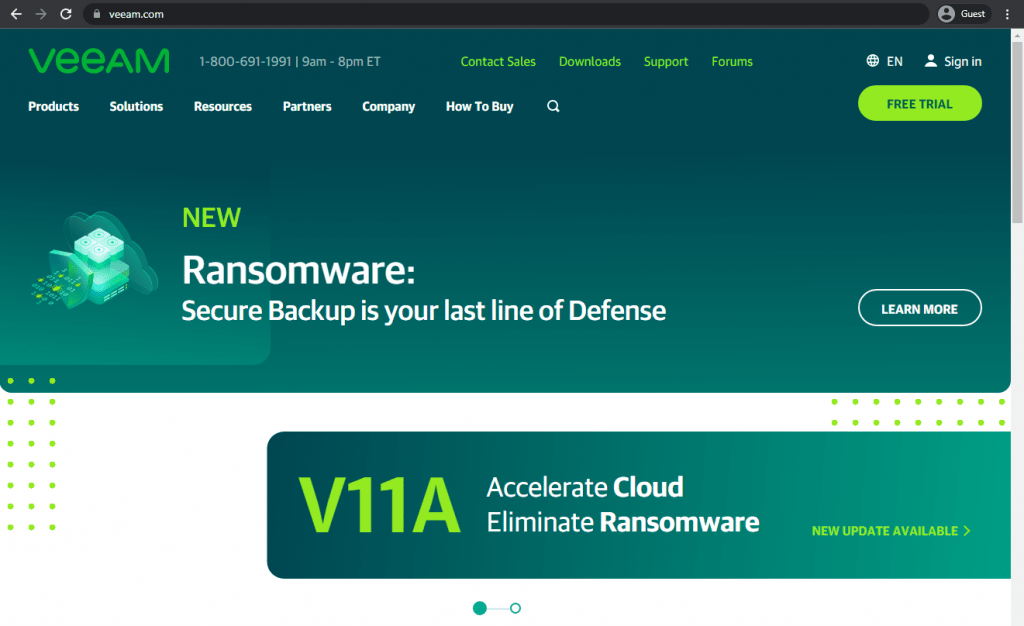 When it comes to cloud data management, Veeam is another very popular choice. It is an extensive online backup platform that can work both as a separate backup and recovery solution (Veeam Backup and Replication), as well as a massive platform that offers monitoring, risk mitigation, disaster recovery, analytical information, and so on. It works with the majority of storage environments, be it cloud, virtual or physical, and it is also relatively easy to use. Its main strengths however are around backup of VMware hypervisors.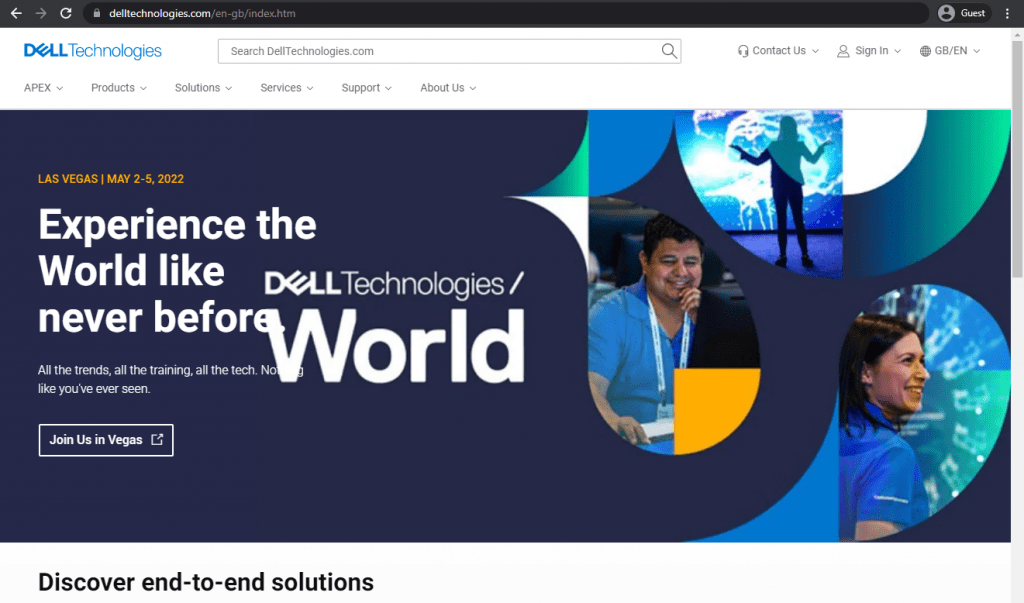 As a successful merger of Dell and EMC, Dell EMC is a data protection giant that offers vast data management capabilities to enterprises of all sizes. It can work with multi-cloud deployments and supports hybrid systems as well, and its VMware integration also offers deep functionality in terms of backing up virtual environments. There are also many other useful features, such as data deduplication, centralized management, extensive automation, etc.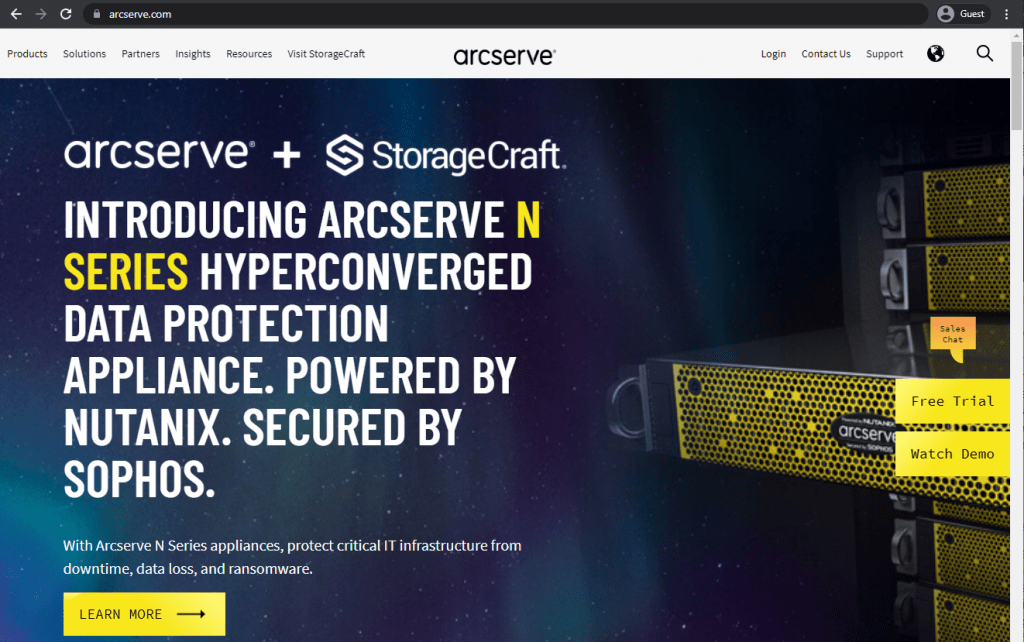 As a solution that has been in business for over forty years, Arcserve is still quite an important player on the market, offering backup solutions for both cloud and on-premises deployments. It does not work with individual customers at all, and some say that this is its biggest advantage – nothing is spared in supporting massive enterprises and delivering a top-notch cloud backup service. There are also several different cloud services offered, too, such as UDP Cloud Archiving, UDP Cloud Direct and UDP Cloud Hybrid.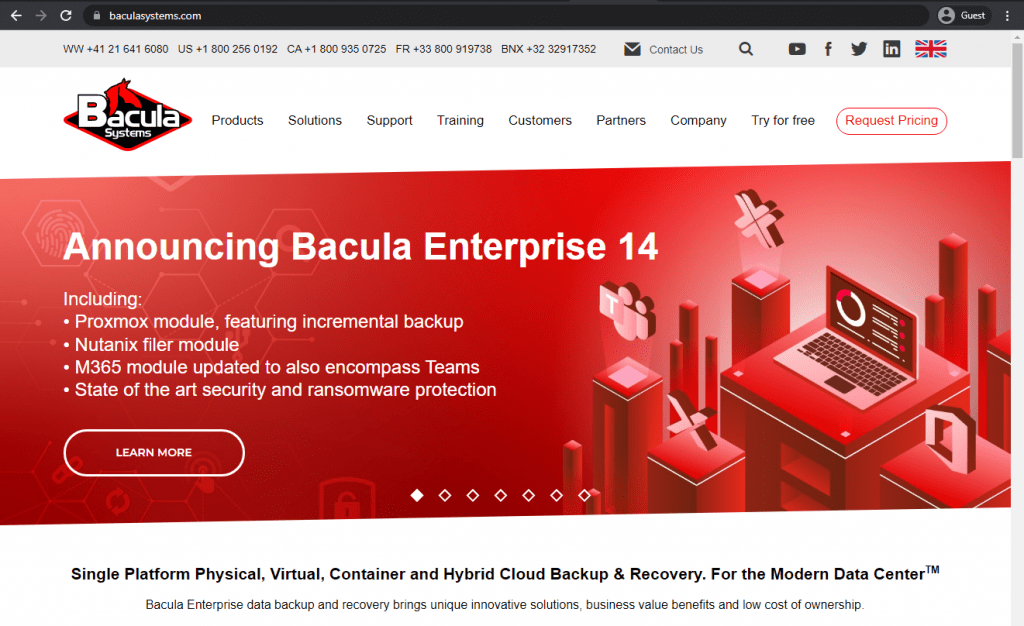 Bacula Enterprise is a multifunctional backup and recovery platform that offers a especially large range of features and extensions – one of which is its capability to natively integrate with many different cloud backup services on an enterprise level. Bacula Enterprise's unique cloud management tools integrate with an abundance of different cloud storage providers, including Azure and S3 to Oracle and Google Cloud. It can also work with multiple operating systems, nearly all storage platforms, and offers nearly all Bacula's pre-existing functionality for cloud-based data, including deduplication, advanced encryption and ransomware protection. Notably, it has an especially secure architecture that is used by many mission-critical western organizations such as government agencies, military and defense, MSPs, ISVs, HPC and other demanding environments. One of Bacula´s other attractive qualities is that its licencing structure is not connected to data volume.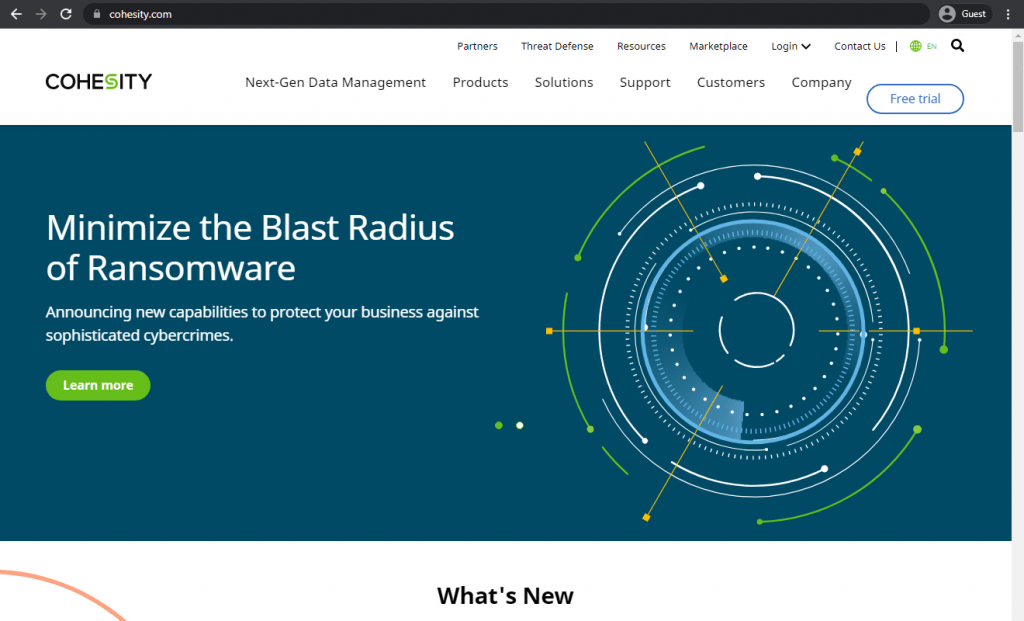 Cohesity's DataPlatform solution is a comprehensive data management solution that offers data protection, data backup and recovery, data management, and other features. It is built specifically to benefit larger enterprises that have data spread over multiple storage device types, which it can help manage with its user-friendly interface that even has its own smartphone app. Its feature list, covers automation, granular restoration, data management, etc.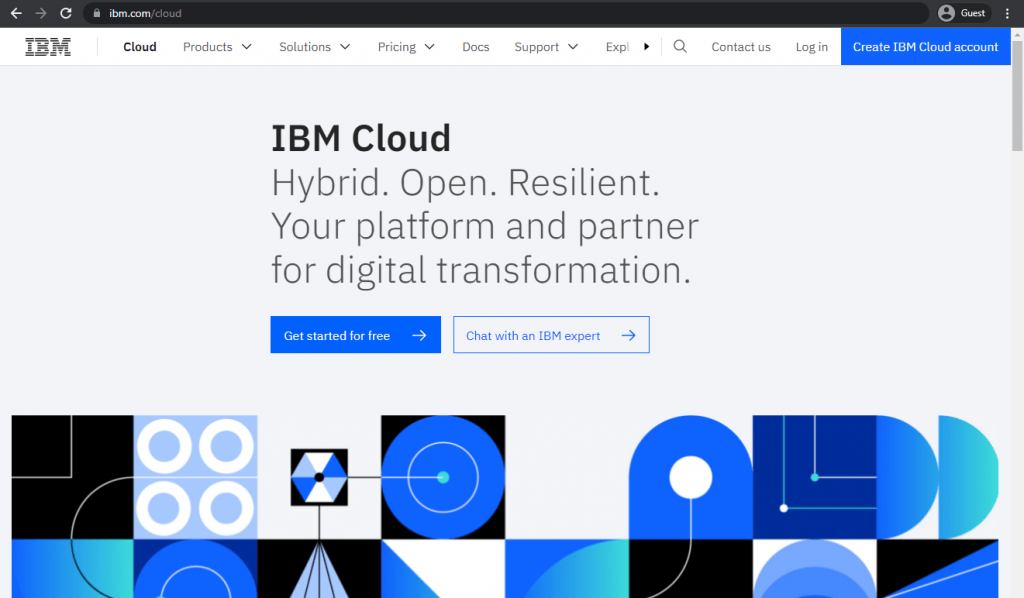 IBM is one of the biggest public cloud storage providers and has data centers all over the world. It is a very ´mature´ brand on its own, and it also has its own IBM Cloud Backup service so that you can perform your cloud backups without needing another backup solution. It can automate many different operations, offers extensive customization via web-based user interface, and has a lot of previously mentioned features – such as point in time recovery and granular restoration, to name a few.
Conclusion
The enterprise cloud backup market is filled with comprehensive solutions for different needs and use cases. Pricing is a significant consideration when choosing too, although not covered here in detail. Choosing a single solution from all available products on the market might seem overwhelming at first, but we hope that this article was helpful to you in terms of which of these enterprise cloud backup solutions may be beneficial for your business.