OUTFITTERY Selects Bacula Enterprise

Rico Krause
Team Leader and Lead Developer at OUTFITTERY
«I can recommend Bacula Enterprise to companies that need a highly reliable, scalable and fully featured data backup and recovery system. Using Bacula is in line with our company philosophy of using modern, efficient and effective IT solutions that make OUTFITTERY as competitive and responsible as possible.»
About OUTFITTERY GmbH
OUTFITTERY is the biggest personal shopping service for men in Europe. Customers simply answer a few questions about their clothing style and sizes at www.outfittery.com. OUTFITTERY then curates individual outfits which are conveniently shipped to their homes. The outfits are selected by a combination of algorithm and human stylists. The customers then keep whatever they like and send the rest back free of charge. OUTFITTERY's goal is to make shopping for men as convenient as possible and to offer them the perfect choice of clothes through a combination of personal service and intelligent technology.
OUTFITTERY needed to find a backup solution that could back up a virtual environment that was hosted in the cloud. The backed up data needed to be backed up to cloud, as well as locally. It also needed to have a very effective deduplication capability, because there was an opportunity to make great gains on disk space reduction with the type of data that OUTFITTERY needed to back up.
Another key requirement was a realistic cost. "Many backup and recovery vendors charge astronomical prices for their backup software, so we needed to find a solution that worked really well, but at a reasonable price", said Stefano Tortiello, Project leader of IT-Systems and Networks at PZ Systeme Business Solutions, who implemented Bacula Enterprise at OUTFITTERY.
"Good data deduplication is really important for us, and Bacula ticked that box", said Stefano. "We looked at some other backup solutions, but none of them could also work in a cloud-only environment. Bacula Enterprise did. Actually, we found it to be perfect for both cloud and virtual environments", Stefano added.
OUTFITTERY has ten Windows servers in a virtual environment, all of which have very similar system settings. Apart from one database that has comparatively unique data, all the rest have a very similar configuration and settings. That's because 85 percent of the data is of a similar type which can save 90 percent of the backup target size by using Bacula's Global Endpoint Deduplication™.
Bacula Systems' Global Endpoint Deduplication™ (GED) is built into Bacula Enterprise and is an advanced technology that can be applied either to the client side (file daemon) thereby saving network and storage resources, or at the storage level depending on how the user wants to manage the data; providing the benefits of both global and endpoint deduplication. The deduplication can also be combined at the client side with Bacula Enterprise's comm line compression feature to allow even better management and lower bandwidth consumption.
"Using Bacula's deduplication feature saves money", Stefano says. If you have a number of Windows systems that are similar to each other, there typically is a big opportunity for saving significant amounts of disk space via deduplication. We made a test environment over a two or three week period on one system. It worked fine and there were no real issues. Then we rolled out the solution", Stefano said.
"Bacula's Subscription model really suits OUTFITTERY's needs", Rico Krause, Team Leader and Lead Developer at OUTFITTERY, said. "It is well structured and easy to understand for a reasonable price."
There are a number of different interfaces available to interact with Bacula. One of them is BConsole, where the options are great and it is possible to get work done quickly. For example, you can easily get an overview of which jobs are running, and if I need to, you can look deeper into exactly what is going on. It also has really good trouble shooting capabilities.
An important part of Enterprise software is technical support. Bacula Systems' Customer Support works hard to set an example to the industry by its quality and expertise. "Bacula Systems' support is very good. When we had any trouble, its support proved to be deeply knowledgeable, technical and accurate. If we had a problem, Bacula's support was very responsive and efficient. It was really effective, because after only a few emails with the support team, the problems were solved", Stefano said. "By contrast, in our experience with other vendors we spent days with them on phone calls, wrote many emails, and you had to answer basic questions that are not relevant. Only after about one week you finally get to someone technical to make progress with. Instead, with Bacula, the support contact is a senior, highly knowledgeable expert. So of course that means you are able to progress quickly and get issues resolved. We were really pleased" Stefano said.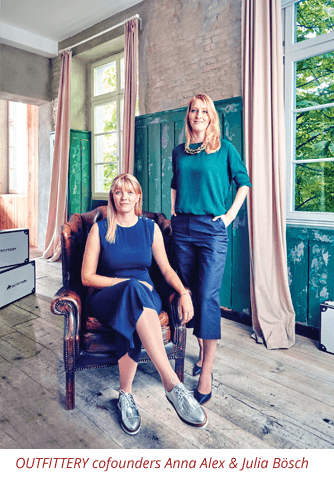 "OUTFITTERY's servers are all running 2012 Release 2 Windows. It uses Windows filesystem DFS and Microsoft SQL server running with an SQL mirror and 2 SQL Servers. There is one main database that is mirrored between the two servers so we can achieve a very short failover time in case we have a problem with the main server. We back up the SQL database with Bacula and write it to our backup repository", Stefano said.
"Here at PZ Systeme we evaluated Veeam and Veritas. Their licensing costs were four or five times higher than with Bacula Enterprise. Bacula's annual subscription works out at a much better value. Actually, with Veeam there was not even a license for the Cloud environment". It is of note that OUTFITTERY only has servers in the cloud and with this approach can avoid running a physical data center on its own premises. "This approach gives OUTFITTERY more flexibility – and in the cloud, you can add resources very easily", Stefano said.
"I can recommend Bacula Enterprise to companies that need a highly reliable, scalable and fully featured data backup and recovery system. Using Bacula is in line with our company philosophy of using modern, efficient and effective IT solutions that make OUTFITTERY as competitive and responsible as possible", Rico said.
Modules and Tools Adopted:
You may also be interested in: