This has been an exciting week in the Bacula Systems Training Department, with two training courses taking part simultaneously in both Dallas, Texas, USA, and Yverdon-les-Bains, Switzerland. Some of the student's comments from the week: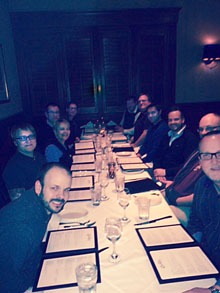 Trainees in the U.S. this week, relaxing after a hard day's learning in Dallas, Texas.
"Excellent training! Hands on! We leave this Admin I training session with the full understanding of how to configure and implement Bacula Enterprise Edition."
Matthew Watson, Systems Administrator, Walt Disney Animation
"This is the most valuable training I had in 4 years."
Rob Tucker, Senior Systems Engineer, Mozilla
"I really liked the interaction with the other trainees, sharing their own experience with Bacula Enterprise Edition"
Patti Clark, Senior Systems Administrator, Oak Ridge National Laboratory
Don't miss the next series, coming up soon in Belgium and France!